A Guide to Training in Kenya
Published by Runner's Tribe with exclusive permission from Sweat Elite – http://www.sweatelite.co/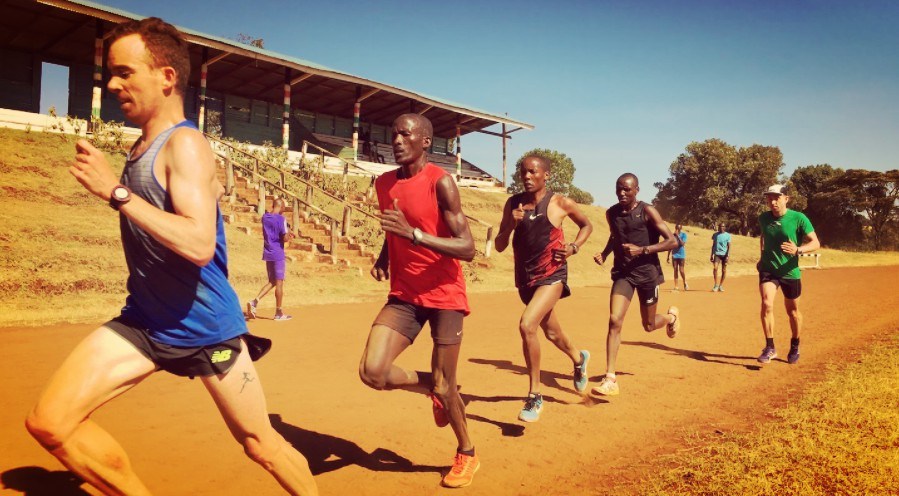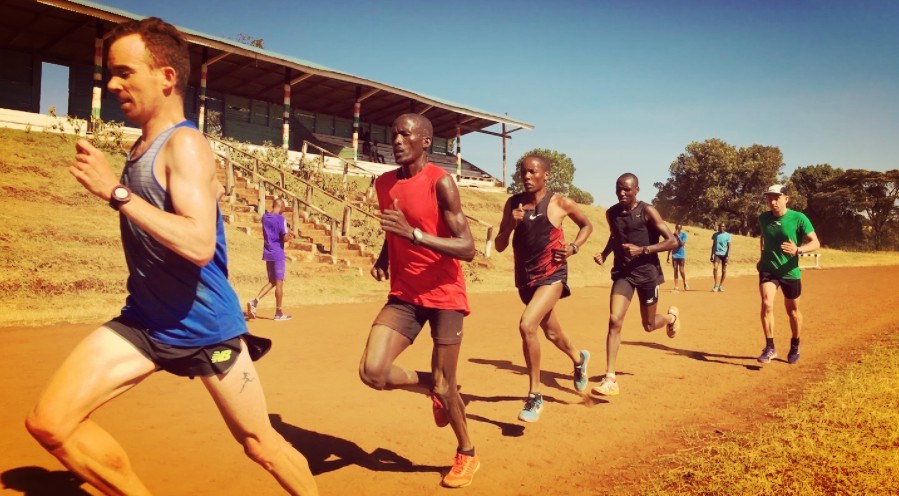 If you've ever thought about heading to Kenya to do some training, meet some of the world's fastest distance runners and experience an incredibly different culture, we'd highly recommend less thinking and more doing.
It's a phenomenal experience. It's affordable (cost of living, getting around and general expenses are very low) and it's something that you'll remember for the rest of your life.
Every runner should seriously consider a trip there at some point.
It's eye-opening and really puts things into perspective. Some of the fastest distance runners in the world have very little, in terms of money, access to facilities than westerners do…
Interested in a trip to Kenya but don't want to go alone and want some guidance on your tour with meet-ups with some of the elite athletes? Express your interest in the Sweat Elite: Tour of Champions 2018.
First things first. What are the barriers? Is it dangerous?
Kenya can be a little shifty in the cities (Nairobi mainly) but no more than most major cities. In the countryside, where the running hot spots are, Kenya isn't dangerous at all. Not once, in over a month did we feel it was dangerous. We walked around towns at night, took several buses, hung out in Eldoret.. It's safe.
Where do I go in Kenya?
There are a few running hot spots in Kenya, but the strongest one is the Eldoret area. Iten and Kaptagat are the 2 strongest hubs and these 2 towns are within a 45min drive/bus from Eldoret.
Iten, Kaptagat and Eldoret are home to the majority of Kenya's top athletes, including David Rudisha, Wilson Kipsang, Eliud Kipchoge, Asbel Kiprop, Joyciline Jepkosgei…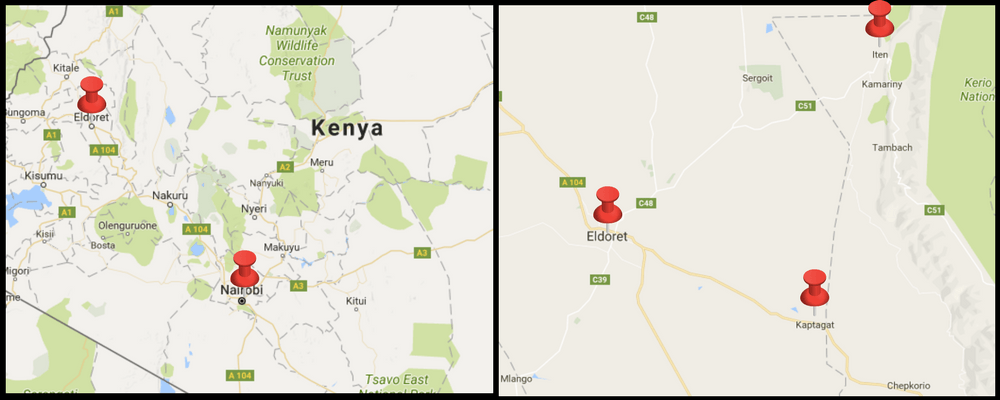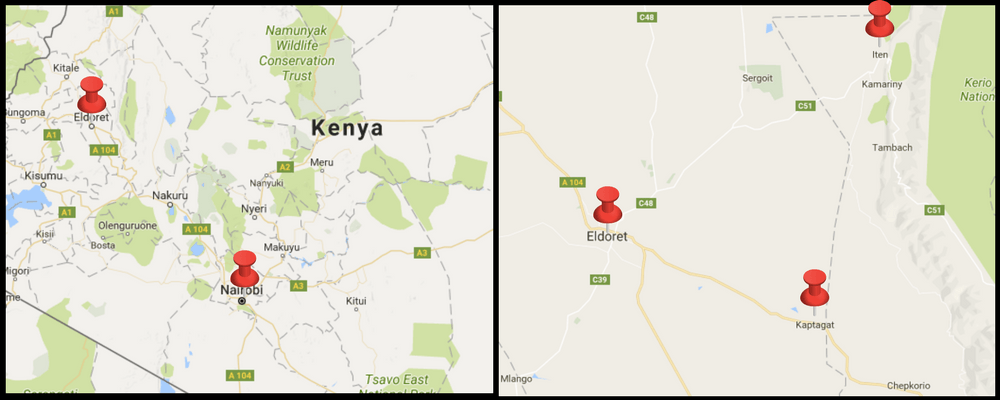 I'm in Nairobi, what now?
99%+ people will need to fly into Nairobi (the capital) before venturing anywhere else. Getting from Nairobi to Eldoret can be done by plane or by car/bus. A flight is typically around USD$50-100 one way and they tend to run on time most of the time. Taking a taxi will cost you around USD$100-120 and will take around 4-5 hours depending on the traffic. Taking a minibus (you can take them from Nairobi city) will cost around USD$8-10 and take around 7-8 hours. The minibuses wait to fill up before departing, which can take time. This happens on several stops along the way to Eldoret.
I'm in Eldoret, what now?
Eldoret is a nice little town. It's home to around 300k-350k people and is relatively safe and easy to navigate. You can probably walk the entire city area in 1 hour. Unless you're basing there for the whole time, we'd recommend staying a night there or at least do a day trip.
From Eldoret, there are minibuses that take you to both Iten and Kaptagat that depart around every 30-60mins from the bus station in the centre. This costs about USD$1 for a seat and you can buy more seats if you like. We actually recommend doing this, as the buses can be very cramped; they squeeze in as many people as they can. Buy 2 or 3 seats for USD2-3, it's worth it.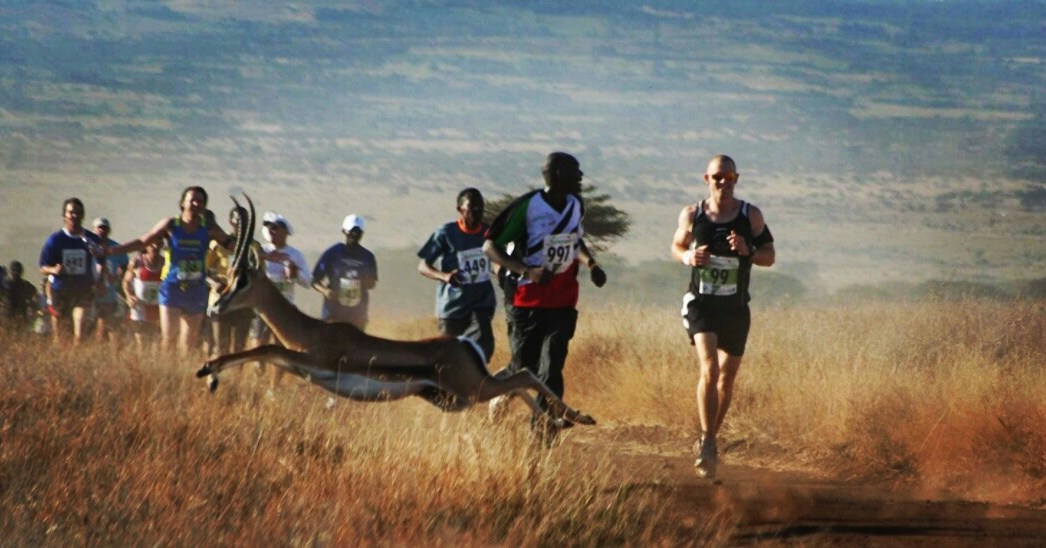 Where should I stay?
The remainder of this article is focused on staying in Iten, the most popular place to go, as we didn't go to Kaptagat, although all reports about Kaptagat are excellent too.
In Iten, you have a few options in terms of accommodation. Iten is a fairly small place that runs down one road (yes, the road with the famous sign on it).
1.The most popular place to stay is the High Altitude Training Centre (HATC) that is right at the south end of the town. HATC prices vary throughout the year, but as a rough estimate, you're looking at USD$60-80/night for a single and USD$40-50 a night if you're sharing. This does include full board (3 meals, 2 snacks) and use of the (very good) gym, 25m pool and tartan track.
Costing to stay at HATC is a lot higher than elsewhere, but the extras are great. We stayed there a few nights on our trip there and if you're in need of a gym, pool and track, the extra $$ might be worth it.
2. Kerio View Hotel is another popular place to stay and is situated right by HATC. Costing is similar, perhaps slightly more expensive, but it's the highest standard of hotel in the area.
3. Guesthouses. These really range in terms of quality but some can be excellent value for money. We spent some time at a small guesthouse that included accommodation to a similar standard as HATC, 3 meals and it was around USD$20/night single stay. A tricky part about finding a guesthouse is that most of them don't have websites. They're found by word of mouth.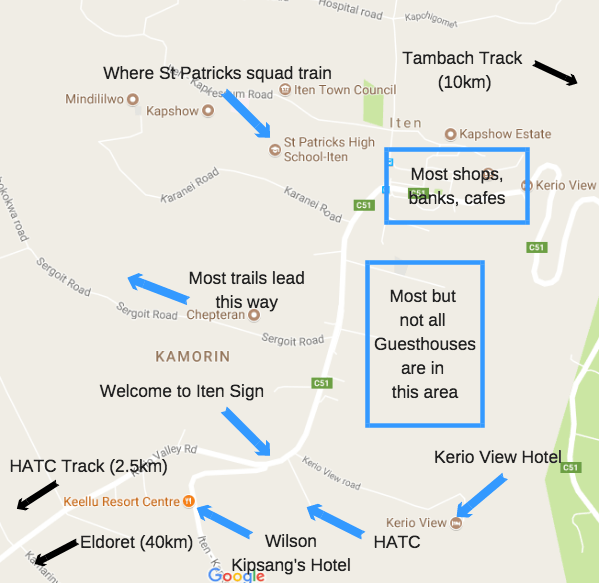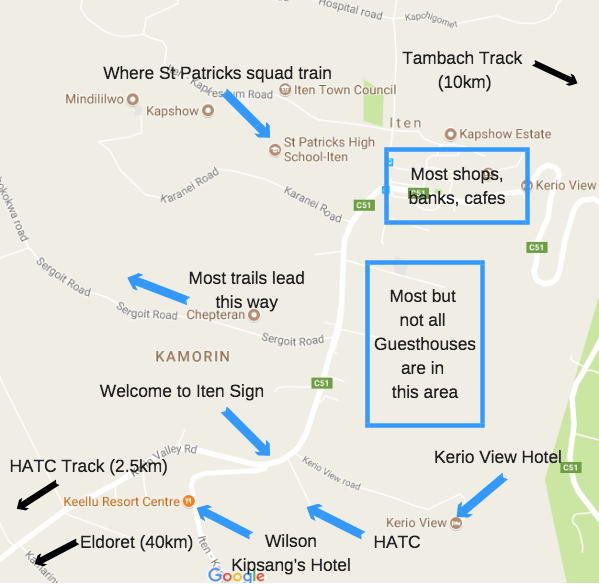 Facilities
Iten is all dirt roads with small sharp hills. There is unlimited trails to chose from and they're all similar, scenic and tough (but not ridiculous).
Iten used to have a dirt track, however the track is being renovated right now. Some say the dirt track will be resurfaced in early 2018, some say it won't be done in 5 years. Sorry we can't be of much more help with this one!
The only other track in the Iten area is at the HATC. You can use this if you are a guest there, or pay USD20 for single use (this is not a typo, it's expensive for some reason). Price may change depending on time of year. This track at HATC is excellent and sits at 2300m altitude like the rest of Iten. It's about 2.5-3km south of Iten – most people jog there to warm up.
The next closest (dirt) track is a 20min drive away in Tambach. You can hire a bike with a driver to take you to Tambach and wait til you're done with your workout and take you home for around USD$10. This track is quite good; a little uneven in lane 1, but lane 2 and outwards is like running on hard trail.
The next closest tartan track is in Eldoret (45mins by car).
The best gym to use for one time use is at Kerio View. Price can change depending on time of year and who you are, but a visit is normally around USD$5 or USD$50 for a month (prices as at May 2017).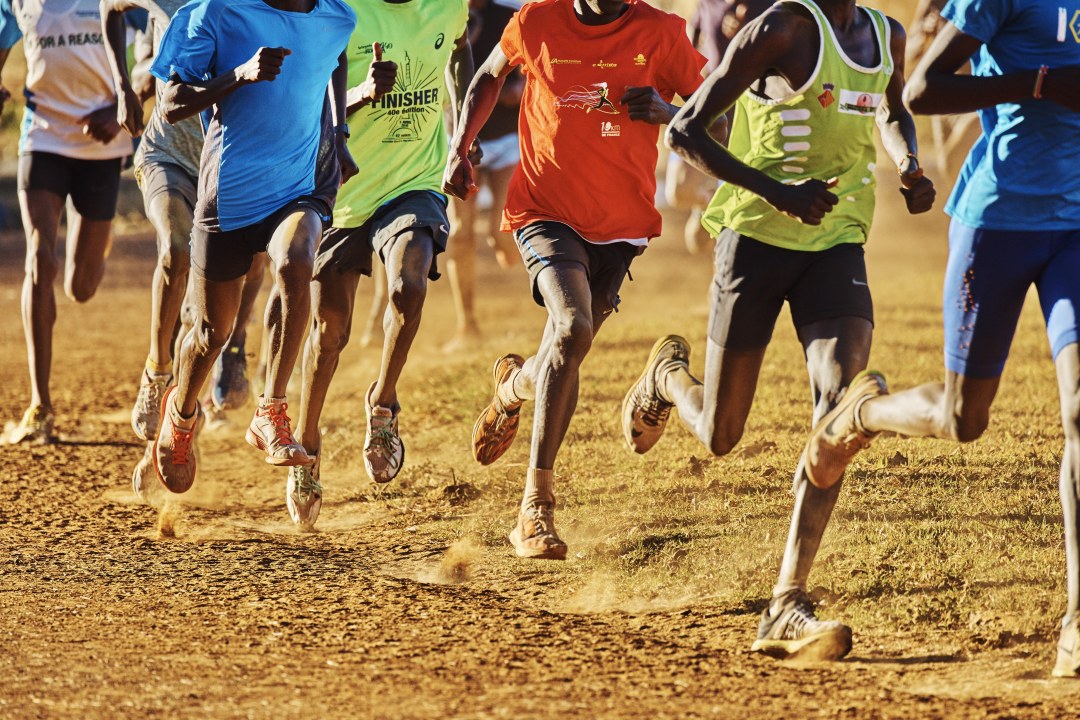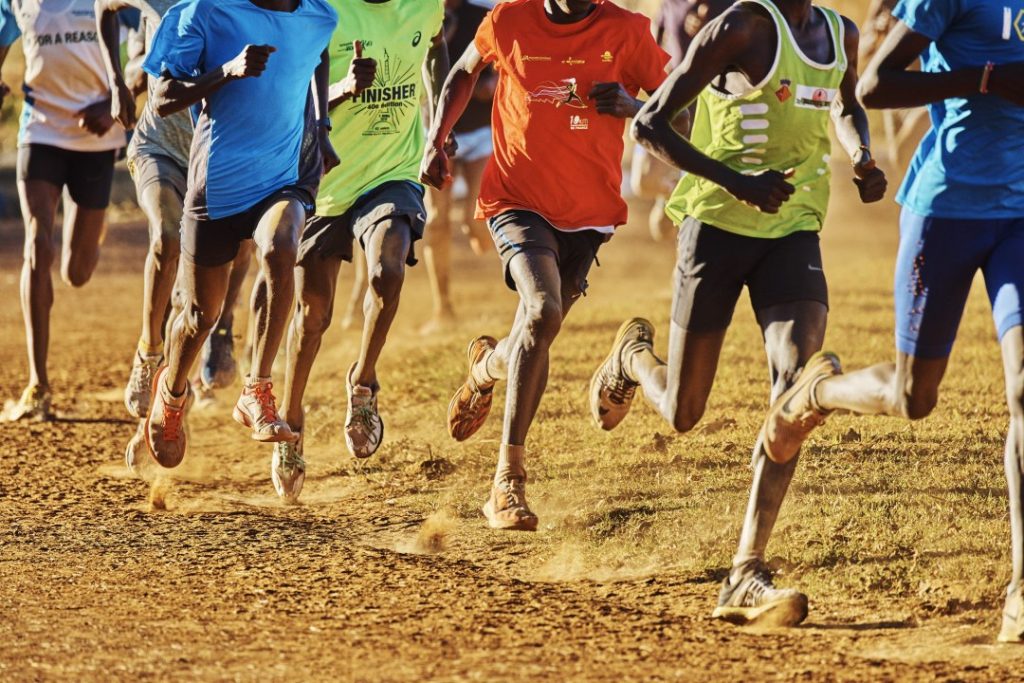 How do I meet the elite runners?
Kenyans in general are incredibly humble, social and open to having a chat with foreigners.
Unfortunately there are no secrets on how to meet the elite athletes like David Rudisha or Asbel Kiprop though.
The best way is to quickly introduce yourself to people on arrival and ask around through local networks to meet up with the elite runners.
There's a chance you'll see some elite athletes training on the trails, in the gym or on the track as well of course.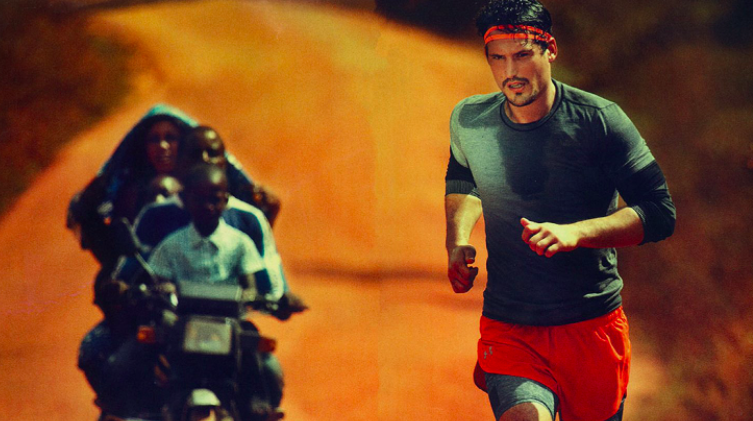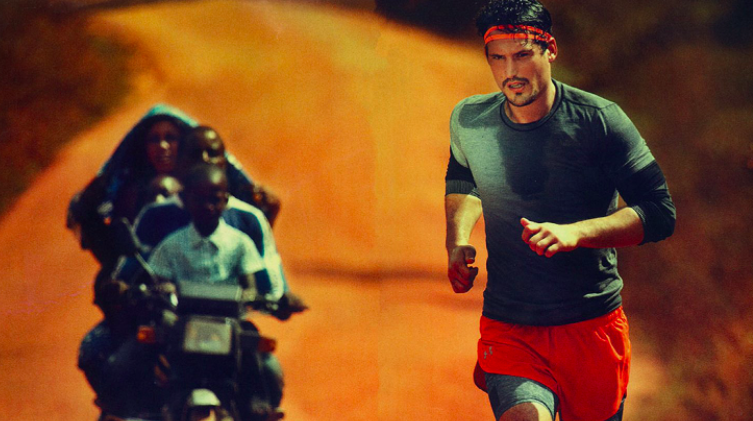 Wifi and staying in touch with the people back home.
Kenya has a very strong mobile network called SafariCom. Sim Cards are USD$1 and 5GB of data is around USD25-30.  The data works well in Eldoret, Iten and almost everywhere we went, including Tambach which was a bit remote.
If you want to stick with cafe wifis, the best spot to hang out, use wifi and have a coffee is Club Iten. Club Iten is the cafe at HATC. It's entrance is 50m from the famous Welcome to Iten sign and the wifi there is fairly fast and reliable. Food and coffee is great too.
There are a few other smaller cafes with wifi, but not many. In total, we heard of 2 more, but there could be 3 or 4. Most cafes don't have wifi.
Some other FAQ's
Q. If I stay at a Guesthouse, how much should I expect to pay for meals?
A. Of course this depends a lot on your taste, but a rough guide is USD$10-15/day. It's difficult to spend any more.
Q. How do I get around in Iten?
A. You can walk from one side of Iten to the other in around 20mins (it's around 2km) but there are also bikers everywhere, where you can take a ride from anywhere to anywhere for 50c.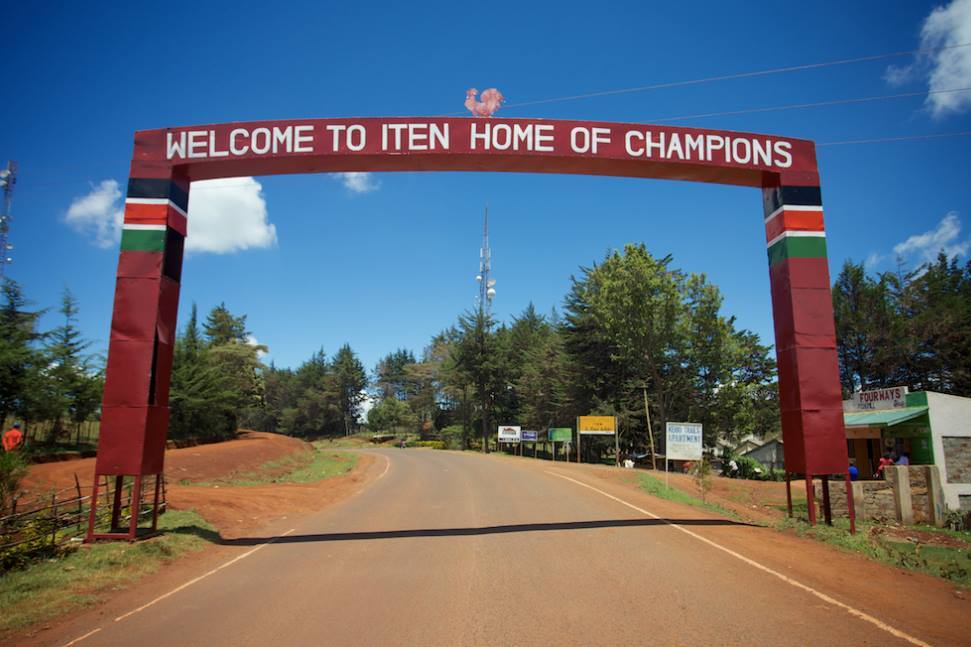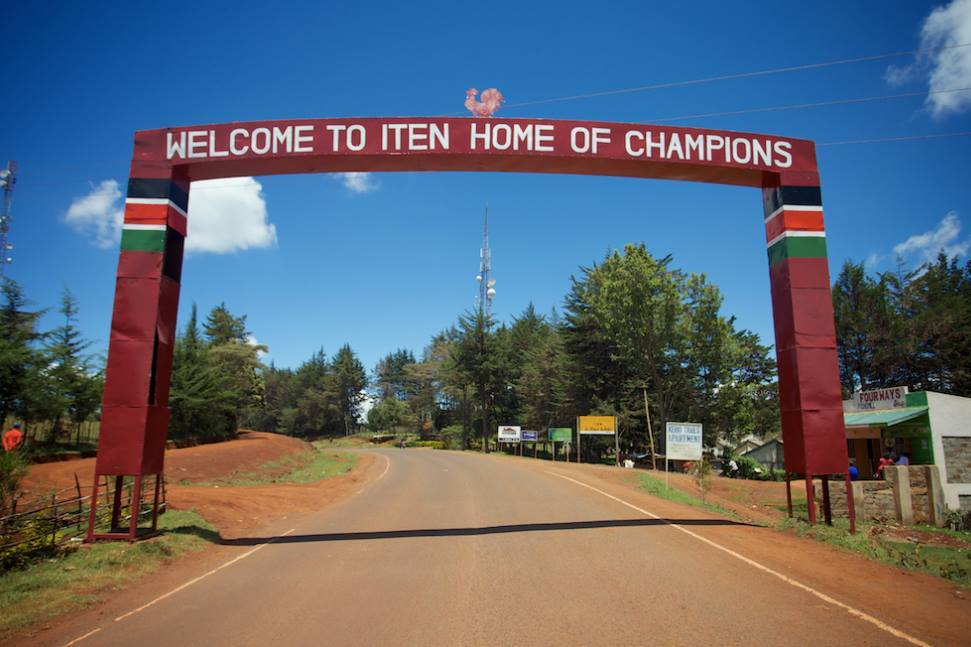 Q. Do restaurants/hotels take credit card?
A. No. Basically no hotel or restaurant takes credit cards. You need cash.
End