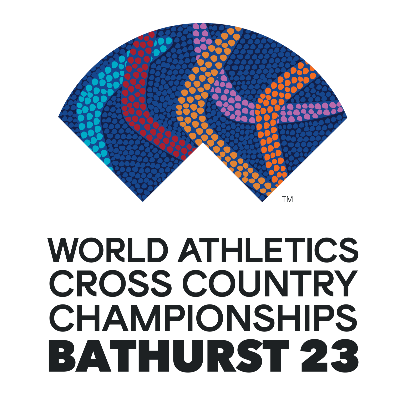 Prior to the World Cross Country Championship in Bathurst, RT will unveil a comprehensive, 10-part series, composed by Len Johnson, that delves into the historical narrative of Australia's participation in World XC.
Part 6 of 10 – Written by Len Johnson
World cross-country 1981-85: amid extraordinary scenes in Madrid, Robert de Castella takes Australia into the individual top-10.
The men's race at the 1981 world cross-country championships in Madrid finished amid extraordinary scenes as the entire Ethiopian squad turned into the finishing chute a lap early and sprinted to what they imagined to be a glorious, dominant win – only to be told: "Go round again!"
The Ethiopian team, which included 1980 Olympic 5000 and 10,000 metres champion Miruts Yifter, were confused as to whether the race comprised four laps or five. Imprudently opting for the lower number, they sprinted for the 'finish' line a lap before they should have.
But if no-one in the Ethiopian team could count to five, every Ausralian supporter could count at least one number higher. Robert de Castella prefaced his ascendancy to the top of world marathoning with a sixth-place finish.
Craig Virgin of the USA made it consecutive titlse with Mohammed Kedir recovering well to take second for Ethiopia. Kedir's teammates re-grouped sufficiently well to place five in the top 15, still taking the teams race comfortably.
De Castella's was the best placing by an Australian man or woman to that stage, bettering Steve Austin's fifteenth in 1977. He was the first Australian into the individual top 10. A year later, he finished tenth in Rome to become the second Australian top-10. And in Gateshead in 1983, Australian had a third top-10 – yep, de Castella again, this time sixth over a hilly, muddy course around the Gateshead Bowl (do yourself a favour: go to YouTube).
'Deek' gifted Australia something else. Until 1981, Australia followed New Zealand in competing only every second year (pity we didn't also follow them in winning the race!). By competing as an individual in Rome in 1982 and again in New Jersey in 1984, Deek established an unbroken line of Australian representation in world cross-country from 1981 to Bathurst 2021.
It has not always been easy to hold that line – athletes had to go back to their own fund-raising in 1983, for example – but held it has been, including, for the most part, representation by junior men (since 1985) and junior women from the time a junior championship was added in 1989.
De Castella was on his way to greater things in 1981. He went on to almost beat Kedir at the Cinque Mulini a week after Madrid, then to beat Kebede Balcha and Kedir in the StraMilano half-marathon another week after that.
'Deek' became world record holder in the marathon when he won at Fukuoka at the end of 1981 in 2:08:18, won his first of two Commonwealth Games titles in Brisbane in 1982 and then beat Carlos Lopes in Rotterdam in 1983 and won the world championships in Helsinki later that year.
All three started with a strong performances at world cross-country. Deek's next best marathon year of 1986 – a national record victory at Boston and a second Commonwealth gold – started with his next-best finish in a world cross-country (14th). It's only correlation, I know, not causation, but . . .
There was also a full women's team in 1981, for the first time since Australia's world cross-country debut in 1975. Current Athletics Australia board member (and WA cross-country committee member) Anne Lord was first home in 51st place, followed by Desiree Letherby (62), Megan Sloane (66), Rosemary Longstaff (86), Gayelene Clews (89) and Rhonda Mallinder (93).
In the men's race, Austin (23), John Andrews (34), Brian Lewry (49), Max Little (62), Chris Wardlaw (81), Garry Bentley (100), Rob Neylon (171) and Tim O'Shaughnessy (187) completed the team which finished fifth – highest yet, though not for long.
Gateshead 1983 saw an Australian men's team make its closest approach to a team medal. Led by de Castella in sixth, Australia's six scorers tallied 193 points, an agonising two points behind Kenya (oh, to have retained that parity!) for the bronze medal. John Andrews, an underrated runner if ever there was, was 21st, with Lawrie Whitty (34), Brian Lewry (see comment on Andrews, 39), Rob McDonald (45), Max Little (48), Adam Hoyle (81) and Nick de Castella (109): so close.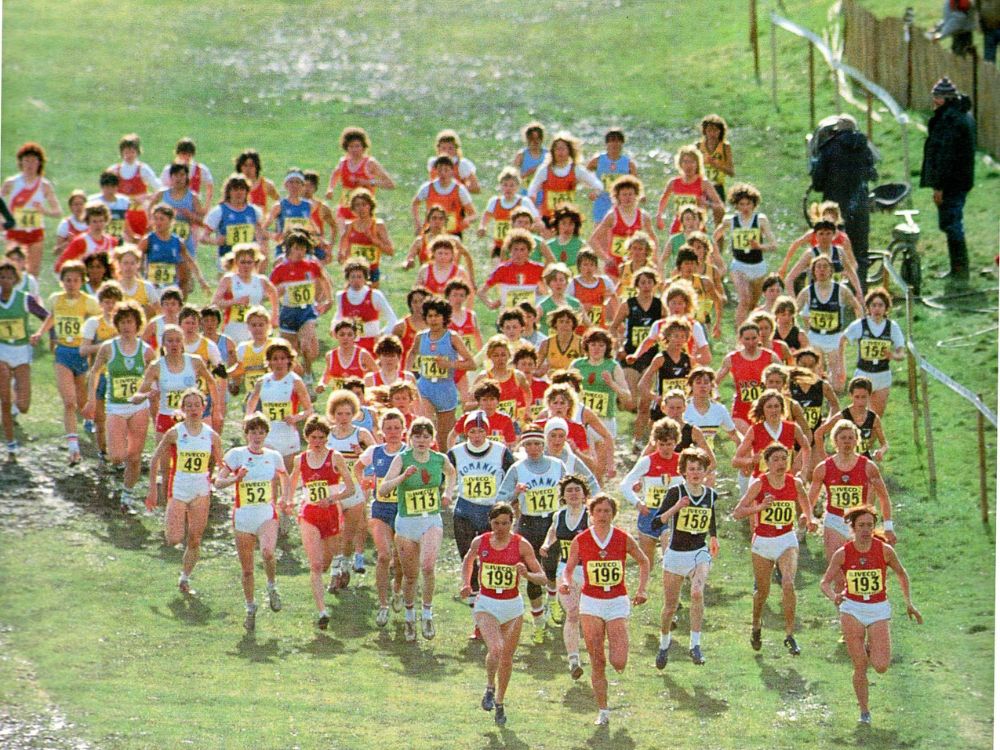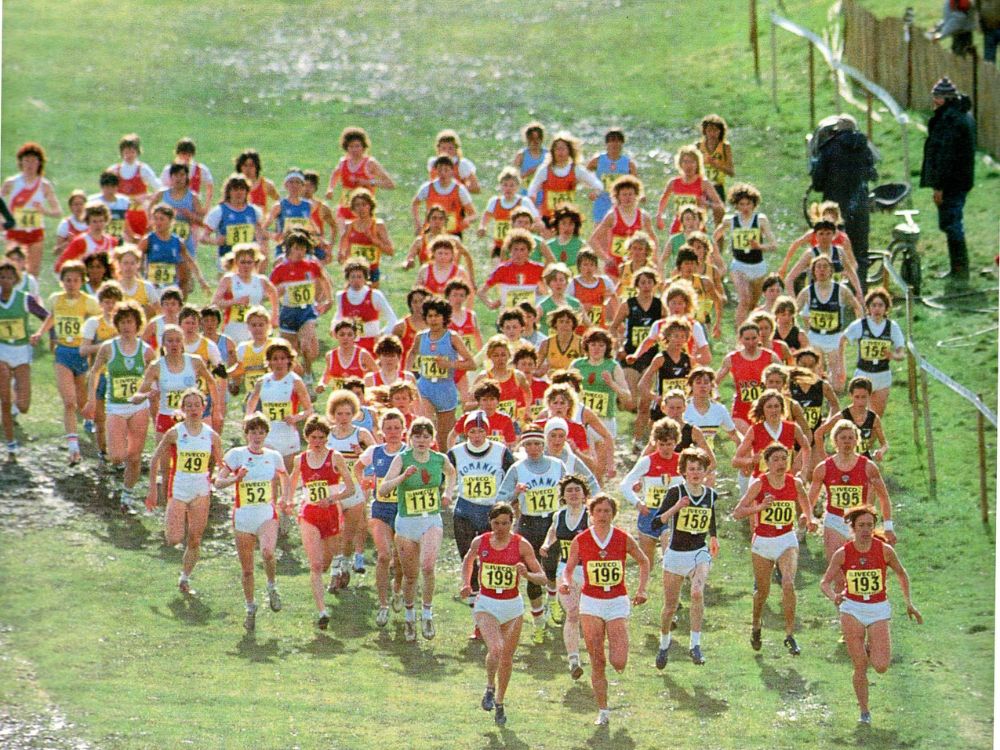 Two teens highlighted the women's result – Carolyn Schuwalow, 17, first finisher in twentieth place and Sharon Dalton, 15, rounding out the four scoring members in 61st. In between came Megan Sloane (32) and Janis Hams (41), then Rhonda Mallinder (81) and Sally Pierson (104).
Again, it was a best-yet ninth among 19 full teams.
In Lisbon two years later, Dalton led the team home in 21st place, in a run that exemplified how competitive world cross-country is. I was one of two counting in Australia's finishers half-way along the 50-metre run-in to the gantry.
Sharon entered the chute in the top 10 then fell back place-by-place as a big group charged for the line. From ninth to twenty-first in 50 metres. Any other race, such a fade would have cost one, maybe two place at most, but this was world cross-country.
Sally Pierson (54), Kerith Duncanson (70), Megan Sloane (83), Anne Lord (98) and Jenny Lund (116) followed in as the women's team finished thirteenth. Zola Budd, running for England, won the race.
The men finished tenth out of 33 teams. De Castella was twentieth, followed by Garry Briggs (43), Graham Clews (61), Andrew Lloyd (94), Steve Moneghetti (102) – more would be heard from him!, Garry Henry (119), Nick de Castella (207), Adam Hoyle (210) and Gerard Barrett (227).
Carlos Lopes won his third individual title in front of the most boisterous home crowd since john Treacy in 1979.
Australia's first junior men's team – Colin Dalton (46), Ray Boyd (55), Stuart Mee (62), Kym Anderso (63), Mark Sewell (68) and Anthony Ford (113) – finished eleventh out of 22.