By Len Johnson reporting from the Gold Coast
Standing on the runway for her last throw of the Commonwealth Games javelin competition at Carrara Stadium on Wednesday night, Kathryn Mitchell dissolved into tears.
These were tears of joy, however, not those born of the frustration at having to wait so long for an international championship victory.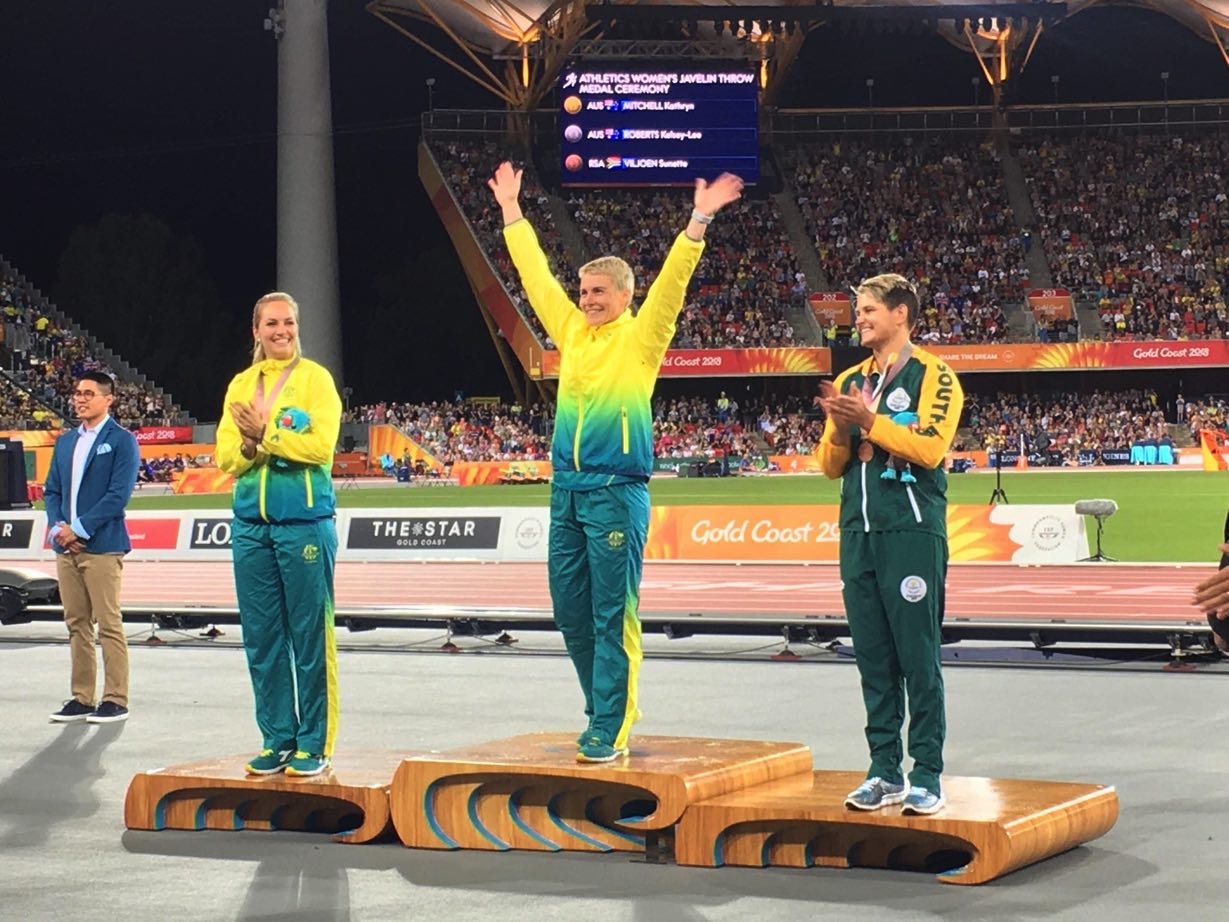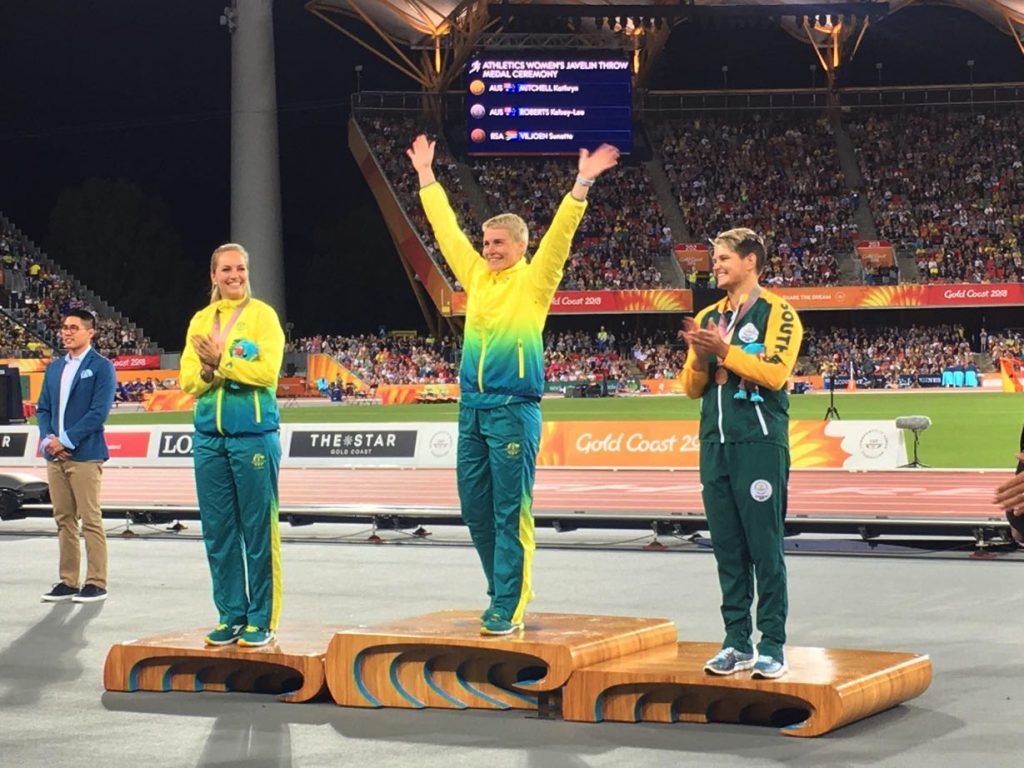 Four Commonwealth Games, three world championships, two Olympics, six top eights out of eight major championship appearances up to Gold Coast, numerous victories and high-place finishes on the Diamond League circuit, Mitchell has been one of our most consistent performer and thereabouts for most of her career.
But not there; not until this night on the Gold Coast, anyway.
Mitchell ran through the foul line on that last attempt and all the way up to the point where her winning throw had landed. A long wait had come to an end.
In fact, Mitchell had put any demons to rest early. On the second throw of the competition. Following one of her chief rivals, Sunette Viljoen, onto the runway, she released a soaring throw which came down some 68.92 metres away down the middle of the infield. The competition was effectively over, even if it took until the final round for Kelsey-Lee Roberts to get past Viljoen for an Australian 1-2.
Even till that point, it had ben notable how relaxed Mitchell looked. According to the team media guide, she has been working with a sports psychologist this year, and it seemed to show. She entered the arena with a broad smile and she had no reason not to smile after that first monster throw.
Mitchell's 68.92 was her third Australian record of the year, an Australian all-comers' record – adding a centimetre to Trine Hattestad's Sydney 2000 winning distance, and took her to seventh on the all-time performers' list. Pretty impressive numbers.
The javelin 1-2 was the start of the best night of the athletics for Australia to date. Brandon Starc won the high jump, matching the two gold medals won by race walkers Dane Bird-Smith and Jemima Montag on the opening day of competition, and Henry Frayne took a silver medal in an absorbing long jump competition.
Two golds and two silvers and the sequence of impressive performances continued.
Starc, a world championships finalist in 2015 and Olympic finalist in Rio, produced a first-time clearance at a personal best 2.32 metres to take the high jump after he was one of three to get over 2.30.
Starc trailed at that point as Jamal Wilson of the Bahamas had gone over first time. Starc got it on the second attempt and Django Lovett of Canada on the third.
Someone had to get the next height first up, and it was Starc what done it. He has rediscovered his speed on the approach and skims the bar like a dragonfly zipping across a pond. He had taken two tries at 2.24 and 2.27, as well, but at 2.32 it all came together and he cleared without a touch.
Now the pressure was on the other two. After two misses at 2.32, both went up to 2.34, as did Starc. No-one got it, and the gold medal went Starc's way.
If Henry Frayne were a car, he would be one of those vintage racers that you keep in the garage most of the year, bringing it out only once or twice for a quick thrash-around a race circuit.
But when Frayne is good, he is very, very good indeed. And he has been good the past two days.
Frayne's one-jump Games record 8.34 in Tuesday's qualifying would normally have been enough to make him favourite for the final. But South Africa had a pair of aces in world champion Luvo Manyonga and bronze medallist Ruswahl Samaai.
Still, it was the Australian who struck first in the final, taking the lead in the second round with a leap of 8.33, which kept him in the lead until the half-way point. Manyonga had a best of 8.24 to that point and Samaai 8.22.
The fourth round turned out to be critical. With the jumpers now in reverse order of placings after three rounds, Manyonga produced an 8.35 effort, two centimetres ahead of Frayne's best and one clear of his Games record from the previous day. Frayne culd only respond with an 8.08 and was now trailing for the first time since the first round.
Both men had fouls in round five, then Manyonga tightened the screws a little further with another Games record 8.41 on his final attempt. Frayne had one more attempt and he landed in the pit near the winning mark, but he had fouled narrowly on the board. The two embraced and bowed to the back-straight crowd.
After six jumps there was only a hand's span between two of the best jumpers in the world. I hope we all appreciated it.
LaCaze and Mitchell overcome adversity to run before a home crowd