Did ye get healed?
A Column By Len Johnson – Runner's Tribe
Nitro Athletics has been and gone. It seems to have had an overwhelmingly positive reception – 1.4-million viewers Australia-wide on the first of three nights on free-to-air television, Melbourne's boutique lakeside Stadium jammed to its 9000-ish capacity for the finale – but even the most fervent converts still wondered what to make of it all.
And, just as importantly, what happens next.
For an enterprise which had some of the air of a revival meeting, the question posed in Van Morrison's Did Ye Get Healed? seems apt:
I want to know did you get the feelin'
Did you get it down in your soul
I want to know did you get the feelin'
Oh, did ye get healed
Sebastian Coe did. Speaking at a press conference in Melbourne the day between the second and third meetings, the IAAF president joined the choir singing Nitro's praises:
"I thought it was exciting. I saw young people pressing their noses up against the fence trying to get closer to (the athletes) . . .
"I saw engagement and I saw fun and laughter, and that's something athletics has been missing for a long time."
This was maybe a tad hyperbolic, given that sat alongside Coe was Usain St Leo Bolt, who has been bringing engagement, fun and laughter to the sport for the best part of 10 years, albeit as pretty much a one-man band.
Jason Henderson, on the other hand, "was left feeling nonplussed."
Despite being "all for experiments and fresh thinking," Henderson, editor of English magazine Athletics Weekly, professed not to find anything "earth shatteringly innovative" in what Nitro had to offer.
"Most of the 'ideas' such as mixed relays, javelin throwing for distance and accuracy, plus unusual races like 150 metres have been tried before," Henderson continued. "Nitro Athletics has merely thrown them all into one meeting in the sports-mad city of Melbourne during its summer time."
Well, yeah, that is kind of the point. A good minestrone is made up of bits and pieces of meat and vegetables which put together make a delicious winter's meal. Yet on their own they are neither, in Henderson's phrase, "earth shatteringly innovative," nor particularly tasty.
Henderson was also sceptical about the standard of performances, a reservation echoed by another respected English observer, Peter Matthews, in his Athletics International newsletter.
"The standard of athletics was moderate, and one can see the danger of this 'made for TV' stuff taking the place of the 'real thing,' Matthews wrote in this week's edition.
To which I'd respond that, outside of the Olympic Games and, in limited markets, perhaps the world championships, you have to look pretty hard to find any of the "real thing" on free-to-air for Nitro Athletics to replace.
Matthews, to be fair, published the positive comment from our own Paul Jenes: "The crowd loved it, the TV ratings were great and our little stadium was full and near-full on the three nights."
Peter Matthews and Jason Henderson are passionate fans of our sport. AW – and Jason – cover the sport from UK club and league meetings all the way to the Olympics. Henderson is one of the few journalists I've encountered at recent editions of the world cross-country – say no more, while I've met Peter at everything from the Olympics to a British Milers Club meeting in London's Battersea Park.
But I think they have missed the point on Nitro. I mean, moderate performances, what are they just a few months after Olympic 1500 metres gold medals were won in 3:50.00 (Matt Centrowitz) and 4:08.92 (Faith Kipyegon) – times well within the reach of good club runners.
Likewise, odd distances: the same edition of AI contains a report on New York's time-honoured Millrose Games (sadly no longer staged at the 11-laps-to-the-mile Madison Square Garden track, but the unromantically named The Armory): distances contested included 300, 500, 1000 metres, and the two miles. Talk about the odd bunch.
Performances require context. Just as 'slow' times often go with competing for the highest honours, and indoor distances reflect the constraints of smaller arenas, so the events and distances on the Nitro program reflected the team competition, the reality that athletes would be doing two and sometimes even three events a night, and their entertainment value. Some of the quirkiest events were enjoyed the most.
The world best in the 150 metres that Bolt and others contested at Nitro was set on a straight 150 track laid down along Manchester's Deansgate for the Great City Games. Innovation, anyone.
Sebastian Coe, Jason Henderson and Peter Matthews are all right in some part in their views on Nitro. It does have the capacity to engage, amuse and delight; nothing but the mix of events is radically new; and most of us don't want Nitro to supplant 'real' athletics (whatever that is).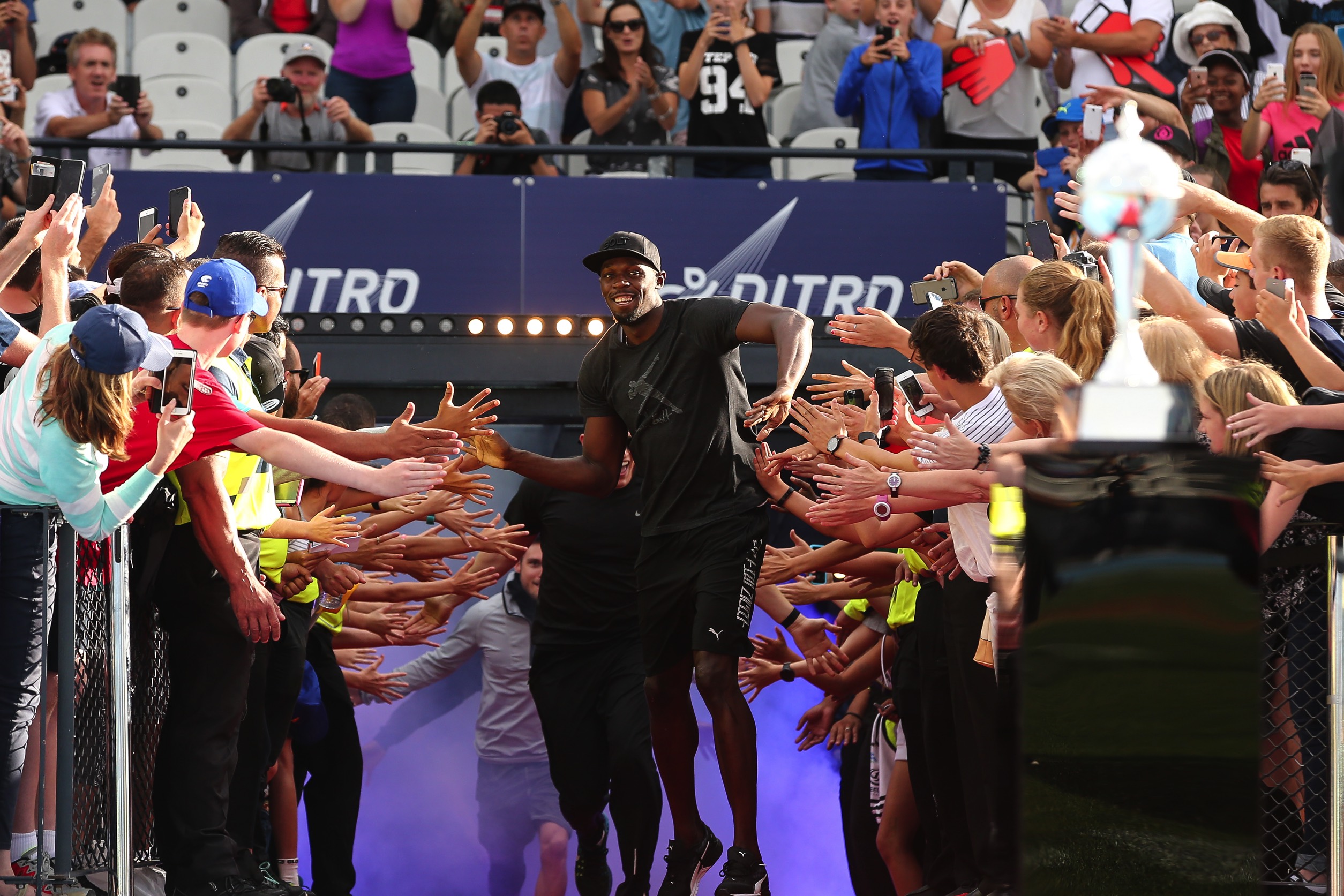 What we do want is three nights of athletics featuring the world's greatest athlete competing in Australia for the first time, a competition playing to a full house, being televised free-to-air to a nationwide and international audience, maybe a touch of controversy here and there – a relay controversy featuring the Bolt team and the locals. Perfect! – all leading to an exciting finale.
And for the same to be a topic of water-cooler conversation for a week in a city where, despite its reputation for being sports mad, the looming professional Australian Rules season sucks up all the precious oxygen of publicity.
We got all of that, and athletes like Morgan Mitchell, Luke Stevens, Genevieve Lacaze, Riley Day, Ryan Gregson and Luke Mathews got priceless exposure along the way. Plus windows into huge markets in China and Japan, windows 'real' athletics has yet to prise open despite repeated efforts.
Whatever the future of Nitro Athletics, its first offering represented a pretty fine minestrone.
Despite soup's well-known restorative power, we'll have to wait and see whether the sport gets healed.
END
About the Author-
Len Johnson wrote for The Melbourne Age as an athletics writer for over 20 years, covering five Olympics, 10 world championships and five Commonwealth Games.
He has been the long-time lead columnist on RT and is one of the world's most respected athletic writers.
He is also a former national class distance runner (2.19.32 marathon) and trained with Chris Wardlaw and Robert de Castella among other running legends. He is the author of The Landy Era.