The two women standing side by side at Lakeside Stadium had held the national record for 800 metres for a total of 28 years and 155 days.
Catriona Bisset had contributed just 11 days to that aggregate total, Charlene Rendina the other 28 years 144. It was Bisset's 11 days which had drawn a small media pack (is there such a thing as a small pack?) to Albert Park early on a wintry afternoon.
On Sunday, 21 July, at the London 2012 Olympic stadium, the second-oldest Australian record on the books had finally changed hands, and feet, when Bisset ran 1:58.78 to clip a couple of tenths of a second off the 1:59.0 Rendina ran on 28 February, 1976. Those couple of tenths were significant not only because the record went down, but went down unequivocally. No ifs and buts about it.
Interestingly, Bisset's first comment when asked how she felt about it was that the presence of teammates Morgan Mitchell and Carley Thomas, who ran 2:00.06 and 2:01.01, respectively, had made the occasion "special" (royalties on way to Bruce McAvaney).
Bisset then went on to add that she felt "like I'm sharing it with all the others who got so close." There were not many, but a significant number nonetheless*. Tamsyn Manou had got closest, the fastest of her umpteen sub-2 minute runs being 1:59.21, and never quite able to accept that a photo-finish 1:59.21 might not somehow be faster than a hand-timed 1:59.0. Now, neither is the national record.
It took Charlene Rendina to chime in with the comment: "Catriona, you ran a very impressive race. It was a damn good run. Over 43 years I've seen some wonderful athletes go very close. It's good to see it's finally happened."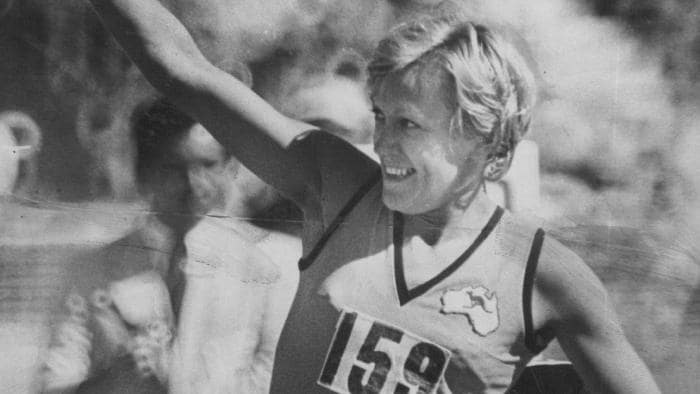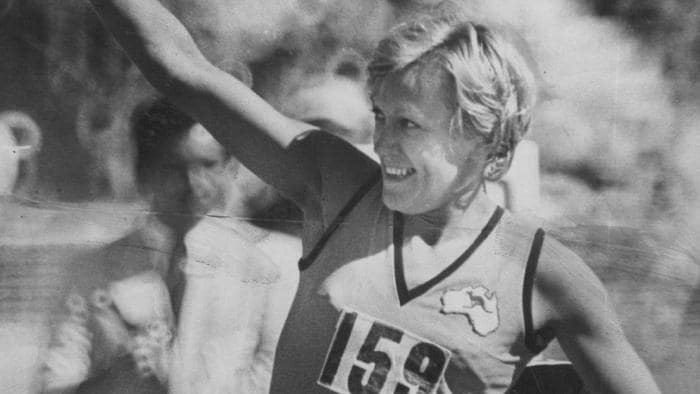 It turns out the two record holders, and the two record runs, had more than a little in common. For her part, Bisset was confident the record would follow as soon as she got in the right race. London was it.
Rendina's record arose in almost the same way. "It was an Olympic year," she said. "There was no plan, other than to win and get selection (for Montreal). I went from 2:02 to 1:59 in one race.
"I had no idea that in 43 years I would still have the record."
Quite. Who does? Ron Clarke was always very keen to see an Australian distance runner break his records (it took 27 years for the 10,000 to go down, 33 for the 5000), but he told me once that after 20-or-more years he did get a little more attached to them).
Rendina's record was run in the final of the Victorian championships, with just teammate and training partner Judy Pollock for competition. In the national titles a couple of weeks later, Pollock tore through the first 400 in around 57 seconds in an attempt to beat Rendina who went close to two minutes again in winning in 2:00.1. Pollock would become the second Australian to go sub-2, notching the achievement in the Olympic semi-finals when both Australians missed the final by one place.
This year's Victorian championship was a significant race for Bisset, too. She was favourite, but at that stage not by that much. It was a race she could lose if she gave her rivals a chance. She did not, running dominantly from the front in both.
"I told myself I wasn't going to be satisfied just sitting back there and wining in 2:05."
Bisset ran 2:03.03, a personal best.
It was the same at a Victorian Milers Club meeting later that month – 2:01.27 from the front and defeating Georgia Griffith and Mitchell, then at the nationals, heat in 2:03.58 and final in her first Doha 2019 qualifier, 2:00.48.
Bisset again spoke about her battles with anxiety and eating disorders through her teens, noting how "you don't overcome (them), you build strategies (to cope)."
It had been her decision to come back into running, first dipping her toes back in the water, then going full tilt.
"I was training with some Sydney University teammates after one of the championships. One of them had had a good championships, I'd had a poor one. I decided, 'I want to be like you'."
Soon after, Bisset moved to Melbourne, joined Peter Fortune's group, and the rest is history which you suspect has not reached its conclusion yet.
Egil Danielsen: Melbourne 1956 Olympic gold medallist
The only man to have set a world record in Olympic competition in Australia, Egil Danielsen of Norway, has died at the age of 85.
Danielsen was in sixth place at the half-way point of the men's javelin final with a best of 72.60.
For his fourth throw, Danielsen 'borrowed' the steel javelin which had been thrown up until then either by silver medallist Janusz Sidlo of Poland, or bronze medallist Viktor Tsibulenko of the USSR, depending on which account you read.
Whatever. The one account you can rely on is that Danielsen threw that implement 85.71 metres to break the world record and take the gold medal almost six metres clear of the other two.
I always loved the Danielsen story, which featured in any commemorative piece I wrote for various anniversaries of Melbourne 1956. There is a tribute to him on the European Athletics site (www.european-athletics.org ) and a commemorative statue outside the stadium of his hometown, Hamar, where the national championships are being held this weekend (2-4 August).
 * Six Australian women have bettered two minutes for 800 metres – in chronological order: Charlene Rendina, Judy Pollock, Margaret Crowley, Tamsyn Manou, Madeleine Pape and Catriona Bisset. Susan Andrews broke two minutes in a mixed race.
End
About the Author
Len Johnson wrote for The Melbourne Age as an athletics writer for over 20 years, covering five Olympics, 10 world championships and five Commonwealth Games.
He has been the long-time lead columnist on RT and is one of the world's most respected athletic writers.
He is also a former national class distance runner (2.19.32 marathon) and trained with Chris Wardlaw and Robert de Castella among other running legends. He is the author of The Landy Era.
Main cover photo courtesy of Athletics Australia.