The final day of the Pan American Games at Santiago's Julio Martinez Pradanos National Stadium was nothing short of spectacular for American athletes. Matthew Ludwig, Curtis Thompson, and Rachel McCoy delivered exceptional performances, securing gold medals and ending long-standing title droughts in their respective events.
In the men's pole vault, Matthew Ludwig continued the United States' legacy of excellence, clinching his 15th gold medal in the Pan American Games. Ludwig's remarkable feat included a first-attempt clearance at 18-2.50 (5.55m), sealing his place at the top of the podium. Argentina's German Chiaraviglio took home the silver with an 18-0.50 (5.50m) clearance, while Mexico's Jorge Luna secured the bronze at 17-8.50 (5.40m). The United States has an illustrious history in this event, with 15 of the 19 gold medals ever awarded at the Pan Am Games, including a seven-title streak from 1951 to 1975 and an additional six victories from 1983 to 2003.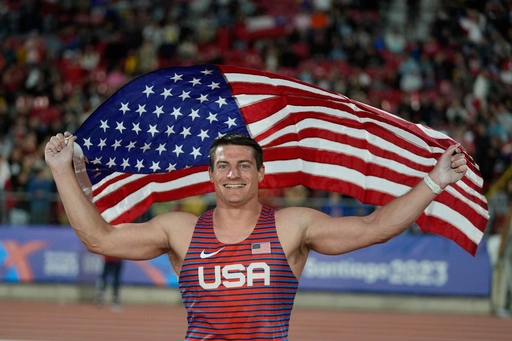 Curtis Thompson contributed to the American triumph by winning gold in the men's javelin throw. His outstanding performance featured a sixth-round throw of 261-4 (79.65m) and an opening-round effort of 258-3 (78.72m) that proved unbeatable. Thompson became the first American athlete to claim gold in this event since Duncan Atwood in 1987. Brazil's Pedro Nunes secured the silver with a throw of 257-4 (78.45m), while Guyana's Leslain Baird made history by winning the bronze, marking his country's first-ever medal in this event at the Pan Am Games.
View this post on Instagram

In the women's high jump, Rachel McCoy cleared 6-1.50 (1.87m) on her second attempt, becoming the first American champion in this event since Coleen Sommer's consecutive titles in 1983 and 1987. McCoy's victory also marked the first high jump podium finish for American women since 1995. Colombia's Jennifer Rodriguez took home the silver with a clearance of 6-0.50 (1.84m), and Marisabel Senyu from the Dominican Republic secured the bronze by clearing 5-11.50 (1.81m).
Throughout the Pan American Games, the United States demonstrated its dominance, emerging as the top-performing nation with eight gold medals and a total of 25 medals. Brazil and Cuba also had strong showings, each securing seven gold medals, with Brazil adding 23 podium finishes to their count.
The closing day of the Pan American Games witnessed the setting of new records. Canada's Ethan Katzberg established a record in the men's hammer throw, and Argentina's Belen Casetta achieved a record-breaking performance in the women's 3,000-meter steeplechase.
These exceptional achievements by American athletes highlight their unwavering dedication to their sports and contribute to the rich legacy of success in the Pan American Games.