"We used the period (covid) as a chance to get top-end speed a bit better. I introduced another sprint drill session a week" – Jake Wightman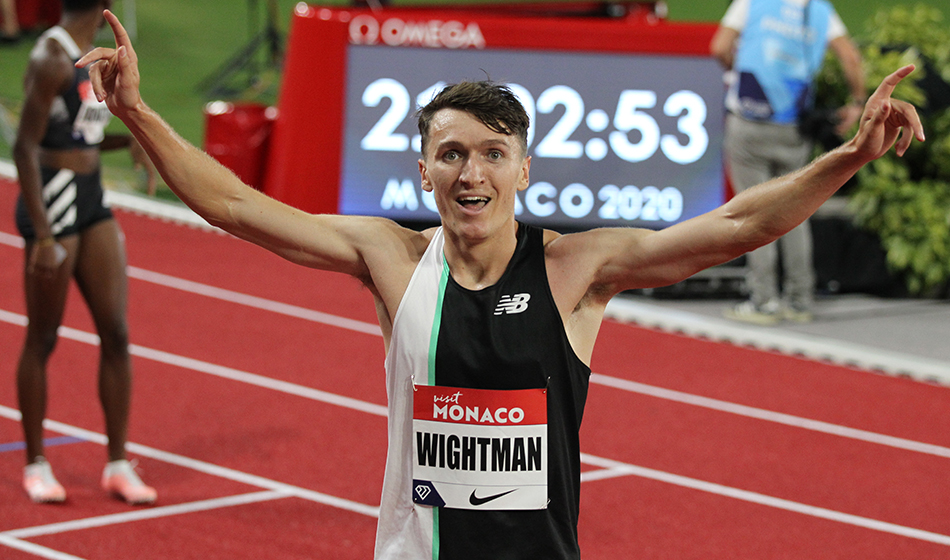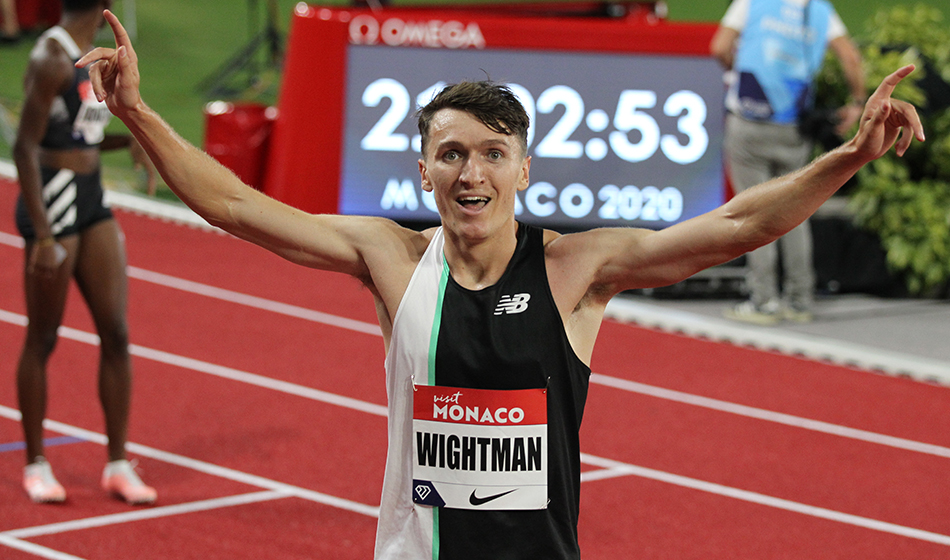 26 year old Scottish middle distance runner, Jake Wightman, has had a fruitful 2020. After Covid-19 disrupted his Olympic and European Championship campaigns, Wightman went into a period of training, and experimented with more speed work.
It's a strategy that has paid off for the Edinburgh based athlete.
In Monaco, August 14 2020, Wightman stormed to 2nd on the all-time UK rankings list clocking 3:29.47. Only Mo Farah remains in front of Wightman, with his 3:28.81 set in 2013. It propels Wightman past some very famous names; Steve Cram, Steve Ovett, and of course Sebastian Coe.
UK All-TIME 1500 MEN'S LIST – TOP 6
3:28.81 Mo Farah 2013.
3:29.47 Jake Wightman 2020.
3:29.67 Steve Cram 1985.
3:29.77 Sebastian Coe 1986.
3:30.77 Steve Ovett 1983.
3:31.86 John Mayock 1997.
"I knew I was fit and I felt that there was nothing to lose, I may as well go for it, and it paid off." – Jake Wightman
2020 Monaco Diamond League Men's 1500m Results
1 KEN CHERUIYOT, Timothy 3:28.45 WL
2 NOR INGEBRIGTSEN, Jakob 3:28.68 AR,PB
3 GBR WIGHTMAN, Jake 3:29.47 PB
4 NOR INGEBRIGTSEN, Filip 3:30.35 SB
5 ETH KEJELCHA, Yomif 3:32.69 SB
6 ESP GÓMEZ, Jesús 3:33.07 PB
7 POL LEWANDOWSKI, Marcin 3:33.99 SB
8 GBR DA'VALL GRICE, Charlie 3:34.63 SB
9 FRA JOCTEUR-MONROZIER, Pierrik 3:35.00 PB
10 SWE BERGLUND, Kalle 3:35.34 SB
11 USA ENGELS, Craig 3:35.42 SB
12 AUS GREGSON, Ryan 3:35.57 SB
Speaking with Athletics Weekly in June, Wightman stated that he has been training more like an 800m runner, experimenting with an extra speed session to refine his 'top-end speed'.
"I've probably been training more like an 800m runner than a 1500m runner and I hope I can race more 800m than 1500m this year because I feel like, to compete over 800m and 1500m better, I need to be able to compete with those guys, top-end speed wise."
View this post on Instagram
 Speaking about the disruption that Covid-19 inflicted, Wightman viewed it as an opportunity to experiment:
"It has given us the chance to focus on other stuff. Normally you'd be getting race ready to run a quick 1500m whereas I could have focused on anything this summer and it was a chance to experiment a little bit with it."
It's a strategy that seems to have paid off in spades.  At Ostrava's Golden Spike track meet on September 8, 2020, Wightman showed his top end speed is pretty awesome. He hung on to the field and powered home over the final 100m, to beat a world class field, stopping the clock at 1:44.18. It's a way off the times of the greats like Seb Coe, but to be fair, he usually concentrates on the 1500m event.
2020 Ostrava Golden Spike Men's 800m Results
1 WIGHTMAN Jake GBR 1:44.18
2 KRAMER Andreas SWE 1:44.47
3 TUKA Amel BIH 1:44.51
4 VAN DIEPEN Tony NED 1:44.82
5 VÁZQUEZ Wesley PUR 1:45.18
6 GILES Elliot GBR 1:45.51
7 KINYAMAL Wyclife KEN 1:45.53
8 LEARMONTH Guy GBR 1:46.00
9 HODBOĎ Lukáš CZE 1:46.34
10 ROBERT Benjamin FRA 1:46.65
11 DAVIDÍK Jakub CZE 1:46.67
12 ŠNEJDR Filip CZE 1:46.98
13 KSZCZOT Adam POL 1:47.26
14 DE ARRIBA Álvaro ESP 1:47.35
Wightman will be one to watch at the 2021 Tokyo Olympics and beyond. He has his eyes on 2022 and a possible treble with three major races all falling within six weeks of each other – the World Championships in Oregon, the Commonwealth Games in Birmingham and the European Championships in Munich.
Ends.