Valencia, Spain – In a riveting exhibition of skill and determination, Kibiwott Kandie clinched victory in the men's category of the esteemed Valencia Half Marathon Trinidad Alfonso Zurich on a balmy Sunday. With perfect weather gracing the event – a comfortable 15°C at the starting line and nary a breath of wind – Kandie, a former world record-holder, delivered a remarkable performance by crossing the finish line at an astounding 57:40. This secured his third win in Valencia while fending off some tough competition.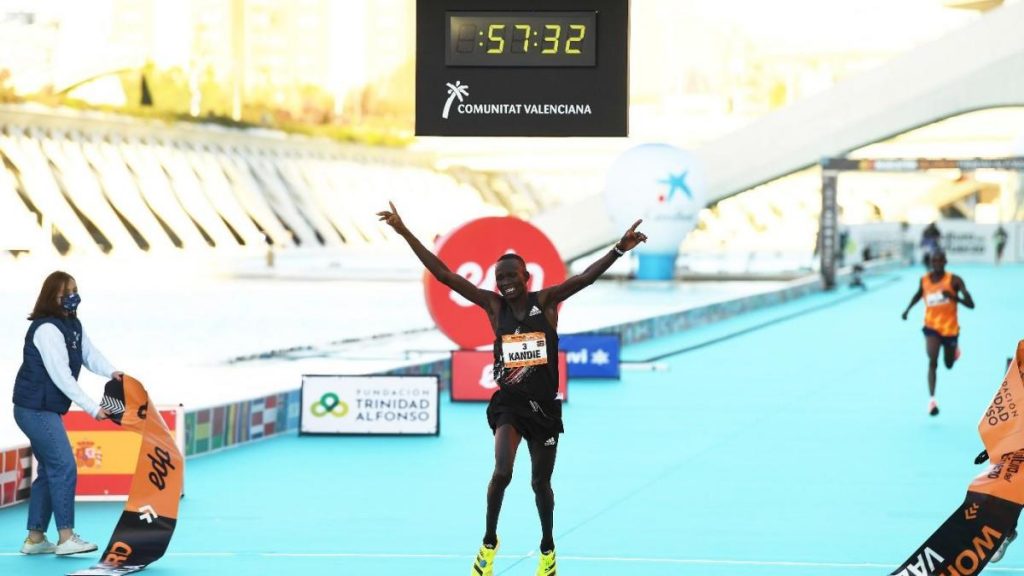 In the men's competition, not one, not two, but four athletes accomplished the feat of completing the race in under 58 minutes. Kandie led the way, claiming the top spot with a time of 57:40. In his first attempt at this distance this year, the former world record-holder managed to outshine his rivals, leaving the crowd in awe. Ethiopia's Yomif Kejelcha secured second place with a national record time of 57:41, closely followed by his compatriots Hagos Gebrhiwet, who matched Kejelcha's performance, and Selemon Barega, who wrapped up the race in 57:50, marking only his second half marathon.
Margaret Chelimo put forth an exceptional performance in the women's race, breaking the 1:05 mark for the first time by clocking an outstanding 1:04:46. On the podium, she was joined by her compatriots Irine Cheptai, who recorded a time of 1:04:53, and Janet Chepngetich, who crossed the finish line in 1:05:15.
Kandie's third victory in Valencia was nothing short of spectacular. Initially, pacemakers maintained a steady pace of 2:45 per kilometer with a target finishing time of around 58 minutes, as discussed during the pre-race technical meeting. However, Kandie had other ideas, as he made a decisive move just prior to the 5km marker. His explosive burst of speed allowed him to cover that kilometer in a breathtaking 2:39, reaching the 5km mark in 13:43, leaving everyone in awe. This surge in pace only allowed Yomif Kejelcha and Hagos Gebrhiwet to keep pace.
View this post on Instagram
The 10km marker was reached in 27:15, indicating the possibility of a world record pace. Although the pace subsequently eased, Kandie and his Ethiopian competitors remained in contention. The closing kilometers evolved into a strategic contest, with the lead changing hands among the frontrunners.
In an electrifying finish, Kandie displayed another burst of speed, outpacing his Ethiopian rivals and crossing the finish line at 57:40. This time marked the second-fastest of his career, only a few seconds behind his previous world record of 57:32, establishing a world lead by nearly one minute.
In the women's race, Chelimo, Cheptai, and Chepngetich dictated the pace early on. Fresh from her silver medal at the World Road Running Championships, Chelimo kept a strong presence close to the pacemakers. As the race unfolded, the pace proved too demanding for the Ethiopian pair, Gotytom Gebreslase and Tigist Gezahagn, who gradually lost ground.
Chelimo and Cheptai sustained their rhythm, with Chelimo upping her tempo in the closing kilometers. She triumphed with a lifetime best of 1:04:46, placing her ninth on the world all-time list. Cheptai followed with a personal best, while Chepngetich secured the third position.
The Valencia Half Marathon was not just a platform for remarkable talent but also a stage for setting new records. Spain's Carlos Mayo broke a 22-year-old national record, completing the race in 59:39, while Portugal's Samuel Barata shattered a 26-year-old Portuguese record with a time of 59:40. Italy's Pietro Riva achieved a significant milestone, dipping under the one-hour barrier for the first time with a time of 59:41.
Rosa Mota, Portugal's 1988 Olympic marathon champion, surpassed her own world W65 masters record, completing the race in 1:26:13.
The Valencia Half Marathon was a captivating showcase of world-class athleticism, leaving spectators eagerly anticipating the next chapter in this extraordinary event. Kandie's promise to return and challenge the world record only adds to the excitement. Valencia will now eagerly await the upcoming Valencia Marathon on December 3rd, where Kandie and other top athletes are expected to shine once more.