The TCS New York City Marathon bore witness to electrifying victories as Hellen Obiri and Tamirat Tola exhibited their exceptional prowess in this prestigious World Athletics Platinum Label event. On a crisp Sunday, they left an indelible mark, treating both running enthusiasts and New Yorkers to unforgettable moments.
The women's race was a display of tactical brilliance by Hellen Obiri. Her victory was marked by impeccable timing, as she surged ahead in Central Park, leaving her rivals, Letesenbet Gidey and Sharon Lokedi, in her wake. Obiri crossed the finish line in a remarkable 2 hours, 27 minutes, and 23 seconds, clinching her win by a mere six seconds. Her performance showcased her extraordinary speed and unwavering determination, leaving onlookers in awe.
A Highly Competitive Women's Field
The women's race boasted a star-studded field, with defending champion Sharon Lokedi facing formidable opponents, including Boston Marathon victor Hellen Obiri, Letesenbet Gidey, the world record holder in the 10,000 meters and half marathon, and former marathon world record holder Brigid Kosgei. However, the late withdrawal of Olympic champion Peres Jepchirchir due to a leg injury added an element of unpredictability to the competition.
The race had no clear pre-race favorite, and the uncertainty continued throughout the event. The leading contenders engaged in a fierce battle over the course of 26 tactical miles. The initial pace was conservative, with numerous surges but no decisive moves. At the halfway point, 11 of the 14 runners remained tightly packed, reaching it in 1 hour, 14 minutes, and 21 seconds. The stage was set for a dramatic finish.
Viola Cheptoo made a significant move, but it was Hellen Obiri's tactical prowess that allowed her to respond and gradually close the gap. Letesenbet Gidey followed suit, and as Cheptoo surged again, Obiri and Gidey ran side by side behind her. However, the race remained fiercely contested, with Sharon Lokedi and Brigid Kosgei managing to rejoin the leading trio.
As the group entered Central Park and approached the 24-mile mark, Lokedi found herself running alongside Obiri and Cheptoo, with Gidey and Kosgei closely behind. The pace quickened, but each time Kosgei was dropped, she fought her way back into contention. With one mile to go, Lokedi led the way, followed by Gidey, Obiri, and Kosgei.
Obiri's Well-Timed Surge
Hellen Obiri, a two-time world 5,000-meter champion, seized the moment and began her sprint towards the finish line. Chased by Gidey and with Lokedi trailing by four seconds, she made a decisive move at the 26-mile mark, securing her victory by six seconds. This win marked a triumphant return for Obiri, who finished sixth in her marathon debut in New York the previous year and went on to win the Boston Marathon in April. She became the first woman since Ingrid Kristiansen in 1989 to claim both the Boston and New York marathon titles in the same year.
View this post on Instagram

Letesenbet Gidey secured the second spot with a time of 2 hours, 27 minutes, and 29 seconds, while Sharon Lokedi claimed the third place in 2 hours, 27 minutes, and 33 seconds. Brigid Kosgei finished fourth in 2 hours, 27 minutes, and 45 seconds, and Mary Ngugi-Cooper rounded off the top five with a time of 2 hours, 27 minutes, and 53 seconds.
Tola's Dominance in the Men's Competition
In the men's race, Tamirat Tola was a commanding presence, rewriting the record books with a dominant performance. With just 10 kilometers remaining, Tola left his competitors far behind, embarking on an unstoppable charge toward victory. His astonishing time of 2 hours, 4 minutes, and 58 seconds shattered Geoffrey Mutai's course record from 2011 by a remarkable eight seconds. This triumph held special significance for Tola, as he had previously secured fourth place in both 2018 and 2019, making this win even sweeter.
While recent marathons have often been characterized by record-breaking times, the TCS New York City Marathon has always been synonymous with a demanding course and highly competitive fields. This year, the men's race turned out to be the fastest in the event's history.
Tola's Record-Breaking Victory
In the men's race, the competition was just as fierce. A lead group, including Tola, Yemal Yimer, Albert Korir, Zouhair Talbi, and Abdi Nageeye, pursued the course record set 12 years ago.
The men's race began with a conservative pace, and by the 20-kilometer mark, a lead group emerged, setting their sights on the course record. Most of the field remained together at the 5-kilometer mark, which they reached in 15 minutes and 28 seconds, and they hit the 10-kilometer mark in 30 minutes and 36 seconds.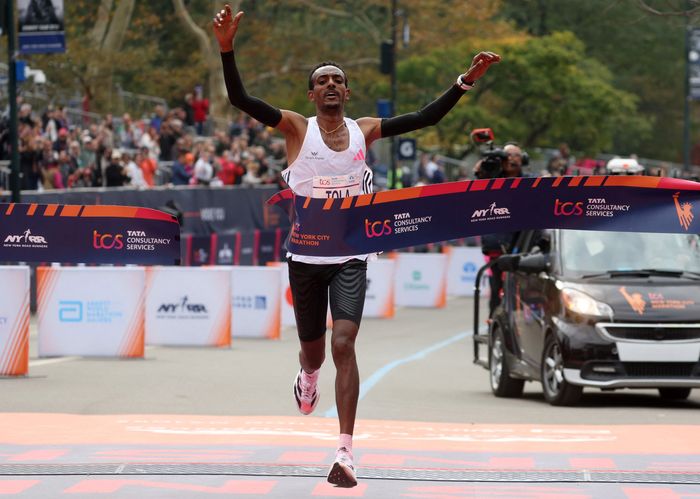 Tamirat Tola, Yemal Yimer, and Albert Korir surged ahead, covering the 5-kilometer split from 20 kilometers to 25 kilometers in an astonishing 14 minutes and 41 seconds. This pace left Nageeye and Talbi behind and proved too much for Korir, who couldn't maintain it.
Tamirat Tola maintained his commanding lead all the way to the finish line, reaching it in 2 hours, 4 minutes, and 58 seconds. This historic time made him the first athlete to complete the New York City Marathon in under 2 hours and 5 minutes. Albert Korir secured the second place with a personal best time of 2 hours, 6 minutes, and 57 seconds, while Shura Kitata took the third place in 2 hours, 7 minutes, and 11 seconds.
Celebrating Victory
Tamirat Tola expressed his joy at the victory, saying, "I am happy to win the New York City Marathon for the first time. It's the third time for me to participate, after two times finishing fourth. Now, I'm happy."
The TCS New York City Marathon once again showcased extraordinary achievements and intense competition. With Obiri and Tola's victories, the event added another chapter to its storied history of world-class running and breathtaking moments.