The New York City Marathon, taking place on November 5th this year, holds a rich history dating back to its inception in 1970. Over the span of 53 years, it evolved into one of the world's most renowned marathons, occupying a prominent place within the annual Marathon Majors.
Notably, in this half-century of competition, a striking pattern emerges. While no male runner has managed to set a new world record in New York, female athletes have made their mark by achieving the fastest times on four distinct occasions. Among these exceptional women, one athlete's accomplishments stand out.
1971 – Beth Bonner's Record-Breaking Debut
In only the second year of the marathon, following its original men-only format, Beth Bonner from the United States left an indelible mark. She crossed the finish line in 2:55:22, not only making history but also setting a new world record as the first woman to complete the marathon in under three hours. Her record held strong until 1975 when Kim Merritt set a course record of 2:46:14.
1978 – The Era of Grete Waitz Begins
Grete Waitz, an athlete from Norway, embarked on an extraordinary journey that would make her the most decorated participant in the history of the New York City Marathon, with nine victories between 1978 and 1988.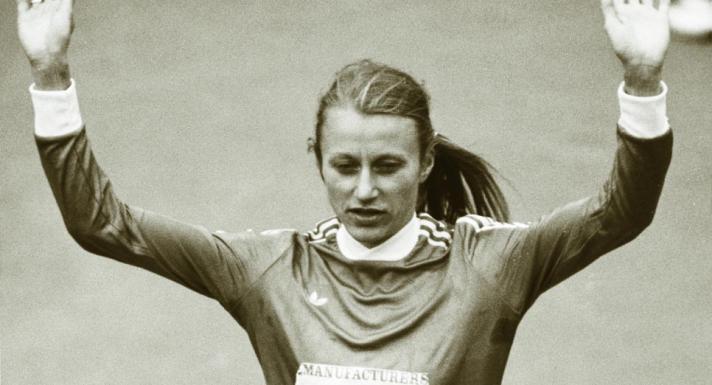 Her remarkable journey commenced with her inaugural win in 1978, a race that also witnessed her establish a new world record. Prior to her triumph, the fastest time recorded in the Marathon Majors was 2:39:11, set by American Miki Gorman in 1976. Yet, just two years later, Waitz initiated her historic reign in New York, crossing the finish line in 2:32:30 to become the second woman to break the world record in the city.
1979 – Waitz's Unrivaled Dominance
By the end of 1979, Grete Waitz had solidified her status as the world's premier female cross-country runner, securing her second consecutive world title. Although a minor setback occurred when she claimed the silver medal in the 3000m at the IAAF World Cup, a race she had previously dominated, Waitz swiftly silenced any doubters. She once again triumphed in New York City, finishing with a time of 2:27:33, nearly five minutes faster than her previous world record, underscoring her unmatched abilities over the marathon distance.
1980 – A Historic Three-Peat
As a new decade began, Grete Waitz continued her remarkable streak in the New York City Marathon. After two record-breaking victories in the previous two years, Waitz displayed her mesmerizing prowess in the 1980 edition of the race. Once again, no one could match Norway's finest as she shaved nearly two minutes off her world record, finishing in 2:25:42. This marked her third consecutive victory, and while she did not set more marathon world records in her career, it was far from the last time she would emerge victorious on the streets of New York.
In 1981, a different athlete, New Zealand's Allison Roe, claimed victory in a race marked by a controversial course measurement issue. Nonetheless, the following years witnessed Waitz's unmatched dominance, with her securing five consecutive New York City Marathon victories from 1982 until 1986, culminating in her final win in 1988, a full decade after her initial world record feat.
Grete Waitz's illustrious career included a gold medal at the 1983 World Championships in Helsinki, five World Cross Country Championships golds, and a silver in the inaugural women's Olympic marathon at the 1984 Los Angeles Olympics. She also secured marathon victories in London in 1983 and 1986, and in Stockholm in 1988. However, her record of nine wins in New York remains unparalleled, establishing her as one of the greatest long-distance runners in history.