The Brooks Levitate 4 is a true workhorse of a neutral high mileage training shoe. Not the lightest of shoes, nor the fastest; but the trade-off is you'll get many extra k's out of a pair of Levitates than you may in many other brands.
Runner's Tribe were lucky enough to take a pair through 210km, and below is our unpaid for analysis.

Specs
Km's run during testing process: 210km
Testers: One road/track runners.
Surface: Road or very light trails.
Purpose:  Everyday high mileage trainer. Good for warm-ups and warm downs. Good for easy runs or long runs.  Not a super fast racing shoe.
Pronation: Neutral.
Stack Height: 27mm heel. 19mm forefoot (including the footbed/insert) . See the table below for brand comparisons.
Heel-to-toe-drop/pitch: 8mm
Weight: Towards the heavy side.

Men: 9 US:  286g (Nike Pegasus is 266 grams).
Women: 8 US: 249g.
Men: 11 US: 326 grams (Nike Vomero is 312 grams).

Midsole: Brooks call it 'DNA AMP' Foam, which they report as their best midsole in terms of energy return.
Upper: A cut back, simple knit upper.
Outsole: Full-length, high quality outsole rubber.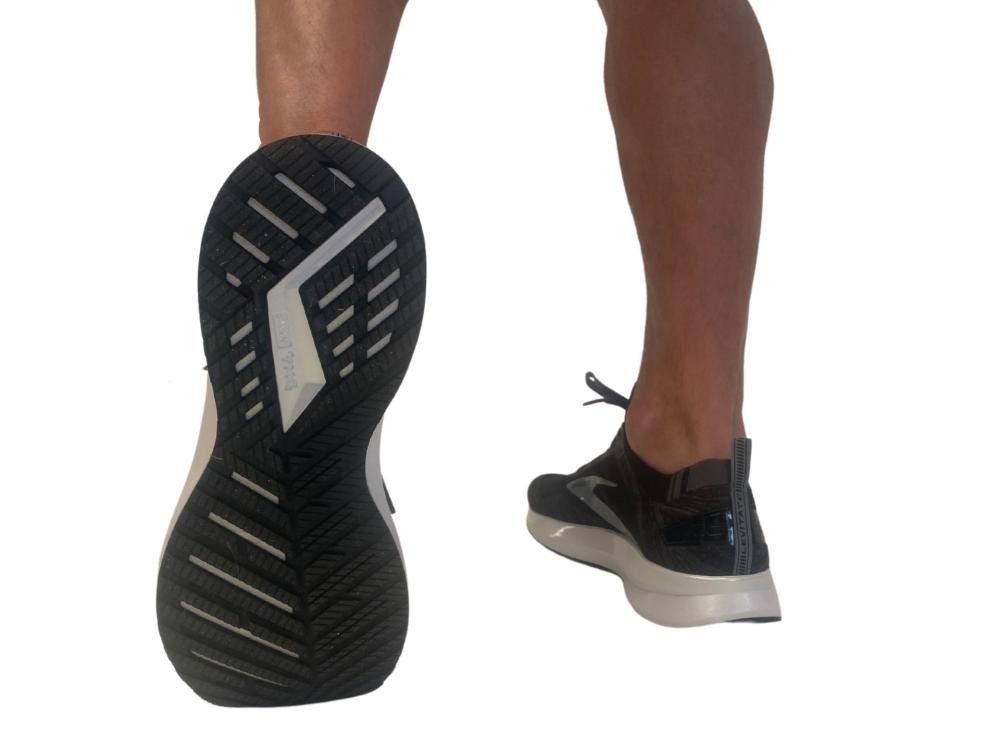 Flexibility: Moderate. Quite easy to flex.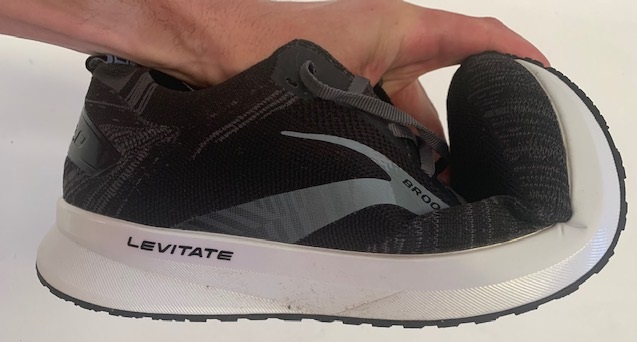 Toe Box:  Tight fit, not a roomy toe box.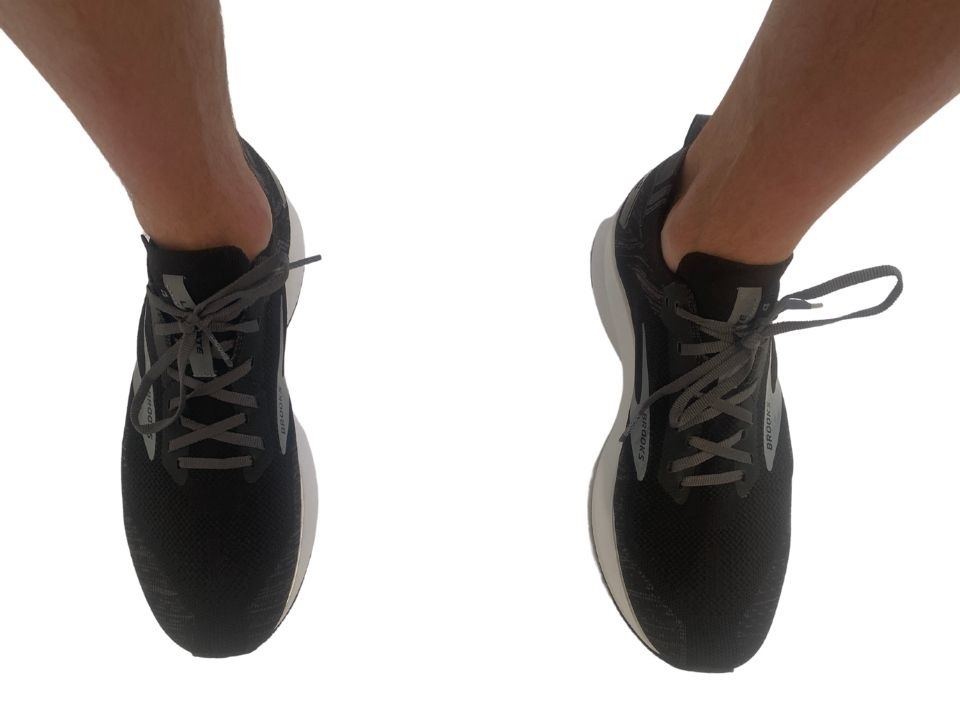 Density of midsole: Moderate.
Durability: Incredible. Most of Brook's shoes are on the heavy side. But the compromise is that they make some of the most durable shoes on the market.
Heel counter: Collapses easily.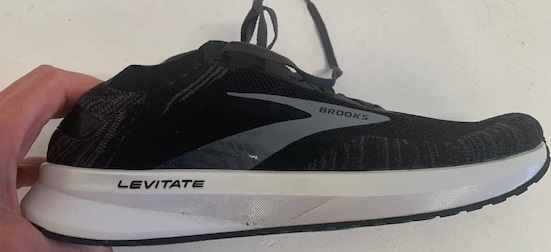 Fits: Runs true to size.
Marketing Hype: Low.
Price: $249.95 AUD
Buy from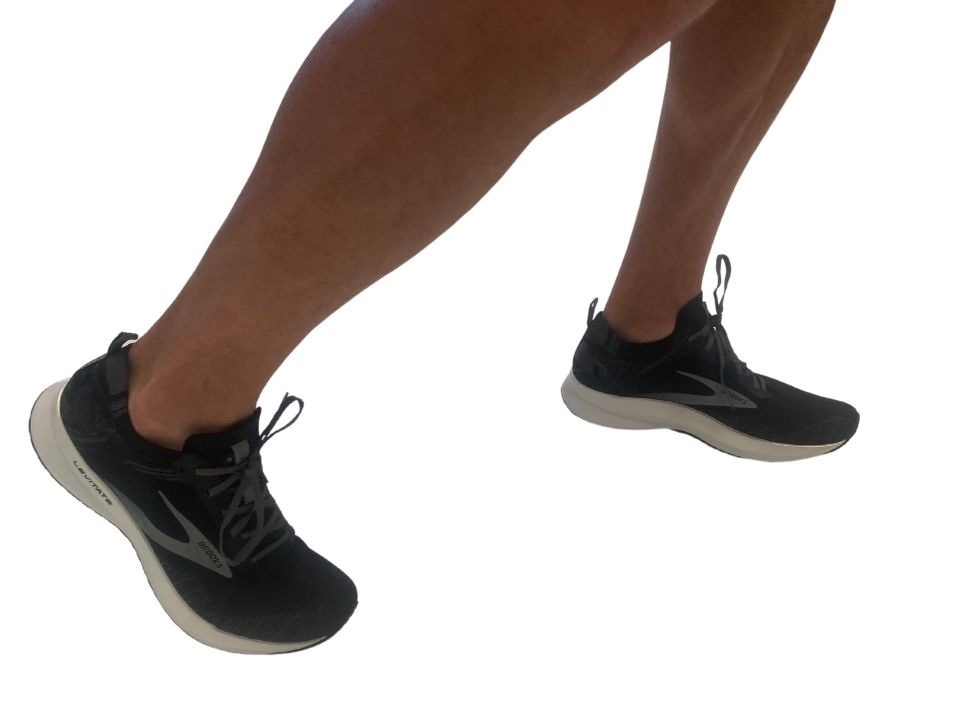 Against some rivals
| | | | |
| --- | --- | --- | --- |
| Shoe (all size US 9 Men | Weight (grams) | Drop(MM) | Stack Heights (heel/forefoot cushioning) |
| Hoka Clifton 7 | 258grams | 5mm | 29mm/24mm |
| Nike Vomero | 281grams | 10mm | 27mm/17mm |
| Nike Pegasus | 266grams | 10mm | 28mm/18mm |
| Adidas Solar Boost | 301grams | 10mm | 28mm/18mm |
| Asics Nimbus | 315grams | 10mm | 31mm/21mm |
| New Balance 1080 | 283 grams | 8mm | 30mm/22mm |
| Mizuno Wave Rider | 289 grams | 12mm | 32mm/20mm |
| Brooks Glycerin | 309 grams | 10mm | 32mm/22mm |
| Brooks Ghost | 286grams | 12mm | 29mm/17mm |
| Brooks Levitate 4 | 286grams | 8mm | 27mm/19mm |
Brooks make heavy shoes, to that there is no arugment. But the flipside, is that their shoes go the distance.
Cool things about this shoe
Brooks use a midsole material called 'DNA AMP', which they argue has superior energy return. Now, brushing aside the name; it simply involves  a midsole made from polyurethane (PU) with a layer of TPU (Thermoplastic polyurethane) wrapped around it. The traditional differences between polyurethane and EVA (used in many other brands) is that PU tends to be heavier, but is more elastic, bendable and durable.
Brooks then wrap a layer of TPU around the PU midsole.  TPU (think Adidas Boost midsole) is one of the most durable forms of midsole material ever invented. One of the problems with TPU – it is also heavy.
So there you have it. Brooks have created one hell of a durable midsole that has pretty good energy return properties. The trade-off is the extra weight. There is always a trade-off.
Note: After 210km our Levitate's are holding up like new. Our pair of Levitate 3's covered about 1100km before retirement.
Full Length Outsole Rubber
Again, on the durability side of things. Their use of full length outsole rubber adds a great deal of durability to an already durable midsole. The outsole rubber feels very high quality (a bit like an Adidas Boost outsole).
7 Colour Options Some awesome colourways, check the rest out HERE

Cool White/yellow on black colourway

Another sweet colourway
Neutral ponderings
The Levitate is a very snug fit. The knit upper really wraps around your feet. The toe box is narrow and there isn't much room in there. And this is coming from a skinner runner with narrow feet. If you like a wide toe box, this shoe isn't for you.
For a high mileage trainer, it's certainly on the low side in terms of cushion underfoot. At 19mm (forefoot) and 27mm (heel) – this is including the footbed/insert – it's designed for runners' who enjoy some ground feel.
To buy or not to buy?
An incredibly durable shoe, built for high mileage. If you like a snug, narrow, sock-like fit without excssive cushioning for your long runs, it's probably the best option out there.
Disclaimer:  Runner's Tribe were given a pair for free.
Written and tested by Sam Burke for Runner's Tribe.