(c) Runner's Tribe
The Hoka One One Torrent 2 is a neutral, lightweight trail shoe with aggressive outsole lugs. It is designed for trail runners who want to run fast on varied terrain. It's a shoe with a modest amount of underfoot cushion,  no where near as much as say the Hoka Speedgoat or EVO Mafate shoes.  The Torrent 2 is much more like a 'traditional' shoe that one of the 'old school' brands would release, but with the unique Hoka touches like a 5mm drop, soft foam, and a rocker bottom.
Runner's Tribe took these shoes through 200km of trails, and below is our analysis.

Specs
Km's run during testing process: 200
Testers: One female trail runner.
Surface: Varied trails, a little bit of road.
Purpose:  Trail shoe with modest cushion. Designed for trail runners looking for a fast shoe.
Pronation: Neutral.
Stack Height: Men: 23mm heel. 18mm forefoot.  Women: 21 heel, 16mm forefoot.  These stack heights were verified by Hoka Australia. See the table below to compare different Hoka trail shoes.
Heel-to-toe-drop/pitch: 5mm
Weight: Very light

Men: 9 US:  264g
Women: 7 US: 215g.

Midsole: ProFly midsole foam.  Soft lightweight EVA foam.
Upper: Engineered mesh upper. It's very nice and stretchy.
Outsole: Full length rubber outsole with aggressive lugs.
Flexibility: Stiffish.
Toe Box:  Standard for Hoka.
Durability: Only ran 200km, but so far so good.
Density of midsole: Soft.
Heel cushioning: Soft.
Forefoot cushioning: Soft.
Heel counter: Hard/rigid, doesn't collapse easily.
Fits: Runs true to size.
Marketing Hype: Low.
Does it live up to the hype: Yes.
Price: $219.95 AUD at Hoka Australia.  $199.95 at Running Warehouse Australia.

Hoka trail shoe comparison
| | | | |
| --- | --- | --- | --- |
| Shoe (all size US 9 Men) | Weight (grams) | Drop(MM) | Stack Heights (forefoot/heel cushioning) |
| Hoka Torrent 2 | 266grams | 5mm | 18mm/23mm |
| Hoka Speedgoat 4 | 306grams | 4mm | 28mm/32mm |
| Hoka Challenger | 275grams | 5mm | 24mm/29mm |
| Hoka Stinson ATR 5 | 343grams | 5mm | 32mm/37mm |
| Hoka EVO Mafate 2 | 291grams | 4mm | 29mm/33mm |
As seen above, the Hoka Torrent 2 is Hoka's lightest trail shoe, with the least amount of cushion. Built for runners who love to be able to feel the ground. A lightweight, nimble trail shoe.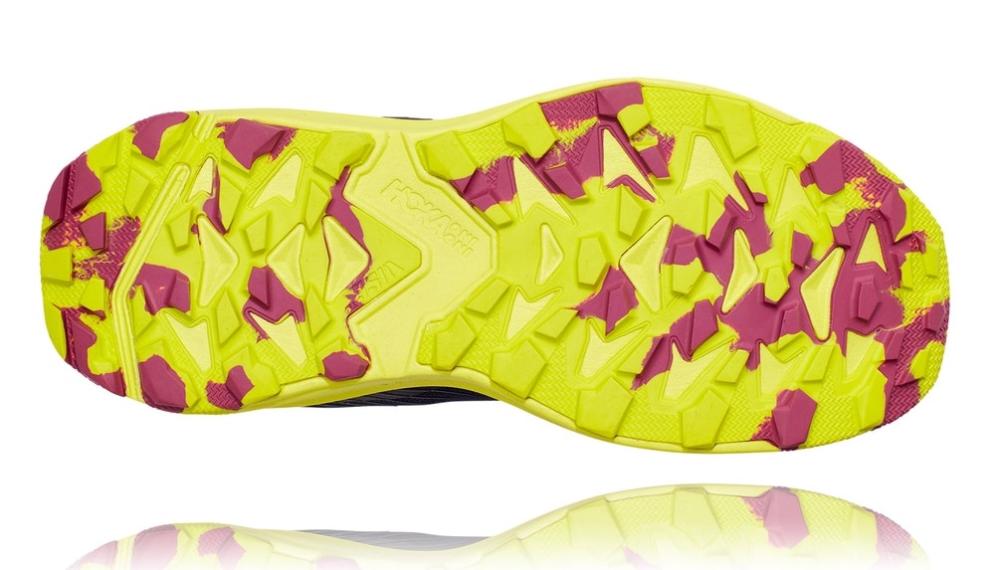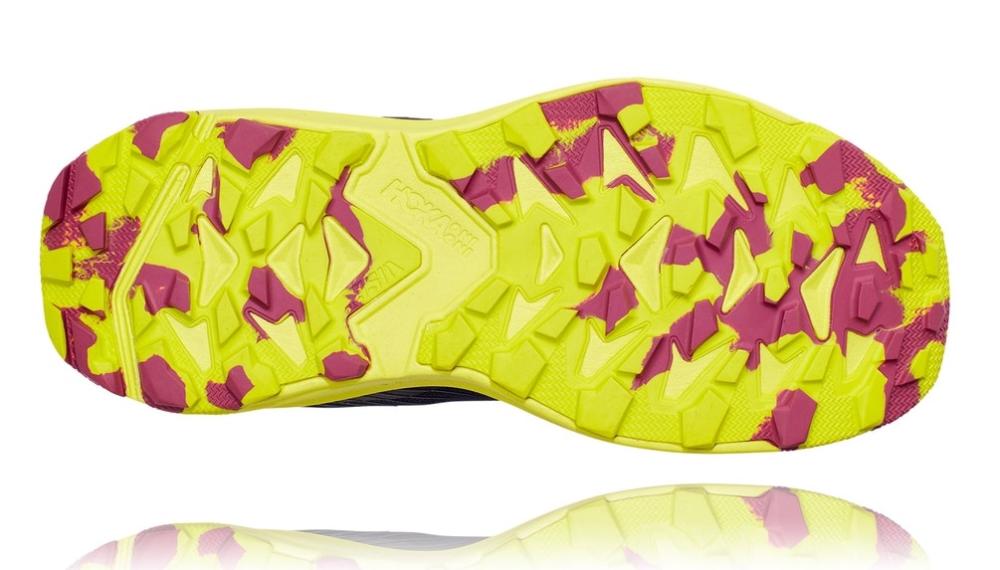 Cool things about this shoe
Weight: Running up those long climbs, having a lighter shoe sure feels nice. Of course, the trade off is less cushioning underfoot. The Torrent 2 is a Hoka shoe that feels less bulky than a traditional Hoka shoe.
Soft midsole: It's what you expect from a Hoka shoe. The Hoka EVA is never going to be as bouncy as say the Nike Vaporfly pebax midsole foams, but if it's a soft feeling you want, Hoka are leaders.
Tough upper: The upper is soft and comfortable, yet tough. It feels high-end and durable.
A faster trail shoe: If you are used to say the Hoka Speedgoat, the Torrent 2 feels so much faster. An ideal shoe for those shorter trail races, where speed is key.
Aggressive outsole lugs: The aggressive outsole lugs provide ample traction on the trails.
Uncool things about this shoe
Laces quite long: Yeah but who really cares.
Not as cushioned: If you dig a lot of underfoot cushion, stick with one of Hoka's other trail shoes (see earlier table).
Toe Box a tiny bit narrow: In reality for 95% of runners, it is fine. But for those Altra lovers out there, this isn't a competitor.
To buy or not to buy?
The Hoka Torrent 2 is an awesome lightweight trail shoe. It is designed for those who want a less cushioned shoe than most of Hoka's other options.  For those in need of a trail shoe built for speed, with ample outsole grip and a fast platform, the Hoka Torrent 2 is a legit contender.
Disclaimer:  We were not paid for this article.
Written by Sam Burke for Runner's Tribe. Reviewed by Chelsea Geddes.