Yohan Blake, renowned as the 2011 World 100m champion, is embarking on an extraordinary journey to secure a spot on Jamaica's 2024 Olympic Games roster in Paris, as he approaches his 34th birthday in December. Despite experiencing recent setbacks, Blake remains steadfast in his determination to represent his nation in an impressive fourth Olympic Games.
Although he recently missed the opportunity to compete at the World Championships in Budapest, Hungary, Blake maintains an unwavering belief in his untapped potential as he embarks on this new chapter.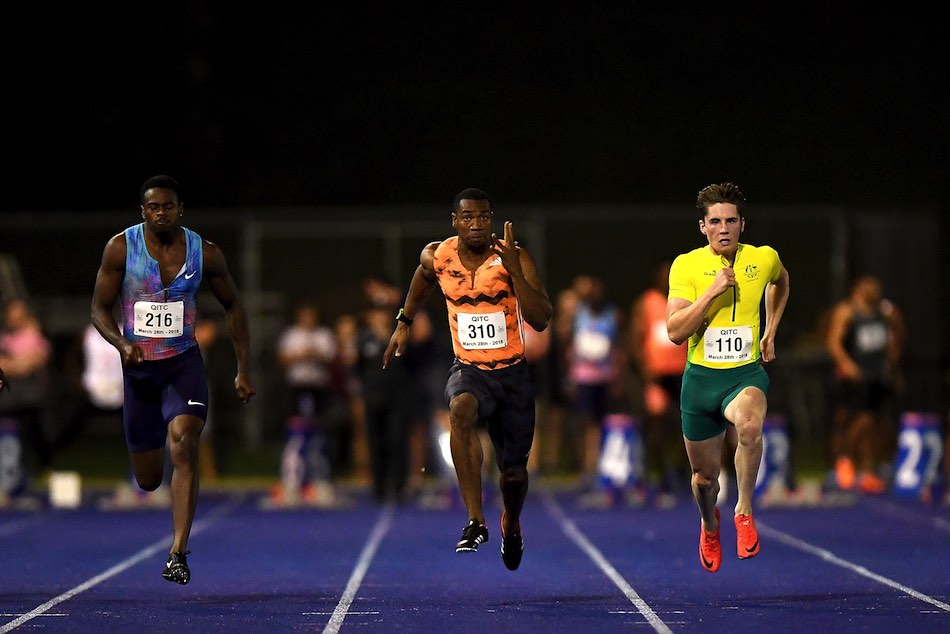 "Few can lay claim to participation in four Olympics. I've already represented Jamaica in three Olympics, and I'm eagerly anticipating the opportunity to make it four. I'm confident that I have more to give, and I'm excited about the possibility of delivering some remarkable performances. Right now, my primary focus is on getting this year off to a strong start," shared Blake, who clinched two silver medals at the 2012 London Olympics.
Blake conveyed these thoughts during an exclusive interview with Sportsmax.TV following the unveiling of his Reviere Purified Water at Kingston's AC Hotel.
The 2023 season posed a significant challenge for Blake, who boasts personal bests of 9.69 seconds for the 100m and 19.26 seconds for the 200m. Despite narrowly missing the elusive 10-second milestone with a time of 10.01 seconds in Poland on July 16, Blake is content with his progress and acknowledges that there is room for growth in the upcoming season.
"I've been consistently posting times around the 10-second mark. I haven't quite broken into the 9-second range, but I'm content with my performances so far. I've been scrutinizing my recent races and observed that my competitors tend to gain an advantage in the final 40 meters. As a result, I'm dedicated to addressing this issue," Blake reflected.
View this post on Instagram
Blake's pursuit of excellence is now unfolding in a new training environment following the dissolution of Titans International, which saw athletes like Akeem Blake, Briana Williams, and Michael Frater parting ways with Coach Gregory Little. With Frater now overseeing his training, Blake has high expectations for the steps he plans to take in the upcoming season.
"Michael Frater, a former athlete and our current coach, possesses an in-depth understanding of my needs. Within our training camp, we also have the promising Akeem Blake and Briana Williams. We are committed to pushing each other, and with the addition of some talented young athletes, our training group is focused on fostering mutual success. As I've previously mentioned, this will be my final appearance at the Olympics," stated Blake with conviction.
Frater has developed a training program aimed at sustaining Blake's sharpness and explosiveness, with the goal of unlocking his undeniable potential. Once hailed as one of the world's most explosive sprinters, Blake is steadfast in his quest to recapture his former glory after grappling with a series of injuries.
Blake memorably outpaced Usain Bolt in both the 100m and 200m at the 2012 Jamaica National Championships and went on to secure two silver medals at the 2012 London Olympics with impressive times of 9.75 and 19.44 seconds. Additionally, he played a pivotal role in Jamaica's gold medal-winning 4x100m relay team, which set a world record with a time of 36.84 seconds.
Injuries, however, disrupted what appeared to be an inevitable ascent towards challenging Bolt's world records of 9.58 seconds for the 100m and 19.19 seconds for the 200m. Reflecting on his challenging journey, Blake recalled a particularly daunting evening in Glasgow in July 2014 when his muscle froze, leading to a diagnosis of muscle spasms. He also acknowledged that some of his injuries resulted from overexertion.
"One of my most significant regrets in life is pushing myself too hard and not recognizing the need for rest. My body has often paid the price, but I don't regret any of it. These challenges have forged my strength, and here I am, still competing at a high level," he affirmed.
"I've faced injuries that required surgery, and despite having metal in my leg, I'm still on the track, giving my all." Blake's unwavering spirit and resolute dedication continue to serve as an inspiration as he strives to attain Olympic glory in Paris.