(c) Runner's Tribe
Disclaimer:  RT were not paid a cent for this article. 
This is RT's first review for HOKA ONE ONE. It won't be our last.
When most people think of HOKA they think of a maximalist type running shoe with loads of cushion. This is only partly true, there are many misconceptions.
Hoka's Clifton 6 is a high mileage neutral training shoe with ample soft cushioning. Not designed for speed, but for long distances or easy runs.
The Clifton 6 is very reminiscent of the very popular Clifton 1, the midsole foam is very similar with a softness to it rarely seen in a running shoe. It is vastly different to the HOKA 4 and 5 which had harder foams and a narrower mould.  With the Clifton 6 you get the feeling that Hoka listened to its customers and brought the Clifton series back to its origins – a nice, soft, lightweight, cushioned ride.
Runner's Tribe took these shoes through 424km of mostly road and light trail running, and below is our unpaid for analysis.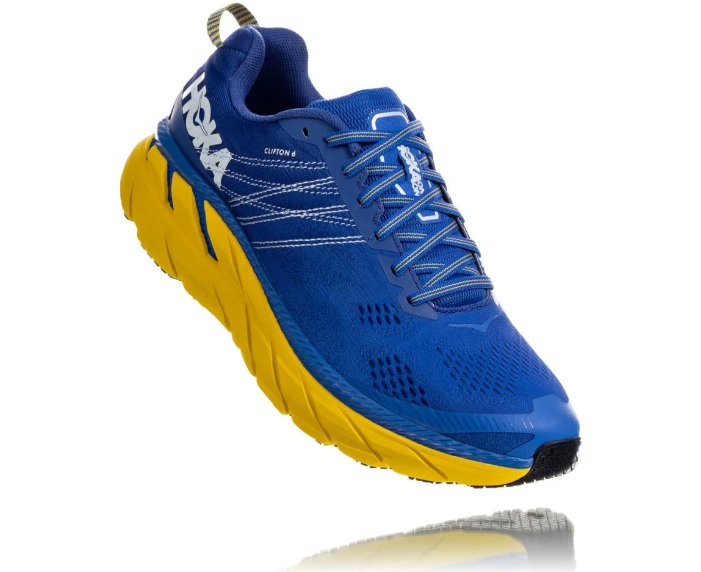 Specs
Km's run during testing process: 424
Testers: Two road/track runners.
Surface: Road or very light trails.
Purpose:  Everyday high mileage trainer. Good for warm-ups and warm downs. Good for easy runs or long runs.  Not a speed shoe.
Pronation: Neutral.
Stack Height: 29mm heel. 24mm forefoot. These stack heights were verified by Hoka Australia. See the table below for brand comparisons.
Heel-to-toe-drop/pitch: 5mm
Weight: Very light (see the below table for brand comparisons)
Men: 9 US:  255g (Nike Pegasus is 266 grams).
Women: 7 US: 209g.
Men: 11 US: 279 grams (Nike Vomero is 312 grams).
Midsole: Soft lightweight EVA foam.
Upper: Mesh.
Outsole: Exposed EVA foam and strategic rubber under high impact areas.
Flexibility: Moderate.
Toe Box:  Wider than your average pair of shoes from the standard old-school brands, your toes have more room to splay than average. But not as wide as say a pair of Altra shoes.
Durability: Average (EVA foam isn't as durable as TPU or React (Styrene based rubber).
Density of midsole: Soft to moderate.
Heel cushioning: Soft.
Forefoot cushioning: Soft.
Heel counter: Hard/rigid, doesn't collapse easily.
Fits: Runs true to size.
Marketing Hype: Low.
Does it live up to the hype: Yes.
Price: $229.95 AUD at Hoka Australia.
Against some rivals
| | | | |
| --- | --- | --- | --- |
| Shoe (all size US 9 Men | Weight (grams) | Drop(MM) | Stack Heights (heel/forefoot cushioning) |
| Hoka Clifton 6 | 255grams | 5mm | 29mm/24mm |
| Nike Vomero | 281grams | 10mm | 27mm/17mm |
| Nike Pegasus | 266grams | 10mm | 28mm/18mm |
| Adidas Solar Boost | 301grams | 10mm | 28mm/18mm |
| Asics Nimbus | 315grams | 10mm | 31mm/21mm |
| New Balance 1080 | 283 grams | 8mm | 30mm/22mm |
| Mizuno Wave Rider | 289 grams | 12mm | 32mm/20mm |
| Brooks Glycerin | 309 grams | 10mm | 32mm/22mm |
| Brooks Ghost | 286grams | 12mm | 29mm/17mm |
| Nike Epic React | 224grams | 10mm | 28mm/18mm |
As seen above, don't listen to those who tell you all Hoka shoes have so much cushioning that you lose proprioception and you can't feel the ground, it's complete ignorance. The Hoka Clifton has the same heel stacks height as most other high mileage trainers, what sets it apart is it's extra forefoot cushioning. Hoka argue that since more ground reaction forces go through the forefeet, that this is in fact where the extra cushioning is required.
Cool things about this shoe
Weight: The shoe is incredibly light, crazy light for a high mileage trainer. Check out the table from earlier comparing weights of popular high mileage trainers. It is lighter than all its rivals. Yikes that will shut up a few Hoka haters out there.
Soft midsole: If you enjoy a soft midsole then you will love this shoe. Not as soft as the Clifton 1, but not far off. It is on par with the softness of a Nike Epic React.
High-end upper: The upper is soft and comfortable. It feels high-end and expensive.
Perfect for easy runs: The shoe isn't fast, but it is a soft cruisy ride that is easy on your legs. For those casual warm-ups and warm-downs, or for easy runs or long runs, the shoes provide a soft ride that feels great.
Medium drop: Some argue that Hoka is a low drop shoe, which is a bit rich. Most traditional shoes have a 10-12mm drop (i.e., pretty much every Nike, Brooks, Asics or Adidas shoes). There is only one brand with zero drop (Altra). Hoka is a medium drop shoe at 5mm.  The lower drop took some getting used to and gradual adaptation is advised. The 5mm drop still provides some relief for the Achilles. However, it's greatest benefit is it allows the shoe to place more cushioning under the forefoot, which takes us to our next point.
Extra Forefoot cushioning: We had two runners test the Clifton 6. Both have been running in 10mm drop shoes for over 20 years. It took a few weeks of getting used to, but it is fair to say we are big fans of the extra forefoot cushioning. Being track/road guys, we naturally land on our forefoot, having this extra cushioning right at the point of highest impact just makes total sense when you think about it.
Uncool things about this shoe
Durability issues of EVA: Hoka do their EVA foam well and it is sort of what makes a Hoka a Hoka, so this point isn't actually that uncool. EVA foam has been around for many decades, it isn't new or all that special. Hoka have figured out how to make their EVA foam very soft and light weight, others like New Balance have tried to copy, to varying degrees of success. It's major drawdown is it doesn't have the durability of say an Adidas Boost (TPU) midsole or a Nike React midsole. After 400km we can feel the shoes going a tiny bit flat, although they most likely have at least another 400km in them.  The Hoka foam is no new-age midsole material, but it works.  The other upsides to EVA are it tends to be lighter (than the TPU especially) and it is cheaper to make (good for the company but the savings don't seem to be passed on to the consumer).
Not for speed: This shoe isn't for racing, it's for long runs and easy runs. If you want a Hoka shoe for racing then do yourself a favour and check out the Hoka Carbon X.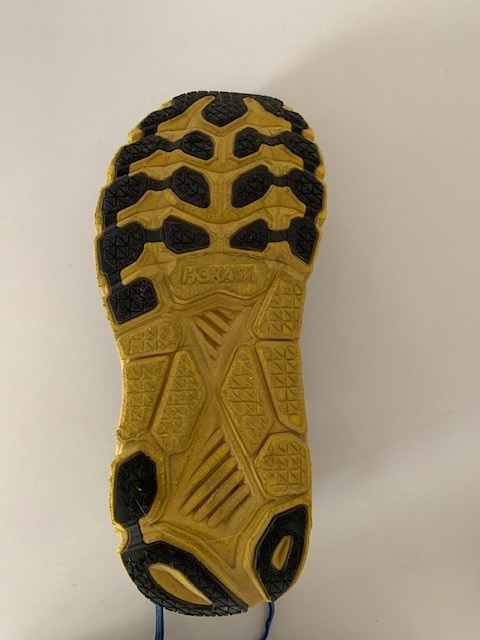 Misconceptions
The main misconception about Hoka shoes is most think that their stack heights far exceed all other brands.  The table above has already disproved this.  The rails that wrap the feet within the shoe are what creates the illusion of overtly high stack heights.  The rails literally wrap the midsole around the foot as a single-piece cradle. Hoka have been doing this for years and now most other brands are copying.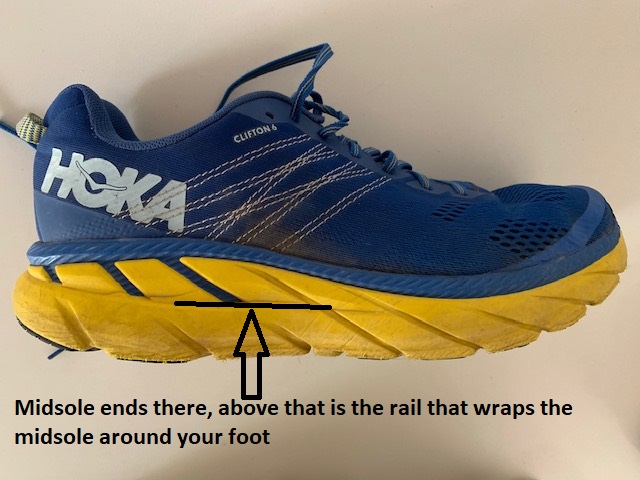 To buy or not to buy?
The Hoka Clifton 6 is an awesome shoe for long runs, easy runs, warm-ups and warm downs. It is not a shoe that is going to break any world records. It is suited for the road or for very safe and easy trails. It's a soft, light ride; softer and lighter than nearly any other rides out there. Having never really worn Hoka shoes before, the shoe has won a few new fans and will be added to the rotation.
Written by Sam Burke for Runner's Tribe
Disclaimer:  RT were not paid a cent for this article.