(c) Runner's Tribe
In our second ever review for HOKA ONE ONE (see our first one here on the Clifton 6), we dive into the Rincon, an incredibly light weight and versatile training shoe.
The Rincon is sort of like the Clifton 6, but lighter and faster.  It has enough structure and support that it can still be used as a high mileage trainer.  However, its lightness makes it feel more like a shoe perfect for up tempo shorter runs, speed sessions , or even racing.
Runner's Tribe took these shoes through 100km of mostly road and light trail running, and below is our unpaid for analysis.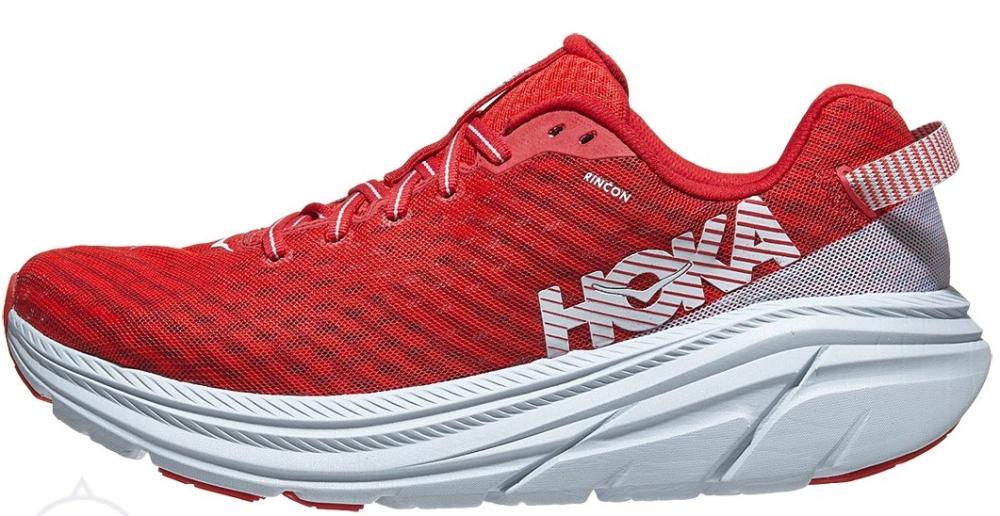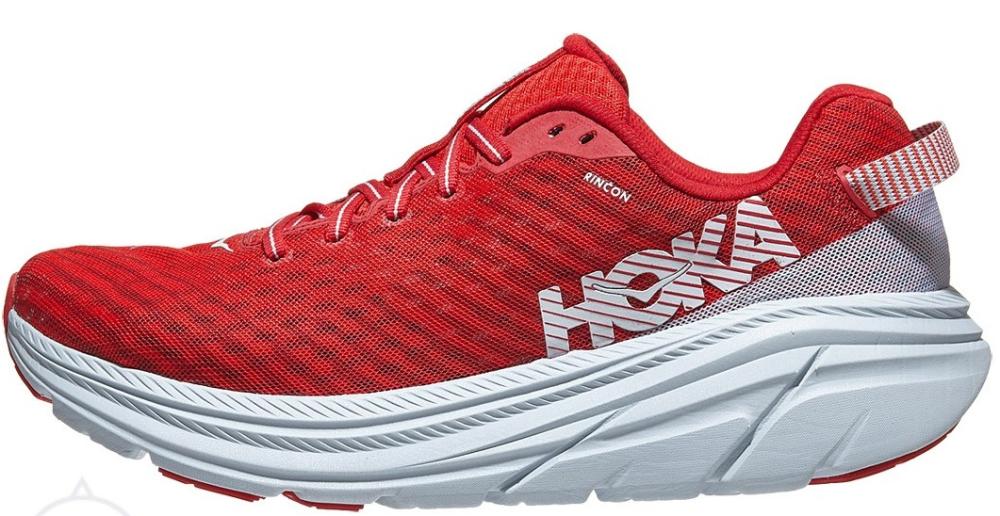 Specs
Km's run during testing process: 100k
Testers: Two road/track runners.
Surface: Road or very light trails.
Purpose:  Everyday versatile trainer. Good for either long runs or shorter faster runs. Fine for race day too for those not keen on carbon fibre plated racing shoes.
Pronation: Neutral.
Stack Height: 29mm heel. 24mm forefoot.  These stack heights were verified by Hoka Australia. See the table below for brand comparisons.
Heel-to-toe-drop/pitch: 5mm.
Weight: Very light (see the below table for brand comparisons)
Men: 9 US:  210g (Clifton 6 is 255g, Nike Pegasus is 266g).
Midsole: lightweight EVA foam.
Upper: Very thin mesh. Thinner mesh than the Clifton 6 to save weight. Mesh feels high quality.
Outsole: Exposed EVA foam and strategic rubber under high impact areas.
Flexibility: Moderate.
Toe Box:  Wider than your average pair of shoes from the standard old-school brands, your toes have more room to splay than average
Durability: Average (EVA foam isn't as durable as TPU or React (Styrene based rubber).
Density of midsole: Moderate.
Heel cushioning: Soft.
Forefoot cushioning: Soft to moderate.
Heel counter: Hard/rigid, doesn't collapse easily.
Fits: Runs true to size.
Marketing Hype: Low.
Does it live up to the hype: Hell yeah.
Price: $199.95 AUD at Running Warehouse.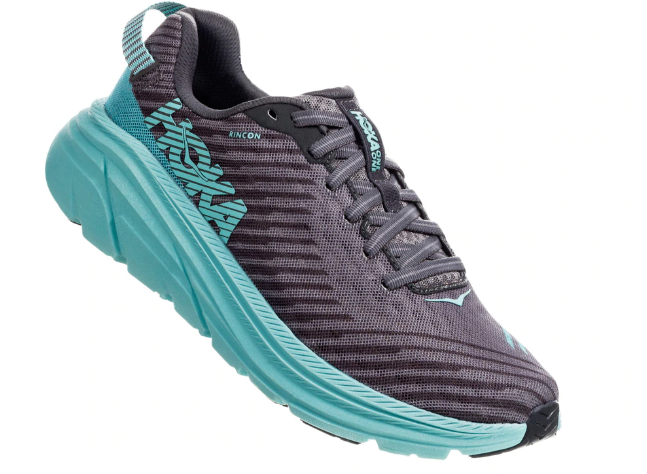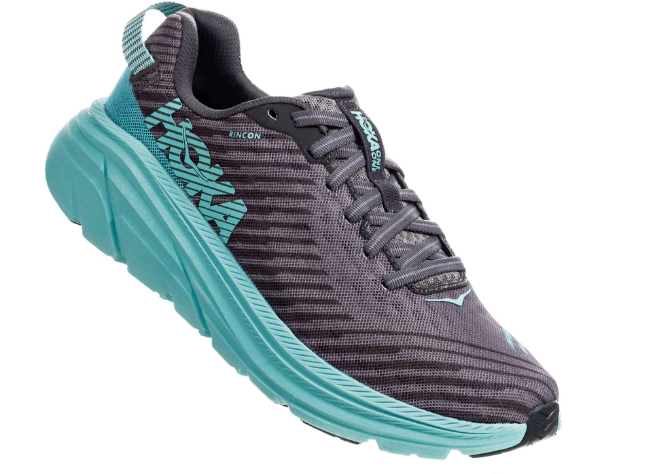 Against some rivals
| | | | |
| --- | --- | --- | --- |
| Shoe (all size US 9 Men | Weight (grams) | Drop(MM) | Stack Heights (forefoot/heel cushioning) |
| Hoka Rincon | 210grams | 5mm | 29mm/24mm |
| Hoka Clifton 6 | 255grams | 5mm | 29mm/24mm |
| Nike Vomero | 281grams | 10mm | 27mm/17mm |
| Nike Pegasus | 266grams | 10mm | 28mm/18mm |
| Adidas Solar Boost | 301grams | 10mm | 28mm/18mm |
| Asics Nimbus | 315grams | 10mm | 31mm/21mm |
| New Balance 1080 | 283 grams | 8mm | 30mm/22mm |
| Mizuno Wave Rider | 289 grams | 12mm | 32mm/20mm |
| Brooks Glycerin | 309 grams | 10mm | 32mm/22mm |
| Brooks Ghost | 286grams | 12mm | 29mm/17mm |
| Nike Epic React | 224grams | 10mm | 28mm/18mm |
As shown above the Rincon is a ridiculously lightweight for a shoe with stack heights of 29/24mm.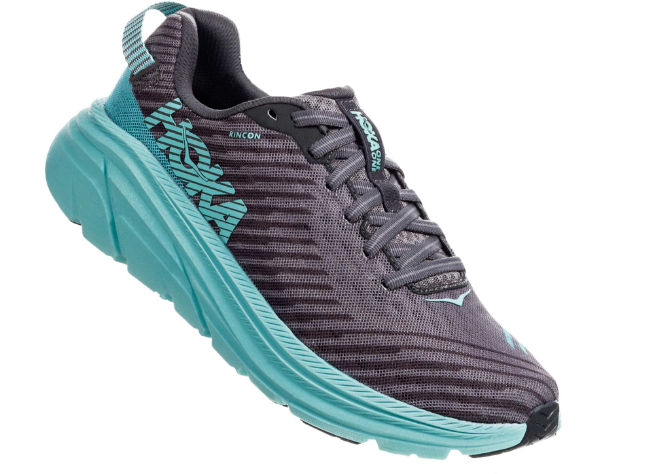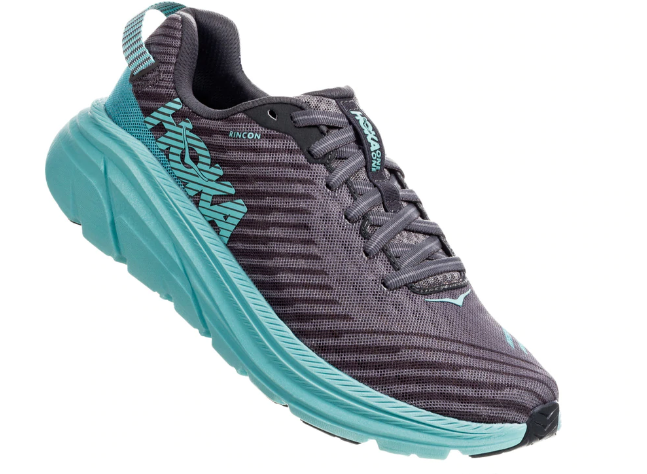 Cool things about this shoe
Weight: The shoe is so so light.  Try and find another shoe with equal cushioning that is lighter. I dare you.
Speed: It doesn't have a carbon fibre plate, but it isn't slow. With a firmer foam than the Clifton 6, the shoe feels as fast as nearly any other lightweight trainer than we have run in.
Perfect for slow or fast running: The Rincon is fast. It is totally up for 1km reps just as much as it can handle a 30km long run. Its versatility reminds me of the Nike Pegasus Turbo. But with ample cushioning it is also fine for slow long runs or recovery jogs.
Medium drop: With a 5mm drop the Rincon provides a more natural ride without tearing your Achilles from the Calcaneus. Not for everyone, but most of us like it once we try.
Extra Forefoot cushioning: For mid to forefoot strikers the extra forefoot cushioning feels really luxurious. This is the highest point of impact for forefoot strikers, it makes sense having some extra padding there.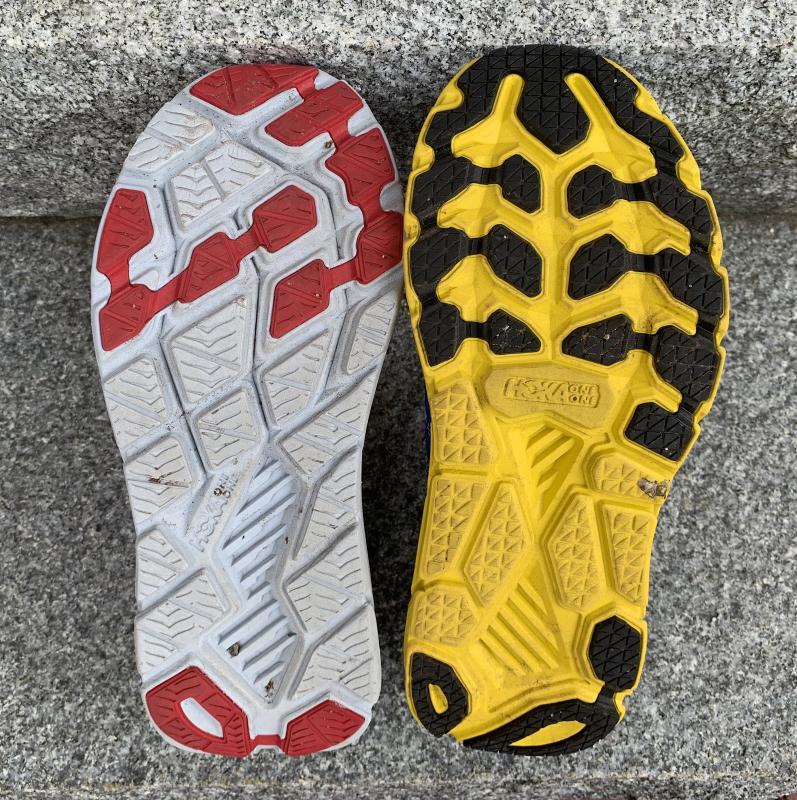 Uncool things about this shoe
It isn't free!!: haha Seriously, we don't own shares in Deckers or anything, but we can't figure out anything that is uncool about the shoe. Maybe some extra colour options would be nice (currently two options only), but that's not a big deal.
EVA midsole: Some argue that EVA midsoles are outdated, an old technology. But nothing about a Hoka feels old. The company is innovative and created a whole new class of running shoe. Nike, Adidas and others like to hype their new midsole foams and midsole technologies, but the fact is Hoka's EVA midsoles work really well. The debate is academic and pointless. If it ain't broke….
To buy or not to buy?
The Rincon is as versatile and light as they come.  An awesome shoe for fast runs, long runs, easy runs, warm-ups and warm downs.  It is suited for the road or for very safe and easy trails. It isn't overly expensive, at about $200, it is pretty standard cost wise. For those who need high drop shoes, it might not be ideal, but for most other runners the shoe is a safe bet.
Disclaimer:  We were not paid a cent for this article. However, Runner's Tribe were given a pair of Rincons for free. 
Written by Sam Burke for Runner's Tribe
 

 

View this post on Instagram