My name is Kieren Tall. I am a 22 year old distance runner from a place you've probably never heard of; Terrey Hills. Terrey Hills can be likened to a country town inside a city. The top half of Terrey Hills is a confusing urban sprawl, the other half is owned by wealthy retirees with astronomical amounts of land, and horses… there are more horses than people here. TH only got a petrol station a year or two ago, and the nearest train station is 25 minutes drive away, so you really can say Kieren lives in the middle of nowhere. I live right on the edge of the suburb, exactly 1km away from one of the largest trail networks in the city of Sydney. There is nothing flat here at all apart from a small soccer oval. Not bad a bad place to be for a distance runner.
I currently train with Run Crew and am coached by Ben St Lawrence. I'm grateful to be supported by a number of other people, including fellow RC coaches Gary Howard and Katie Conlon, and my strength and conditioning coach Daniel Harris.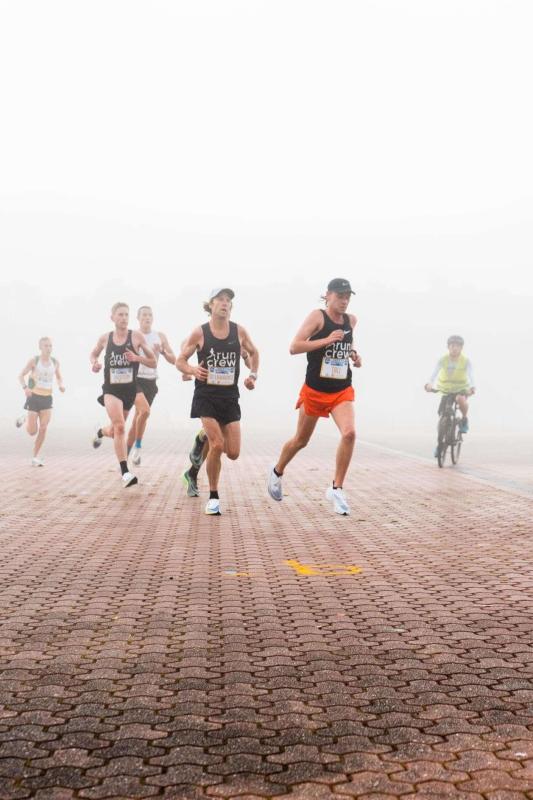 Outside of running, I work for Nike to support myself. I'm also a rapper, and love music, cars and fashion. I have more shoes than friends, but I'm not a loner, I promise.  I also compete with Ed Goddard for the title of Sydney's filthiest mullet.
I mostly compete over the 5km and 10km distances, although I spent most of the first half of 2021 training for a half marathon that ended up being cancelled due to coronavirus. I've represented Australia at the 2017 World Junior Cross Country Championships in Uganda, and aim to make my first open team sometime soon. More recently, I won my first major road race, Sydney 10, in a course record of 28:55. My track PBs over 5 and 10km are 13:50 and 28:47 respectively, both set quite a fair while ago. I'm excited to race again, whenever that may be.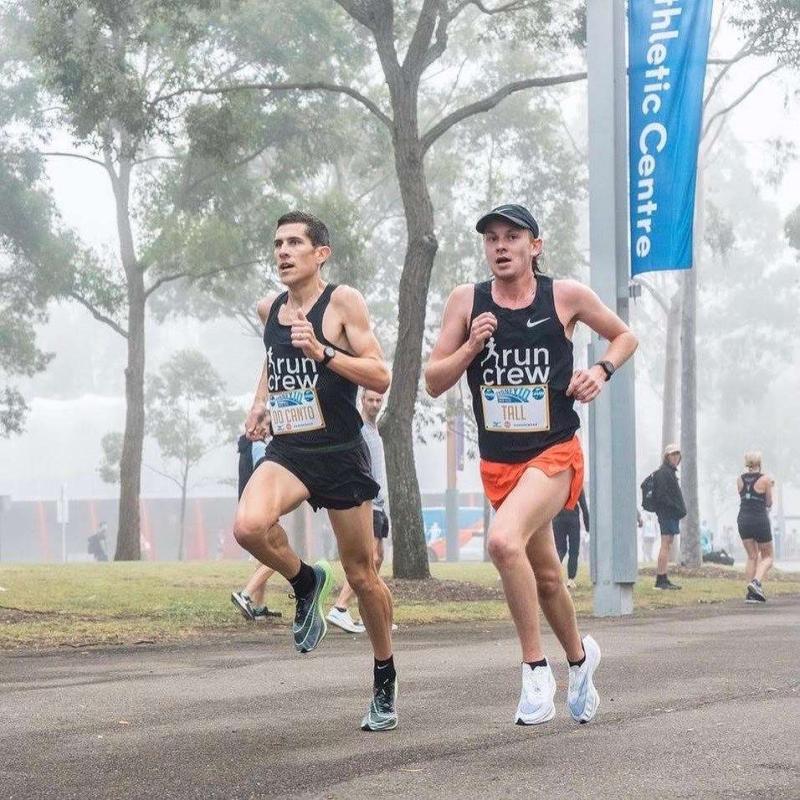 A little bit of background on my sporting history… I'm not your typical distance runner in some respects. I came from a triathlon background and spent many of my after school hours on bikes as a kid. I can confidently say that you'd catch 17-year-old Kieren sending jumps at the BMX track or shredding a backcountry trail at sunset instead of training properly or doing schoolwork on most occasions. 
That being said, I was a fairly committed young athlete. Most mornings I'd be awake around 5am for swimming, before slogging through a school day (admission, I spent far too much time looking at running shoes on eastbay instead of doing what I was meant to) and finishing the day with school cross country or a bike ride. Weekends would consist of longer bike rides with mates, racing "the boys" up the fairly steep climbs before hitting the descents at speeds of 80-90kmh (if my mum is reading this, I'm truly sorry). I trained under both my school cross country coaches and Sydney Striders coaches Caroline and Tony. I've got some very fond memories of training with Caroline and Tony and wouldn't be where I am today without them. I grew up training with Josh Phillips at Striders, who is now a close friend and competitor. Josh is currently overseas studying and competing for Villanova – Go Wildcats. I also raced school cross country on the weekends with some pretty fast guys who some of are now Olympians, and I'm sure the rest will be too. I'd line up with Oli Hoare, Cam Griffiths, Ed Trippas, Ed Goddard and Zach Facioni every Saturday morning. We'd usually take a selfie in the first kilometre of the race before getting down to business. I still miss these races and I know the other boys do too.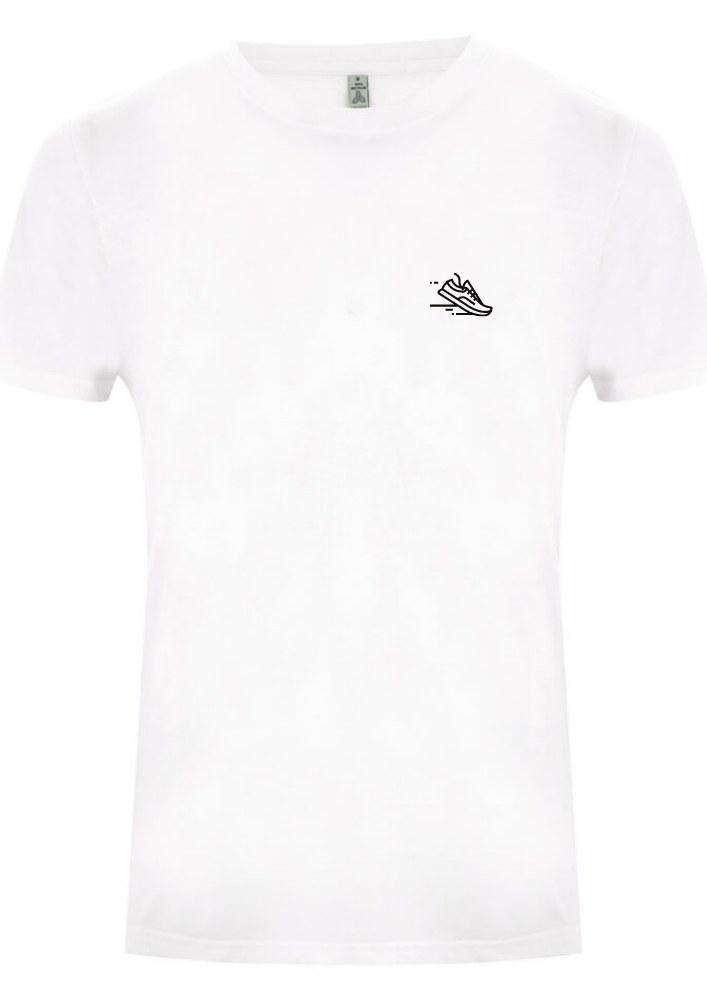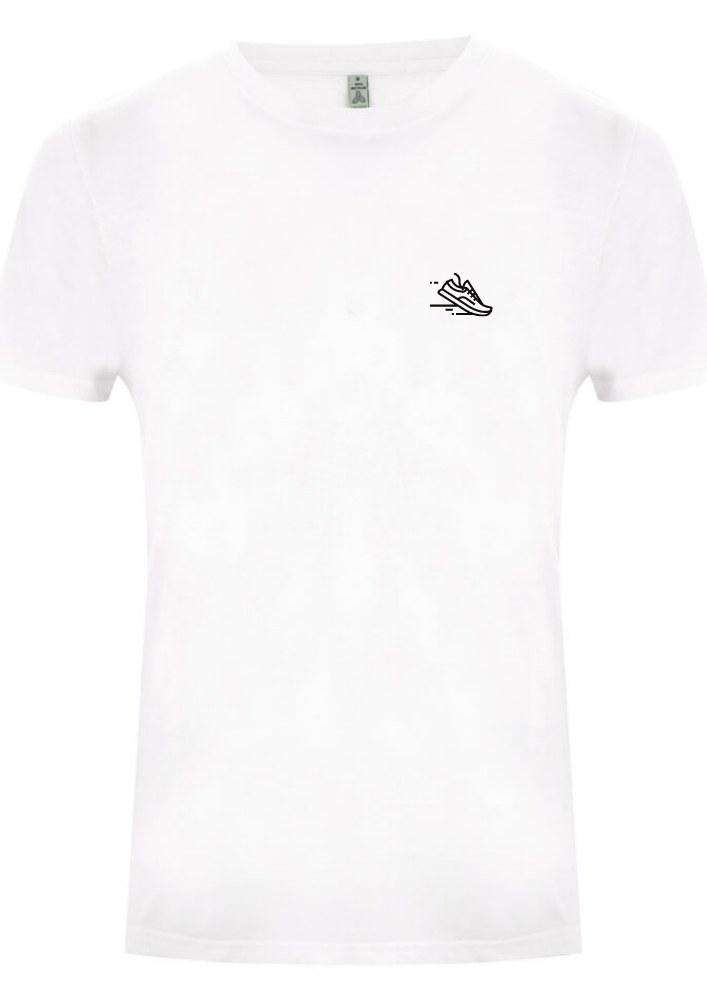 I was a fairly successful triathlete as a kid, representing Australia on multiple occasions and winning the u18 state championships on one of the hottest days in history – we raced a sprint distance triathlon in 45 degrees celsius. I was a talented runner and cyclist, however my swimming ability was severely lacking. In late 2017, I chose to switch sports to running, and joined Sydney Track Club under Nick Bromley, before joining Run Crew in late 2019. 
I ran a huge 10000m PB at Zatopek in 2019 and have started to find my feet on the running scene ever since being coached by Ben, who is also a very valued training partner, along with Tom Do Canto (62:13 half marathon) and Matt Hudson (13:54 5000m). Run Crew is probably the biggest running group in Australia right now, and they're a lot more people I love running with and am grateful for, but I can't name them all here, unfortunately.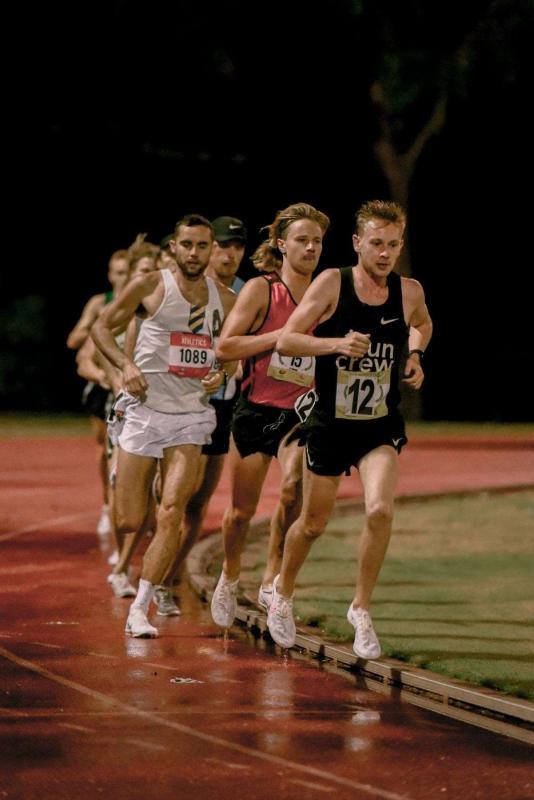 Right now, Sydney is rolling through a very long lockdown, so I haven't seen most of my training partners or coaches for a few months now. I would like to take this time to send my thoughts and support to everyone who is struggling due to these difficult circumstances. Mental health is not talked about enough and I would love to help change that in any way I can. 
Now, on to my four sessions…
3km reps. 
This is a Run Crew special. We'll do 3-5 x 3km, either off 600 float or jog, depending on what we're training for. I love this session because it is long enough to be beneficial for 10k / half marathon training, but also fast enough to benefit the shorter distances and teach you how to run fast on tired legs. We definitely do not run these at tempo or threshold.  We usually do this one early on a Saturday morning around the infamous Centennial Park white fence, a 3.6km dirt loop with a few hills and rises. Tom, Matt, Ben and myself like to get faster every rep, starting under 9 minutes, and often finishing between 8:30-8:40 for the last one on a good day. This session is great for getting fit, and even better at testing yourself. There's no hiding on this one. 
View this post on Instagram
Hilly long run, sometimes towards tempo
A more controversial offering – my coach doesn't like me doing this too often. I like doing some of my long runs faster, or as a build, especially if I'm training for a longer distance. If you follow me on Strava (if you don't, please do, it's well worth it) you'll notice that I run along West Head Road every few weeks. WHR can be likened to a wish version of Magnolia Road in Boulder. Just as hilly, without the altitude, and with far too many cyclists and parking rangers, and unfortunately all concrete. That being said, it's one of my favourite places to run, period. West Head Road runs through Kuringai National Park, it's surrounded by trees and doesn't have too many cars – the halfway point consists of a lookout from which you can see both the Central Coast and Palm Beach (where Home and Away is filmed). I usually cover 28-32km in 2 hours and prefer to start slow and finish strong. The run starts with a 3km steep climb, and the hills never really stop. It gets you fit and exposes you if aren't. Again, there's no hiding here.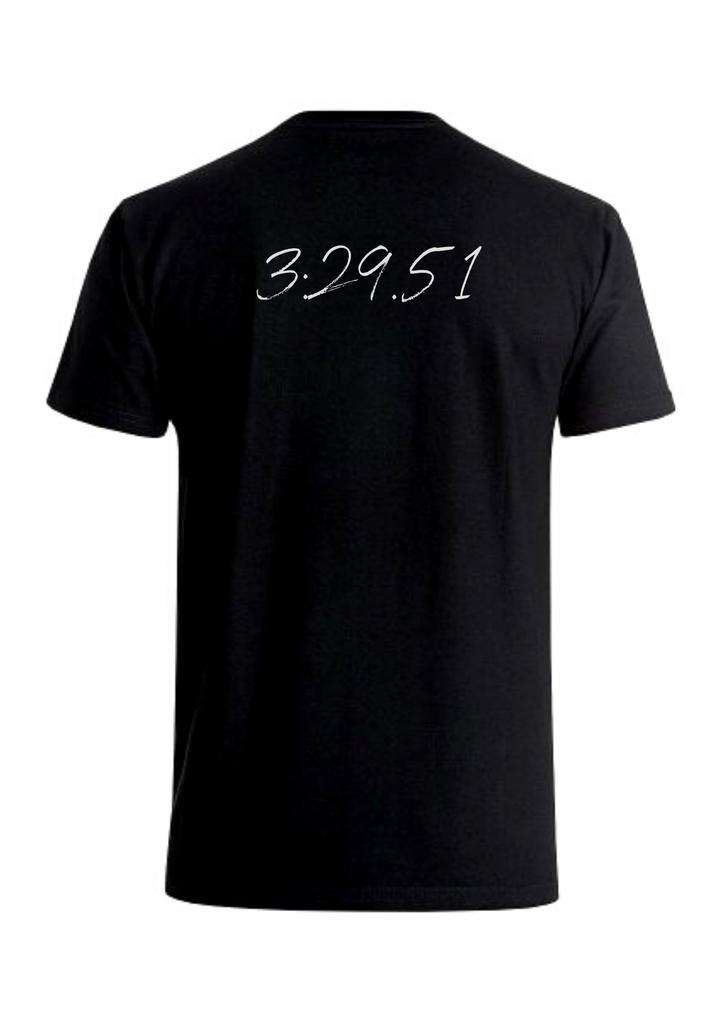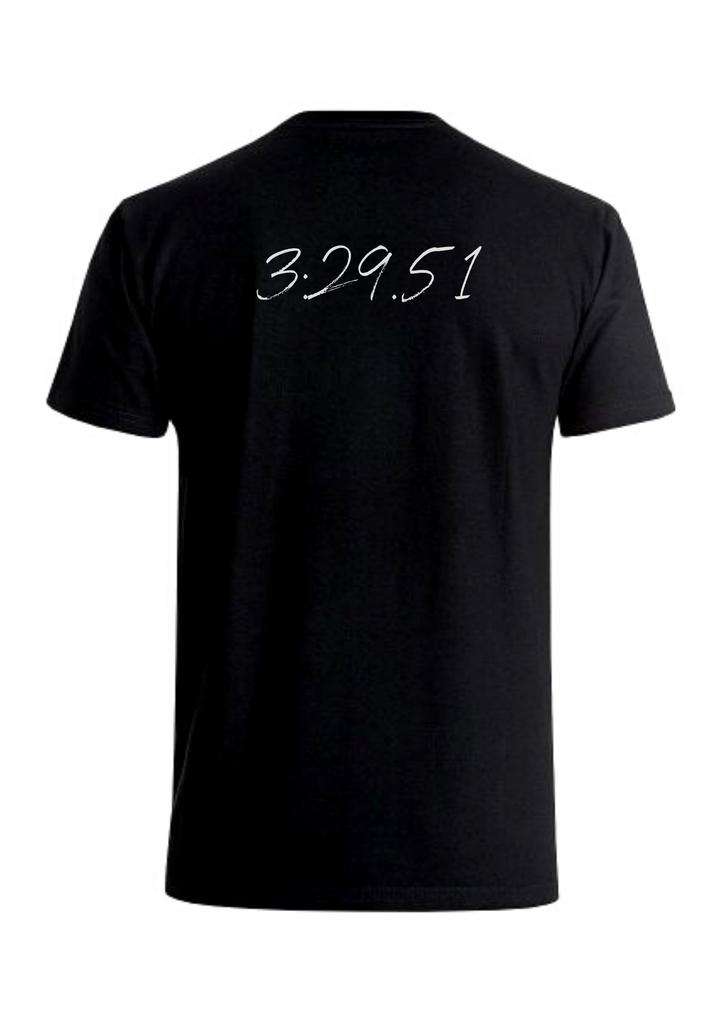 4 x 2km
This one is a great test before a 10000m race, and a staple in winter training. I usually like to have float recovery rather than jog, and aim to run the pace I'm aiming to run my race at, sometimes running the last rep quicker. It hurts, it's fun, it's competitive and provides great physiological adaptations. 
View this post on Instagram
16 x 500m
I actually hated this session last summer. So did most of the group. However, it is very important in preparing for the shorter races during track season, namely, 3000m and 5000m. It's a more competitive session compared to the others I've mentioned, and everyone, from 800m – marathon runners all do this together in summer. It's great for lactic tolerance and speed endurance and teaches you to run fast efficiently.
Well, that's me done for now. I hope you enjoyed what I've written, and I'm grateful to all of you who took the time to read this. Might see a fair few of you at Falls Creek this summer if coronavirus and Dan "get on the beers' Andrews allows us. 
End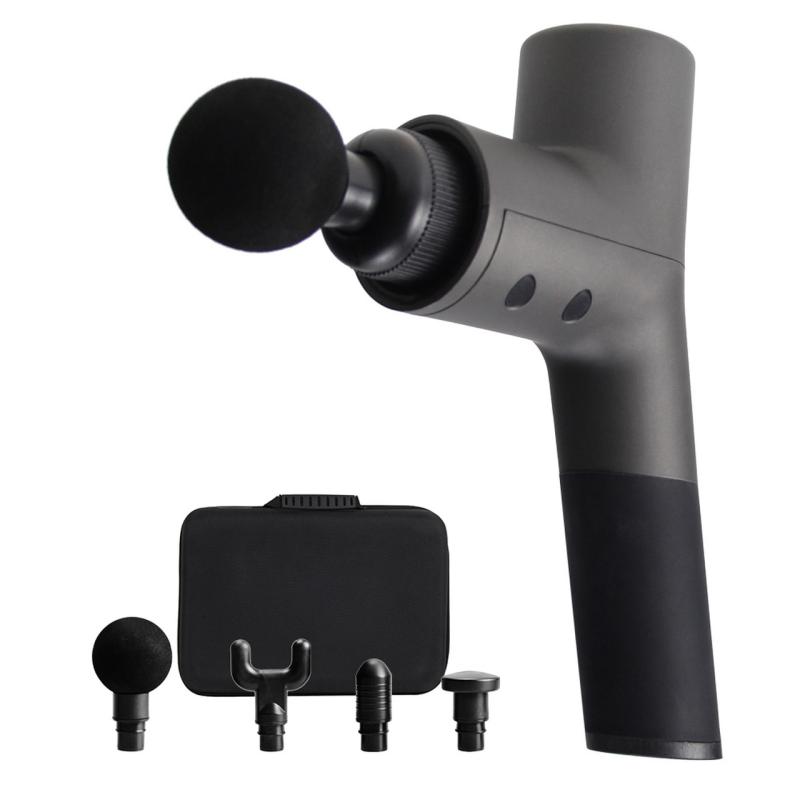 The Best Massage Guns for Runners – Runner's Tribe (runnerstribe.com)