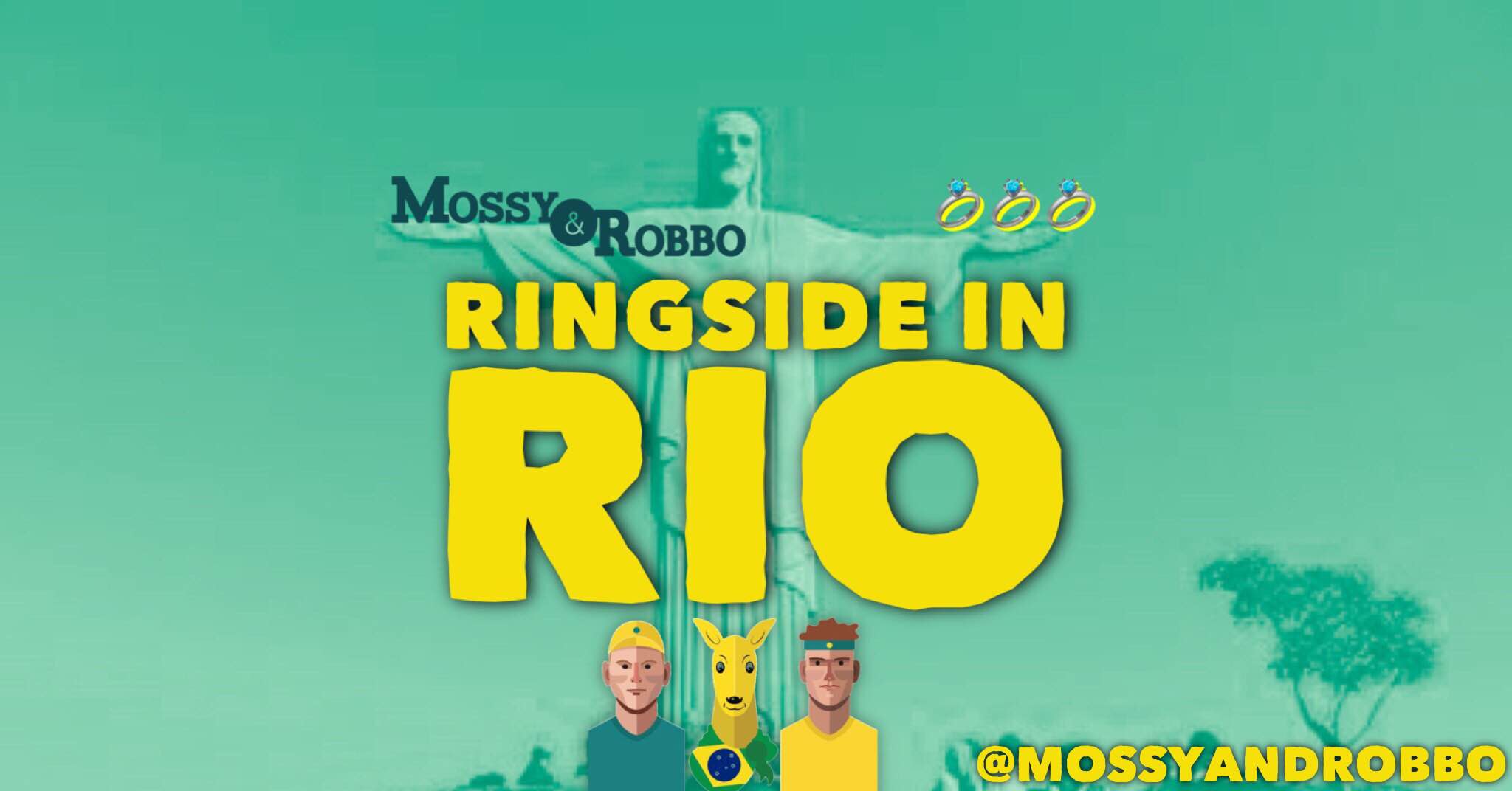 Most recent post up top. Keep refreshing as this page is updated constantly as the Aussies perform and people tweet, post etc…
COMPLETED
.@madheinerhills time of 9:20.38 and @GenGen_LaCaze's 9:21.21 rank as the 2nd and 3rd best #Aus times at the Games pic.twitter.com/xEpVWApIwI

— Athletics Australia (@AthsAust) August 15, 2016
NEW WORLD RECORD! https://t.co/MPDeXdUd8F

— RunnersTribe.com (@runnerstribe) August 15, 2016
OLYMPIC GOLD & WORLD RECORD @AnitaWlodarczyk rules in #Rio2016 #Athletics #Olympics pic.twitter.com/f5q0xFju6N

— IAAF (@iaaforg) August 15, 2016
Emotional! @MadHeinerHills & @GenGen_LaCaze smiling after #Steeplechase.#Rio2016 #Athletics https://t.co/zZ3mztbRwM https://t.co/h4urDzbBBZ

— 7Olympics (@7olympics) August 15, 2016
Congrats to Jebet, Jepkemoi and Coburn. What an amazing race, clearly women's steeple is on a very high level pic.twitter.com/oPk2pKwBmH

— Lornah Kiplagat (@lornahkiplagat) August 15, 2016
??@madheinerhills ??@GenGen_LaCaze #guts https://t.co/h8TNamPAEJ

— Heidi See (@heidisee_) August 15, 2016
Congratulations to Aussie Steeplechase girls @GenGen_LaCaze & @madheinerhills both running PB's and finishing top 10 pic.twitter.com/emwYMQn0rV

— RunnersTribe.com (@runnerstribe) August 15, 2016
Fantastic result for @MadHeinerHills & @GenGen_LaCaze! PBs in the #Steeplechase.#Athletics https://t.co/zZ3mztbRwM https://t.co/0EPR3wutny

— 7Olympics (@7olympics) August 15, 2016
So proud of @madheinerhills 7th & @GenGen_LaCaze 9th in final of 3000 Steeplechase. Incredible performances @AthsAust Congrats girls

— Athletics Aus Pres (@Pres_AthsAust) August 15, 2016
Amazing runs from @GenGen_LaCaze and @madheinerhills have run PB's in an Olympic final. And finished top 10. Brilliant! @AthsAust #Rio2016

— Tim Rosen (@timrosen35) August 15, 2016
@GenGen_LaCaze and @madheinerhills leave it all out on the track in a brilliant women's 3000m Steeplechase Final #Rio2016

— RunnersTribe.com (@runnerstribe) August 15, 2016
Could be a new World Record

— RunnersTribe.com (@runnerstribe) August 15, 2016
#BAH Jebet takes it out further to WR pace, Gen in 6th place leading the 'peloton'. Maddy not far behind

— Athletics Australia (@AthsAust) August 15, 2016
Gen and Maddy settled in the field but a surge from the front and a big break forms#OneTeam

— Athletics Australia (@AthsAust) August 15, 2016
Watch @GenGen_LaCaze run the FINAL on NBC. Right now!

But first, deep breath. Smile. #GoGators pic.twitter.com/6QgvDdWHIW

— Gator T & F and XC (@GatorsTF) August 15, 2016
Go time for @GenGen_LaCaze and @madheinerhills #Rio2016 https://t.co/275sn93dNk pic.twitter.com/KGluCLXLDC

— RunnersTribe.com (@runnerstribe) August 15, 2016
And @ellanelson200 & @Jodiealicia27 drawn together again in the second semi tomorrow night pic.twitter.com/aM0i8SnWQN

— Stuart McMillan (@StuartMcMillan1) August 15, 2016
FINAL ALERT: Up next – in the form of her life, @GenGen_LaCaze hits the track in the 3000m steeple final #OneTeam pic.twitter.com/B2oKLW880Z

— Athletics Australia (@AthsAust) August 15, 2016
NEXT: @GenGen_LaCaze & @MadHeinerHills go for #Steeplechase #Gold#Athletics LIVE on 7 and https://t.co/zZ3mztbRwM pic.twitter.com/tVRl8iCSkZ

— 7Olympics (@7olympics) August 15, 2016
FINAL ALERT: Up next – @madheinerhills gets her run on in the 3000m steeplechase final #OneTeam #GoMads pic.twitter.com/oDae5iJ9MJ

— Athletics Australia (@AthsAust) August 15, 2016
@BenitaWillis @millyjane14 @morganmitch2 @JennBlundell @Zoebuckman @LisaWeightman @Linden_hall @annierubie Thanks Benita ??!

— Jessica Trengove (@JessTrengove) August 15, 2016
Trackside and ready to cheer like a crazy lady for my aussies @madheinerhills & @GenGen_LaCaze and my Nole @steeple_squigs #steeple #Rio2016

— Linden Hall (@Linden_hall) August 15, 2016
Definitely, don't miss this. https://t.co/lXuo5zm7cz

— RunnersTribe.com (@runnerstribe) August 15, 2016
.@ellanelson200's time of 22.66 is the fastest #Aus 200m time at the Olympics since @MelGTaylor in Sydney 2000 pic.twitter.com/nEHLQe25rR

— Athletics Australia (@AthsAust) August 15, 2016
So she should be !! https://t.co/paqtRuWOps

— Mel Gainsford Taylor (@MelGTaylor) August 15, 2016
ATHLETICS: Be sure to tune in to watch at 12:15am AEST via @7olympics. Awesome to have two Australians in the final. https://t.co/FAkCGz1fDU

— AUS Olympic Team (@AUSOlympicTeam) August 15, 2016
Awesome run from @ellanelson200 qualifying through to the 200m semi's!! @AUSOlympicTeam #Rio2016 pic.twitter.com/l1HgK4Q6oX

— Matt Shirvington (@mattshirvington) August 15, 2016
QUALIFIED! Great run from @ellanelson200 to get through.#Rio2016 #Athletics live: 7 and https://t.co/zZ3mztbRwM https://t.co/shIvcs3URs

— 7Olympics (@7olympics) August 15, 2016
End of an era: two-time 200m Olympic champion @VCampbellBrown ('04,'08) does not advance out of the 200m heats

— Ato Boldon (@AtoBoldon) August 15, 2016
"Oh my god!" @EllaNelson200 #AUS is chuffed after qualifying for Women's 200m.#Athletics https://t.co/zZ3mztbRwM https://t.co/VKbiVVVLbg

— 7Olympics (@7olympics) August 15, 2016
"I am so happy right now and can call myself an Olympian!" – @ellanelson200@7olympics pic.twitter.com/GAvhKkyax3

— Athletics Australia (@AthsAust) August 15, 2016
Operation #GAZELLAFinal off to a great start! @stevej_nelson pic.twitter.com/ngJQDDqqou

— ▶️ Dave Robbo (@mrdaverobbo) August 15, 2016
Yes!! @ellanelson200 is through to semis in the #200m #Rio2016 with 22.66https://t.co/275sn93dNk pic.twitter.com/T5tzeTcu1V

— RunnersTribe.com (@runnerstribe) August 15, 2016
YOU BLOODY BEAUTY! https://t.co/Bydq7BTPb7

— ▶️ Dave Robbo (@mrdaverobbo) August 15, 2016
Go time for @ellanelson200 up next in the #200m #Rio2016 https://t.co/275sn93dNk

— RunnersTribe.com (@runnerstribe) August 15, 2016
LET'S GO #GAZELLA! ???? https://t.co/HEM0N5LvMv

— 〽️ossy and Robbo (@MossyandRobbo) August 15, 2016
Here we go! Come on Ella! #Athletics #Rio2016

— Tim Rosen (@timrosen35) August 15, 2016
GO @ellanelson200 GO GO GO ‼️‼️‼️‼️‼️‼️‼️??#AUS

— Steven Solomon (@stevesolo10) August 15, 2016
Waiting for Ella in heat 7 like… pic.twitter.com/6CdKFedvQs

— Athletics Australia (@AthsAust) August 15, 2016
Best of luck to Aussies @GenGen_LaCaze & @madheinerhills in the 3km steeplechase Final https://t.co/DPxtuae25h pic.twitter.com/QBnu1u80dA

— RunnersTribe.com (@runnerstribe) August 15, 2016
#AUS sprinter @ellanelson200 up soon in the 200m. #goAussies #athletics

— Dion Russell (@Dion_Russell) August 15, 2016
? welcome back! EXCITING morning ahead @ellanelson200 @madheinerhills @GenGen_LaCaze ? @AUSOlympicTeam #OneTeam pic.twitter.com/jGhkybMNcQ

— Melissa Breen (@Melissa_Breen) August 15, 2016
Get set! Bruce and Tamsyn preview the #Rio2016 #Athletics action coming your way on 7 and https://t.co/zZ3mztbRwM https://t.co/dHmsl3rGk2

— 7Olympics (@7olympics) August 15, 2016
Dafne Schippers wins her 200m heat in 22.51 #Rio2016

— RunnersTribe.com (@runnerstribe) August 15, 2016
@ellanelson200 screams for @MelGTaylor 16 years ago in the 200final @sunriseon7 @7Sport @MossyandRobbo ©SNelson pic.twitter.com/nrUtDVh0bs

— Steve Nelson (@stevej_nelson) August 11, 2016
I am so looking forward to watching @ellanelson200 run. I am feeling nervous for her !! https://t.co/3ioMGqvFXA

— Mel Gainsford Taylor (@MelGTaylor) August 15, 2016
Big night & day at the track @GenGen_LaCaze @madheinerhills @ellanelson200 @danisamuels @Loz_Wells #goteam #oneteam @AUSOlympicTeam

— Sally Pearson OAM (@sallypearson) August 15, 2016
It's time for @ellanelson200 to shine!! My soontobe Olympian bestie is going to fly out of lane 3, heat 7 in the 200! GO ELLA!!!! #gazELLA ☇

— Anneliese Rubie (@annierubie) August 15, 2016
#Rio2016 tonight @ellanelson200 running the #200m. RT interviewed this awesome athlete in July on her Road to Riohttps://t.co/fJHWE6tDs8

— RunnersTribe.com (@runnerstribe) August 15, 2016
DON'T MISS: Women's 200m round one. Watch @ellanelson200 fly! #OneTeam #7Olympics pic.twitter.com/QMunscE4OG

— Athletics Australia (@AthsAust) August 15, 2016
I'll be racing in the Olympic Final tomorrow morning at 11.15am local (Rio) time. Couldn't be more excited! ????? pic.twitter.com/05K7Sw4AbQ

— Genevieve LaCaze (@GenGen_LaCaze) August 14, 2016
Coming up
First up, speedster Ella Nelson (NSW) enters her first Olympic Games with a brilliant streak of domestic performances behind her. Nelson ran the fastest 200m by an Australian woman since Melinda Gainsford-Taylorat the Sydney Olympics in 2000, with 22.53 in Canberra in February.
At 22-years-old, Nelson is a youngster on the rise, and has shrugged off a hamstring injury in May but hasn't lead in any races prior to Rio.
Our steeplechasers Madeline Hills (NSW) and Genevieve LaCaze (Qld) will race in the women's 3000m steeplechase final after fighting their way through the opening round.
"It was a messy race," LaCaze said of her round one effort two days ago.
"I was just talking to myself in my head and saying stay calm, don't panic, don't get anxious, because people are stepping on my heels, I'm stepping on people's heels, at the water jump I landed on top of a girl's back, I was being piggy-backed," she said.
Australia has never had a finalist in the women's steeplechase, so history is already made no matter the result.
Evening session in Rio (Tuesday morning in Australia)
Dani Samuels (NSW) is making her third Olympic Games appearance in the women's discus throw qualifying and is a genuine chance to finish on the podium in Rio, with two Olympic finals on her resume already. Add to that, gold from world youth, world junior, Commonwealth Games, world university and world championships – that is some resume.
At 28, Samuels is now at the peak of her powers and is ready for the next step in Rio.
Lauren Wells (ACT), one of Australia's team leaders in Rio, opens her second Olympic campaign in the women's 400m hurdles after making the semis in London four years ago. If this nine-time national champion is at her best, she can set her sights on a spot in the final, but first, a tough first round waits.
Catch up on all of the news from Day 9, including Usain Bolt's 100m win! #FreshNews https://t.co/NMwtN0sC5U

— 7Olympics (@7olympics) August 15, 2016