By Chris Lotsbom, @ChrisLotsbom
(c) 2016 Race Results Weekly, all rights reserved
LAUSANNE, SUI (24-Aug) — It's a race that's positioned as the main event of tomorrow's Athletissima Lausanne IAAF Diamond League meet, the highly anticipated battle between two welterweights: newly crowned Olympic gold medalist Matthew Centrowitz and three-time world champion Asbel Kiprop. A mere five days after squaring off against one another in Rio de Janeiro for 1500m supremacy, the pair will battle over 1000 meters for bragging rights and Diamond League points.
"Going into this race, obviously I'm not looking for any specific time or records, but I am aware that there are guys who were just at the Olympic Games as I was so they probably are going through the same stuff as me," Centrowitz told Race Results Weekly, speaking exclusively after a media session along Lake Geneva. "Just getting in there and competing against those guys… I know I'm strong, probably stronger than faster, which is kind of funny to say especially how the Olympic final went down. I'm really excited."
Sitting side by side, Centrowitz and Kiprop both spoke highly of one another, a mutual respect between the two Nike-sponsored rivals. Yet one could sense that tomorrow's upcoming race was more than just a post-Olympic Games two-and-a-half laps. For Kiprop, it represents a chance at redemption after finishing a dreadful sixth in Rio (3:50.87). For Centrowitz, it's a test of fitness and good chance to run fast. The-long standing American record of 2:13.9, set by Rick Wohlhuter in 1974 (15 years before Centrowitz was even born), could potentially go down.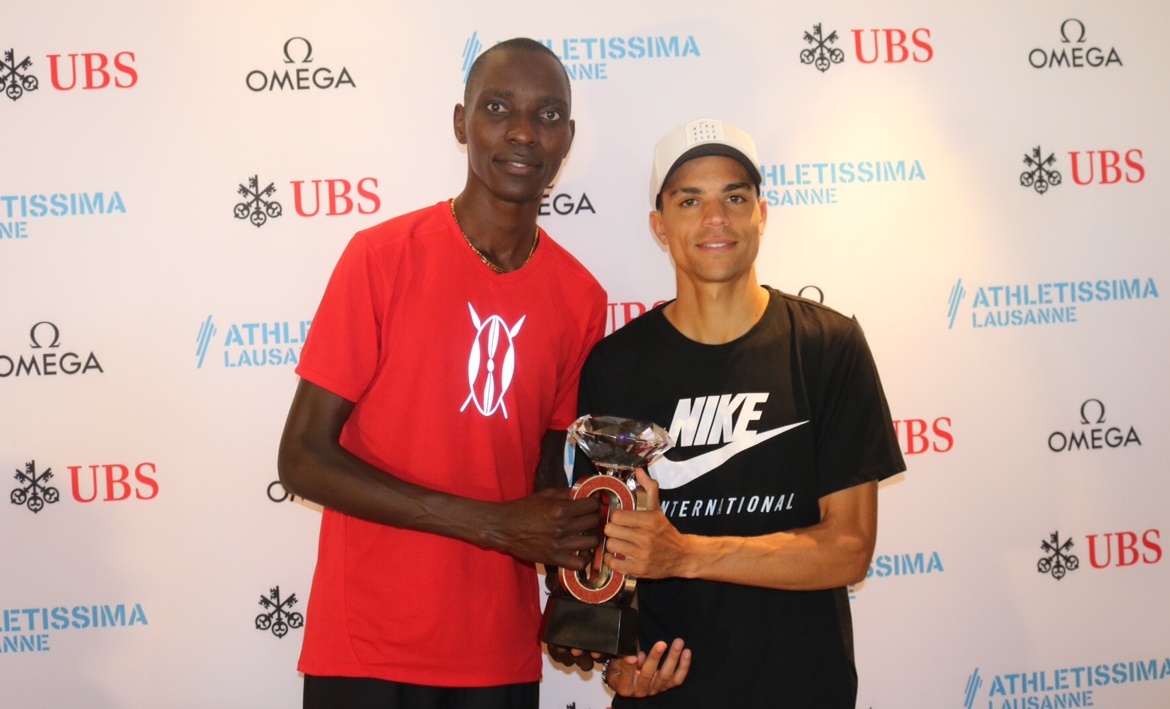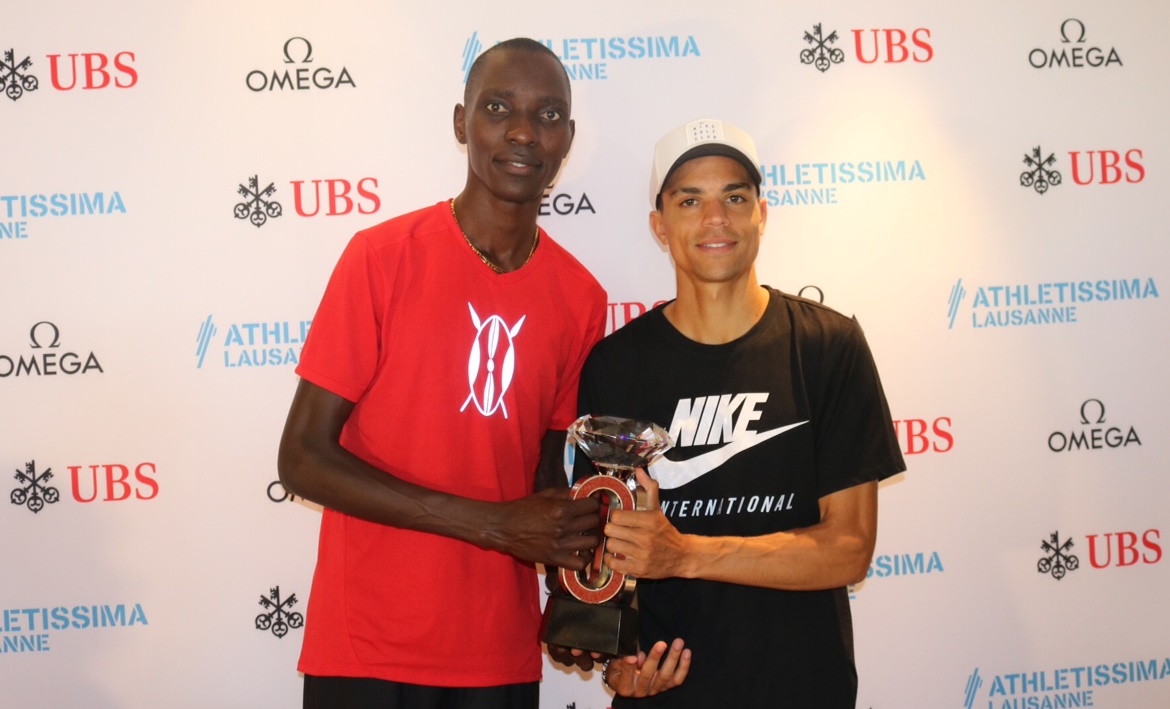 Kiprop didn't have any excuses for his disappointing showing in Rio de Janeiro other than the fact that he prepared solely for a fast final. Centrowitz's pacing out front –eventually winning in a slow 3:50.00– threw Kiprop off his game early and the lanky Kenyan could never quite recover. When Centrowitz closed with a final 400 in 50.6 seconds, Kiprop was back in sixth out of the medals.
"It happened that we went a little bit slower than expected, running 3:50. Anyway, it was about winning the gold. My colleague Matt Centrowitz was good enough and he was set for any kind of a race. On my side I was eyeing a little bit faster race. The chances for Matt Centrowitz were better than mine," said Kiprop. "I am looking forward to running a good race. I am not saying it's revenge to win. I plan to be a [good] sportsman, sportsperson, to compete and try to do as best as I can at the moment. I always want to do my best."
Midway his answer, Kiprop paused, turned to Centrowitz to shake his hand and personally congratulate him on the Olympic victory. It was a sign of good sportsmanship and respect.
While Kiprop has spent the last four days wondering how he could have raced better, Centrowitz has been reveling in the fact that he became the first American 1500m champion since Mel Sheppard in 1908. Exchanging messages with mile greats Jim Ryun, Seb Coe, Hicham El Guerrouj, Alan Webb, and hundreds of other well-wishers, the 26-year-old Nike Oregon Project athlete is riding the wave of being Olympic champion.
Admittedly, the time since gaining the gold medal has been a blur and whirlwind for Centrowitz. While it may be tough to get back to business here tomorrow, Centrowitz is confident that he'll toe the line prepared for anything. Looking at the race as an extended 800m, he's formulated a strategy that hopefully can better his 2:17.0 lifetime best (set indoors in Boston in 2015).
"I'd like to obviously set a PR. I'm sure the stadium record will go down because it's only 2:18. I'm looking forward to, as always, just competing against some really good guys," he said. "Asbel comes from the 800 so I think it may be a little easier for him to approach it. But for me it's a lot shorter distance than I'm used to, so I have to just approach it as an 800, get out really fast and use that strength my last 200 and hopefully be competing with some of these guys."
"It's a very tactical race for the 1500m guys and the 800m," Kiprop began. "This is where most of us meet and a distance that brings us together. When you see the world record is held by a former 1500m athlete (Noah Ngeny, 2:11.9) and the previous world record by Sebastian Coe, it's a race that favors both the 1500m athletes and also the 800m athletes. I find it an advantage."
Now that he holds both the IAAF World Indoor and Olympic 1500m titles at the same time, Centrowitz doesn't think he has an added target on his back. If he is in fact the man to beat on the professional circuit, then it's a badge of honor.
"I don't think there's a big target on my back until I start running some sub-3:30 times. I think everyone kind of looks at PR's rather than championship records," he began. "If I do have a target on my back, that's a position that everyone wants to be in. I'll accept it and look forward to it. But obviously Asbel is a top competitor and a slew of other guys will be out there who rank a little higher than me."
In addition to Centrowitz and Kiprop, the 1000m field includes 2014 World Indoor 1500m champion Ayanleh Souleiman; 2011 world champion silver medalist Silas Kiplagat; 2012 800m world junior bronze medalist Edwin Melly; and 2015 European Indoor 800m champion Marcin Lewandowski. It'll be a pressure packed race for two minutes and change.
"I enjoy when the pressure's on. I prefer having the stadium filled and feeling all sorts of pressure because that's when I race my best," Centrowitz told RRW. "I just know this is the stage I want to be in, this is what we train to do, and I really enjoy just competing in front of all the fans and my family and team."