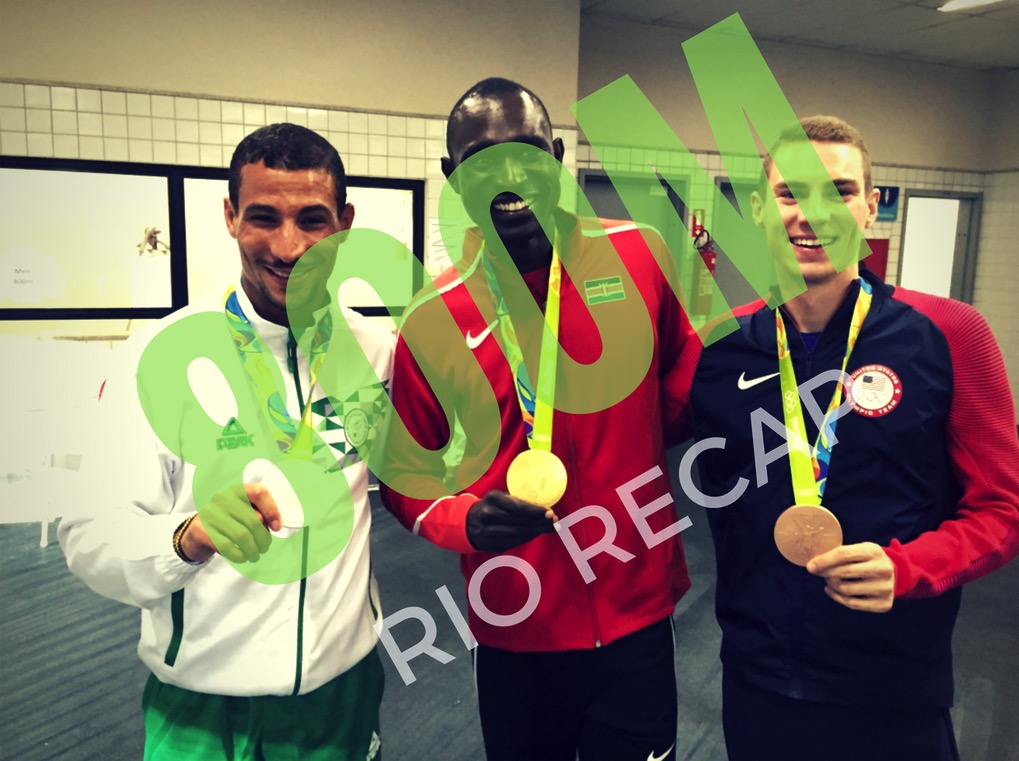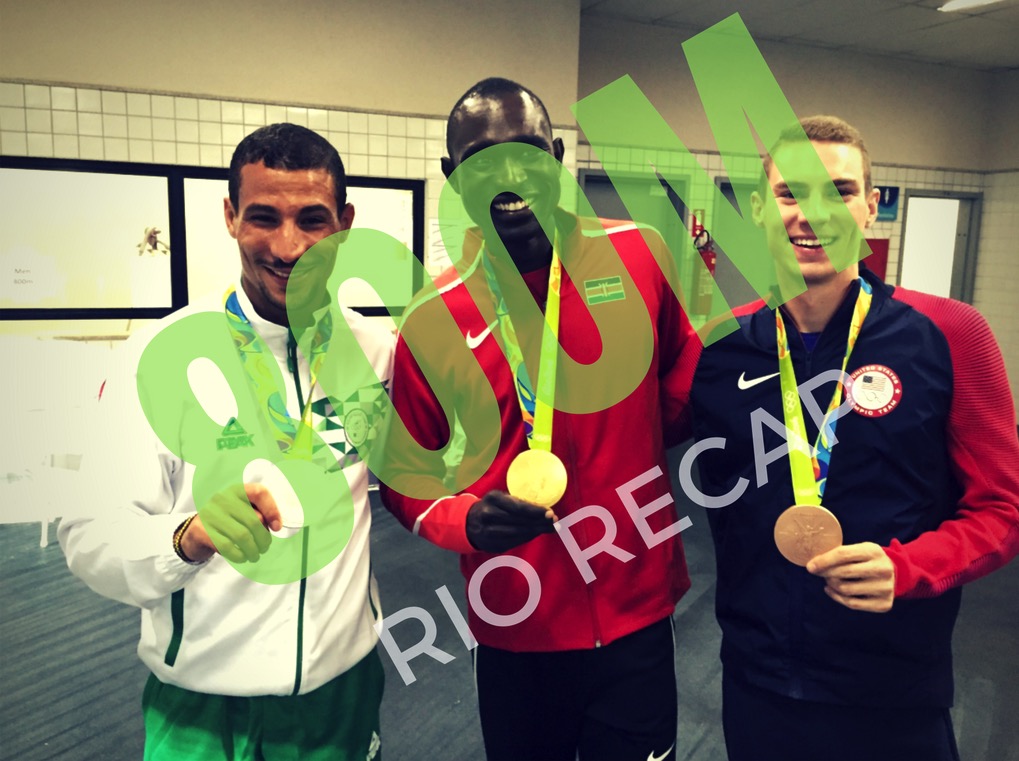 800m Finals Recap Written by By Chris Lotsbom, @ChrisLotsbom
(c) 2016 Race Results Weekly, all rights reserved.
Runner's Tribe
800M
If there was any questions as to who was the king of two laps this Olympiad, David Rudisha put them all to rest. Once again, the world record holder won a gold medal, becoming the first man since Peter Snell to win back-to-back Olympic 800m titles. This one would take a bit of strategy, leading from 400 meters out to win in 1:42.15.
Rudisha's teammate, Alfred Kipketer, went out like a bat out of hell, splitting 400 meters in 49.23 some five meters ahead of the field. As if knowing his pace was suicidal, Kipketer slowed to a crawl after the bell, allowing the field to bunch up entering the backstretch. For a brief second it looked like Rudisha had run up Kipketer's legs and was about to cause a devastating fall.
Right on cue, Rudisha opened his stride and avoided all drama, surging with 300 meters left in his traditional fashion: arms firing, hands pointed skyward, gigantic strides eating up the track. Rudisha took the pole and didn't look back, running confident well out in front. Going away, the 27-year-old won in 1:42.15.
Nothing could keep Rudisha from another gold: not a fast early pace, a 30 minute rain delay, nor a hungry field around him.
"My plan was to run from the front as usual," Rudisha told reporters. "I told them that I'm going to lead the race, but it's unfortunate Alfred Kipketer, after the gun went, he decided to run the first 100, 200 like a bullet. When I saw the time was too fast, I decided to settle behind."
"I had no doubts before. The feeling in my body was good. It is great to win such a big competition, my second gold. It's so great. I am so excited. It is the greatest moment of my career," Rudisha confirmed.
The big story came in the other medal positions. Early leader Kipketer fell all the way back to seventh (1:46.02), while American Boris Berian –in the mix at halfway– lost ground at the same time and wound up eighth in 1:46.15.
Frenchman Pierre-Ambroise Bosse was the only man to keep somewhat close to Rudisha, staying eight meters behind with half a lap remaining. In the bend, Algeria's Taoufik Makhloufi drew even with Bosse then took over the silver medal position. Makhloufi's sprint had just started, leading him to an Algerian national record of 1:42.61 for second.
While Rudisha and Makhloufi were increasing their strides, Bosse tried his best to maintain third. Yet he could do nothing to stop the hard charging American Clayton Murphy. The 21-year-old first-year pro maintained form and overtook Bosse with 15 meters remaining, clinching bronze in a personal best of 1:42.93. Bosse was fourth in 1:43.41, a bitter pill to swallow.
"When I came around the corner, I saw three guys in front of me. I kept wanting to push. At that point, I knew I was top five and that was exciting. I kept turning over and turning over and my legs were there. When I saw I could get bronze, I just kept pushing. I wasn't sure if I could get silver or not, but I was super excited to have that little last gear the last 50 meters," Murphy told USATF.
Looking shocked, Murphy turned to Rudisha with hands on his head. Murphy's medal is the first for the USA in the 800m since Johnny Gray's bronze in 1992. The former University of Akron Zip capped off a career year in style with bronze: he'd been undefeated outdoors this year entering the Olympic Games; earned NCAA titles at 800m (indoors) and the 1500m (outdoors); a USA national title over 800m; turned professional with Nike; and now has an Olympic bronze medal. His mark of 1:42.93 puts him third all-time among Americans, only behind Gray (1:42.60) and Duane Solomon (1:42.82, run at the 2012 Olympics when he finished fourth). Murphy now has a faster PB than Nick Symmonds (1:42.95), joining the illustrious group of sub-1:43 American runners.
"I just wanted to have fun with it and enjoy the minute and forty-some seconds I was out on the track because you never know how many more times you're going to run [on the] Olympic track," Murphy said.
Out front, Rudisha became the fourth man to win the Olympic 800m title twice, joining the likes of Peter Snell (NZL, 1960 and '64), Mal Whitfield (USA, 1948 and '52), and Douglas Lowe (GBR, 1924 and '28).
FINAL RESULTS
1. David RUDISHA, KEN                1:42.15 WL/SB  GOLD (Retains Title)
2. Taoufik MAKHLOUFI, ALG            1:42.61 NR/PB  SILVER
3. Clayton MURPHY, USA               1:42.93 PB     BRONZE
4. Pierre-Ambroise BOSSE, FRA        1:43.41 SB
5. Ferguson ROTICH, KEN              1:43.55 SB
6. Marcin LEWANDOWSKI, POL           1:44.20 SB
7. Alfred KIPKETER, KEN              1:46.02
8. Boris BERIAN, USA                 1:46.15
Intermediate Times:
400m:   49.23, Alfred KIPKETER, KEN
600m: 1:16.04, David RUDISHA, KEN
Feeling of Gold medal. pic.twitter.com/k3xaSbSTPD

— David Rudisha MBS (@rudishadavid) August 17, 2016
Aussies in the 800
Debutantes Luke Mathews (Vic) and Peter Bol (Vic) ran brave races but faded in the final stages to finish 7th and 6th respectively in their opening heats. Australia's other 800m representative Jeff Riseley (Vic) gave it everything but narrowly missed out on progressing, finishing 4th in 1:46.93 and failing to progress to the semi-final. @AthsAust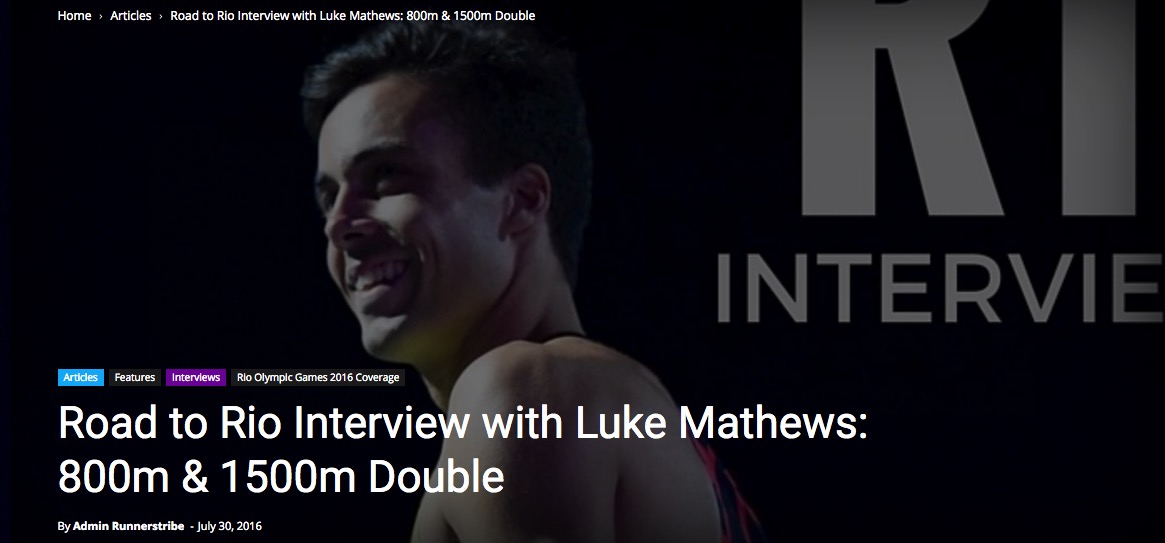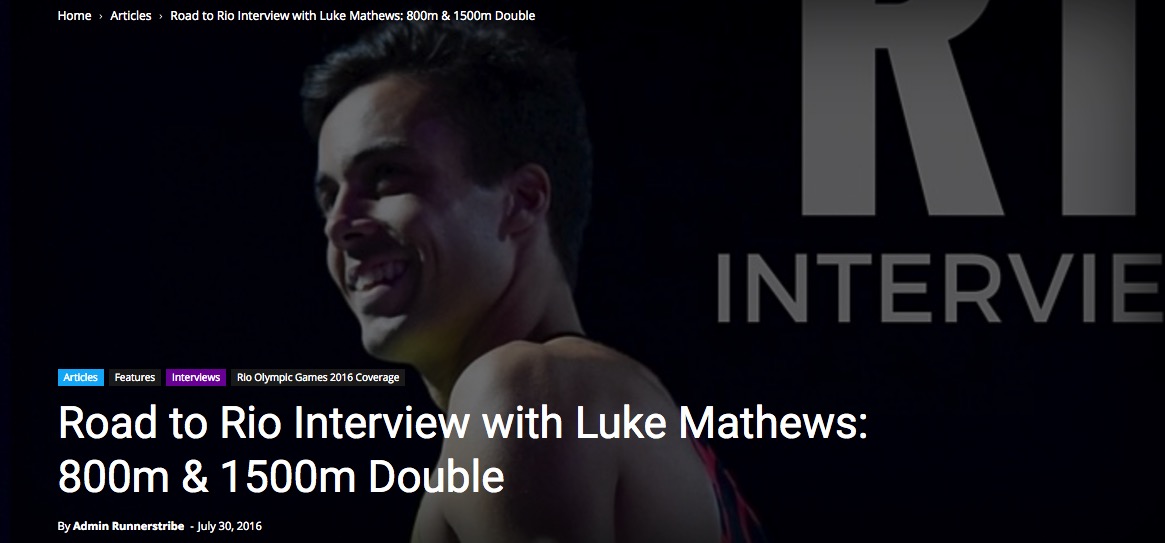 Heat 2 
"Adam Kszczot cruised to the win, moving up through the field with ease. Ferguson Rotich –the subject of widely spread news of a Kenyan sprints coach being ousted from the games for using Rotich's credential and submitting a doping sample on behalf of the athlete– followed in Kszczot's slipstream, moving from seventh to second in the final 100 meters. Former Florida Gator Andres Arroyo was third." Chris Lotsbom @ChrisLotsbom Race Results Weekly
1. Adam KSZCZOT, POL                 1:45.83 Q
2. Ferguson ROTICH, KEN              1:46.00 Q
3. Andres ARROYO, PUR                1:46.17 Q
4. Hamada MOHAMED, EGY               1:46.65 q
5. Rafith RODRÍGUEZ, COL             1:46.65 SB
6. Boitumelo MASILO, BOT             1:48.48
 7. Luke MATHEWS, AUS                 1:50.17
8. Brice ETES, MON                   1:50.40
Intermediate Times:
400m:   52.79, Rafith RODRÍGUEZ, COL
600m: 1:19.73, Adam KSZCZOT, POL
Heat 6 
"Recent Mississippi State graduate Brandon McBride looked like a veteran, leading by a wide margin the whole race." Chris Lotsbom @ChrisLotsbom Race Results Weekly
1. Brandon McBRIDE, CAN              1:45.99 Q
2. Marcin LEWANDOWSKI, POL           1:46.35 Q
3. Mark ENGLISH, IRL                 1:46.40 Q
 4. Jeff RISELEY, AUS                 1:46.93
5. Abubaker Haydar ABDALLA, QAT      1:47.81
6. Pol MOYA, AND                     1:48.88
7. Alex AMANKWAH, GHA                1:50.33
DNF– Abdelati EL GUESSE, MAR
Intermediate Times:
400m:   51.83, Brandon McBRIDE, CAN
600m: 1:18.65, Brandon McBRIDE, CAN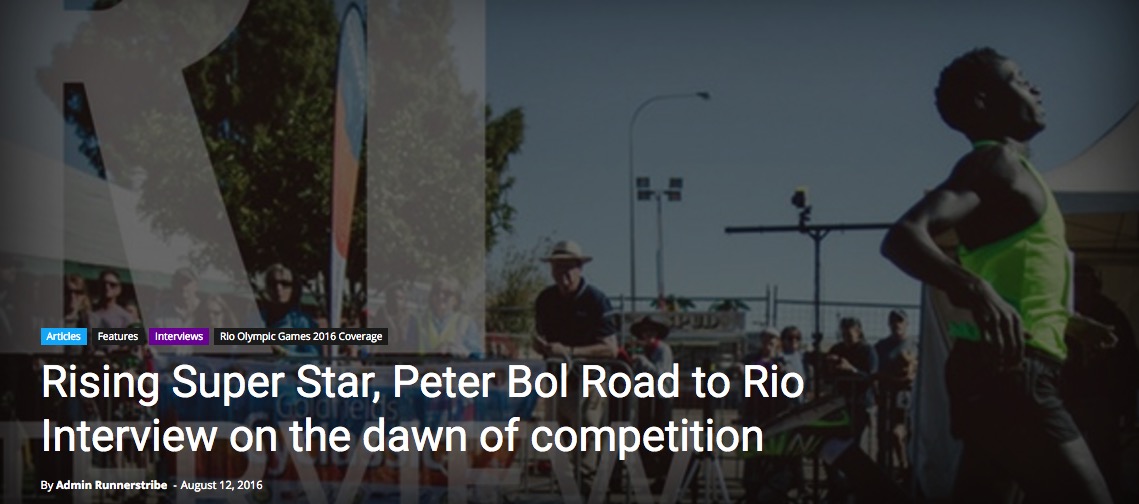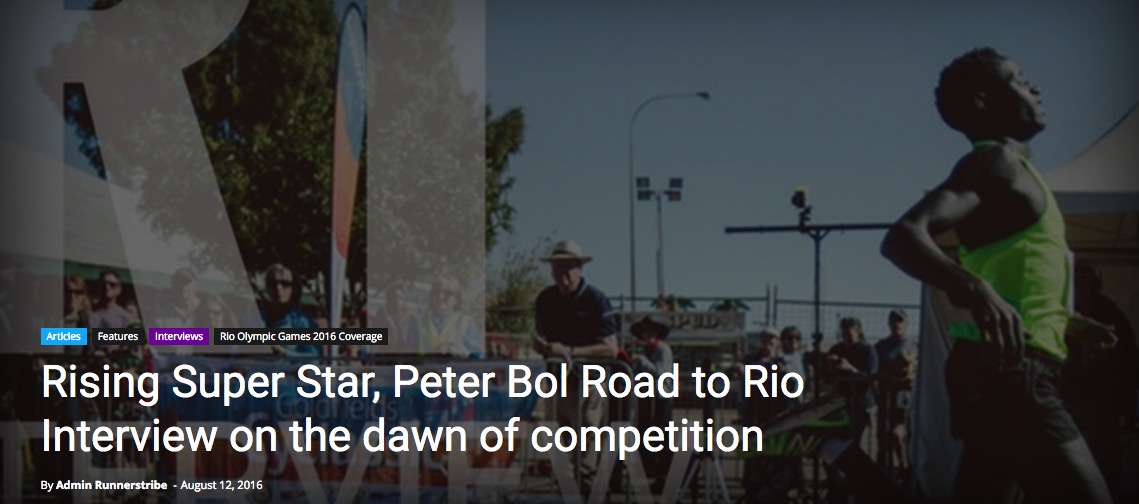 Heat 7
"Pierre-Ambroise Bosse, France's only 800m entrant, won in this tactical race over Mohammed Aman." Chris Lotsbom @ChrisLotsbom Race Results Weekly
1. Pierre-Ambroise BOSSE, FRA        1:48.12 Q
2. Mohammed AMAN, ETH                1:48.33 Q
3. Amine BELFERAR, ALG               1:48.40 Q
4. Daniel ANDÚJAR, ESP               1:48.50
5. Charles GRETHEN, LUX              1:48.93
 6. Peter BOL, AUS                    1:49.36
7. Francky MBOTTO, CAF               1:52.97
DNS– Musaeb Abdulrahman BALLA, QAT
Intermediate Times:
400m:  55.99, Pierre-Ambroise BOSSE, FRA
600m 1:22.65, Pierre-Ambroise BOSSE, FRA
"It's disappointing to get out in the first round and not a very positive feeling. The overall experience of being in my first international team will always be remembered and it's important to learn from it and if there is anything positive coming out of the games is the drive to work on racing tactics." Peter Bol post-race chat with RT