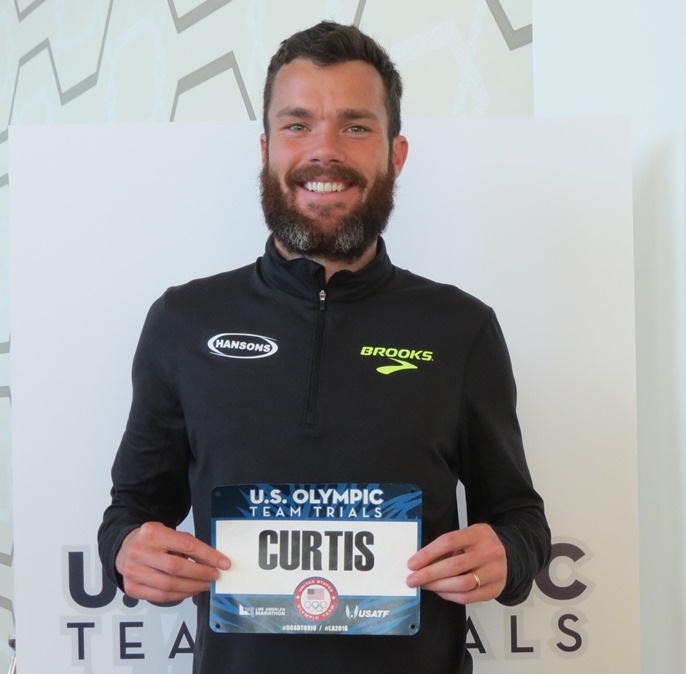 By David Monti, @d9monti
(c) 2016 Race Results Weekly, all rights reserved
LOS ANGELES (11-Feb) — Since he won the NCAA 5000m title in 2008, Bobby Curtis has hovered near the top levels of USA distance running.  Although he's never won an open national title, he's made it to the IAAF World Cross Country Championships three times, has broken 28-minutes for 10,000m five times, and was the top American at the Bank of America Chicago Marathon in 2014 with a personal best 2:11:20.
But for all of his sweat and toil, the 31 year-old Curtis, originally from Louisville, Ky., has never donned the Team USA uniform for a major track championships.  An Olympic team berth has slipped his grasp twice, with a sixth place finish at the USA Olympic Trials 5000m in 2008, and a 10th place finish in the 10,000m at the Trials in 2012.
Curtis, who runs for the Hansons Brooks Original Distance Project, hopes to change that here on Saturday.  Competing in his fourth marathon, and his first Olympic Trials Marathon, Curtis is in his best position ever to take a podium finish in a major domestic championships.
"I think it's a great point to say that this is the best opportunity to make a team for a lot of distance runners in the U.S.," Curtis told Race Results Weekly in an interview.  "With people dropping out, with people being injured it's more or less wide open."  He continued: "It's awesome to have a great shot to make a team and also to be in shape to hopefully capitalize on that."
Sporting a full beard with little gray tips he said came from his marathon debut in New York in 2011 where he struggled home in 2:16:44, Curtis came directly here from Orlando, Fla., where his coaches Kevin and Keith Hanson held their pre-Trials training camp since December 28.  The Hansons, Curtis said, had changed his training to be more marathon specific.  When he ran New York, he trained like a track runner.
"Honestly, it's been a process," said Kevin Hanson in an interview.  "Truthfully, I always think that there are a lot of people who attack the marathon from a track mentality, which is what he did.  When he came to New York in his debut, he trained like a track guy, and up my mileage by 25%, and everything will be fine.  And he found out that was wrong."
Off of higher mileage than he has ever run before in training, Curtis feels he now has the strength to compete well on Saturday, especially in the latter stages of the race.  As he envisions how the race may play out, he sees a tactical contest with a painful second half.
"I was thinking earlier in the week that it would go out reasonably fast, but I think it's going to go out like 66 (minutes), and then I think it's going to be kind of a death march from there," he said, cracking a sly grin.  "People who are prepared and ready for the heat might be able to pick it up a little off of that.  And then people who are over their head are going to struggle.  That would be my best guess."
Curtis finds himself competing in one of the most intriguing Trials in American history.  In addition to established Olympic marathoners like Meb Keflezighi and Dathan Ritzenhein, the field is spiced up by the marathon debuts of three very strong 10,000m runners: Galen Rupp, Sam Chelanga and Diego Estrada.  Those athletes could dictate the early pace, or might hang back, following the marathon veterans.
No matter what the pace, Curtis is focused on a podium finish, getting to Rio and putting on the Team USA uniform for the first time in an Olympic Games.  It's something he's dreamed about since he started his professional running career eight years ago.
"I think it would be amazing," he said.  "As a runner, it's the biggest thing you can accomplish.  Like you said earlier, I've been knocking on the door of that area for eight years now.  I had a really disappointing 2012, and I think if I could come back and make this team It would make the last four years totally worth it.  It would be an awesome feeling."