Birkinhead 21.21m Shot Put is World Class
Damien Birkinhead is making up for lost time after missing selection for the 2015 World Championships by the barest of margins. In 2016 he has simply been outstanding, with two world class performances – 20.80m in Christchurch and then a superb 21.21m effort at the Briggs Track Classic on Saturday.
Birkinhead's latest effort was only 5cm's away from the existing Australian record (Scott Martin – 21.26m in 2008), and would have placed him within the world's top-10 in 2015. It just shows how far the 22 year-old has come in a matter of 8 months (he threw 20.40m in June, 2015). Considering that he will only reach his peak in his late 20's and even early 30's, Birkinhead could be headed for international success at the very highest level – even a top-8 result in Rio could be well within reach for our Australian shot put star.
Birkinhead's Progression with the Senior Shot Put:

 
2009 16.76m 2 Melbourne 10 Dec
2010 17.39m 1 Canberra 17 Dec
2011 17.88m 2 Melbourne 5 Mar
2012 18.87m (NJR) 1 Melbourne 20 Oct
2013 19.27m 1 Sydney 14 Apr
2014 19.69m 1 Melbourne 1 Jun
2015 20.40m 1 Leiden 13 Jun
2016 21.21m 1 Hobart 13 Feb
Mathews is Ahead of the Game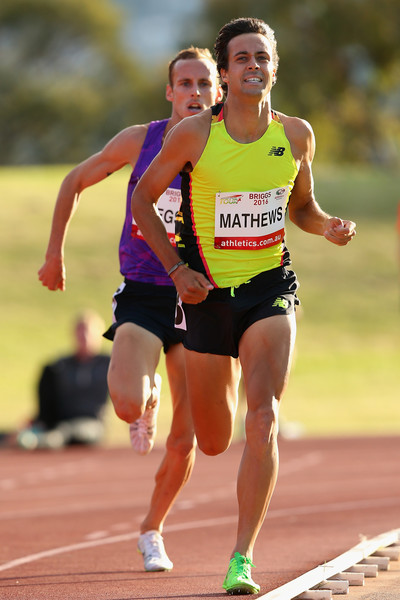 When we took a look at the men's 1500m in the 'Road to Rio' series we highlighted Mathews as a real challenger to the likes of Ryan Gregson, Jeff Riseley and Josh Wright. He had the speed from the 800m and he was one of the up and coming stars in middle distance running in Australia.
Fast forward less than a month a all we can say is that Mathews has bettered even our high expectations of what 2016 could bring for the 20 year-old Victorian. In the space of two weeks he has run a 1.46.35 800m and a 3.37.31 1500m at the Briggs Track Classic. He is now within reach of the Olympic qualifying marks in both events (1.46.00 for the 800m and 3.36.20 for the 1500m).
Mathews is now ranked 21st on the All-Time Australian ranking list for the 800m and 26th on the 1500m list. This is testament to how far he has come in just a short amount of time. In Hobart he showed that it would take something special to beat him – and that's exactly what happened when Gregson ran a quality time of 3.36.74 to take the win.
Mathews also moves to no.10 on the Australian Power Rankings (see below), with some quality athletes/performances ahead of him, including Birkinhead, Alana Boyd (4.77m AR) and Eloise Wellings (who ran an excellent PB of 69:29 over the half marathon in Japan last weekend). Now all he needs over the rest of the domestic season is to record an all important Olympic qualifier in either event. (note: Mathews is not entered to run in this weekends Adelaide Track Classic, but we should see him at the World Challenge in Melbourne on March 5).
James Upsets Roper at Queensland Junior Championships
After jumping 7.75m last week at the NSW Junior Championships, Darcy Roper was ready for an even bigger fight against up and coming jumps sensation Shemaiah James at the Queensland Junior Championships. In the end we were not let down, with James launching out to a massive 7.85m (+1.4) World Junior Qualifying performance. With only two legal jumps – Roper had to settle for silver with a best of 7.59m (yet another WJQ for the World Youth silver medallist).
18 year-old James entered the competition with a PB of 7.61m, but had jumped a wind -assisted 7.78m (+2.2) last week – a clear indication that he was in 'hot' form. A talented high jumper (PB of 2.16m), James in now in contention for a top-8 performance at the upcoming World U/20 Championships in July – where Roper will also join him for what should be an event to watch from an Australian stand point.
In other long jump news Mitchell Watt has returned to major competition with a 7.83m jump indoors over in the United States, while back in Australia Angus Gould has jumped a new PB of 7.90m (+1.2) in Canberra on February 12.
Morgan McDonald – Making Waves Indoors in the US
Morgan the Miler: Aussie McDonald shines in New York City
Source: http://www.uwbadgers.com/ (AJ Harrison) – February 6, 2015
In the history of the Wisconsin men's track and field program, only eight runners had broken the vaunted four-minute barrier in the mile heading into 2016: Brandon Bethke, Jack Bolas, Rob Finnerty, Alex Hatz, Steve Lacy, Craig Miller, Austin Mudd and Chris Solinsky.
The eight are some of the best runners that the Badgers have produced during their illustrious history.
UW sophomore Morgan McDonald joined the famous fraternity last Saturday, staking his claim to the school record by clocking in at 3 minutes, 57.83 seconds en route to a fourth-place finish at the historic Armory in New York City.
"It feels really special," McDonald said of joining the four-minute club. "Most of all it just makes me feel like I'm going in the right direction, which is to be a pro runner once I finish school."
McDonald's race featured some of the top middle distance runners in the world, including 2012 NCAA champion Chris O'Hare, 2015 NCAA runner-up Cristian Soratos and Sam Penzenstadler.
One of only two collegians in the invitational section of the event, McDonald wasn't fazed by the tough field. After running the first few laps at the back of the pack, he surged toward the middle of the group of 12 runners midway through the race.
"Because I knew I was racing against a top field, I knew I had to go with the race," McDonald said. "I didn't have to try to be at the front, I just had to sit back and relax for as long as possible.
"In the second half I started to think about moving up and making up as much ground as I could. I was feeling good at the halfway, so I just started ramping it up and had enough for a bit of a kick at the end."
McDonald accelerated into fourth heading into the bell lap and would finish behind O'Hare, Soratos and Daniel Winn.
It marked a remarkable improvement for McDonald from last year's Armory Track Invitational, when he ran a time of 4:03.81. It also marked the last competitive mile McDonald had run before returning to the Big Apple this time around.
(ed. McDonald continued his excellent form with a 7.52.09i in Iowa on Friday. An athlete to keep a close eye out for – on the rise and the 59th sub 4 minute Australian miler!)
Tiernan Runs 7.48.55 3000m
Not to be outdone Patrick Tiernan sent out a statement of his own – recording a new PB indoors of 7.48.55 at Staten Island in the United States.
from villanova.com –  In his first race of the indoor season, Tiernan was in the same dominant form that he showed throughout his cross country campaign in the fall. He recorded a time of 7:48.55 in the invitational section of the 3000 meters to pace a field of 37 runners. Tiernan had a margin of victory of more than five seconds and shattered his previous personal best of 7:57.75 by more than nine seconds. The only faster time in the 3000 meters in Villanova history is 7:47.50 by Wildcats record holder Adrian Blincoe, who established the school standard at the Boston Indoor Games on February 27, 2002. Tiernan is the first Villanova runner since then to even come within two seconds of the mark.
(ed. after a lightly disappointing year outdoors in 2015, Tiernan will be looking to better his PB of 13.31.25 over the 5000m (set back in 2014). If his Cross Country season combined with his early season indoor form is anything to go by this should be well within reach).
Other Flash News
Also competing at the Maragume meeting in Japan (where Wellings ran her PB of 69:29) was Collis Birmingham – who returned to major competition in 2016 with a 62:00 half marathon.
Zoe Buckman, who was forced to withdraw from the 2015 World Championships will make her return to the track at the Victorian Championships – competing in the women's 1500m.
Abbey de la Motte – who finished 2015 as the 3rd fastest Australian female over the 800m (2.03.52), with a career breakthrough performance, will also return to the track at the Adelaide Track Classic. There will be limited expectations with the 22 year-old still along way away from returning to full race fitness.
It was a who's who of Australian distance running with some of our most talented distance runners lining up at the 2016 B&E Hobart Run The Bridge event in Hobart. The final results saw some quality performances from both our men and women:
Men:
1 LIAM ADAMS 00:29:03
2 MICHAEL SHELLEY 00:29:05
3 CRAIG MOTTRAM 00:29:37
Women:
1 VICTORIA MITCHELL 00:33:33
2 MILLY CLARK 00:33:55
3 JESSICA TRENGOVE 00:33:59
4 ELOISE WELLINGS 00:34:11
2016 Australian POWER RANKINGS
[tnc-pdf-viewer-iframe file="http://runnerstribe.website/wp-content/uploads/2016/02/2016-IAAF-Rankings-AUS-Points-Men_Women-1.pdf" width="850″ height="400″ download="true" print="true" fullscreen="true" share="true" zoom="true" open="true" pagenav="true" logo="true" find="true" language="en-US" page="" default_zoom="auto"]