Olympic Selection Trials: Important Stepping Stone to Rio
If the Australian team for Rio was selected today we would expect to have 21 males and 28 females being selected (plus a few additional athletes added as part of the women's 4x400m relay squad). But as we count down to the 94th edition of the Australian Athletics Championships there will be a few more athletes hoping that they can also add their names to the Australian team for the 2016 Olympic Games.
We have already been witness to so many fantastic results from our track and field stars, none more so than Brooke Stratton's 7.05m in the women's long jump – breaking the Australian record in the process, plus another Australian record from Alana Boyd in the women's pole vault (4.77m) and the super sprinting from Josh Clarke, Alex Hartmann, Ella Nelson and Morgan Mitchell. Then there's been the breakthrough performances from the likes of Luke Mathews (1.45.16 in the 800m) and Damien Birkinhead (20.21m in the shot put). All of these athletes are literally assured of an Olympic berth, but there's also some very interesting events where athletes know that their performance at the Australian Championships will play a big part on whether they will also book their ticket for the Rio Games. We take a look at some of these athletes.
DAY 1 – Thursday 31st March
Men's Decathlon (OQ – 8100pts)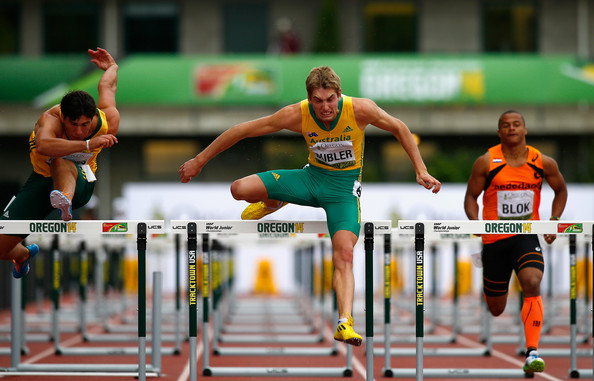 At 11:55am on the first morning of the Championships we get to see Cedric Dubler hit the track in the first of 10 events in the men's decathlon. Although you would think that 8100pts (the Olympic Qualifier) is a long way off for Dubler (considering that his recent Decathlon ended with a best of 7785pts), this 21 year-old has the x-factor that could see him close in the required points tally.
A silver medallist at the 2014 World Juniors, Dubler is an exceptional talent – with the most important thing being is that he's 100% healthy and ready to produce something big in Sydney. This is based on the fact that he's a 7.74m long jumper, a 2.12m high jumper and 14.37s 110m hurdler. He's only real weakness comes with both the shot put and discus throw, but all things considered he's every chance of becoming our first decathlete at an Olympic Games since Scott Ferrier wore the green and gold in 2000.
Men's 5000m (OQ – 13.25.00) – Final 7.50pm
One of the only finals on day 1 of the Championships, the men's 5000m could provide us with a third qualifier for Rio – behind the already qualified Brett Robinson (13.21.23) and Collis Birmingham (13.17.49). The athlete we are focusing in on is 24 year-old Sam McEntee.
We originally had him down as a threat in the 1500m, but as the season has unfolded we have noticed his greater strength over both the 3000m (7.48.35 PB in Newcastle) and 5000m (13.33.73 PB when 2nd to Robinson in Melbourne). He has also recorded a 3.42.98 over the shorter 1500m, but the promise of a Rio qualifier looks set to be over the 12 1/2 laps.
The race is set up to be quite fast, with the likes of Robinson, Birmingham and McEntee being joined by Ben St.Lawrence (13.37.54 SB), Mitch Brown (13.39.11 SB), David McNeil, Stewart McSweyn (13.41.74 PB) and the interesting athlete of the field – 21 year-old Patrick Tiernan (7.48.55 over 3000m indoors this year) – who is travelling over from the United States where he competes for Villanova University (alongside another Australian star in Jordan Williamsz, who will line up in the 1500m in Sydney).
With such a quality field you would expect that the race will be run a genuine pace, which could push the likes of McEntee and co. close to the OQ time of 13.25.00.
DAY 2 – Friday 1st April
There are finals of the women's 5000m, 10000m race walking (both men and women) and the men's hammer throw.
DAY 3 – Saturday 2nd April
Women's Pole Vault (OQ- 4.50m) – Final, Saturday 5.15pm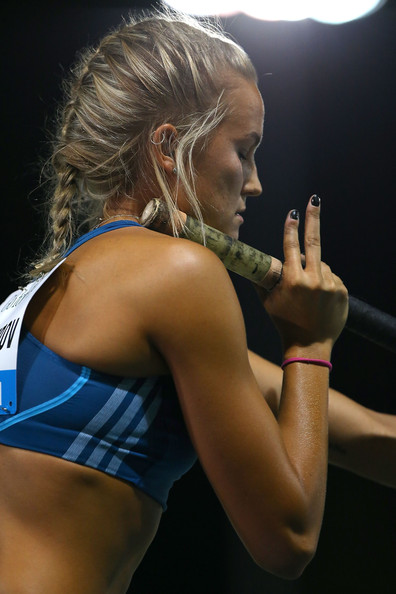 At 5.15pm we see the Parnov sisters, Vicky and Liz, tackle the Olympic qualifying height of 4.50m in a straight out final. Liz Parnov has been looking the most likely to achieve the required height, producing a SB of 4.40m at the Perth Track Classic on March 12, but then Vicky Parnov produced the same height of 4.40m on March 20 (also in Perth at a specific pole vault competition). With Alana Boyd pulling out of the Championships with the ankle injury she suffered at the World Indoor Championships, this will be a battle of the sisters as they both strive towards Olympic selection.
Women's 1500m (OQ – 4.07.00) – Final, Saturday 7.00pm
The 1500m women also start their campaign on Thursday night, with the heats set down for 7.10pm. This event could be just as intriguing as the men's 800m, with the win in Sydney likely to be the main goal more so than the actual qualifying time of 4.07.00.
The favourite entering the Championships will surely be Melissa Duncan, fresh from her great 6th placing (4.09.69i) at the recent World Indoor Championships, but anything is possible in an event that is on many occasions a tactical affair. She is clearly the one to beat with a best indoors this year of 4.06.93 (which was when she lowered the Australian Indoor record). The only concern was when she came back from the record breaking run to 20 days later only place 6th at the IAAF World Challenge in Melbourne – although many would agree that the race was simply a 'sit and kick' affair – and ended up being won in a very slow time of 4.16.63.
Another Rio qualified athlete in Zoe Buckman (4.06.30) will be on the start list, but this race is more about continuing her comeback from an extensive time away from the track. So it leaves the race open for the likes of Heidi See (4.10.37 in 2016), Jenny Blundell (4.09.67 PB in 2016) and Linden Hall (4.10.74 SB in 2016) as the likely contenders to Duncan, in what shapes as being a classic race.
Excluding Duncan, if you went with experience there is no doubt that See should prevail, especially in a tactical race, although if Blundell can time her race to perfection then she could easily come storming home for the win. Then there is Hall, who took it out from the front at the Sydney Track Classic, and is fast becoming an athlete to keep a close eye out for leading up to Rio and beyond. Overall you wouldn't expect to see a time of 4.07.00 in Sydney, but what you will see is a tough race with nothing left out on the track. If you're looking for an upset, maybe Katelyn Simpson could force her way into the top-3 – after placing 7th at the Sydney Track Classic (4.14.49) and is on the improve.
Women's 400m (OQ – 52.20s) – Final, Saturday 7.30pm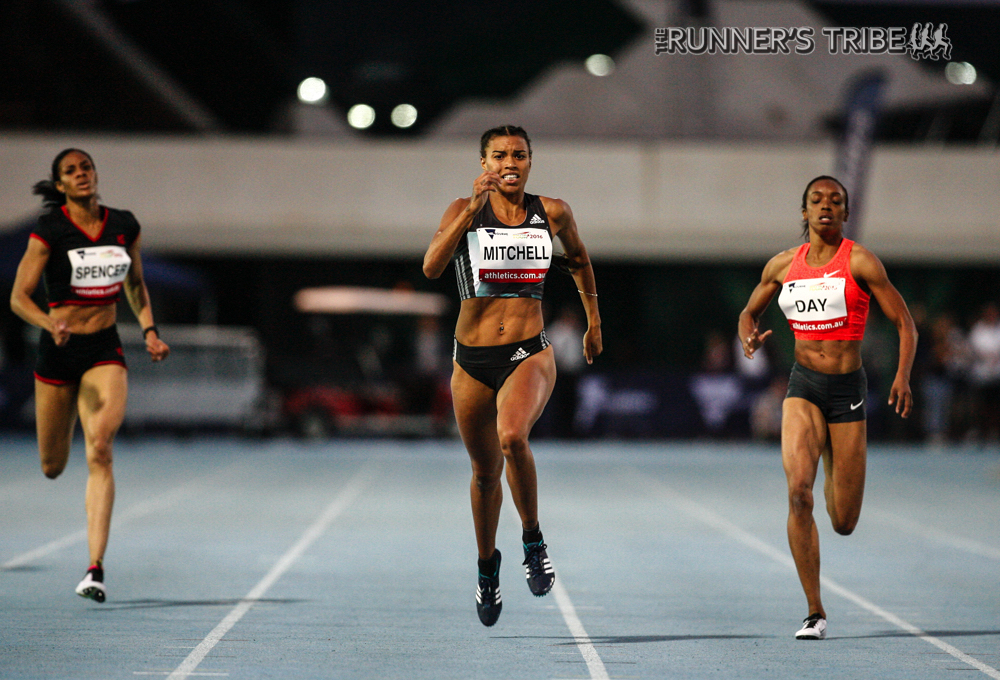 At 6.05pm we see the women step out on the track for the first round of the 400m. We are lucky to already have two qualified athletes for the event (Anneliese Rubie, 51.69s and Morgan Mitchell 51.81s), but there could also be another athlete knocking on the door in Sydney. Jess Thornton has already qualified in the 400m for the World U/20 Championships in July, but has a real chance of also pushing the Olympic Qualifying time of 52.20s.
It has been a big year for Thornton, who not only has recorded a 53.04s over the 400m but has also produced a scintillating 23.26s over the 200m. She also owns a 52.50s PB over the one lap event, when winning the Youth Olympics back in 2014, with the 17 year-old pushing hard for an even faster time in Sydney. You would have to say that her 53.08s win at the Australian Juniors was just a taste of what we could expect come the final of the 400m at 7.30pm on Saturday night.
The other interest in the event will be who finishes behind the likes of Mitchell, Rubie and Thornton – with the next 3 spots vital in final selection for the women's 4x400m relay squad. At this stage Monica Brennan (53.14s) and Caitlin Sargent-Jones (53.48s) are in the box seat to grab hold of two of the next three spots, although if AA was to select a full squad of six athletes the next spot could be on the line. This would then become a battle between the 400m hurdlers of Lauren Wells (who wont be running the 'flat' 400m in Sydney), Lyndsay Pekin (SB of 53.92s) and Jess Gulli-Nance (SB of 54.49s). Out of these three athletes, only Wells has a PB under 53 seconds (52.82s set back in 2012). A great race with still lots to play for.
Men's 800m (OQ – 1.46.00) – Final, Saturday 7.50pm
The 800m men start their campaign at 6.45pm on Thursday night, in what shapes as being one of the most intriguing events of the Championships. Although we already have three automatic qualifiers for Rio (Jeff Riseley 1.44.99, Luke Mathews 1.45.16 and Joshua Ralph 1.45.79), there are still many different ways this could play itself out. Here are some outcomes that could have an effect on the final Australian 800m team for Rio:
Mathews also qualifies in the 1500m and decides to only run this event in Rio – opens up the third spot for another athlete to qualify and make the team. James Gurr, Alex Rowe or Peter Bol run well at Nationals and either run a 1.46.00 in Sydney or run the time overseas.
Gurr, Rowe or Bol cross the line in front of Ralph and then either run the 1.46.00 OQ in Sydney or run the time overseas. Ralph doesn't improve on his 1.45.79, and would in turn likely miss out on selection if Mathews decides to run the 800m in Rio.
So in summary a lot will depend on whether Mathews pushes for selection in the 800m or 1500m (or both) and whether Ralph can place in the first three in Sydney and also run well over the coming months. The interesting part will be if Gurr (1.46.09 PB), Rowe (1.47.48 SB) or Bol (1.46.68) can produce a qualifier in Sydney, and/or win the National title and produce a qualifier over the next three months. With Riseley still on the sidelines, this race is clearly going to be one of the most anticipated races over the 4 days of the Championships.
[
Note:
Riseley is not on the start list in Sydney as he continues his comeback from a foot problem that dates back to last years World Championships]
Women's 100m (OQ- 11.32s) – Final, Saturday 8.00pm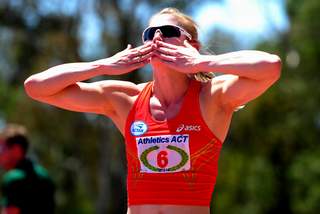 At 5.00pm on Friday we see Melissa Breen line up in the heats of the women's 100m, in an event that she has surprisingly not met the Olympic qualifying time of 11.32s in 2016. A SB of 11.38s has been supported by times of 11.39s, 11.43s and 11.44s, plus a wind assisted mark of 11.30s (+3.0). All these performances suggest that it's only a matter of time before the qualifier is produced, and if conditions are kind in Sydney, there is no doubting that Breen has the quality and experience to take full advantage and produce the required performance.
The biggest challenge could be the fact that many of her competitors are unlikely to run anywhere close to the marks set down by Breen. The most likely competition will come from Toea Wisil (PNG) – who has a SB of 11.44s. Then there is 22 year-old Ashleigh Whittaker, who hasn't quite reached her career best from 2015 – but does own a SB of 11.59s.
Men's 100m (OQ – 10.16s) – Final, Saturday 8.10pm

At 5.35pm on Friday Aaron Stubbs steps out onto the track for the heats of the men's 100m, minus the no.1 sprinter in Australia, Josh Clarke (who missed crucial training in the lead up to the Nationals after a hamstring concern, and decided against testing it out in Sydney). Stubbs ran a quality 10.23s in Canberra back on Feb 20, after earlier in the year running 10.24s in Brisbane (Jan 23). These times support the fact that Stubbs has every chance to record the all important Olympic qualifying time of 10.16s in Sydney.
His main competition will come from his successor at the Queensland Track Classic, Alex Hartmann, who has excelled over the 200m in 2016 but has also produced a very solid 10.29s PB. Then there is another Queenslander in Tom Gamble, who placed second to Stubbs in Canberra in a PB of 10.28s. After this we have the two very exciting youngsters in Trae Williams (new Australian Junior record holder with a 10.27s), and 17 year-old Tasmanian star in Jack Hale (10.31s when second to Williams at the Australian Juniors, and who also made the final at the Stawell Gift over 120m when placing an excellent 3rd).
DAY 4 – Sunday 3rd April 
Women's 100m hurdles (OQ – 13.00s) – Final, Sunday 2.40pm
At 1.00pm on Sunday we see the likes of Abbie Taddeo, Michelle Jenneke and Brianna Beahan line up in the heats of the 100m hurdles. Although we still wont see the very best Australian hurdler (and World and Olympic champion) in Sally Pearson on the start list, we will certainly see some fireworks from these three talented athletes.
Jenneke already owns the very important Olympic qualifying time, so the third spot can be claimed by either Beahan or Taddeo. Based on recent performances, specifically in 2016, Beahan looks the most likely to reach the standard of 13.00s. A 13.11s PB at the Perth Track Classic suggests that the standard is well within reach, and her 100m times (including running 11.63s twice in 2016) are also supportive of a big run in Sydney.
Another in form athlete has been Taddeo, who has been consistent in breaking 13.50s on four occasions in 2016. This has included a PB of 13.30s – when 3rd at the Canberra Track Classic. She has now run under 13.40s on six separate occasions in her career, so we'll all be crossing our fingers that she has a big breakthrough run on Sunday.
Men's 1500m (OQ – 3.36.20) – Final, Sunday 3.20pm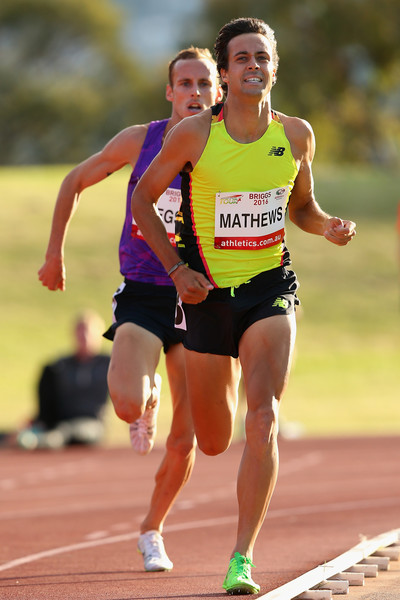 At 7.00pm on Friday we will have the opportunity to see two very exciting athletes run the heats of the men's 1500m. Both Ryan Gregson and Luke Mathews are in fantastic form leading into the National Championships, and will again go head to head in what shapes as one of the highlights of the Championships.
Gregson has publicly stated that he's in the best form of his career, while Mathews has pushed Gregson in all of their head to head races so far in 2016. The only question left is whether they can both push each other to an Olympic qualifier of 3.36.20. Gregson has run under that time on two occasions in Sydney, a 3.35.42 in 2010 (the year he broke the Australian Record with a 3.31.06) and a 3.35.25 when winning at the Sydney Track Classic in 2013 (in a year that he actually ended up missing the World Championships due to injury).
Mathews on the other hand enters new territory after smashing his PB with a 3.37.31 at the Briggs Track Classic in Hobart back on February 13. Since then he has also obliterated his 800m PB with a 1.45.16 in Melbourne, but did have a slight reality check at this years Sydney Track Classic, with a 3.40.55 – to again place second to Gregson.
Women's 800m (OQ – 2.01.50) – Final, Sunday 3.30pm
At 6.40pm on Friday the women step out for the heats of the 800m. If you looked at the 2016 ranking list for this event you would be hard pressed to find many athletes capable of reaching the 2.01.50 required for Rio, but there is one athlete which will ensure that this event is one of the most anticipated across the four days of competition.
Tamsyn Lewis-Manou is 37 years-old, but recently turned the clock back with a very impressive 2.02.4h in a mixed competition on a windy night out at Nunawading. The performance, at a Victorian Milers meeting, showed to many that another National title is well within reach -an exciting prospect in what should be a very interesting race. If she did end with the gold medal in Sydney, it would be her 19th Australian title across three events, the 400m, 400m hurdles and her pet event – the 800m (an event which she won her first Australian title back in 1998).
Standing in her way will be current Australian no.1 in Selma Kajan, who is determined to win both the gold at the Australian Championships but also reach the important Rio qualifier of 2.01.50. Her run at the Perth Track Classic (2.02.26) was her fastest time recorded on home soil, and has her well placed leading into the National titles and over the coming months as she chases the important standard.
Outside of Kajan there is great interest in 400m hurdler Lora Storey, who has entered in both events for Sydney [ed. we have the word that Storey will concentrate on the 800m in Sydney]. Storey has made great improvements in 2016, which has included a 2.02.68 when second to Kajan in Perth.
Additional Athletes also Pushing for Rio Qualifiers plus additional athlete news
Steve Solomon (400m) – Came back from a hamstring surgery last year and put in a solid training block with coach Iryna Dvoskina in Canberra before the domestic season, but just when he was about to have his first race of the Olympic year last month, he began to experience nerve pain in his lower back. "It was like a sharp pinch in the top of my glute,'' Solomon said.
"I know I am in good shape and if the conditions are good I expect to run quite well,'' – Solomon.
With serious back and hamstring injuries in his past, he and Dvoskina immediately backed off his training, put his competition schedule on ice and sought a ­solution. A change in his training program has seen Solomon back on track, and he will line up in Sydney ready to run some fast times. Maybe the 45.40s OQ will be beyond him in Sydney, but he will surely give it a big shake either in Asia or Europe prior to the qualifying deadline of July 12.
James Nipperess (3000m steeple) – Is looking for the qualifying time of 8.30.00 in Sydney, a time that would also be a PB for the 25 year-old from NSW. Has had two runs in 2016 over the steeples, which have resulted in a 8.45.42 and a 8.49.93. Expect him to be a lot quicker at the National Championships, and hopefully in turn close in on the all important Olympic standard.
Mitchell Watt (long jump) – The news out of the United States hasn't been great, with a delay in flights to Australia put down to a niggling groin injury that needed to be sorted out. Has jumped twice so far in 2016 (both indoors) and would be a great addition to a start list that includes newly crowned World Indoor silver medallist in Fabrice Lapierre, plus Robbie Crowther, Darcy Roper and Australian outdoor leader Angus Gould (7.92m)
Matthew Denny (discus throw) – Has been in good form so far in 2016, including a quality 63.02m PB over in New Zealand on February 25. Consistently around the 61m-62m mark, Denny is ready for bigger things in Sydney and is confident of closing in on the Olympic qualifier of 65.00m.
Hamish Peacock (javelin throw) – How he hasn't already reached the OQ mark of 83.00m is beyond us, but surely this will happen sooner rather than later. Peacock has thrown 82.81m and 82.76m in 2016, with his biggest challenger in Sydney likely to be Josh Robinson – after his solid 78.89m throw at the Sydney Track Classic.
Taryn Gollshewsky (discus throw) – Gollshewsky is our 'athlete to watch' at the Championships, with her best of 58.91m just over 2m from the Olympic standard of 61.00m that would see her on the plane to Rio. She has four times thrown over 58m in 2016, and we believe that the time is right for something 'big' to occur in Sydney.
We wish all of the athletes competing over the four days of competition the very best of luck, and hope for many amazing highlights along the way!
END