By David Monti, @d9monti
(c) 2017 Race Results Weekly, all rights reserved
PRAGUE (01-Apr) — Running through the cobblestone streets here with her top rival just a few meters behind, Kenya's Joyciline Jepkosgei not only ran a pending world record for the half-marathon of 1:04:52 –becoming the first woman ever to break 65 minutes– but improbably broke the IAAF-ratified records for 10-K, 15-K and 20-K along the way.  On this flat, IAAF/AIMS certified course, with the start and finish at Jan Palach Square in Old Town, Jepkosgei split 5-K in 14:53, 10-K in 30:04 (previous record 30:21), 15-K in 45:37 (46:14) and 20-K in 1:01:25 (1:01:40).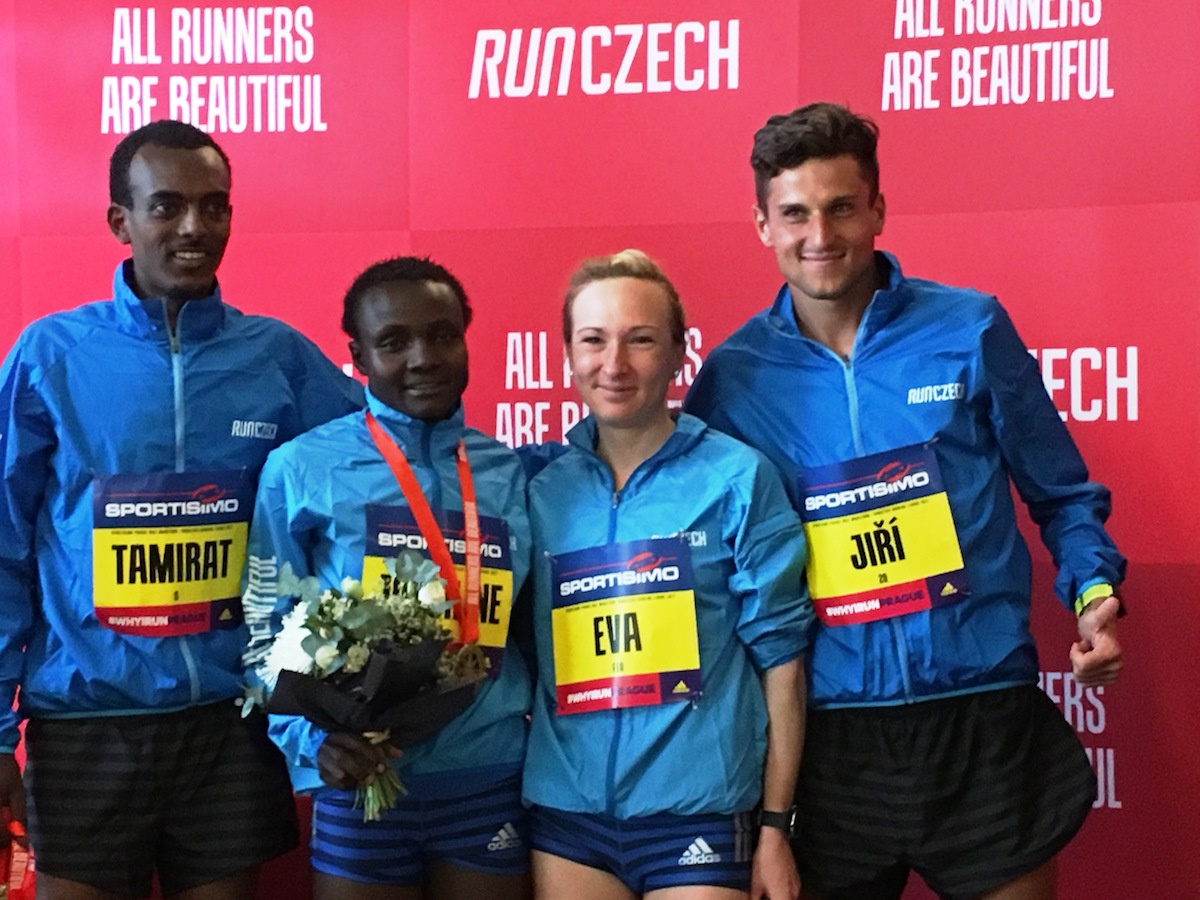 "I didn't know even at the finish line," Jepkosgei said of the half-marathon world record, shaking her head in disbelief.  She added, "Even now I am surprised about it."
It's fair to say that Jepkosgei, 23, was both pushed and pulled to today's performance.  Pulling her were two male pacemakers, Ismael Motosio and Edwin Kiplagat, who ran closely with both Jepkosgei and her main rival Violah Jepchumba, the race's defending champion and previous course record holder.  The four ran in a pack through 10 km where Jepchumba was only one second back.  Jepkosgei said the hot pace didn't scare her.
"The pace was high, but my body was very comfortable with my pace," she explained.
Carrying her arms high, and twisting her upper body more than most runners, Jepkosgei kept pressing the pace, and Jepchumba began to slip back, slowly.  By the 15-K point, Jepkosgei was running side by side with the pacemaker Motosio, and the pair had a three-second lead over Jepchumba and Kiplagat, the other pacer.  Jepkosgei ran 15:48 from 15-K to 20-K, while Jepchumba could only manage 16:10, effectively putting the race away.  Jepkosgei powered her way back to Jan Palach Square, but said that she was relaxed, at least in her mind.
"I thank my manager (Davor Savija) for not giving me much pressure," Jepkosgei said.  "He told me to relax.  Before yesterday, he told me no pressure about the race.  Run your own race, and I ran like that.  I am very grateful."
Jepkosgei earned a big payday.  After the receipt of drug testing results and IAAF ratification of her half-marathon record, organizers will pay Jepkosgei  a total of €71,000: €60,000 for the record, €6,000 for the win, and another €5,000 for the course record.
Jepchumba's second place performance was also remarkable.  She ran 5 km splits of 14:53, 30:05, 45:40, 1:01:50, then finished in 1:05:22.  That makes her the #5 performer of all-time on record-quality courses.  She earned €24,000 in prize money and bonuses.
Down the finish order, there were more strong results throughout the top-10.  Kenya's Fancy Chemutai finished third in 1:06:58, followed by Kenyans Valary Aiyabei (1:07:50) and Gladys Chesir (1:07:51).  American Jordan Hasay finished sixth in a personal best 1:07:55, a mark which made her the #3 USA woman of all time, behind only Deena Kastor (1:07:34) and Molly Huddle (1:07:41).
"I felt very controlled and comfortable," Hasay said in a text message to Race Results Weekly.  "The plan was to run smooth until 10 or 11 miles.  I found a nice rhythm and ran pretty evenly.  Then the last two miles I was able to close well.  I'm pleased with the effort and excited about my fitness going into Boston!"
Four-time Olympian Eva Vrabcova was the top Czech finisher, coming home 11th in 1:11:45.
There was less drama in the men's contest.  Reigning Olympic 10,000m bronze medalist Tamirat Tola of Ethiopia got restless after the 10-K split was too slow for his liking (28:31).  So the 2:04 marathoner dropped the hammer, and ran 13:55 for the next five kilometers to give himself a 33 second lead.  Running tall and showing no signs of fatigue, he breezed through the second half alone to finish in 59:37, a new career best and his first sub-60:00 clocking.
"I'm happy for the race because it is my personal best time," said Tola, speaking in English.  He added: "I did not think we were at world record (pace).  I think for my personal best, (instead)."
Tola earned €6000 for the win plus a €15,000 time bonus for breaking 60:00.
Josphat Tanui was the surprise runner up, clocking 1:00:38 in his debut at the distance.  Another Kenyan, Geoffrey Yegon, finished third in 1:00:41.
American Galen Rupp, who was using this race as a rust-buster in advance of the Boston Marathon on April 17, ran with the leaders in the early stages, but was 17 seconds adrift of the leaders by 10-K (28:48).  He would finish 11th in 1:01:59, the last man to break 1:02:00 here today.
"Unfortunately, I felt come discomfort in my foot during the race today," Rupp said through a text sent to Race Results Weekly.  "It was a great event and I hope to come back her in the future. Hopefully, my foot will be OK for Boston."