By David Monti, @d9monti
(c) 2017 Race Results Weekly, all rights reserved
PRAGUE (31-Mar) — Tomorrow may be the first of April, but there will be no fooling around in the elite section of the 19th Sportisimo Prague Half-Marathon.  About 11,000 runners will be treated to beautiful spring weather which should be conducive to fast times and compelling races.  Sixty-two elite athletes from 13 countries are expected to answer the starter's gun in Jan Palach Square in Prague's Old Town at 10:00 a.m.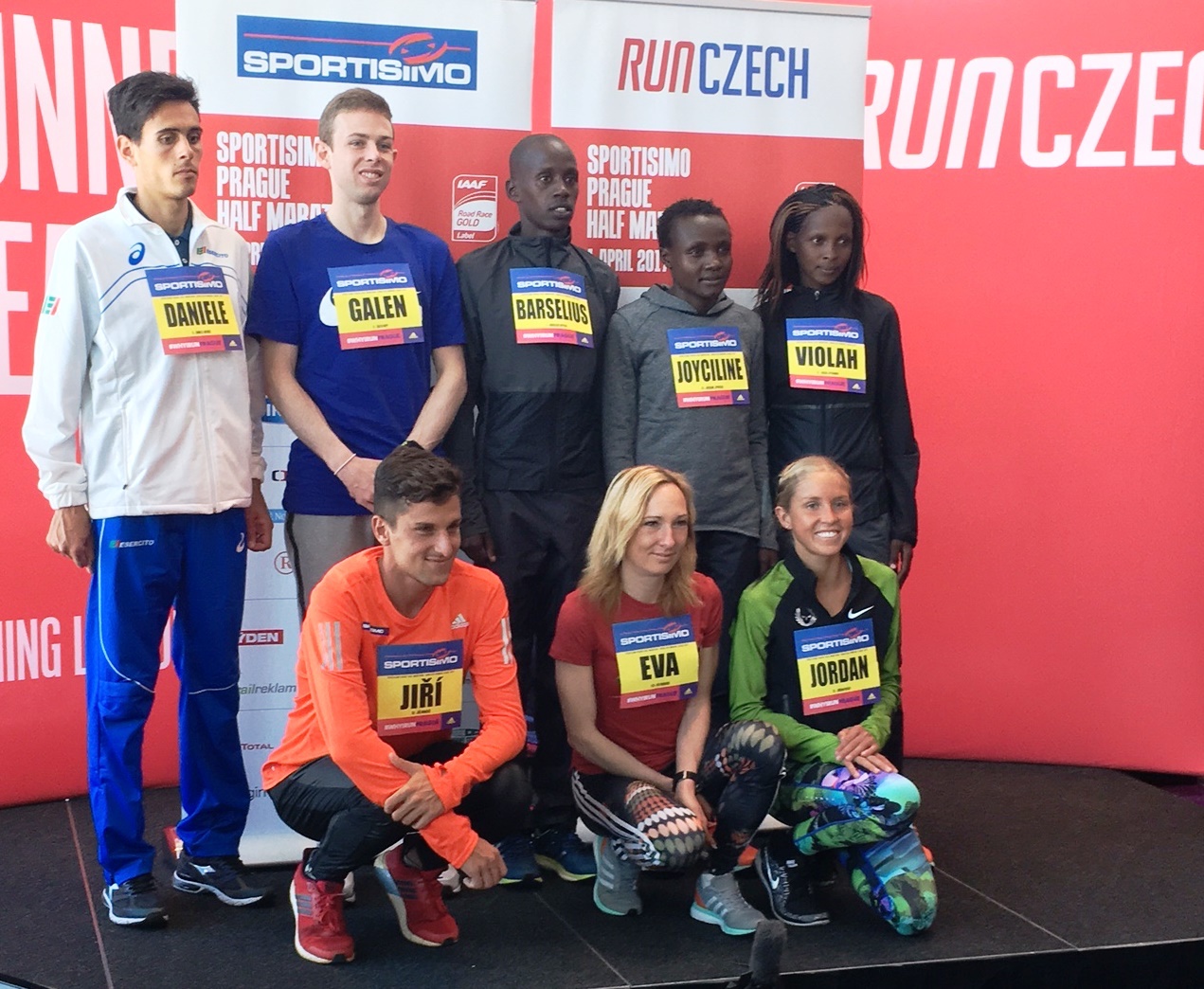 "I look forward to tomorrow's race," said Jana Moberly, the event's elite athlete coordinator, in an interview.  "I expect in the ladies that they will try to be on our race record, which is very high.  If they succeed to make new race record I will be absolutely happy."
That record, 1:05:51 by defending champion Violah Jepchumba of Kenya, is an impressive mark.  That was the fastest time run in the world in 2016, and made her only the sixth woman to break 66 minutes for the half-marathon.  Of course, it was also the fastest time every by a woman on Czech soil.
Jepchumba, 26, leads this year's elite women's field, just one of three women with sub-67:00 credentials.  The other two are her Kenyan compatriots Joyciline Jepkosgei (1:06:08) and Gladys Chesir (1:06:57).  In addition, another five women have broken 1:10:00 during their careers, including American Jordan Hasay who will be running in only her second half-marathon.  For Hasay –whose father's family comes from the Czech Republic–tomorrow's race is part of her preparation for her marathon debut in Boston on 17 April.
"I'm really excited," Hasay told Race Results Weekly in an interview yesterday.  She continued: "I'd certainly like to PR (set a personal record), and that would be a good tune-up for Boston."
In addition to the flat course, the women should benefit from four make pacemakers, two of whom will shepherd the lead pack.
The men's contest features three sub-60:00 Kenyans: Barselius Kipyego (59:15), Geoffrey Yegon (59:44) and Vincent Yator (59:55).  Kipyego, a Nandi, was second at this race last year in 59:30, and he told reporters today that he expected to run at least as fast this year.  Moberly certainly hoped so.
"Men, I hope, it is our target to run under one hour," she said.  "We have guys for it.  If they competed together, we can also see really nice time under one hour."
If the race sets up as Moberly has envisioned, it will give American Galen Rupp an excellent chance to better Ryan Hall's ten year-old USA record of 59:43 set in Houston in January, 2007.  Rupp has only run two half-marathons, and his best time of 1:00:30 was set at the NYC Half back in 2011.  Given that he's broken 27:30 for 10,000m on the track eight times and that his best time is 26:44.36, breaking Hall's record is a definite possibility.  Rupp could also break the USA 20-K record of 56:48 set by Dathan Ritzenhein during the IAAF World Half-Marathon in 2011.  Organizers here have certified the 15-K and 20-K marks which are both record-eligible under IAAF and USATF rules.
But yesterday, Rupp played down his chances for the record and said that his main objective was to just get in a good race prior to the Boston Marathon.  Rupp, 30, hasn't raced in over four months.
"I just have to get a race in," Rupp told Race Results Weekly here yesterday.  "It's been a long time.  Prague presented itself, and it's a great opportunity.  They always have great fields here.  The competition is second to none.  In looking at the schedule, it worked out really well."
There are other top men hoping for good performances here.  Italy's Daniele Meucci (1:01:06 PB), the 2014 European marathon champion, is now fully recovered from a severe foot injury he suffered during the Rio Olympic Marathon.  He is just back to Europe after a training stint in Eritrea, and did a "rust-buster" at the Stramilano 19 March (1:03:43).  Ethiopia's Tamirat Tola (1:00:06 PB), the Rio Olympic 10,000m bronze medalist, is running his first race after recording a world-leading time in the Standard Chartered Dubai Marathon last January.  There he ran a career best and course record 2:04:11.  Jiri Homolac is the top Czech entrant.  He said today that the work he did at a recent training camp in Kenya should help him significantly lower his 1:03:43 personal best.
There will be good prize money and, more importantly, time bonuses on the line tomorrow.  The men's and women's champions will pocket €6000 each, regardless of finish time.  But running fast would significantly lift the top runners' paydays.  The winning man will earn another €25,000 if he breaks 59:00, plus another €5000 if he goes under Atsedu Tsegay's course record of 58:47.  The winning woman can earn €25,000 for a time faster than 1:06:30, with the potential for an additional €5000 for breaking Violah Jepchumba's course record of 1:05:51.  There are additional time bonuses for lower-placed finishers and for Czech athletes.