'Before Rudisha'
Wilson Kipketer's Top 5 Races
"This man is one of the toughest competitors we have ever seen" – Steve Ovett
© 2017 Runner's Tribe, all rights reserved.
Kipketer was the man to beat in the late nineties over 800. With three world championship gold's, three 800m world records, and one indoor world championship title to his name – all that alluded this Kenyan born superstar was Olympic gold. He came close in Sydney and Athens but was perhaps left wanting tactically in both races. To this day, David Rudisha is the only man to have bettered Kipketer's times.
Runner's Tribe took a look back over Kipketer's career and his top 5 races.
DOB: 12 December 1972, Kenya.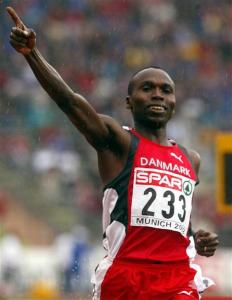 Personal Bests
400m: 46.85
800m: 1:41.11
1000m: 2:16.29
1500m: 3:42.80
Mile: 3:59.57
Highlights
World Championship 800m Gold, Gothenburg 1995.
World Championship 800m Gold, Athens 1997.
World Championship 800m Gold, Seville 1999.
World Indoor Championship 800m Gold, Paris 1997.
Olympic Games Silver. Sydney, 2000.
Previous World Record holder, 800m.
Number 5: 800m World Record. 1:41.24
"Unbelievable. The record that has stood since 1981, has gone" – Steve Ovett
They said Sebastian Coe's 800m world record set in 1981 was one of the toughest on the books. Coe's time (1:41.73) still ranks him as the 3rd fastest man in history. In 1997, Kipketer was in tremendous form. He had equalled Coe's mark 12 days earlier in Stockholm. But then came Zurich, a famously fast track. Kipketer took the race on in an overtly aggressive fashion, and in turn smashed through Coe's 15 year old record.
Number 4: 1997 Athens World Championships 800m Gold
Kipketer was close to unbeatable in 1997. He was, therefore, the overwhelming favourite to take out his second world title. Kipketer controlled the race and made it look easy.
Number 3: 1999 Seville World Championships 800m Gold
"Kipketer has never been pushed like that" – Sebastian Coe
1998 was a rough year for Kipketer. Contracting malaria, his medical recovery was prolonged. He finished without a medal at the 1998 European championships. He was far from his 1997 form.
The Seville World Championships victory marked the official return of the king. In a classic final, Hezekiél Sepeng nearly outkicked Kipketer. It was a gutsy win.
Number 2: 1995 Gothenburg World Championships 800m Gold
"He made it look like a training session" – Commentator
The breakthrough major championship win is always something special in the career of a superstar like Kipketer. Unlike Seville in 1999, Kipketer was hardly pushed; he looked to win with ease. Nonetheless, this major win marked the arrival of Wilson Kipketer.
Number 1: World Record 1:41.11, Cologne, 1997
During 1997 Kipketer was untouchable. He set three world records over 800m within the space of 2 months.
His final world record of 1:41.11 is today still the 4th fastest time in history – Rudisha has run faster on just three occasions.
Kipketer's mark stood for 13 years.