"Special Methods" – The Training of Said Aouita
© 2017 Runner's Tribe, all rights reserved.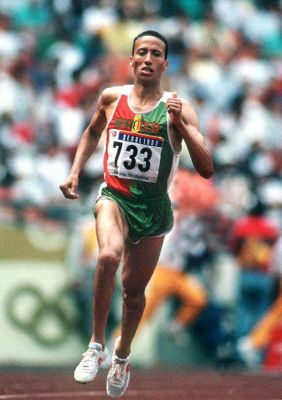 "We have special techniques. We always train alone. And we always run alone" – Said Aouita
 A lot of the below information about the training of Said Aouita was taken from the book 'Running with the legends', by Michael Sandrock, unless otherwise stated. We highly recommend this classic book to anyone who is yet to read it. 
"There is not a race tactic that can beat me. If I choose, I can run world records. It was easy for me to win the gold medal here. My time was of no importance to me"- Said Aouita speaking after his 1987 World Championships 500m Gold.
Profile
Date of birth: November 2

nd

, 1960, Morocco

Previous world record holder for the 1500m, 2000m, 3000m, and 5000m.

1984 Olympic gold for the 5000m.

1988 Olympic bronze for the 800m.

1987 World Champion over 5000m.
"People said it wasn't possible to break 13 minutes, but I did it". -Said Aouita
Personal Bests
800m: 1:43.86

1500m: 3:29.46

Mile: 3:46.76

3000m: 7:29.76

2-mile: 8:13.45

5000m: 12:58.39
Said Aouita is known as arguably the most versatile runner ever.  Sebastian Coe once said in reference to Aouita:
"Besides winning 800s, he could run a brilliant 1500m and an unbelievable 5000m. In terms of range of distances he's unsurpassed. The biggest gap is between 1500m and 5000m and he made the jump with sublime indifference".
Aouita played sport and ran from an early age, his athletic potential was picked up by his childhood soccer coach, Aouita then began training and started winning races immediately.
The Lone Miler
"I have no coach. I prefer always to be alone" –  Said Aouita
Aouita was self-coached, he is reported as stating that "I prefer always to be alone", "I have no coach".  Aouita himself refers to his training as "special methods".
Therefore, Aouita's training has remained mainly a secret; however various information has been made available over the years.
Training
Points concerning the training of Aouita are outlined below:
Aouita deeply believes in the value of altitude training.

He is reported as stating that he trains "between 50 and 70 miles a week". With 50 miles being the average.

Intense track sessions were the backbone of Aouita's training.

He would always stretch for a long time before his track intervals and all his intervals were done at an intense pace.

His track sessions would vary, depending on whether or not he had an 800, 1500m or 5000m race around the corner.

He never ran more than 15-16 km.

The miles per week were not important. What mattered was the quality of his workouts.

The quality of his hard workouts was everything.  He had easy days and he had hard days. He took as many days recovery between his hard days as he felt he needed to be properly recovered for his next hard session.

On his recovery days, Aouita would run for time, not distance. A 50 minute easy run was a common session for a recovery day.

Aouita once stated that the principals of his training "have been the same since I started. Speed; speed endurance; and volume resistance."

Aouita always observed the fast of the holy month of Ramadan and stated that 'Training was sometimes hard to do during Ramadan".

His diet was not strict.

Examples of track sessions include:

4 by 3 by 400m (1 minute rest between the reps, and 3minute rest between the sets). All in approximately 57 seconds.

10 by 400m (90 seconds rest) all in 53-56. Average 54.5 seconds.

He often did time trials in training. He is recorded as stating that he often ran 3000m time trials in around 7:35 in training.
VIDEO: 3000m World Record: Said Aouita, Cologne, 1989
https://youtu.be/kyC73RYjoqc
1985 1500m World Record
https://www.youtube.com/watch?v=e073u8gkvuA
1984 Olympic 5000m Gold
https://www.youtube.com/watch?v=ol1BLE2HGTQ