Defending champion Shuko Genemo returns to Vienna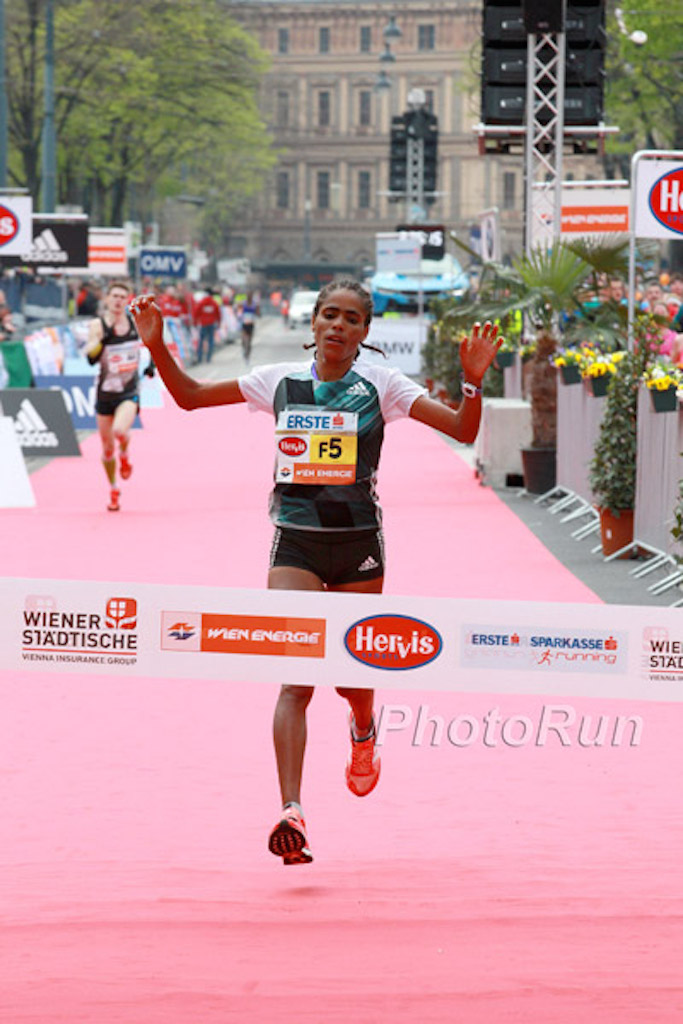 Defending champion Shuko Genemo will return to the Vienna City Marathon. The Ethiopian youngster caused a surprise when she took Austria's most prestigious road running event with a personal best of 2:24:31 despite very strong winds in 2016. While the weather was the most difficult opponent for Genemo a year ago this time it may well be a compatriot: Meseret Mengistu is among the female athletes announced by the organisers today. The experienced Ethiopian marathon runner features a personal record of 2:23:26. The 34th Vienna City Marathon, which is an IAAF Gold Label Road Race, will take place on 23rd April. Including road races at other distances more than 39,000 runners have entered the event so far. Online registration and information is still available at: www.vienna-marathon.com
It was not before this year that Shuko Genemo returned to racing after her triumph in Vienna last April. In January the 21 year-old competed at the high-class Dubai Marathon and finished seventh with 2:28:16. Running another marathon little more than three months later might look close. But Genemo had exactly the same schedule last year, when she took the Mumbai Marathon in January in 2:27:50 and then came to Vienna. The youngster then improved her PB by more than three minutes and clocked the second fastest time in the history of the Vienna City Marathon with 2:24:31. Commenting on the weather she said: "It was cold and windy, which made it difficult to run fast. In perfect conditions I could have run 2:22 today."
Anything faster than 2:23:47 would produce a huge smile on the face of the organisers as it would be a new course record. While the men's record was improved a couple of times in the past ten years and now stands at 2:05:41 the women's mark somehow always survived. It was back in 2000 when Italy's Maura Viceconte clocked 2:23:47. "This year we will have a compact women's field again. The athletes want to run good times. I hope that they push each other and then may be the record finally falls", said Race Director Wolfgang Konrad.
While Shuko Genemo showed last year that she has the potential to break this mark Meseret Mengistu's PB is indeed faster than Vienna's record. She clocked 2:23:26 when she took the Paris Marathon in 2015. This is part of Mengistu's remarkable success streak: Since 2014 the Ethiopian ran six marathons, winning five of them. Once inspired by watching races of Haile Gebrselassie – who is a three-time winner of the Vienna Half Marathon – and Derartu Tulu on TV she will compete in Austria for the first time. Mengistu has focused on marathons in recent years and 2017 began with a fine victory: In January the 27 year-old took the Xiamen-Marathon in China with 2:25:58.
The Ethiopian pair will probably be challenged by a group of African runners on 23rd April. Among them are Kenyans Rebecca Chesire and Angela Tanui. Both showed promising form in Sunday's Rome Ostia half marathon. Tanui took second place in 67:43 while Chesire, who holds a marathon best of 2:25:22, was fourth with 69:01. Tanui will run her debut at the Vienna City Marathon. Her half marathon PB stands at 67:16.
The strongest European challenge may come from Italy's Emma Quaglia. The 36 year-old did very well in majors championships, finishing sixth in the World Championships in Moscow 2013 and 14th in the Europeans in Zurich a year later. Quaglia ran her personal best of 2:28:15 in Torino in 2012.