By Len Johnson
Letesenbet Gidey and Joshua Cheptegei smashed the world records for men's 10,000 and women's 5000, respectively, on a warm, still night in Valencia.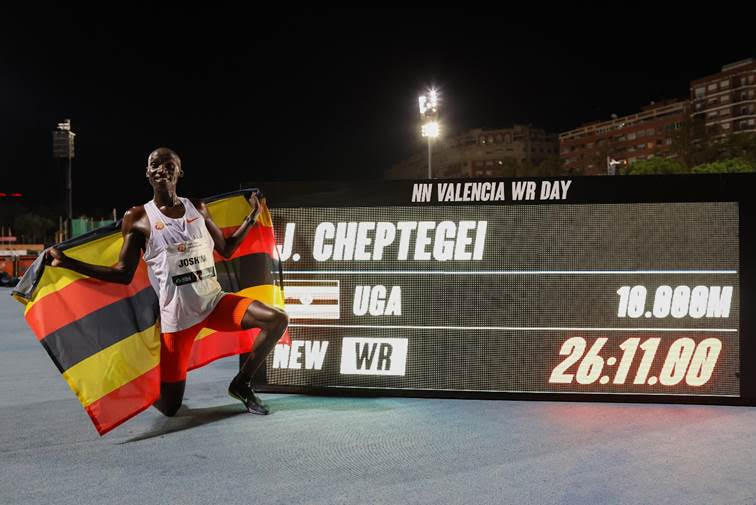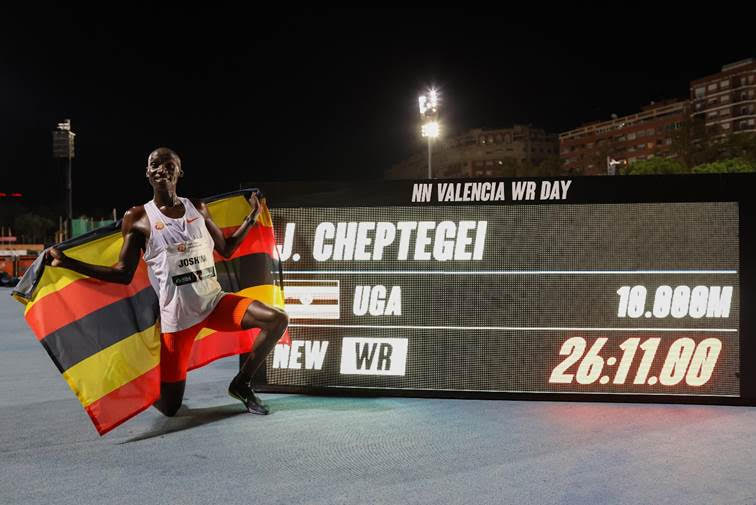 A 14:06.62 for Gidey and a 26:11.00 for Cheptegei erased the names of Tirunesh Dibaba and Kenenisa Bekele from the outdoor world record books. Two of the greatest-ever names in track distance running now boast just one entry between them on the lists carried on the World Athletics website – Bekele's 12:49.60 for the indoor 5000.
All this despite a massive tech fail, too. Not with the wonder that is the coloured pacing lights but the big screen which went black as soon as I pushed the play button on the livestream and did not respond to frantic attempts at resuscitation.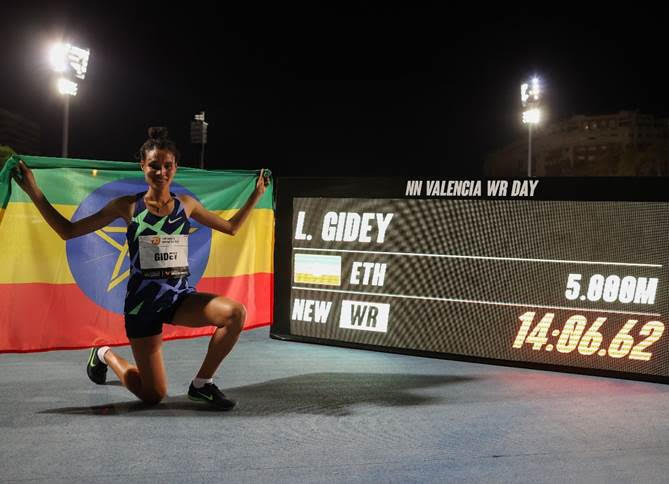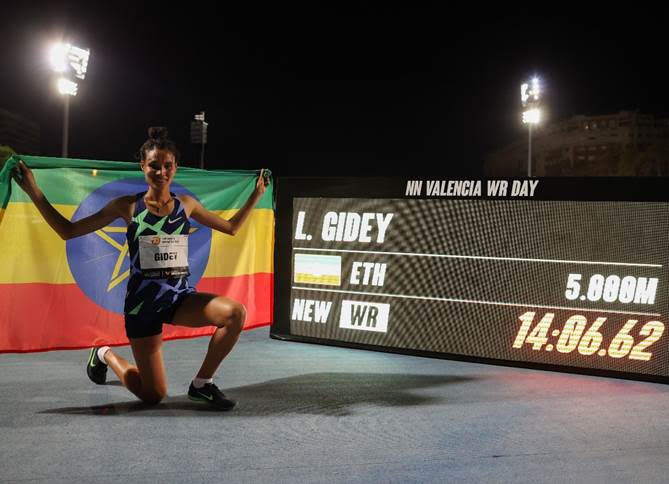 What to do? Retreat to the laptop where, fortunately, a much smaller screen had no negative impact on the performances.
Let's consider Cheptegei first, if only because this is the second time this Covid-blighted year he has taken down a Bekele track record. In Monaco two months ago, he ran 12:35.36 for 5000 to break the record previously set by Bekele in May, 2004. Now, in eclipsing the 10,000 record set in 2005, he has made the first time advances in men's track distance running for almost 15 years.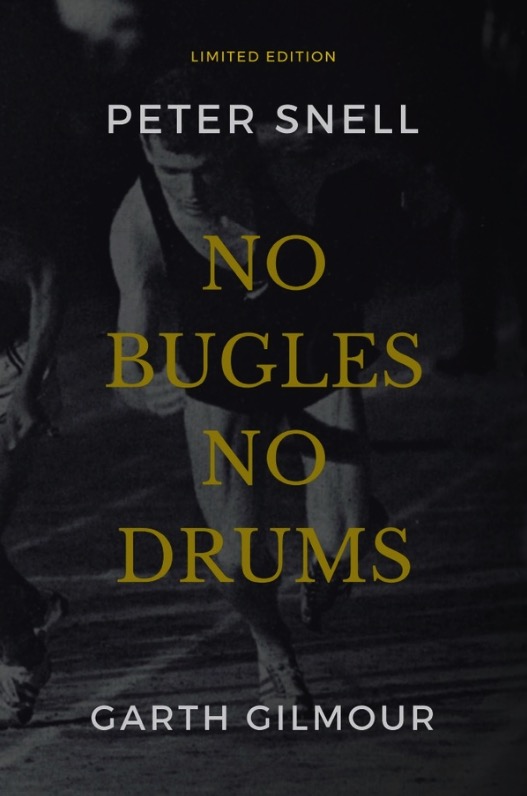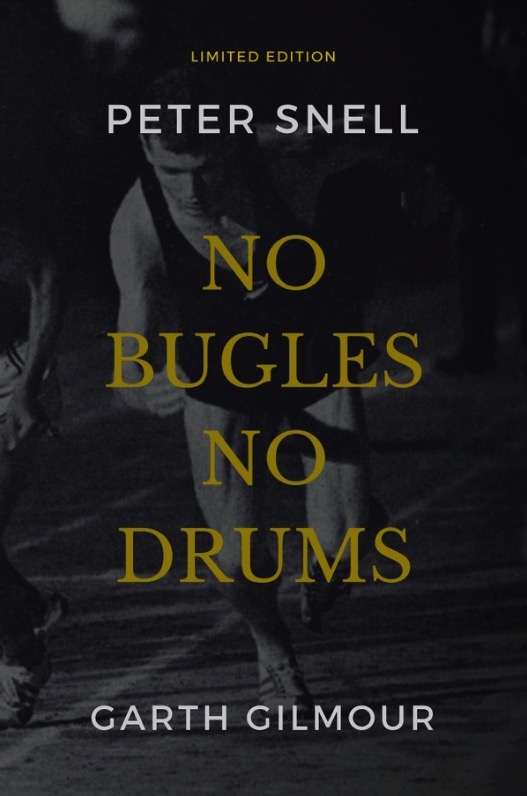 Bekele ran 26:17.53 for 10,000 at the Van Damme Memorial in Brussels on 26 August, 2005. He had set the 5000 record a year earlier – 31 May, 2004 – in Hengelo. Cheptegei ran 12:35.36 in Monaco on 14 August. The gap between Bekele's 10,000 record and Cheptegei's at 5000 – 12 days short of 15 years exactly – is the longest without any improvement on either the men's 5000 or 10,000 world record since the then IAAF began recording performances in 1911.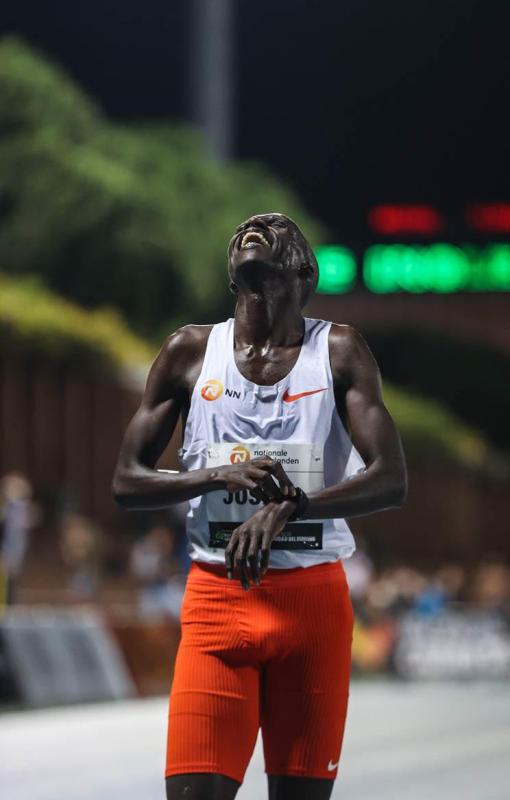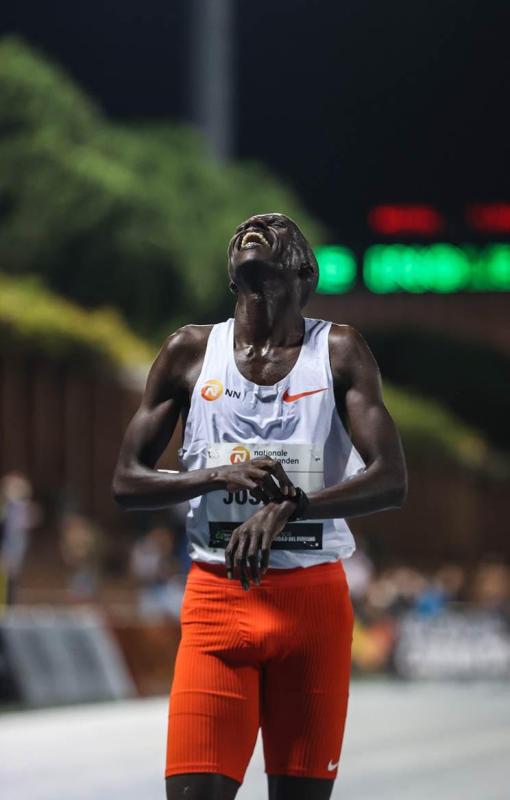 It is almost half as long again as the second-longest gap – from Hannes Kolehmainen's 5000 world record in 1912 to Jean Bouin's 10,000 in 1921 and longer than the widest gap between successive records at either 5000 or 10,000, which is the almost 12 years between Gunder Hagg's 13:58.2 for 5000 in September, 1942 and Emil Zatopek's 13:57.2 in May, 1954. World wars stretched the gap in both those cases.
As with Gidey just before him, Cheptegei was set up to run his record, with major pacing assistance from Roy Hoornweg (1500), Matt Ramsden (3000) and Nicholas Kimeli (5200). Beyond that, he had the pacing lights guiding/aiding his progress. When he moved up from the blue lights (indicating on pace) to the green (ahead of pace) soon after being left on his own, it was clear the record was going down barring unforeseen disaster.
It is already a matter of some debate in distance circles how much assistance the pacing lights provide. It is probably a question with no exact answer, but perhaps an indication is given by the constant tempo Cheptegei was able to maintain over his 12 solo laps to the finish. Lap after lap went by within a couple of tenths of the target 63 seconds. His twenty-third lap was faster – under 62 seconds, the twenty-fourth a little slower – almost 64, and he came home in a couple of ticks over 60 seconds.
In a peace-time year of which we have rarely seen the like before, Cheptegei has set world records at 5000 and 10,000 and now becomes the eleventh man to hold both records simultaneously*.
Asked what it meant to him, Cheptegei said that despite all the hardships the pandemic has visited upon the world "this event can still give us joy."
He certainly got that right.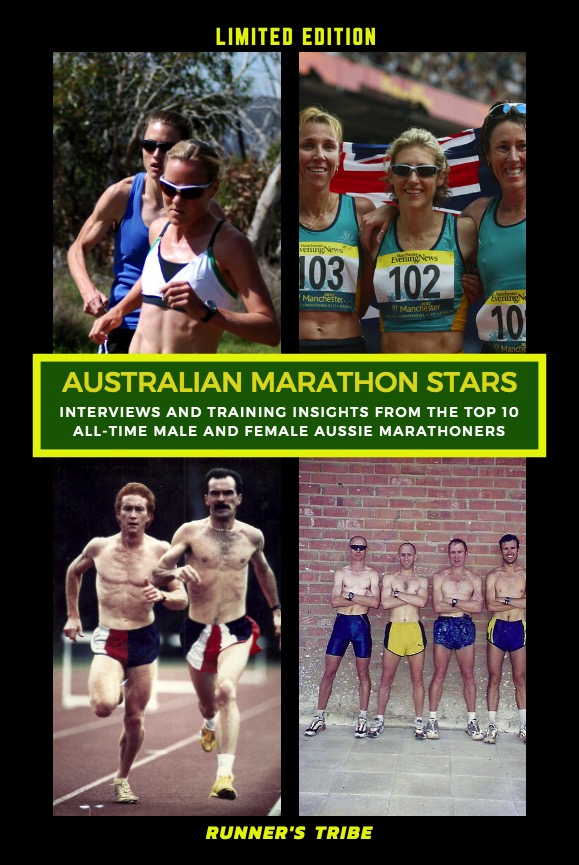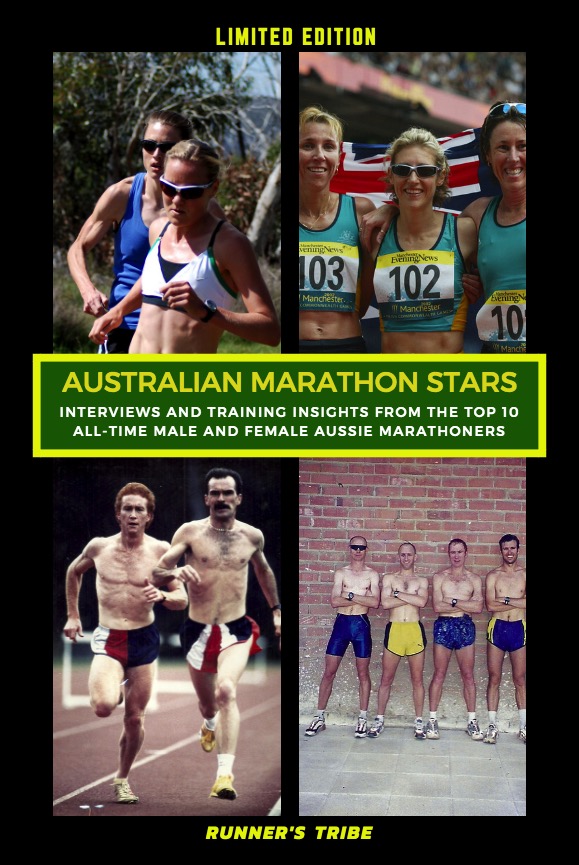 The 24-year-old Ugandan is already the world champion at 10,000 metres and the Commonwealth champion at 5000 and 10,000. He now holds the track world records at 5000 and 10,000. If he can add Olympic gold to this next year, he will go a long way to achieving his goal of succeeding Mo Farah as the world's dominant distance runner.
Kicking off the joyful night in Valencia, 22-year-old Gidey took just over four seconds off Tirunesh Dibaba's previous world record for 5000 metres. Paced to 3000 metres (8:31.85) pretty much right on target by steeplechase world record holder Beatrice Chepkoech, Gidey picked up the pace slightly from there with a 2:49.12 fourth kilometre and a 2:46.45 close.
Dibaba's record had stood for 12 years. She ran it in Oslo in 2008, a prelude to her 5000/10,000 double at the Olympic Games in Beijing later that year. In the relatively short history of women's track distance running, Dibaba's 12-year-span as record holder is the longest. Ingrid Kristiansen has held the record for the next-longest period – her 14:37.33 in 1986 stood until Fernando Ribeiro ran 14:36.45 almost nine full years later in 1995.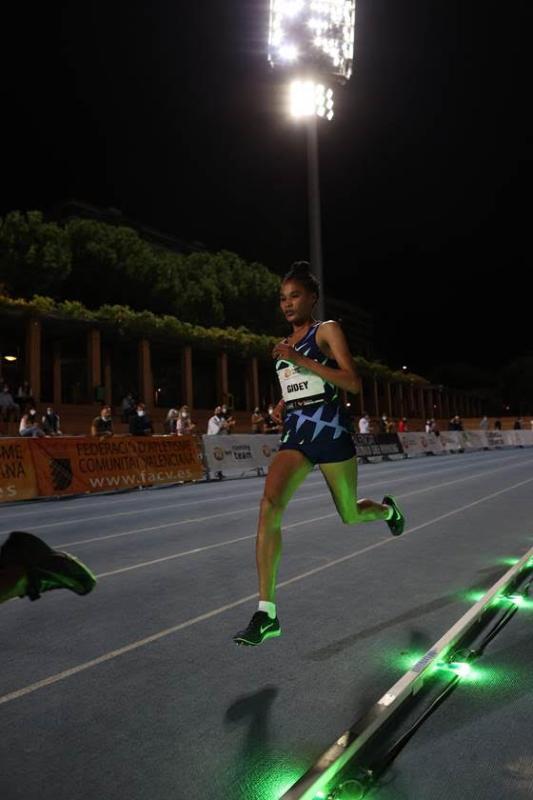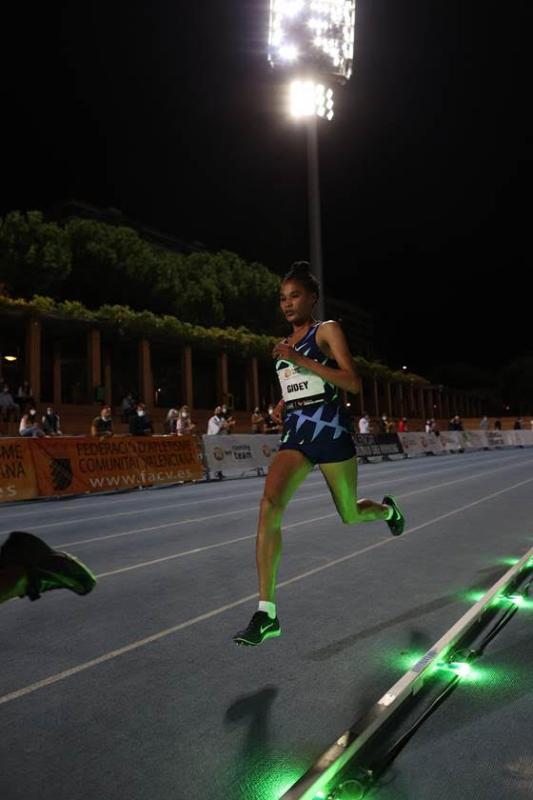 The 22-year-old is certainly 'on the rise'. Gidey broke the final stages of last year's world championships 10,000 wide open with an audacious move with four laps to go. She shook off everyone bar the winner, Sifan Hassan, and was rewarded with the silver medal. She is a two-time junior champion at world cross-country and was third in the senior race behind Hellen Obiri and Dere Dida in Aarhus last year.
Gidey finished second to Obiri over 5000 in Monaco earlier this year and second to Hassan in last year's Diamond League final. Her 2021 meetings with these two next will be something to watch.
*The other 10 – Parvo Nurmi, Taisto Maki, Emil Zatopek, Sandor Iharos, Vladimir Kuts, Ron Clarke, Lasse Viren, Henry Rono, Haile Gebrselassie and Kenenisa Bekele – are chronicled in The Five and Ten Men: Ten men who re-defined distance running, by Richard Amery. Available through the Book Depository and Amazon