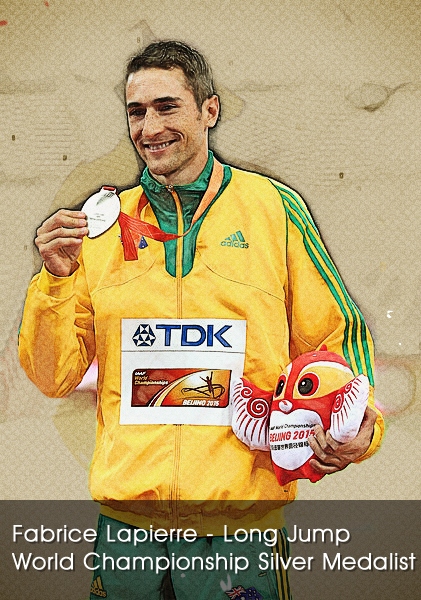 2015 Australian Male Athlete of the Year
There were two stand out Australian male performers at the 2015 World Championships, who both picked up silver medals – 50km Race Walking champion Jared Tallent and Long Jump superstar Fabrice Lapierre. When it came down to separating the two, Lapierre took the honours largely due to his international results across the season, especially towards the end of the season.
As you can see in the table below (2015 IAAF Points table for Australian men), Lapierre finished the year with the third best performance (a 8.29m SB produced whilst winning in Zagreb after the World Championships), but he was able to take the no.1 spot due to his podium finishes at some of the bigger meetings in Europe.
Lapierre managed to place 3rd at the Paris Diamond League meeting in July, place 3rd at the Zurich Diamond League meeting on September 3 and then take first place at the meeting in Zagreb on September 8. Overall he had four competitions where he jumped over 8.20m, after commencing the season being injured at the World Challenge meeting in Melbourne in March.
At the Beijing World Championships he didn't have it all his own way, and only just managed to make the final with a 8.03m (+0.2) first round effort in qualifying followed by two fouls.
In the final he was also in trouble after fouling in round one, following it up with a modest 7.85m (-0.4) in round 2. Then he started to get warmed up with a solid 8.10m (+0.2) in round 3 – an effort that ensured him an extra three attempts. A fourth round foul was followed by an excellent 8.20m in round 5 (that pushed him up to 2nd behind Greg Rutherford) and then the silver medal jump of 8.24m in round 6. Although it was never going to challenge Rutherford's massive 8.41m round 4 effort, a silver medal was well above what was expected of Lapierre leading into the 2015 season.
The 31-year-old Lapierre admitted there were moments when he thought about retiring from athletics but the move to Dan Pfaff's US-based stable and a change in attitude gave him the self belief he could again make an impact at a major championship.
"I feel relieved that I've done what I should have done a long time ago," Lapierre told ABC Grandstand after his medal winning performance in Beijing.
"I was on top of the world in 2010 and I just had a run of bad luck".
"I thought about quitting the sport, all kinds of crazy things but at the end of the day I changed my life and changed my coach and I'm back."
Lapierre could not credit Pfaff enough for his display in Beijing, having moved to Phoenix to link up with the legendary coach, who has guided nine athletes to Olympic medals, including Rutherford. Pfaff also coaches Mitchell Watt and he has proved crucial in turning around the fortunes of Lapierre, who had arrived in Beijing with a season's best of 8.16m.
"It is probably the most important decision I have made in my career," Lapierre said.
"I was coming toward the tail end of my career and I had been in the same spot for a long time and wasn't doing things right.
"I got to a point where I wasn't doing things right in my life and my training and I went to him [Pfaff] and he has taught me a whole bunch of stuff."
[tnc-pdf-viewer-iframe file="http://runnerstribe.website/wp-content/uploads/2016/01/2015-IAAF-Rankings-AUS-Points-Men.pdf" width="1100″ height="400″ download="true" print="true" fullscreen="true" share="true" zoom="true" open="true" pagenav="true" logo="true" find="true" language="en-US" page="" default_zoom="auto"]
RT's Top-10 Australian Male Athletes of 2015
As with the Australian female rankings it's always difficult to rank athletes competing across such a large range of events, so we're more than happy to be challenged on any of the athletes detailed below:
Fabrice Lapierre – as detailed above, simply performed when it counted and finished the year off with some of his biggest jumps of the year.
Jarred Tallent – didn't do anything wrong and could of easily been our no.1 athlete of 2015. The biggest difference with Lapierre was the fact that he didn't have any 'big' results outside of the World Championships (a DNF and an 18th place finish in his two IAAF Challenge events in 2015 – both in the 20km walk). Can't deny his impressive silver medal in Beijing with a quality 3:42:17 50km walk performance.
Dane Bird-Smith –

Dane Bird-Smith is fast becoming a medal threat at the major championship events.

simply gets better which every year that passes. A top-8 position in Beijing over the 20km walk was supported by two 5th place finishes at IAAF Challenge events in China and Spain (where he walked a PB of 1:20:05), and an excellent gold medal performance at the World University Games in July (1:21:30).

Brandon Starc – his season exploded after a sensational 2.30m effort at the Sydney Track Classic, which was quickly followed up with a win at the National Championships with a best of 2.28m. He then proceeded to produce a PB when it mattered most – in qualifying at the World Championships (2.31m), going onto finish =12th in the final with a best of 2.25m. A magical year, and a perfect lead in to the Rio Olympics.
Benn Harradine – although his biggest throws came in May (66.75m SB and 65.47m, both in Germany), Harradine did manage to produce some solid performances leading into Beijing – including a 3rd place finish at the London DL meeting on July 24 (63.98m). Not 100% fit at the World Championships, finished in a respectable 10th place (62.05m).
Collis Birmingham – there is hardly a year that goes past where Birmingham doesn't produce one quality performance, and in 2015 it was s 5th place finish at the London DL meeting in the 3000m (7.39.85). It was a performance that lead to a final world ranking in the event of 14th. Outside of this performance he also helped Australia claim a bronze medal in the distance medley event at the World Relay Championships, while in May he placed 8th in the 5000m (13.17.49) at the Prefontaine meeting in Eugene, Oregon.
Matt Denny – although a junior, it was still a remarkable year with the senior discus (best of 62.58m). This result was just shy of a World Championship qualifier, but in 2015 it was his record breaking performances that stole the show. Click here to see just how remarkable his year was with both the discus and hammer.
Nicholas Hough – 7 times under 13.70s in the 110m hurdles in 2015 and a respectable 13.69s (-0.7) for 6th in his heat at the World Championships. It was a breakthrough year, with his PB of 13.42s now ranking him in the worlds top-40 – and a perfect launching pad for a bigger and better 2016.
Michael Shelley – two quality 12 place finishes at both the London marathon and the Berlin marathon ensured a top-10 position in 2015. In April he produced a 2:11:19 performance in London, a time that was just shy of his career best time of 2:11:15 – set when winning gold at the 2014 Commonwealth Games.
Hamish Peacock – difficult to leave out an athlete who produced 7 throws over 81.00m in 2015, and finished the year at no.27 on the world ranking list. Didn't have the best World Championships, missing the final, but has shown the consistency that will one day deliver the results that he richly deserves.
A few unlucky athletes missing from the above list include Ryan Gregson, Darcy Roper and Jeff Riseley.
2015 Most Improved Australian Male Athlete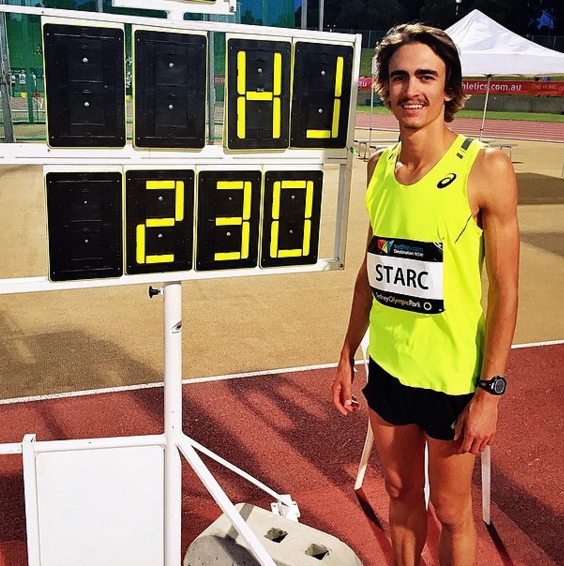 This was easily the hardest award to finalise, although when you breakdown his performances in 2015 it's hard to find anybody more worthy of the award. 22 year-old Brandon Starc showed everybody around the world that he could mix it with the very best – which was clearly evidenced with a superb 2.31m PB in qualifying at the World Championships.
Although he didn't compete outside of Australia/Asia in 2015, Starc is fast becoming an athlete who has serious ambitions of being amongst the world's top-10. On the world rankings lists he finished the year at =17th, and is the first Australian male high jumper to make a final at a World Championships since 1997.
Other milestones that Starc achieved in 2015 included (thanks to David Tarbotton from ANSW):
Moved to =2nd on the Australian all-time ranking list
Produced the highest leap by an Australian in 17 years, since Tim Forsyth in March 1998 (2.32m)
Equalled the 23 year-old NSW record
Other athletes who could call themselves unlucky in not winning this award include:
Josh Clarke – ran 10.19s in the 100m at the National Championships in March and is a sprinter on the rise.
Dane Bird-Smith – it's hard to think that he is still only 23 years-old. Can't wait to see what he produces over the next 10 years as a race walker – nothing seems impossible.
Damien Birkinhead – just missed out on wearing the green and gold in Beijing after a massive PB of 20.40m on June 13 in the Netherlands. Expect him to competing for Australia come Rio.
Other Awards for 2015
Most dramatic/emotional performance of 2015:

It's hard to go past Joshua Ralph's emotional World Championship qualifying performance in the 800m, running 1.45.79 in Belgium on August 1, but then late in the year we saw a very emotional tribute performance form Jordan Gusman in the Mile at the Albie Thomas meeting in Sydney – a victory that won't be forgotten for many years to come.

Hard luck stories of 2015:

There were a few:

David McNeill – although we will surely see him running in Rio, McNeill missed qualification for Beijing by 0.01sec – and that was after 25 laps of the track!
Jeff Riseley – ran a perfect heat of the 800m at the World Championships, only to find out that he had an injury that would force him out of his semi final.
Robbie Crowther – did everything possible to make the Australian team for Beijing, including producing a 'big' foul just prior to the end of the qualifying period that would have surely seen him wearing the green and gold.
Patrick Tiernan (right) – tried just about everything to win the NCAA Cross Country title for 2015 but simply ran into a superstar of long distance running at College level – Oregon's Edward Cheserek, who won his third consecutive NCAA cross country title.

Most underrated performance of 2015:

Finishing 7th in the half marathon at the Melbourne Marathon festival in October was a 16 year-old who was simply unbelievable in producing a 67:06. To put it into perspective the performance ranks him at no.14 on the Open ranking list for 2015.

Top Junior performance of 2015:

Hard to go past Matt Denny and his record breaking performances in both the hammer throw and discus throw.Denny's Australian U/20 record performances for 2015:

Men's Discus (2kg) : 62.58m
Men's Discus (1.75kg) : 66.81m
Men's Hammer (7.26kg) : 70.52m
Men's Hammer (6kg) : 80.48m

Top Youth performance of 2015:

Darcy Roper couldn't quite land the gold medal at the World Youth Championships but did about everything else when jumping a superb 8.01m for silver. A new Australian youth record and a mark that will make all of the senior long jumpers in Australia sit up and take notice.