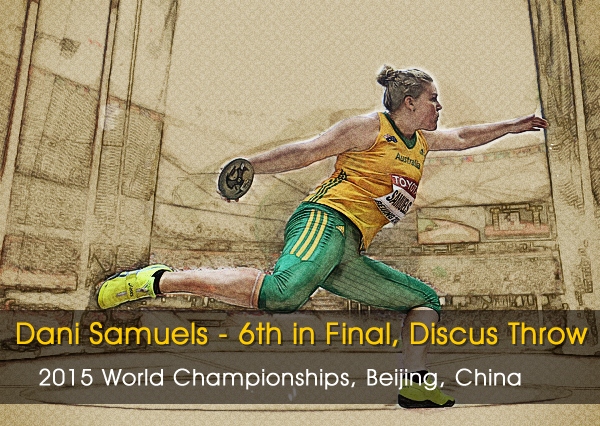 2015 Australian Female Athlete of the Year
When I look through all of the results from 2015 it's difficult to name just one stand out athlete or just one top ranked performance, but there was an athlete who did show quality and consistency of results throughout the year. The athlete that we placed at no.1 for 2015 – discus champion Dani Samuels.
As you can see in the table below (2015 IAAF Points table for Australian women), Samuels finished the year with the third best performance (a 66.21m SB set at the Sydney Track Classic), but it was her performances at the Diamond League meetings that really stood out.
After her performances across the domestic season, where she threw over 64m at all of her 4 competitions, Samuels commenced her Diamond League season with a 3rd placing at the Doha meeting (64.45m). This was quickly followed up with a 2nd place in Rome (65.47m) and another 2nd placing in Birmingham (64.89m).
Just prior to the World Championships Samuels again threw over 64m, at both the Lausanne meeting on July 9 (64.59m) and the Diamond League meeting in Monaco – where she again placed 2nd with a best throw of 65.21m. Leading into the World Championships her worst performance was a 63.99m at a meeting in Germany in May.
Although it wasn't a perfect way to end the season, Samuels did end up with a 6th placing at the Beijing World Championships with a series that read: 53.65m, 62.90m, 63.08m, 63.14m, 61.48m and 62.31m.
After the Beijing final Samuels said:
"I think I have come a long way since Moscow and to finish sixth in the world I think is pretty good,"

"It was a really high quality competition, the Cuban girl came out and threw 69 in the first round but I just couldn't get around the 65 and-a-half which it took to take a bronze medal."
Overall Samuels finished the year:
Throwing over 64m in 9 competitions – from a total of 11.
Throwing over 65m 7 individual times – across all series
As the 4th ranked athlete in the world, based on her best of 66.21m
As the highest Australian female performer of the Beijing World Championships
Samuels has now thrown over 66m on five occasions across her illustrious career, with her PB remaining at 67.99m (May 10, 2014). All is now set up for a tilt at the holy grail – an Olympic title in Rio, a performance which is well within reach for our no.1 Australian female discus thrower of all-time.
[tnc-pdf-viewer-iframe file="http://runnerstribe.website/wp-content/uploads/2015/12/2015-IAAF-Rankings-AUS-Points-Women.pdf" width="1100″ height="400″ download="true" print="true" fullscreen="true" share="true" zoom="true" open="true" pagenav="true" logo="true" find="true" language="en-US" page="" default_zoom="auto"]
RT's Top-10 Australian Female Athletes of 2015
It's always difficult to rank athletes competing across such a large range of events, so we're more than happy to be challenged on any of the athletes detailed below:
Dani Samuels – as detailed above, consistency at the highest level.
Kim Mickle – did everything right, including a huge throw of 66.57m at the World Challenge meeting in Melbourne. Only injury cost her another World Championship medal.
Eleanor Patterson – the 2014 Commonwealth Champion is destined for greatness in the women's high jump. She was disappointed with an 8th place finish in Beijing – which says a lot about what she wants out of her career.
Madeline Hills (nee Heiner) – one performance made her year, a 5th place at the Diamond League meeting in Rome. Took on and challenged the best in the world and will learn a lot from her Beijing experience.

Elosie Wellings – running a PB in the half marathon to round off an impressive 2015

Sally Pearson – only competed once on the DL circuit (for a 4th place finish in Doha in 12.69s), so hard to know what would have happened in Beijing. Still firmly belongs as one of Australia's top female athletes on the world stage, and will go down in history as one of Australia's best track athletes of all time.

Alana Boyd – she might have no heighted at three different competitions across Europe in 2015, but you can't deny the 31 year-old's determination to make finals at major championships. An excellent 11th placing in Beijing with a final clearance of 4.60m – the 11th time in her career that she had jumped at or above 4.60m.
Eloise Wellings – a top-10 performer at the Beijing World Championships over the 5000m (15.09.62), Wellings finished the year in style with a new PB over the half marathon of 69:56 only weeks after taking the Zatopek 10000m title in 32.02.61. At 33 years-old there could be some suggestion of retirement – but not with this superstar of distance running in Australia
Jessica Trengove – decided to skip the World Championships to concentrate solely on performing well in Rio, and in October showed she was right on track with a 2:27:45 marathon in Melbourne. Trengove had also produced a PB over 10000m in April – with a 32.17.67 performance at the prestigious Payton Jordan Invitational in California.
Brooke Stratton – may be a surprise landing the no.9 position, but was only 4cm away from making the long jump final in Beijing. A best of 6.73m in 2015 is a world class performance, and the 22 year-old is ready for some big results over the coming 12 months.
Michelle Jenneke – any number of athletes could of filled the no.10 spot, but we thought Jenneke deserved the spot through her very impressive 12.82s PB at the National Championships, a time that kept her inside the world's top-20 for most of the year. A semi finalist in Beijing, Jenneke is at a perfect age to take the next step and become one of the best hurdlers in the world.
2015 Most Improved Australian Female Athlete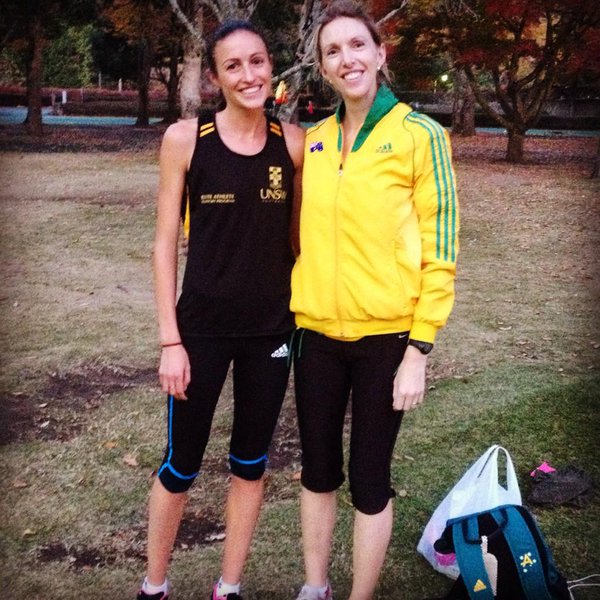 In determining who should win the award for the most improved athlete of 2015 there were many factors that came into play, but in the end we just couldn't go past how far this athlete has come over the past 12 months – Madeline Heiner (now Madeline Hills after her recent marriage at the end of 2015).
29 year-old Hills is fact becoming our best chance for a top-8 finish over the female distance events at the 2016 Olympic Games in Rio – especially in the 3000m steeplechase. In this event she finished the year as the 2nd fastest Australian of all-time (9.21.56 when 5th at the Golden Gala meeting in Rome), and ended the year 13th on the World Ranking list.
Overall Hills finished 2015 with 4 personal best performances:
4.13.30 in the 1500m
8.44.20 in the 3000m
15.11.17 in the 5000m and
9.21.56 in the 3000m steeplechase
This about sums it up nicely for Hills – "Goals for 2016….run faster"
There were also some athletes who could call themselves unlucky in not winning this award, which includes: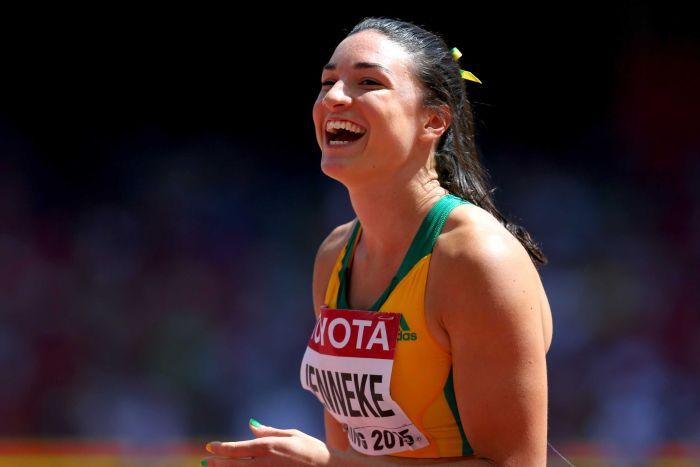 Milly Clark – in only her second marathon of her career produced a sensational 2:29:07 when 3rd in Amsterdam
Michelle Jenneke – clearly showed that she is world class 100m hurdler by producing a 12.82s performance when second to Sally Pearson at the National Championships
Naa Anang – produced a superb 6.55m long jump performance at the World University Games to take home the bronze medal
Other Awards for 2015
Most dramatic/emotional performance of 2015:

This was a tie between Nina Kennedy's amazing pole vault performance of 4.59m in Perth (which was at the time a Worlds best junior performance outdoors) and
Eloise Wellings emotion charged effort in claiming an Olympic qualifier and win at the Zatopek meeting in Melbourne over the 10000m (32:02.61)

Hard luck stories of 2015:

There were a few:

Sally Pearson – injuring herself at the Rome Diamond League meeting and missed the World Championships
Kim Mickle – carried a shoulder injury into the World Championships and missed the final
Madeline Heiner – missing both the 3000m steeplechase and 5000m finals by such fine margins
Brooke Stratton – just as unlucky in missing the long jump final by a matter of 4cm (jumping 6.64m)

Kirstin Bull – after claiming 8th place at the IAU World Championships

Most underrated performance of 2015:

There was one ultra distance result that many back in Australia may have missed. Competing at the IAU World Championships, Kirstin Bull broke the Australian record over the 100km (7:39:28) and finished a very creditable 8th.

Top Junior performance of 2015:

Hard to go past Eleanor Patterson with her 8th pacing at the World Championships (1.92m) and finished the year at =9th on the World Ranking list (1.96m). Here is an athlete that could do just about anything over the course of her career – including winning a major world title one day.

Top Youth performance of 2015:

Phillipa Hajdasz was one of two Australian medallists at the 2015 World Youth Championships in Colombia, finishing the women's pole vault competition with a silver medal and a PB of 4.05m. Will be interesting to see her development over the coming years.

Athlete rewriting the record books in 2015:

Imogen Stewart is an athlete that simply loves breaking records. She currently holds 9 world age best times across four different events, from the 800m through to the 3000m. Although these are unofficial world bests (as the records don't include athletes from countries such as Kenya etc), the 10 year old is still setting some remarkable times which include:

2.23.56 for the 800m
4.46.42 for the 1500m
5.18.76 for the mile and
10.04.97 for the 3000m

You could say that she has the added advantage of having a Mum who is a former National 5000m and Half Marathon champion – Belinda Martin. Nevertheless this is one seriously talented primary school athlete, ready to one day take on the world!