By AA

Budapest, Hungary; 27 August 2023 –  Never before in history had two Australian athletes shared a podium at the World Athletics Championships, but on the final night of competition in Budapest, high jump sensations Eleanor Patterson and Nicola Olyslagers claimed silver and bronze, taking the country's medal haul to six.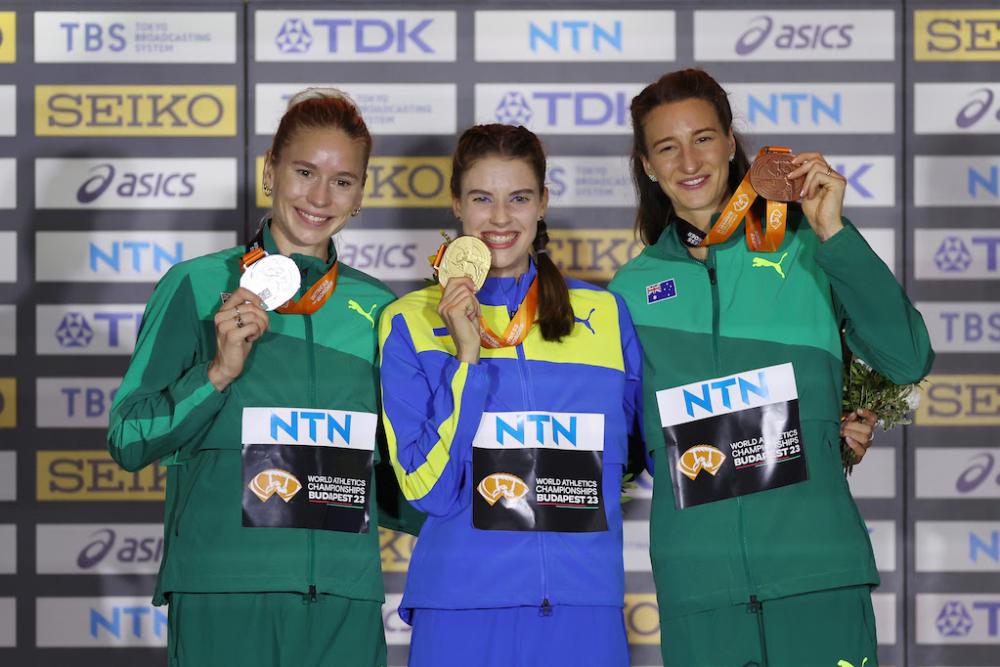 In 31-degree heat at the National Athletics Stadium, the high-flying Patterson (NSW) and Olyslagers (NSW) quickly found themselves in a four-way battle for silverware, as the Australians joined Ukraine's Yaroslava Mahuchikh and Great Britain's Morgan Lake as the only athletes in the field to clear 1.97m.
Defending world champion Patterson displayed world-class skill at only her third competition after major foot surgery in April. A last-ditch attempt at 1.97m saw her safely achieve the 2024 Olympic qualifying height, as Olympic silver medallist Olyslagers and World Indoor champion Makuchikh soared over the bar with ease.
View this post on Instagram
In a see-sawing affair that had crowds roaring, Olyslagers cleared 1.99m on her second attempt as Patterson and the Ukranian safely advanced on first approach. The height became too much for Lake, who passed on her third attempt before bowing out of the competition when unable to clear 2.01m.
Ukranian Yaroslava Mahuchikh came out on top in the three-way tussle to win Ukraine's first gold medal of the championships, leaving the Australians to settle for minor medals, separated only on countback.
For Patterson, the silver medal symbolises a hunger to meet her potential when the women meet again at the Paris 2024 Olympics.
"It was a very wild, incredible night and a tough competition. I definitely put my back up against the wall but I am incredibly proud of the performance tonight and of Nicola and Yaroslava as well," Patterson said.
"Having third attempt clearances was showing I didn't have many comps under my belt and yeah, I made it tough for myself but I am just incredibly proud that I was able to push through and come away with a 1.99 and a season best.
"I am so proud of Nicola as well, I knew we could get on the podium. I often go in thinking I just want to jump a PB or jump high and Nicola is often doing similar. To really push each other is an incredible thing and what we have on home soil is wonderful, she is a beautiful human being and obviously an incredible athlete."
Claiming bronze also marked a comeback to the global podium for Olyslagers, who placed fifth at the World Athletics Championships in Oregon and was forced to withdraw from the Commonwealth Games due to injury. It was also only her second defeat of the year for the world leader at 2.02m.
View this post on Instagram
"I was getting flashbacks of a few years ago when we (Eleanor Patterson) were going head-to-head, especially in 2020 and we really pushed each other. I was thinking, we've come a long way since a few years ago," Olyslagers said.
"I love when somebody raises the bar, it's an invitation for someone else to raise it as well and I think Eleanor is a pillar of that. I knew when she did 99, I was like, let's do this, just like on home soil."
The shared podium is the first for Australia at the World Athletics Championships, and the first at a global athletics meet since the 1956 Olympics, when pioneers Betty Cuthbert and Marlene Matthews claimed gold and bronze respectively in the sprint double.
Closing Australia's proceedings at the World Athletics Championships, Stewart McSweyn(TAS) braved an intense battle over 5000m, placing 13th in a time of 13:26.58. The race was won by the world-famous Norwegian Jakob Ingebrigtsen who roared to the title in 13:11.30, days after a narrow defeat in the 1500m.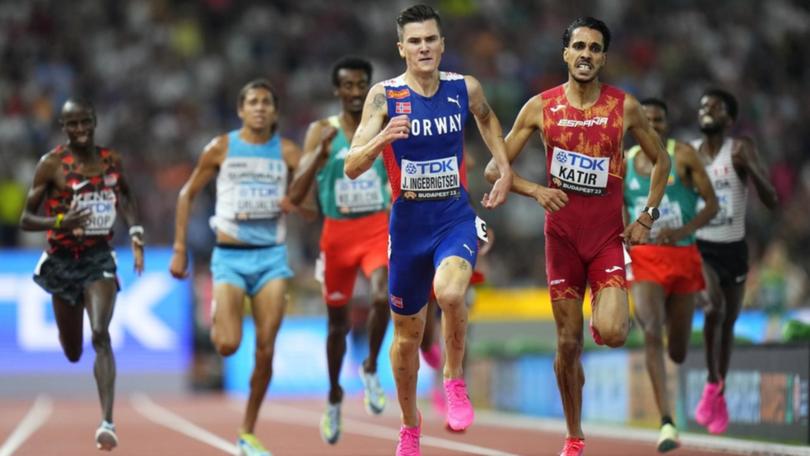 The Australian Athletics Team finishes the 2023 World Athletics Championships with a record medal haul of six, including one gold, two silver and three bronze medals.