On a balmy late-summer afternoon in the Pacific Northwest, the 2023 Prefontaine Classic's Bowerman Mile, held in Eugene, Oregon, unfolded as a captivating chapter echoing a legendary race from 24 years ago in Rome. In 1999, Moroccan Hicham El Guerrouj had chased the ghosts of history, while Kenyan Noah Ngeny was in relentless pursuit of El Guerrouj himself.
The iconic 1999 race witnessed El Guerrouj smashing the world record with a stunning 3:43.13, etching his name indelibly into the annals of track and field. Yet, what truly etched the race into memory was the relentless pursuit from start to finish, with Ngeny crossing the line mere milliseconds behind at 3:43.40.
A spiritual sequel unfolded in Eugene as Norway's Jakob Ingebrigtsen stepped into El Guerrouj's shoes, chasing history and claiming victory with a time of 3:43.73. Yared Nuguse, akin to Ngeny, refused to relent, securing second place in 3:43.97. This time, the mile world record was tantalizingly close, with just six-tenths of a second separating them.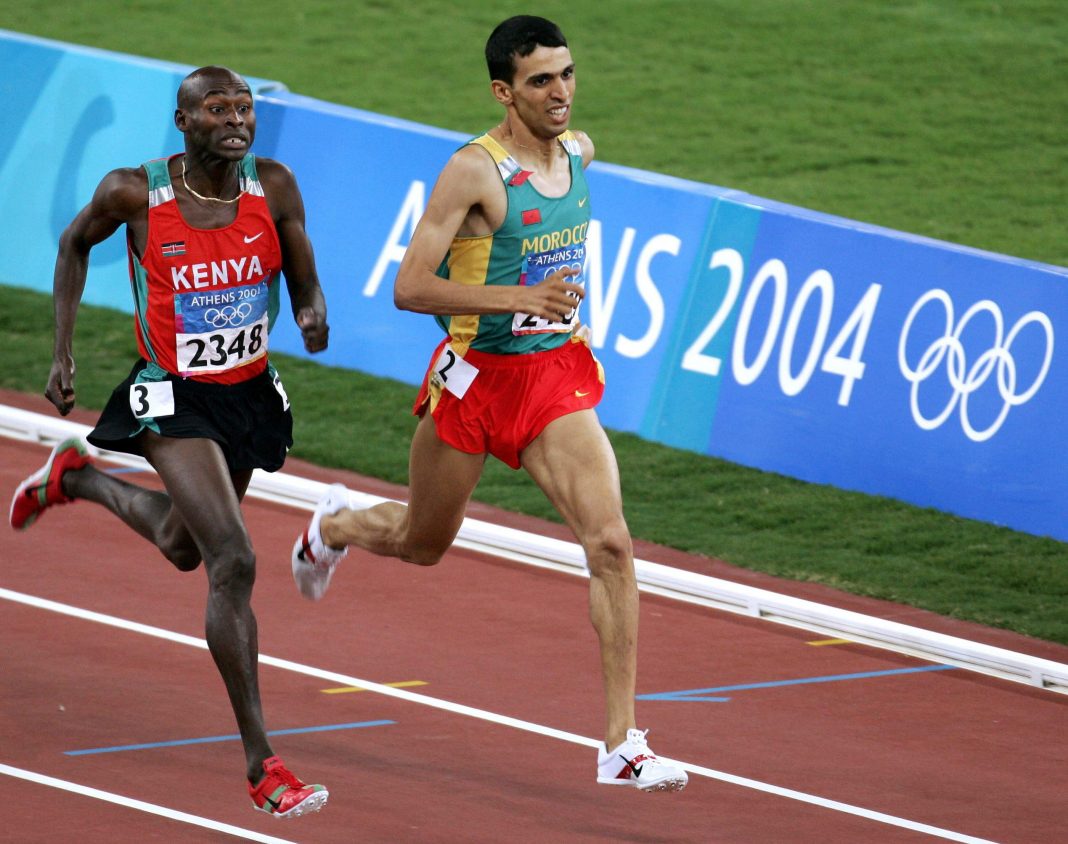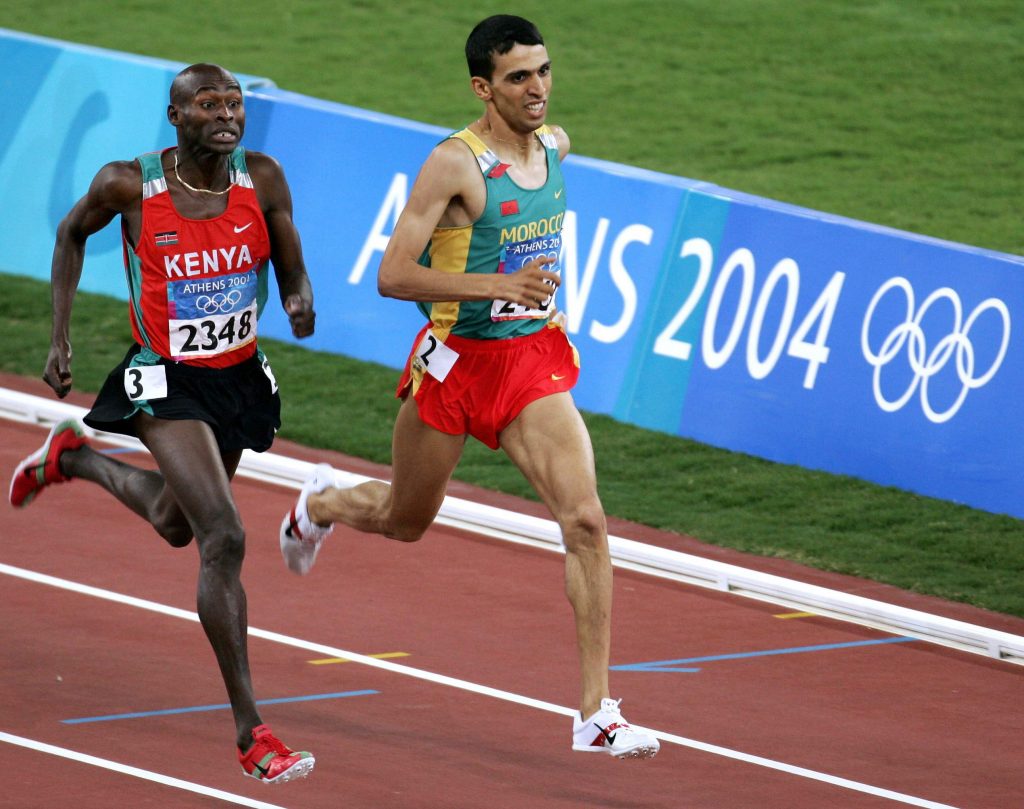 For nearly two decades, El Guerrouj's record had stood impervious to challenge, despite advances in running technology and training methods. However, Ingebrigtsen's exceptional performance has narrowed the gap, hinting that history may yet be rewritten.
When asked about narrowly missing the world record, Ingebrigtsen commented, "It's not merely close; it's a considerable margin. It's just that the world record is so extraordinary that no one has come near to it [since 1999]. So, it seems as though I am within touching distance."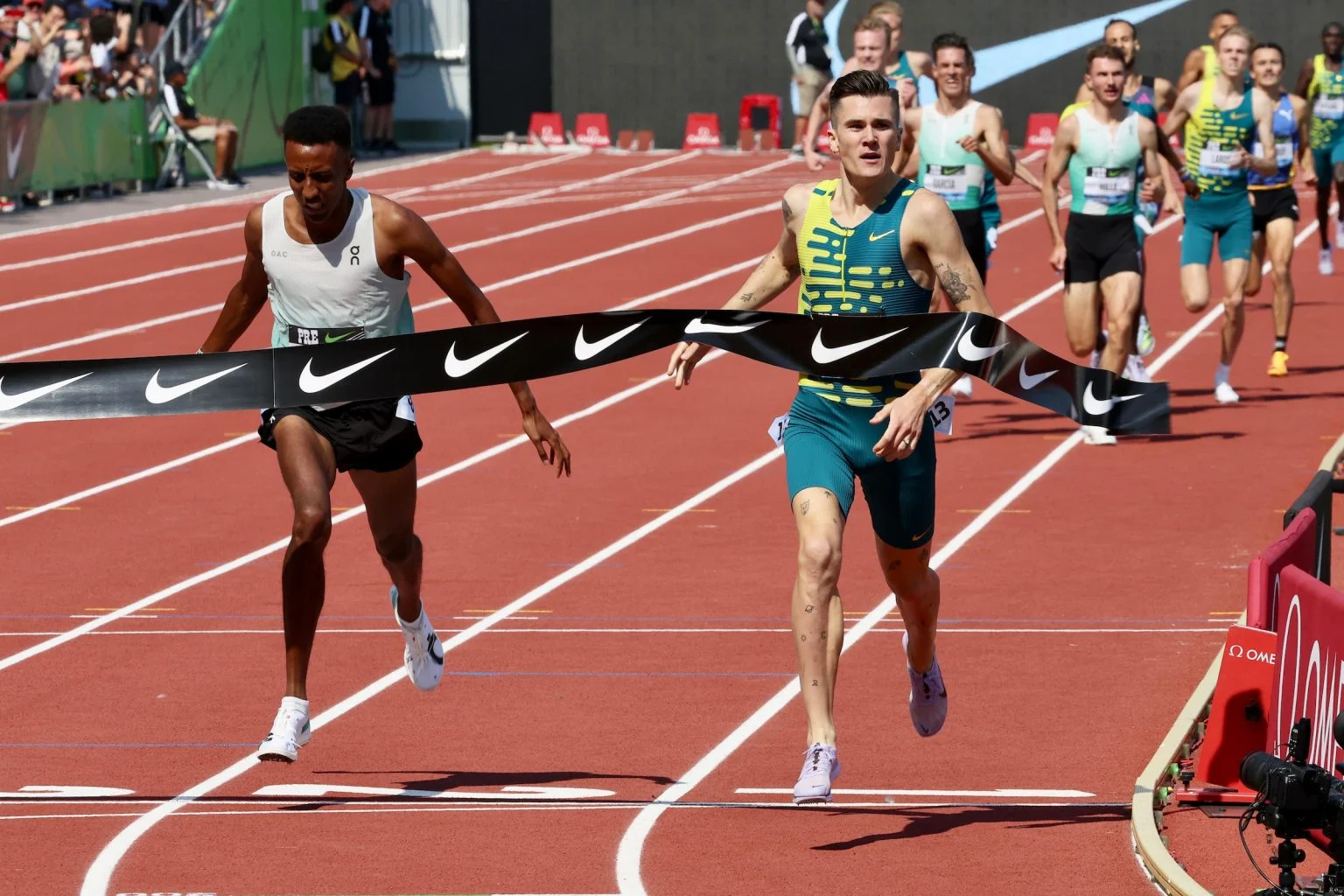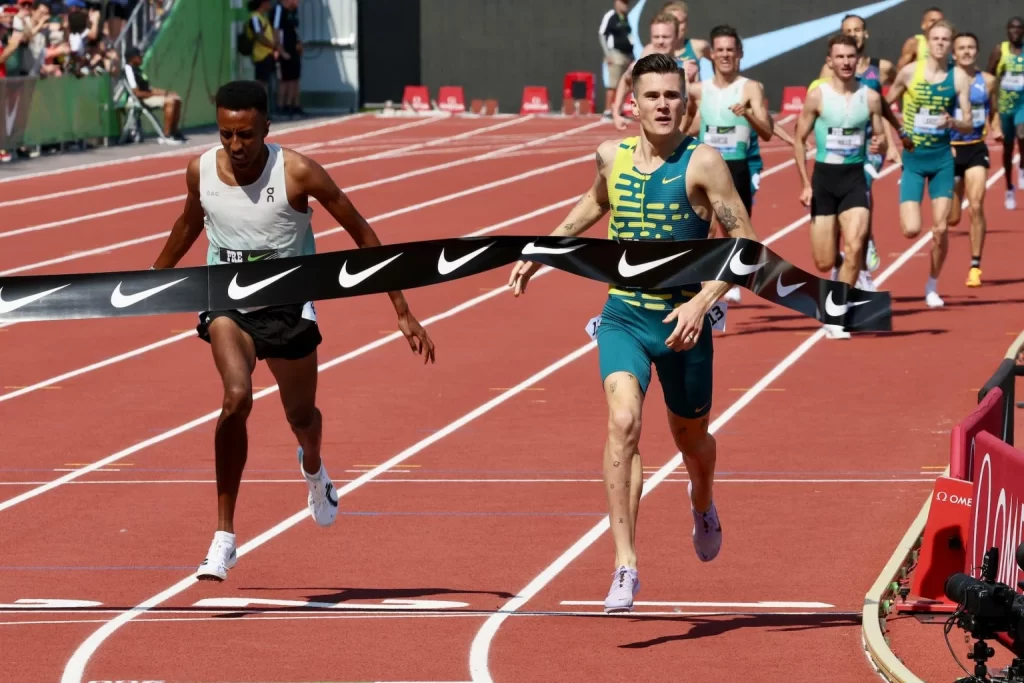 Ingebrigtsen regarded this race as one of the pinnacle moments of his career, alongside his 3:27.14 for 1500 meters in Silesia in July. Nuguse, equally awestruck by his feat, remarked, "I ran 3:43, just a second shy of the world record. It's surreal."
Indeed, Nuguse's 3:43.97 mile time is a remarkable achievement, marking a significant milestone for American distance running. Nuguse's accomplishment will serve as an aspirational benchmark for future generations of American milers, much like Alan Webb's 3:46.91 American record from 2007 did for him and his peers.
View this post on Instagram
Webb's record had endured for over 16 years, and given the infrequency of mile races and the unique circumstances of this event, Nuguse's record might well endure for a similar duration.
In addition to the remarkable performances by Ingebrigtsen and Nuguse, the Bowerman Mile featured other noteworthy runs. Great Britain's George Mills recorded a time of 3:47.65 for third place, while Kenya's Reynold Cheruiyot set a world U20 record of 3:48.06 in fifth place. This race showcased the depth of talent within the field, as eleven of the thirteen finishers broke the 3:50 barrier.
The anticipation leading up to the Bowerman Mile was justified, and the race lived up to its lofty expectations. With Ingebrigtsen and Nuguse pushing each other to the limit, this event will be remembered as a historic milestone in the world of mile running.
Nuguse's Remarkable 2023 Campaign and Insights into Future Challenges
Prior to his historic mile run, Yared Nuguse had already embarked on a remarkable 2023 campaign that solidified his standing as one of the preeminent middle-distance runners in the United States. His journey commenced with an indoor American record of 7:28.23 for 3000 meters in Boston, setting the tone for a year filled with exceptional performances.
Nuguse's campaign featured two Diamond League victories, surpassing the combined total of all US men's 1500-meter runners. Alongside his four American records and a US title at 1500 meters, Nuguse's consistent excellence marked him as a standout athlete in 2023.
However, the lone setback came at the World Championships in Budapest, where he finished fifth in the 1500-meter final with a time of 3:30.25. Despite this outcome, considering Nuguse's remarkable performances throughout the year, it was a somewhat unexpected result. Coach Dathan Ritzenhein disclosed that Nuguse had battled illness during the preliminary rounds in Budapest, though he was in good health for the final.
Looking ahead, Nuguse has established a personal career timeline, intending not to compete beyond age 30. With concerns about this timeline possibly advancing, the emphasis is on balancing the desire for immediate success with long-term objectives.
Nuguse's 2023 journey highlights his substantial achievements, setting the stage for an intriguing 2024 Olympic year in the men's 1500 meters. Great Britain boasts world champion Josh Kerr, and with Jake Wightman's return from injury, the competition promises to be fierce. Nuguse, now firmly entrenched among the world's elite milers, has the opportunity to script the second act of a legendary mile race that began 24 years ago.
Indeed, the tale of Hicham El Guerrouj and Noah Ngeny did not culminate on that momentous night in Rome. Fourteen months later, they reconvened at the 2000 Olympics in Sydney for a sequel that saw Ngeny triumph. As we eagerly anticipate future races, the prospect of a sequel in Paris looms large, promising yet another captivating chapter in the history of mile running.