In a scene that seemed straight out of science fiction not too long ago, Kenyan athlete Kelvin Kiptum achieved an astonishing feat by completing an official marathon in just 2 hours, 35 seconds. This remarkable accomplishment took place on the vibrant streets of Chicago, where Kiptum not only secured victory but also shattered the men's world record.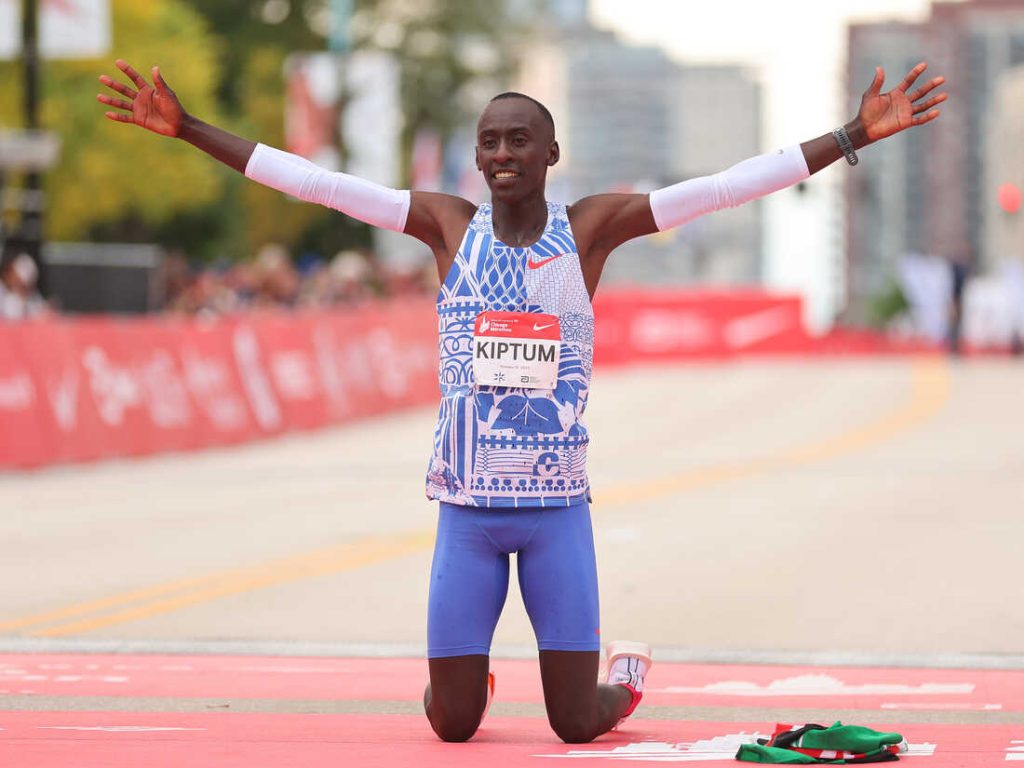 At the youthful age of 23, Kiptum's spectacular performance left onlookers in sheer disbelief as he approached the finish line along Columbus Drive. In an exuberant display of triumph, he even found the time to blow kisses and wave to the jubilant crowd. His extraordinary achievement not only secured him victory but obliterated the previous men's world record held by Eliud Kipchoge, surpassing it by a remarkable 34 seconds. This remarkable feat underscores the profound influence of cutting-edge supershoe technology on the world of sports.
It seems inevitable that the elusive sub-two-hour marathon barrier will soon be officially conquered. It's worth noting that Kipchoge had previously achieved this remarkable milestone in a time trial back in 2019. However, that achievement did not qualify as an official record due to the use of certain measures that were not sanctioned by World Athletics rules.
Kiptum, who was adorned in the Nike Dev 163 prototype shoes, admitted that breaking Kipchoge's long-standing record of 2 hours, 1 minute, and 9 seconds had not initially been his primary objective. Nonetheless, a pivotal moment occurred towards the conclusion of the race when he completed the 22nd mile in an astonishing 4 minutes and 18 seconds.
View this post on Instagram
Reflecting on his historic triumph, Kiptum humbly stated, "A world record wasn't on my mind, but I always believed that one day I would achieve it." His victory margin over Daniel Kibet Mateiko, a remarkable 3 minutes and 27 seconds, left him overjoyed.
Remarkably, just a little over 10 months ago, the 23-year-old Kiptum had never even ventured into the world of marathons. Yet, his victories in Valencia in December and London in April, where he achieved the second-fastest time ever recorded, swiftly identified him as a prodigious talent destined for greatness.
Kiptum's momentous accomplishment comes on the heels of Ethiopian athlete Tigist Assefa breaking the women's world record in Berlin, while sporting the innovative £400 Adizero Adios Pro Evo 1 shoes. In Chicago, there was palpable anticipation that Dutch athlete Sifan Hassan might also be a contender for the record. Although Hassan did not achieve this feat, her time of 2 hours, 13 minutes, and 44 seconds remains the second-fastest in women's marathon history.
Reflecting on her race, Hassan conceded, "The last five kilometers were a real struggle, but winning again in my second marathon with such a fantastic time fills me with immense joy!"
These remarkable performances continue to captivate the world of marathon running, as athletes continually redefine the boundaries of what was once deemed impossible.