By David Monti, @d9monti
(c) 2017 Race Results Weekly, all rights reserved
LONDON (21-Apr) — Sunday's 37th Virgin Money London Marathon has a power-packed elite field of 35 men and 30 women, but only two are from the United States: Kellyn Taylor, 30, of Flagstaff, Ariz., and Laura Thweatt, 28, of Superior, Colo.  Both women will be running their first marathons outside of the United States, and after spending more than a week in Britain to adjust to the time zone and climate, they said yesterday that they are excited and ready to run.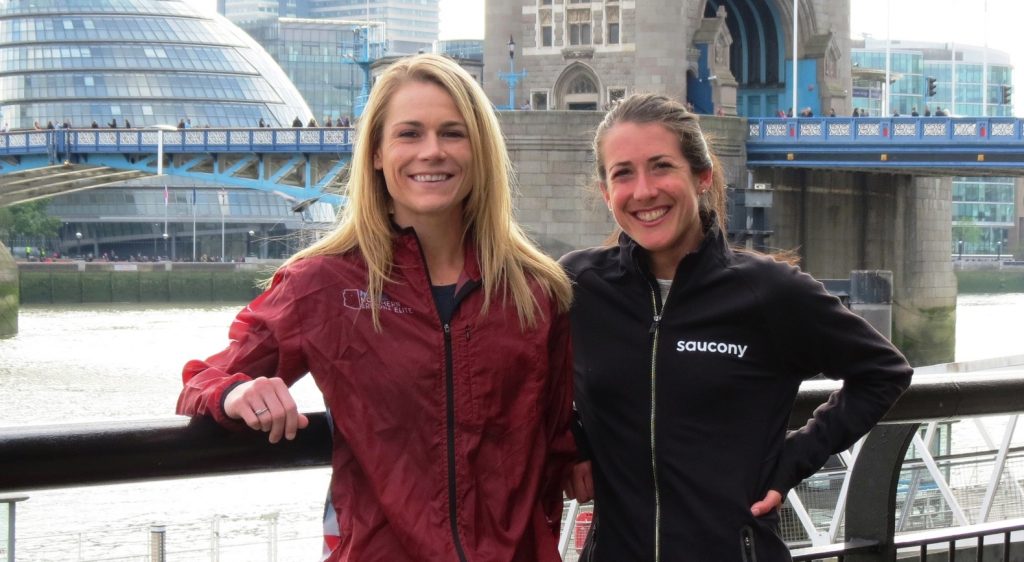 "My build-up was good," said Taylor, who has a personal best of 2:28:40 and runs for the Hoka One One Northern Arizona Elite squad coached by Ben Rosario.  "I feel prepared."
Thweatt, who made a successful marathon debut in New York in 2015 in 2:28:23 and is coached by three-time Australian Olympian Lee Troop, agreed.  The Saucony-sponsored athlete said: "It was both Lee and I's decision (to run London).  He asked me what the next marathon I wanted to do in the spring coming off of the Olympic year."  She added: "I had never been to London."
Both women have had long breaks since their last marathons.  For Taylor, London will be her first 42-kilometer race since she finished sixth at the USA Olympic Trials Marathon in Los Angles in February, 2016.  In that hot and sunny race, Taylor pressed the pace early and was still in contention for the podium past the halfway point (she was only one second behind eventual second place finisher Des Linden at 25-K).  But she faded in the second half, wilting in the heat.
"With an Olympic year there are so many ups and downs," said Taylor, who would later finish fourth at the USA Olympic Trials in the 10,000m, missing a team spot by just one place.  "You have to a lot of emotion coming off of that."
Taylor had planned to run last November's TCS New York City Marathon, but was forced to scratch in September after not hitting her workouts and feeling persistently fatigued.  Looking back, she now sees that as a blessing, allowing her to completely rest and regroup and be ready to run in the spring.
"Unfortunately, New York didn't happen, but it ended up being a blessing in disguise," said Taylor, who grew up in Wisconsin.  "I got do so some other things that I enjoyed… to be excited about this year."
After her successful debut in New York, Thweatt struggled to find her best form in 2016, hampered by a painful injury called osteitis pubis, an inflammation of the pubic symphysis and surrounding muscle insertions.  It's a condition which will only fully resolve with total rest, but Thweatt and her therapists have been trying to manage it so she can keep training.
"She's been battling with osteitis pubis," explained Troop who has run the London Marathon three times.  "She was struggling to get the injury under control and take the next step."  He added: "She's 95% healthy."
Unlike Taylor, Thweatt chose to pass on the USA Olympic Trials Marathon so she could focus on the track.  She chose to double at the USA Olympic Trials in the 5000m and 10,000m, but was knocked out of the shorter race when she only finished eighth in her heat, and finished one place behind Taylor (5th) in the longer race.  She took a long break after that and only ran one road race in the fall.
"It just sort of got worse," said Troop of Thweatt's condition last summer.  "It's the Olympic Trials so you keep pushing it.  She'd be trying to do workouts and would be in pain and crying."
Neither woman would share their specific race plans for Sunday, but both said they were looking forward to having good races and saw personal best times as a good possibility on London's mostly flat course.  In addition, both women have the full support of their families here.  Taylor's parents, Tom and Katie Johnson, are here along with her husband, Kyle, and daughter Kylyn (6).  Thweatt's parents, Steve and Jean, are also in London and her fiancé, Matt Hensley, arrives today.  Even Thweatt's 85 year-old grandmother, Eunice, has come to London from Eugene, Ore., a trip which Thweatt said required five flight segments.
"She's resting now," said Thweatt at a dinner last night near her hotel.
Only one American woman, Deena Kastor, has won the Virgin Money London Marathon.  In 2006, she ran the absolute American record of 2:19:36 and remains the only American woman to break 2:20.