Deribe Robi eyes

2:05 to 2:06

time in Vienna
Ten runners feature personal bests of sub 2:10 in what is likely the best ever men's elite field in the history of the Vienna City Marathon. Depending on weather conditions organisers hope for a winning time of 2:06or may be a bit faster with the current course record standing at 2:05:41. "If the weather is fine I want to run 2:05 or 2:06 on Sunday," said Deribe Robi during today's press conference in Vienna. With a personal best of 2:05:58 the Ethiopian is the second fastest runner on the start list behind Kenya's Eliud Kiptanui (2:05:21).
A total of 42,257 athletes from 125 nations have entered the various running events of Austria's biggest one-day sporting event. Around 9,000 of them will run the marathon distance. The Vienna City Marathon, which will see its 34th edition on Sunday, is an IAAF Gold Label Road Race. The elite men's race will start at 8.58 am on Sunday and there will be a live stream available at: www.vienna-marathon.com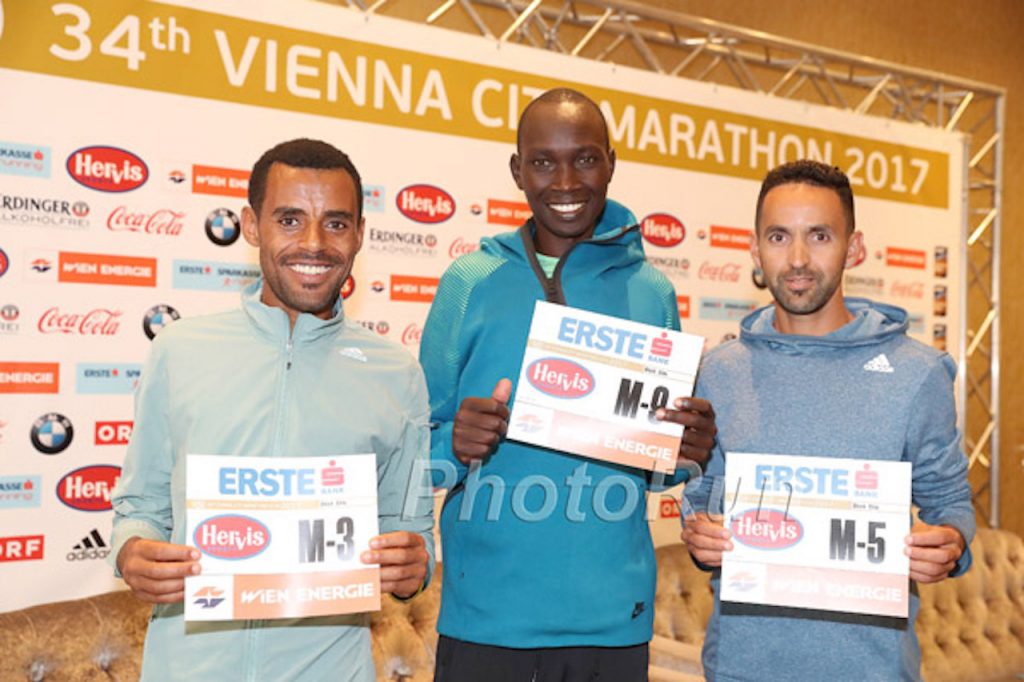 "I am looking forward to Vienna and hope for a fast race. Of course much will depend on the weather," said Deribe Robi. While it should be mainly dry with temperatures just below 10 Celsius at the start the wind could be a problem on Sunday. The 26 year-old Ethiopian, who runs a cattle farm with 25 cows and 11,000 chickens back home, clocked his PB when taking second place in Eindhoven two years ago. "In that race I suffered of a back problem in the final section. So I think there is still room for improvement. In the future I hope to achieve a time of 2:04," said Deribe Robi, whose idol is Haile Gebrselassie. The Ethiopian superstar is a well-known figure in Vienna. He won the half marathon, which is staged parallel to the marathon, three times in a row from 2011 to 2013.
It will be the third start in a row for Suleiman Simotwo at the Vienna City Marathon. The Kenyan achieved his best result here a year ago when he was third in 2:10:15. "Vienna is one of my favourite races. I was already competing in Austria at the beginning of my career," said Suleiman Simotwo, who has a 1,500 m PB of 3:31.67 from 2006. "On Sunday I hope for a good time," added the Kenyan, who sometimes trains with Wilson Kipsang and admires Paul Tergat. "He is someone who inspires me, because he was so strong for such a long time."
Eliud Kiptanui had to delay his flight to Vienna due to a visa issue. While he missed the press conference he is expected to arrive tomorrow morning. The Kenyan is said to be in fine form.
It is eleven years ago that the men's winner of the Vienna City Marathon did not come from either Kenya or Ethiopia. Back in 2006 Morocco's Lahoussine Mrikik caused a surprise by taking the race in 2:08:20. A fellow-Moroccan is among the favourites and could halt the dominance of Kenyan and Ethiopian athletes in Vienna: With a personal best of 2:07:55 Mustapha El Aziz is the third fastest runner on the start list. "It is my goal to break my personal best on Sunday," said El Aziz. While he could not break 2:10 last year he did improve significantly in the half marathon with a time of 59:29. A month ago the 32 year-old was second in the Milan half marathon with 61:29.
Selected men elite runners with personal bests
Eliud Kiptanui KEN 2:05:21
Deribe Robi ETH 2:05:58
Mustapha El Aziz MAR 2:07:55
Ishmael Bushendich KEN 2:08:20
Sergey Lebid UKR 2:08:32
Suleiman Simotwo KEN 2:08:49
Luke Kibet KEN 2:08:52
Silas Limo KEN 2:08:54
Ezekiel Omullo KEN 2:08:55
Alfonce Kigen KEN 2:09:47
Albert Korir KEN 2:10:08
Dereje Abera ETH 2:10:19
Paulo Paula BRA 2:10:23
Vincent Torotich KEN 2:10.32
Regasa Mindaye ETH 2:11:21
Geoffrey Kusuro UGA Debut