A weekly round up of results and media surrounding NZ Athletics.
AUSTRALIA
Coles Nitro Athletics Series Round 2, Lakeside Stadium, Melbourne – 9 February 2017

New Zealand finished fifth on day two of the team competition. Points were Bolt All-Stars 930, Australia 895, China 855, England 850, New Zealand 845, Japan 820. New Zealand performances: Olivia Eaton 60m 7.71 (-0.8) (4). Zoe Hobbs 100m 11.79 (0.0) (3). Anna Grimaldi Para-Athlete third in the handicap 200m with a PB time of 26.39 (+0.6) from scratch. Esther Keown third elimination mile 5:03.43. Hannah Philpot PV 3.85m (3=). Kelsey Berryman LJ 6.29m (0.0) (2) a legal PB, she has a wind assisted 6.32m. Matthew Wyatt 60m 7.33 (+0.8) (6). Joseph Millar 100m 10.30 (+1.4) (1), a PB. Will O'Neill Para-Athlete first handicap 100m. Tim Cornish third elimination mile 4:34.88. Jack Henry 110m H 15.30 (-1.1) (6). Hayden Hall 800g JT 59.90m (6). Mixed 4 x 100m relay; Brooke Somerfield, Joseph Millar, Matthew Wyatt, Olivia Eaton 43.51 (5). Mixed 2 x 300m relay; Hamish Gill, Katherine Camp 73.13 (3). Mixed 4 x 400m relay; Michael Cochrane, Tom Moulai, Katherine Camp, Mackenzie Keenan 3:28.43 (5). Mixed three minute; Ben Musson, Ellen Schaef 2670m (4).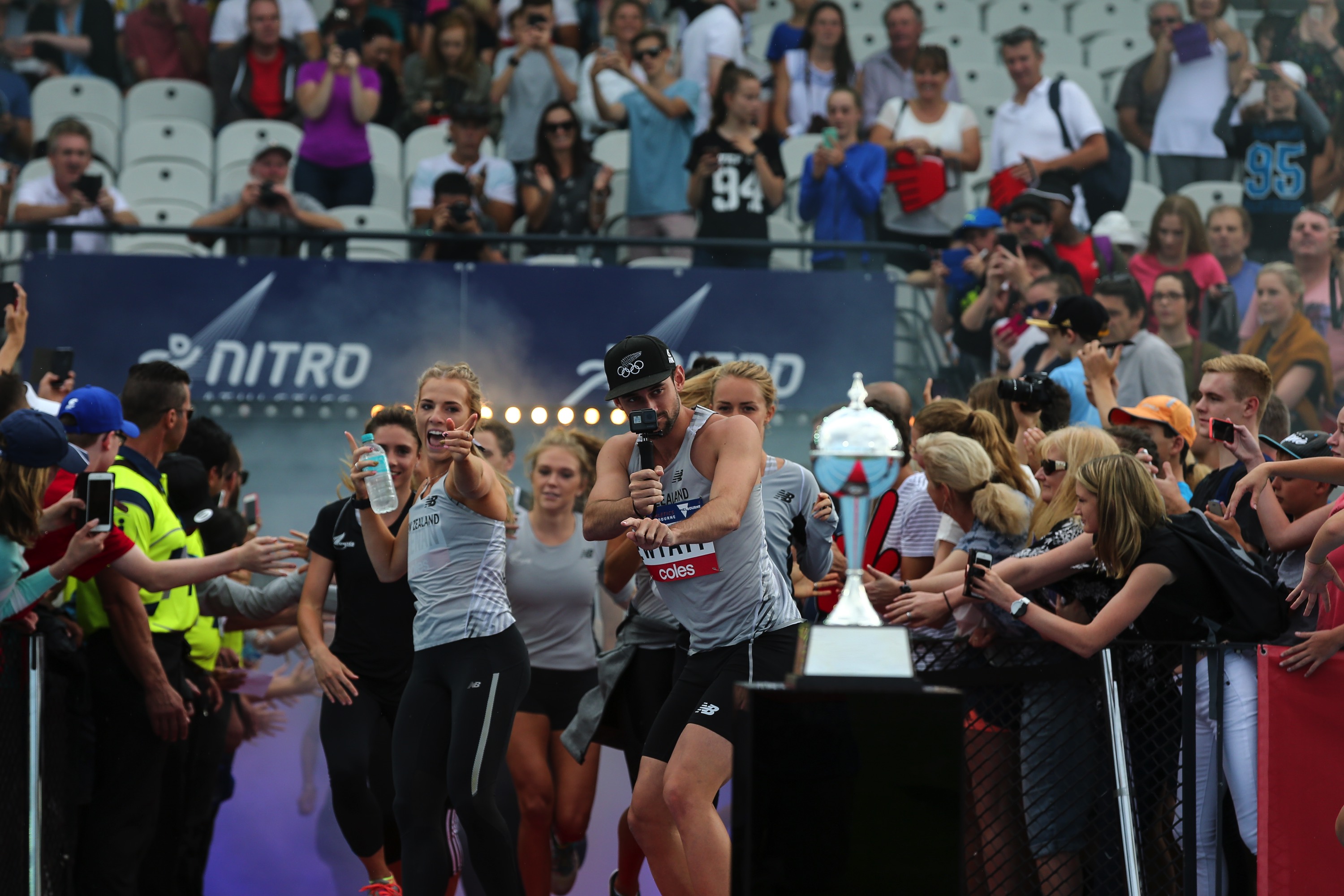 Coles Nitro Athletics Series Round 3, Lakeside Stadium, Melbourne – 11 February 2017

In the final round New Zealand finished sixth with 739 points. Bolt All-Stars won with 1030, from Australia 1018, China 910, England 866, Japan 766 and New Zealand. New Zealand performances: Kelsey Berryman 60m 7.41 (-0.4) (2), LJ 6.24m (+1.5). Anna Grimaldi Para-Athlete 100m 13.01 (-0.6) (4). Zoe Hobbs 150m 17.99 (-0.1) (4). Ellen Schaef mile elimination (4). Hannah Philpot PV 3.70m (6). Joseph Millar 60m 6.70 (-0.2) (2), 150m 15.44 (-0.9) (2), first Usain Bolt, easing up in 15.28. Will O'Neill Para-Athlete 100m (5). Tom Moulai mile elimination (5). Mixed 2 x 100m hurdles relay Mackenzie Keenan, Jack Henry 29.36 (6). Mixed 4 x 100m relay Kelsey Berryman, Joseph Millar, Hamish Gill, Zoe Hobbs 42.28 (3). Mixed 2 x 300m relay Mackenzie Keenan, Michael Cochrane 74.71 (6). Mixed 2000m relay Olivia Eaton, Michael Cochrane, Katherine Camp, Ben Musson 4:33.07 (4). Mixed 3 minute Challenge Laura Nagel, Tim Cornish 2280m (4). Hamish Gill LJ 7.19 (+2.5) also 7.18m (-0.1). Tori Peeters JT 55.73m PB, NZ National Record.

The New Zealand team had some very good results in the inaugural Nitro Athletics series. Joseph Millar emerged a force over the sprints with two significant wins and some close finishes to Jamaican superstars Asafa Powell and Usain Bolt. And running a personal best 100m of 10.30. Tori Peeters extended her New Zealand record in the javelin, reaching 55.73m and Kelsey Berryman came away win a 60m victory and a personal best long jump. Will O'Neill had two good wins in the Para sprint handicap races. Overall the team finished in 6th position, just behind the England and Japan teams but learned a lot about the format for the future.

HAMILTON
Porritt Classic, Porritt Stadium – 11 February 2017

Rio Olympic Games bronze medallist Tom Walsh marked himself ready to for the battle of the shot putters over the next two weeks with an impressive 2017 year opening of five throws over 20 metres. His best was 20.70m in round five and he backed this up after an opening of 19.89m with 20.58m, 20.13m, 20.16m, and a final round of 20.67m.
Walsh had the satisfaction of setting a meeting record an improvement on South African Burger Lambrechts' 19.56m in 1998.
Walsh said that it was a start.
"In terms of a season opener it was probably the smoothest I've felt, but in terms of getting through the shot put it wasn't that good, but it was pretty consistent over that 20 metre line.
"I definitely expect a lot more over the next few weeks that's for sure. It's heading the right way which we like to see," said Walsh.
Ryan Ballantyne set a further Waikato Bay of Plenty record with the 6kg shot throwing 19.11m.
Joshua Hawkins nailed the 110m hurdles setting a New Zealand resident record of 13.98 (+1.5), bettering James Mortimer's 2005 time of 14.05 and Mortimer's meet record of 14.32.
"I'm so happy to go a legal sub 14 in New Zealand," said Hawkins who holds the New Zealand national record of 13.69 set in Brisbane in March 2015.
Hawkins has the Canberra State champs this weekend, the NSW State champs the week after and then back for the Auckland champs and nationals.
"I'll try and go under 14 a few more times with the season to go."
Fiona Morrison won the 100m hurdles in 13.48 (+2.5) just edging out Rochelle Coster 13.61.
Hamish Kerr moved up to third on the New Zealand all-time list with his meet record of 2.17m, adding 2cm to William Crayford's 2011 record. Kerr cleared 2.10m, 2.15m and 2.17m all on his second attempt but was unsuccessful at 2.20m. Elizabeth Lamb won the women's high jump with 1.83m.
Eliza McCartney in her first competition since taking bronze at the Rio Olympic Games set a meet record in the women's pole vault of 4.40m, erasing Melina Hamilton's 2005 record of 4.20m.
Ben Langton-Burnell sent the 800g javelin out over 80 metres for the first time. He won the competition with a throw of 80.38m from Alex Wood who was out to 59.41m.
Cameron French showed a fine return to the track since competing in Europe last year winning the 100m in 10.57 (+2.9) and the 400m hurdles in 51.21.
Olivia Burne set a personal best of 16:24.76 in the 5000m. Jono Jackson won the 5000m in 14:58.56.
Lucy Sheat headed in Georgia Hulls in the 100m and 200m in times of 11.71 (+1.5) and 23.63 (+2.2). Will Smart recorded a personal best of 21.58 (+0.5) in the 200m as did James Guthrie-Croft in second in 21.60.
WELLINGTON
Athletics Wellington Meeting, Newtown Park, 11 February 2017

Jack Hammond 3000m 9:14.6, Stephen Day 9:314. Finn Seeds 800m 2:03.4. 3000m race walk; Daniel du Toit 16:45, Clive McGoven 17:57, Peter Baillie 18:06. Jacqueline Wilson 18:59, Chrissie Gardner 19:08.
CHRISTCHURCH
Athletics Canterbury Meeting, Rawhiti Domain – 11 February 2017
Fergus Speirs 7.26kg HT 48.50m. Charlotte Blair 1500m 4:50.51. Olivia Burnham HJ 1.63m. Haidee Middlewood 3kg HT 42.16m. Nic Forster 100m 11.78 (-1.1). Hamish Dewar 2kg DT 40.00m. Daniel Trenberth HJ 1.86m. Cody House LJ 6.22m (-1.8). James Coates 1.5kg DT 41.40m. Matt Walsh LJ 6.32m (+0.1), TJ 13.30m (-0.6). Amelia Persson 3000m 10:48.27 mx.
DUNEDIN
Athletics Otago Meeting, Caledonian Ground – 11 February 2017

Schuyler Orr 100m 11.58 (-1.3), 200m 24.22 (-1.6). Oli Chignell 1500m 3:58.73. Peter Fitzgerald (56) 1500m 4:31.71 (Otago masters record). Tara McNally 300m H 47.35. Alexander Brown (17) 3000m RW 16:26.17. Tim Baker 400m 50.69. Otago 5000m championship; Bella Bloomfield 18:54.62, Shireen Crumpton 19:40.55, Aaron Anderson 16:21.05, Danny Baillie 16:42.03.Jacob Granger LJ 6.12m (-0.6), 200m 23.43 (-1.6). Adrianna Mawhinney LJ 5.14m (+0.2), TJ 10.63m (-0.1), 200m 26.80 (-2.4). Atipa Mabonga TJ 11.76m (-0.2). Jack Welsh 2kg DT 39.52m, 1.75kg DT 42.72m, 7.26kg SP 11.93m. Hugh McLeod-Jones 1.75DT 42.52m, 6kg SP 13.46m. Hamish Mears 1.5kg DT 44.16m, 5kg SP 13.56m. Mayce Ballantyne 4kg HT 46.58m. Gemma Millar 3kg HT 40.51m.
AUCKLAND
North Harbour Bays Throwers Meeting, AUT Millennium Stadium – 7 February 2017
Mellata Tatola 4kg HT 50.89m PB, DT 41.76m. Savannah Scheen 3kg HT 46.33m. Luceanne Perks 3kg HT 40.05m PB. Centaine Noom-Duckworth 3kg HT 34.48m PB. Connor Bell 1.5kg DT 59.24m. Alexander Parkinson 2kg DT 53.40m. Anthony Nobilo 6kg HT 57.78m. Anthony Barmes 5kg HT 53.68m. Isaac Vaeau-Mulitalo 5kg HT 41.68m PB.

Auckland City Athletics Club Night, Mt Smart Stadium, 8 February
Isaac Tatoa 100m 11.06 (+0.8), 200m 23.09 (+0.5), Dominic Overend 11.38 and 23.23. Grace Wood 800m 2:24.41 mx. James Uhlenberg 800m 1:56.64, Peter Wheeler 1:56.89 PB, Michael Vercoe-Curtis 1:57.86. 3000m hand timed; Jono Jackson 8:37.1, William Harris 8:44.2, Murdoch McIntyre 8:49.2. Olivia Burne 9:32.7 mx.
NELSON
Twlight Series, Saxton Field Athletics Track – 8 February 2017
Bailey Cotton 100m 11.66 (-0.3), 400m 53.60, 6kg SP 13.07m PB. Tavania Thorn TJ 10.64m. Ryan Churchill TJ 12.55m. Lee-Ann McKenzie HJ 1.65m. Joe Ford 1.5kg DT 41.16m. Brooke Robertson DT 33.75m PB.
JAPAN
Kagawa Half Marathon, Marugame, 5 February: Victoria Beck 1:16:16 (16) PB.
AUSTRALIA
Rare Air at Melbourne University, 7 February: Pole vault; Nick Southgate 5.35m (3), Max Attwell 4.15m (13) PB.
Queensland Championships, UQ Athletics Centre, 9 February: Katrina Robinson (16) set a PB 3000m in winning the Queensland U/18 championship in 9:17.42. This went close to Kara Macdermid's New Zealand under 17 record of 9:17.24.
SOUTH AFRICA

NWU Top 20, Bloemfontein, 10 February: Mine De Klerk (13), (Gisborne), 3kg SP 12.26m (2), DT 39.79m (1).
USA INDOORS
Colorado Open, Boulder 2 February: Daniel Hintz 800m 1:57.26 (9R1).
NAU Invitation, Flagstaff, 3 February: Matt Baxter mile 4:13.40 (5). Geordie Beamish mile 4:18.59 (7).
Meyo Invitation, Note Dame, 3 February: Tannoch Blair 800m 1:53.90 (3R2). Matt Prest 3000m 8:39.44 (12R1). Jacob Priddey 5000m 14:28.49 (4).
LSU Bayon Bengal, Baton Rouge, 3 February: Imogen Hull 3000m 10:48.88 (6).
Jacksons NB Boise Invitation, Nampa, 3 February: Jeff Lautenslager 800m 1:59.28 (13).
Witchita State Invite, Witchita, 3 February: Susannah Lynch 3000m 10:06.98 (1).
Crimson Elite, Cambridge MA, 3 February: Jessica Martin mile 5:12.69 (12).
Charlie Thomas Invitational, College Station Texas, 3 February: Torie Owers SP 16.13m (2).
NYC Metro Champs, Staten Island, 3 February: Holly Manning 500m 1:15.98 (1).
Missouri meeting, 4 February: Cody Thomas set a New Zealand indoor record 60m hurdles record of 8.24, bettering Brent Newdick's record of 8.25 set in Estonia in 2012.
Villanova Invitational, Staten Island, 4 February: Josh Billington 200m 22.82 (4R2).
Tufts Cupid Challenge, Boston, 4 February: Rory Buckman 3000m 8:56.04 (8) PB.
URI Coaches Tribute, Kingston RI, 4 February: Marcus Karamanolis mile 4:20.13 (2) PB.
Jaguar Invitational, Birmingham AL, 5 February: Luke Fielding mile 4:20.43 (10). Ben Collerton LJ 6.50m (15).
Music City Challenge, Nashville TN, 10 February: Hannah Miller 5000m 16:17.44 (2) (Debut). Anneke Grogan 5000m 17:14.03 (11) PB. 11 February: Hannah Miller mile 4:50.51 (6h1) PB. Anneke Grogan 3000m 10:03.47 (14h1).
Don Kirby Invitational, Albuquerque NM, 10 February: Greer Alsop TJ 12.41m (15) (12.32m, 12.41m, 12.40m).
Husky Classic, Seattle WA, 11 February: Olivia Burdon (19) mile 4:36.98 (7) (NZ under 20 record, breaking Sue Bruce's record of 4:37.89 set in Christchurch in 1983).
Iowa State Classic, Ames IA, 11 February: Matt Baxter 5000m 13:44.27 (3h1) a massive PB by 25 seconds.
Millrose Games, New York, NY, 12 February: Julian Oakley Mile 4:00.10 (3 B race). 1500m 3:44.67 en route.
2017 HALBERG AWARDS
Don Jowett was admitted to the New Zealand Sports Hall of Fame during the annual Halberg Awards evening last Thursday. Jowett is unique in the annals of New Zealand athletics in that he is the only New Zealand sprinter to win a gold medal at a major international meeting. At the 1954 Vancouver British Empire and Commonwealth Games he won gold in the 220 yards and silver in the 440 yards. At the 1950 Auckland Empire Games he won bronze in the 220 yards. He won three New Zealand 220 yards titles and four 440 yards titles. He set a New Zealand 100 yards record in 1949. He later resided in Queensland and died on 21 July 2011 aged 80.
He was the track referee at the 1985 IAAF world cup in Canberra and at the Sydney Olympic Games in 2000, he was assistant track referee at the 1982 Brisbane Commonwealth Games and chairman of the jury at the 2006 Melbourne Commonwealth Games and the track referee at numerous National and State Championships. He was a winger in the Otago team which won the Ranfurly Shield in 1957, and he later became a Queensland Rugby Union life member and served as its treasurer.
He was a successful senior coach in athletics and rugby union and a founding member of the Australian Track & Field Coaches Association.
He was the foundation president of the Brisbane Athletics Officials Club and honorary auditor for the Oceania Athletics Association and honorary auditor of numerous sporting clubs. He was awarded the Order of Australia Medal for his contributions to athletics and rugby.
Liam Malone who won two gold medals in the T44 200m and 400m and a silver medal in the 100m at the Rio Paralympics won the Disabled Sportsperson of the Year.
Eliza McCartney won the New Zealand's favourite sporting moment of the year award.
Other athletics finalists were Dame Valerie Adams (sportswoman), Nick Willis and Tom Walsh (sportsman), Anna Grimaldi (disabled sportsperson), and Jeremy McColl (coach).
End