London 2017 in the sights of Rubie & her relay team, as Mathews draws on team experience of Nitro Athletics
It has been an amazing two years for Anneliese Rubie (NSW) and her relay teammates, and it will be that experience that inspires her when she takes to the start line at the latest instalment of the IAAF World Relays in Nassau (BAH) this weekend.
Determined to ensure their automatic selection for London 2017 by making the final of the women's 4x400m relay, Rubie is confident that she and the competing squad of Caitlin Jones (Qld), Morgan Mitchell (Vic), Ella Nelson (NSW), Olivia Tauro (NSW) can match the result of Nassau 2015 that saw them begin an Olympic campaign that culminated with a start in the final at Rio 2016.
"The World Relays two years ago was an amazing moment for the women's 4x400m team and we are definitely planning on making our race this time around just as special. There are a few new faces this time around, but making the final is very important to us because it will mean automatic selection for London 2017," Rubie said.
"To go on and make the Olympic final in Rio last year is something that I don't think any of us will ever forget. That had been a goal of our team for two years and the moment we found out we had qualified was just so incredible. It's also been so motivating, to know that we really are competitive on the world stage and yet still have so much room to improve for the future.
Rubie is based in Melbourne (Vic) and coached by Peter Fortune, the man who led Catherine Freeman to Sydney 2000 gold. She believes that Australia's 4x400m relay team can continue to improve across the current Olympic cycle, with aspirations for a medal at both the Gold Coast 2018 Commonwealth Games and Tokyo 2020 not unrealistic.
"We have our sights set on a medal at Gold Coast 2018. I believe we are a real chance for a podium finish at the Commonwealth Games and that will set us up perfectly for a great Olympic campaign at Tokyo 2020," Rubie added.
"To have such a young team, with so many girls in the miss, is exciting. We are all still developing as athletes so we constantly push each other for faster times and we have found a way to get the best out of each other."
Competing for the first time as part of the women's 4x400m relay team is Nelson, a 200m specialist who will follow in the footsteps of Melinda Gainsford-Taylor, the most recent short sprint charge to step-up to the one-lap relay. The 22-year-old is excited by the opportunity.
"I am nervous but also pumped. I've been wanting to be a part of the 4x400m team for quite a while, their energy on the track and great team culture really reflects the success they have had so far. I couldn't be happier to be here with them," Nelson said.
Luke Mathews (Vic) will start in the men's 4x800m relay, with the Australian two-lap champion looking forward to returning to the team-based events that he relished at Coles Nitro Athletics Melbourne.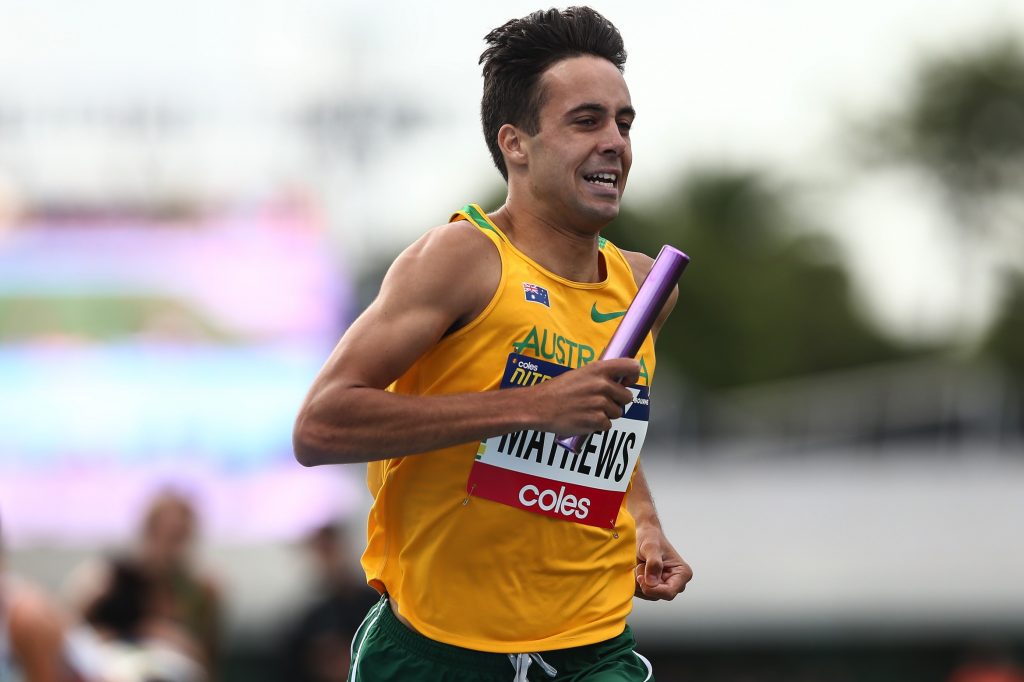 A key contributor to Team Australia's success in the three-minute distance challenge and medley relay at the revolutionary three-event series, Mathews arrives at the IAAF World Relays after spending recent weeks training at altitude in Mt Laguna (USA) and now looks forward to getting back on track.
"Running can be such an individual sport and there aren't many times when you really feel like part of a team, so I always jump at the opportunity to do relays. There is something inspiring and motivating about competing with three other people, especially when they are relying on you to run well. Good athletes grow a foot taller when they compete in relays, I'm looking forward to racing this weekend," Mathew said.
The men's 800m final at the Australian Athletics Championships was arguably the race of the meet, with Mathews challenged to the line before taking a narrow victory. The silver medallist in that race Joshua Ralph (NSW) joins him at Nassau 2017, as do finalists Mason Cohen (NSW) and James Gurr (NSW), with Jordan Williamsz (Vic) rounding out the travelling squad.
"The Australian Championships was an interesting race. There were eight legitimate contenders on the start line and I really had to work to get the win. That makes the team we have at World Relays very strong. We have two 1:45 runners, two 1:46 guys and another just over 1:47 who is capable of running much quicker in the right race," Mathews added.
"If we all run at our best, we should be able to get close to the likes of the USA and Kenya. It won't be easy, but I'm confident we can do each other proud. I'm feeling fit and ready to go. I really want us to win a team medal."
Australia also has a team entered in the women's 4x800m relay, with national championLora Storey (NSW) to compete alongside Zoe Buckman (Vic), Abbey de la Motte (Tas), Alicia Keir (NSW) and Heidi See (NSW).
The men's 4x100m relay team round out the green and gold contingent after being included in entry lists via the IAAF Roll-Down Process. They start after competing at the Mt Sac Relays this past weekend, clocking a season best of 39.14 to place 5th in in an invitational international race.
The IAAF World Relays will be held on 22-23 April 2017 at the Thomas Robinson Stadium in Nassau (BAH). It is the third consecutive time that the event has been hosted in the Caribbean nation.
In 2015, Australia won three bronze medals at the IAAF World Relays, crossing the line third in the men's and women's 4x800m relay and men's distance medley relay teams on the podium.
For more information, including entry lists and the event timetable, please click here
TEAM AUSTRALIA:
M 4x100m Relay: Nicholas Andrews (NSW), Aaron Bresland (WA), Rohan Browning (NSW), Tom Gamble (Qld), Alex Hartmann (Qld), Trae Williams (Qld)
W 4x400m Relay: Caitlin Jones (Qld), Morgan Mitchell (Vic), Ella Nelson (NSW), Anneliese Rubie (NSW), Olivia Tauro (NSW)
M 4x800m Relay: Mason Cohen (NSW), James Gurr (NSW), Luke Mathews (Vic), Josh Ralph (NSW), Jordan Williamsz (Vic)
W 4x800m Relay: Zoe Buckman (Vic), Abbey de la Motte (Tas), Alicia Keir (NSW), Heidi See (NSW), Lora Storey (NSW)
BROADCAST INFORMATION:
The IAAF World Relays will be broadcast live on Eurosport Australia from 9:30am AEDT onSunday 23 April and Monday 24 April.
ATHLETICS AUSTRALIA @AthsAust
End
Provisional entry lists – IAAF/BTC World Relays Bahamas 2017