LONDON MARATHON WOMEN COULD TACKLE ALL-WOMEN'S WORLD RECORD
By David Monti, @d9monti (c) 2017 Race Results Weekly, all rights reserved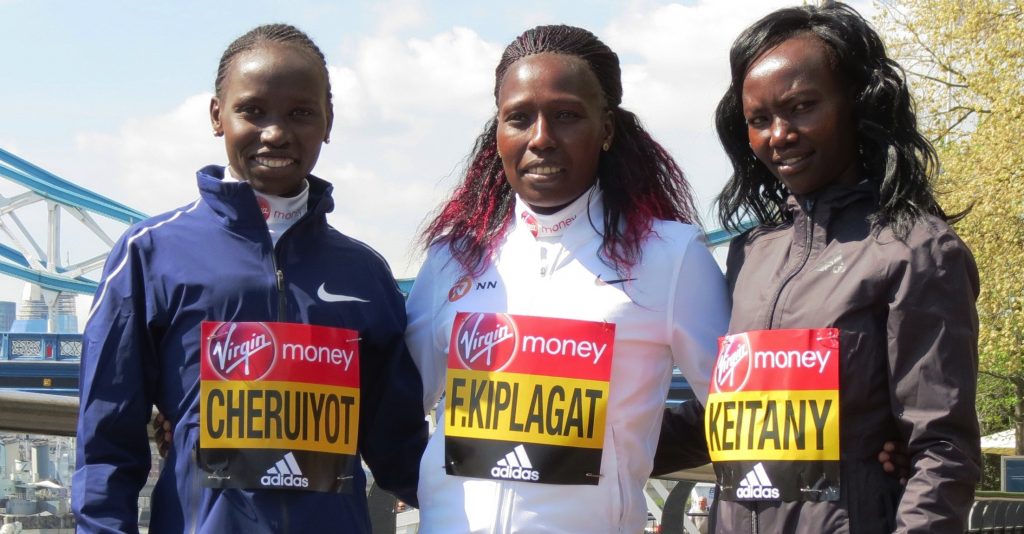 LONDON (19-Apr) — With four athletes with sub-2:20 personal bests, and another four who have broken 2:22, Paula Radcliffe's all-women's world record of 2:17:42 could fall at Sunday's 37th Virgin Money London Marathon here.  Radcliffe, who also owns the absolute world record of 2:15:25, set the all-women's mark here in 2005 when she bested Romanian Olympic Marathon champion Constantina Dita by more than five minutes.
"I think what I can say if the weather will be fine for us, also all of us cooperate, we can run the best time," said three-time TCS New York City Marathon champion Mary Keitany of Kenya, the fastest woman in the field with a 2:18:37 personal best.  She continued: "I don't know about the world record, but we will run the best time."
Keitany, 35, who won the London Marathon in 2011 and 2012 and finished second in 2015, is in top form, according to her long-time manager, Gianni Demadonna, who spoke to Race Results Weekly last Saturday in Boston.  She is very motivated to race on Sunday after finishing ninth at last year's race, done-in by both a bad pre-race meal and a hard fall with about eight kilometers remaining in the race.  After that performance, Kenyan selectors left her off the Rio Olympic team, something which Keitany says still smarts.
"Really, I was disappointed for not going to Rio," Keitany told reporters at a press conference, wringing her hands and looking agitated.  She added: "I was left home.  I was really discouraged."
Using that snub to motivate her, Keitany whipped herself into top shape last summer to prepare for her New York title defense.  She won the Mattoni Olomouc Half-Marathon last June in the Czech Republic on a very hot day in 1:08:53, before flying to the United States for a pair of races in late July and early August.  At the Quad-City Times Bix 7 Mile in Davenport, Iowa, she broke Susan Chepkemei's 12-year old course record, then smashed the TD Beach to Beacon 10-K course record in Cape Elizabeth, Me., running away from the field in a personal best 30:45.  Those performances set her up for three and one-half minute victory in New York on a chilly and windy day.
"Really what I want to do is run really fast in London," Keitany said.
Organizers said today that the women's pacemakers are targeting a 69-minute first half.  That should allow Keitany and Kenyan compatriots Florence Kiplagat (2:19:44 PB) and Helah Kiprop (2:21:27), run with Ethiopians  Aselefech Mergia (2:19:31), Mare Dibaba (2:19:52), Aberu Kebede (2:20:30), and Tigist Tufa (2:21:52) for a fast time.  Of course, they have to cooperate in the early stages of the race to help each other maintain such a torrid pace.
"I mean, with the pacemakers, with all of us, we assist ourselves," Keitany said.  "Not one person to go alone."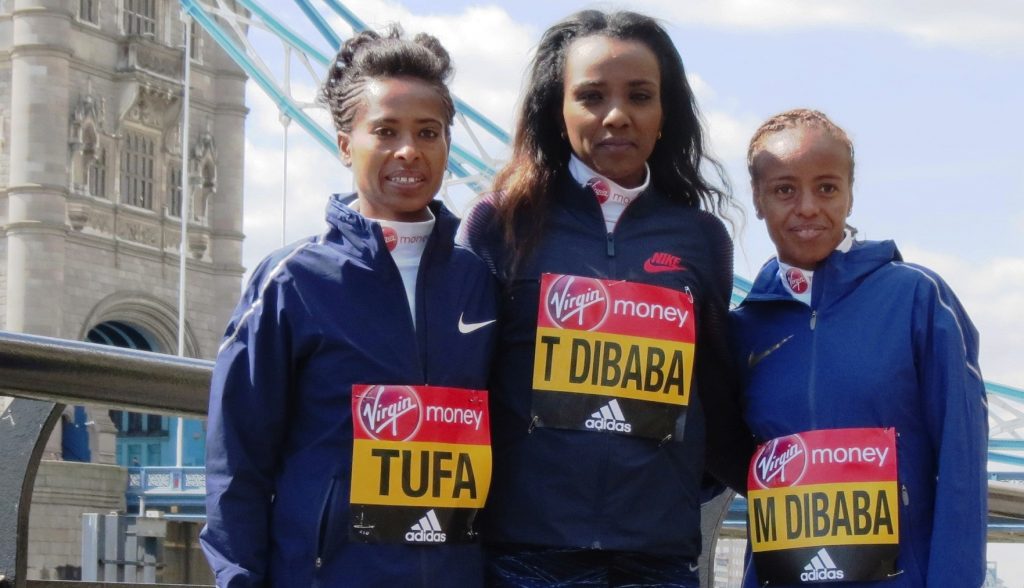 Also hoping to be in the mix for a fast time is five-time world champion, Vivian Cheruiyot of Kenya, who is making her marathon debut.  The tiny 33-year-old will have a difficult decision to make regarding the pace: Should she go with the leaders at world-record pace, or hang back and run her own race?
"I cannot say the marathon is difficult because I haven't done the marathon," she quipped.
No matter what the outcome, the women's race will have a new champion.  Last year's winner, Jemima Sumgong of Kenya underwent an out-of-competition doping control in Kenya on 28 February, and her "A" sample came back positive for the blood booster EPO.  She will not be running the race.
"For me it really embarrasses the sport," said Florence Kiplagat about Sumgong's provisional positive which has yet to be confirmed by a test of her "B" sample.  She added: "If the truth will be like that, I'm really ashamed.  I'm ashamed because we are losing top athletes like that."