AUSTRALIA'S MAKDA HARUN HAJI WINS SYDNEY MARATHON WOMEN'S TITLE, SETS NEW RECORD & CLAIMS 2017 AUSTRALIAN WOMEN'S MARATHON CHAMPIONSHIP CROWN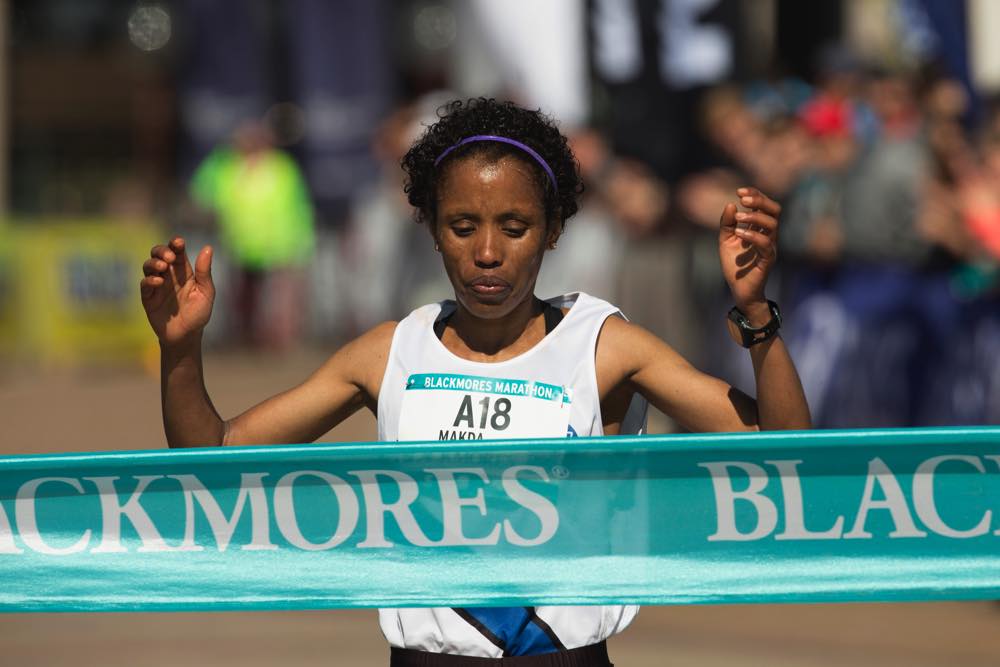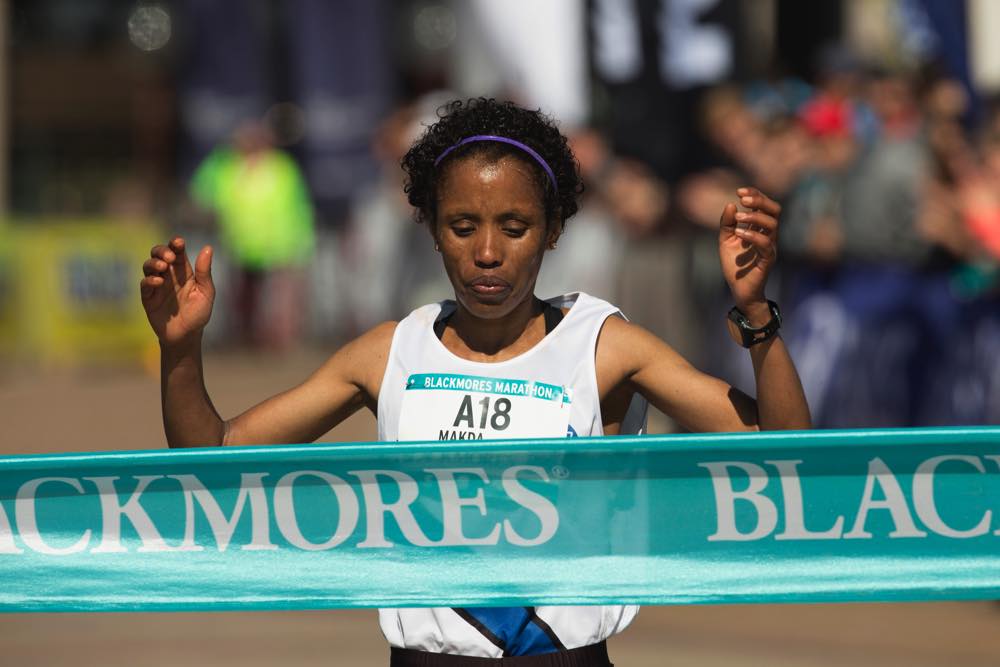 MEN'S MARATHON: JAPAN'S SHOTA HATTORI WINS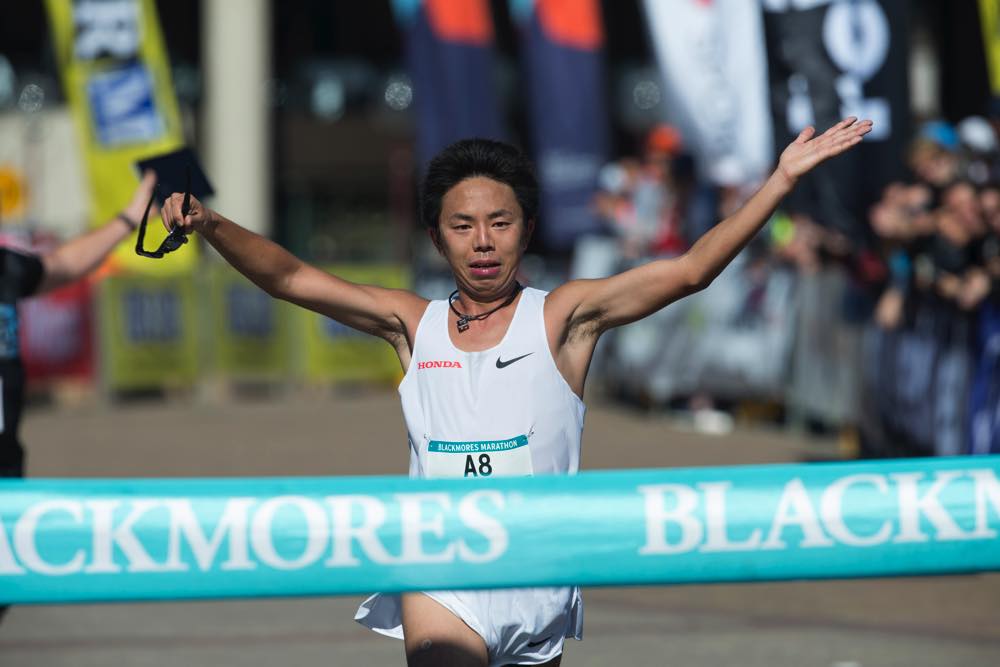 WHEELCHAIR MARATHON: KURT FEARNLEY WINS NUMBER 11
HALF MARATHON: MEN – THOMAS DO CANTO (NSW), WOMEN – LAUREN REID (NSW)
BRIDGE RUN: MEN – ADRIAN PLUMMER (NSW), WOMEN – ELOISE WELLINGS (NSW)
MORE THAN 33,000 TAKE PART IN FOUR RUN EVENTS FROM MILSONS POINT, OVER SYDNEY HARBOUR BRIDGE TO SYDNEY OPERA HOUSE
MORE THAN $1.5 MILLION RAISED FOR CHARITIES
12:40PM, SYDNEY:  Makda Harun Haji, the former Ethiopian runner now Australian citizen living and training in Victoria, has taken the treble at the Blackmores Sydney Running Festival, winning the Women's Marathon, setting a new women's marathon record and taking the title of 2017 Australian Marathon Women's Champion. Haji set a new Blackmores Sydney Marathon women's record with 02:28:04, taking one minute, 38 seconds off the record (02:29:42) set by fellow Ethiopian runner Biruktayit Degefa in 2014. Kenya's Bornes Jepkirui Kitu was the second woman and also broke the record with a time of 02:29:01, while fellow Kenyan Mercy Jerotich Kibarus took third with 02:30:12.
In the men's Marathon, Japan was victorious for the third year in a row – Shota Hattori the first man to cross the finish line in a time of 02:15:16. Werkuneh Seyoum Aboye of Ethiopia was close behind at 02:15:36 and Kenya's Sammy Kigen Korir clocked 02:15:54 in third. Australia's Jai Edmonds from Oak Park, Victoria was the first Australian man to finish, claiming the 2017 Australian Men's Marathon Champion title with 02:29:28.
More than 33,000 people took part in today's event, including almost 2,000 people from 66 countries. A record number of runners tackled the Blackmores Sydney Marathon which, as an IAAF Marathon Gold Label Race, now sits alongside renowned marathons such as New York, Boston and London.  Sydney shined as more than 3,670 marathon runners made their way around one of the world's most picturesque courses – from Milsons Point, over the Sydney Harbour Bridge, through Hyde Park, around Centennial Park, back through the city, to Pyrmont and back around Barangaroo and Circular Quay to the Sydney Opera House.
There were just two Wheelchair Marathon competitors this year, Paralympian Kurt Fearnley who racked up his 11th win at this event and 25-year-old Jake Lappin who completed his first Blackmores Sydney Marathon event.
While thousands took in the sights of Sydney and enjoyed the unique chance to run or walk across the deck of the Sydney Harbour Bridge, some were seeking world record fame in various costumes. Guinness World Records titles achieved today were for Fastest marathon in a suit set by North Bondi's Matthew Whitaker at 2:44:29 and Fastest marathon in a Kung Fu uniform by William Bond of Leichhardt at 3:50:38.
In the Blackmores Half Marathon, Thomas Do Canto of North Sydney, NSW took victory ten years after his first win in 2007, posting a time of 01:05:00.  He was followed by Japan's Kiyotaka Sasaki in second (01:05:09) and Matthew Cox of Chester Hill, NSW in third (01:06:45). First woman across the Half Marathon finish line was Lauren Reid of Kingsway, NSW (01:16:56), with second place going to Japan's Eriko Kushima (01:17:19) and in third place was Gemma Jenkins of Greystanes, NSW (1:19:22).
The 10km Blackmores Bridge Run was won by Maroubra's Adrian Plummer (00:31:06), with Scott O'Connor of Cremorne Point, NSW second (00:31:27) and third was Matthew Hudson of Waverley, NSW (00:31:33).  Australian Olympian and Commonwealth Games athlete Eloise Wellings of Buraneer, NSW was the first woman in the Bridge Run (00:34:35), while Hayley Gustard of Valentine, NSW was second (00:35:21) and Castlecrag's Lara Hamilton took third with a time of 00:36:00.
Today's runners raised an event record of $1.5 million for Australian charities, bringing the total raised by the event since its inception in 2001 to more than $17 million. The event makes a difference for more than 100 charities including Sydney Children's Hospital Foundation and Breast Cancer Network Australia who have jointly raised more than $100,000.
Blackmores Sydney Running Festival Event Director Wayne Larden said the 2017 event was one of the best in the history of the festival which began in 2001 as a legacy of the Sydney 2000 Olympic Games.
"It was fantastic to have such great conditions for participants with clear skies cool weather and low wind," said Mr Larden.
"Makda breaking the marathon record was a bonus and the spectacular weather really showcased Sydney throughout the three-hour live broadcast which went into 1.9 million households worldwide.
"We had increased international and interstate entries which is great for the local economy.
"It was fantastic to have record entries in the marathon, but the record number in the family fun run really saw a lot of colour out on the course with thousands of kids and fancy dress runners just enjoying themselves with friends and family while they took in the Sydney Harbour Bridge on their way to the finish line.
"The event is an IAAF Gold Label marathon and the international competitors who took part and their performances will ensure this continues to position the Blackmores Sydney Marathon as one of the best in the world."
TOP THREE RESULTS IN ALL EVENTS:
BLACKMORES SYDNEY MARATHON
Men
Shota Hattori (Japan) 

02:15:16

Werkuneh Seymour Aboye (Ethiopia) 

02:15:36

Sammy Kigen Koriri (Kenya) 

02:15:54
Women
Makda Harun Haji (Parkville, VIC, Australia) 

02:28:04

Bornes Jepkirui Kitur (Kenya) 

02:29:01

Mercy Jerotich Kibarus (Kenya) 

02:30:12

 
BLACKMORES SYDNEY WHEELCHAIR MARATHON
Men
Kurt Fearnley (NSW) time TBC
Jake Lappin (Hamilton, NSW) 

01:54:20
BLACKMORES SYDNEY HALF MARATHON
Men
Thomas De Canto (North Sydney, NSW, Australia) 

01:05:00

Kiyotaka Sasaki (Japan) 

01:05:09

Matthew Cox (Chester Hill, NSW, Australia) 

01:06:45
Women
Lauren Reid (Kingsway, NSW, Australia) 

01:16:56

Eriko Kushima (Japan) 

01:17:19

Gemma Jenkins (Greystanes, NSW, Australia) 

01:19:22
BLACKMORES BRIDGE RUN (10KM)
Men
Adrian Plummer (Maroubra, NSW) 

00:31:06

Scott O'Connor (Cremorne Point, NSW) 

00:31:27

Matthew Hudson (Waverley, NSW) 

00:31:33
Women
Eloise Wellings (Burraneer, NSW) 

00:34:35

Hayley Gustard (Valentine, NSW) 

00:35:21

Lara Hamilton (Castlecrag, NSW) 

00:36:00
BLACKMORES FAMILY FUN RUN/WALK (4KM)
Men 
Matt Salisbury (Warrawee, NSW) 

00:11:15

Lachlan Stanfield (Chifley, NSW) 

00:11:23

Kobe Stewart (Gymea, NSW)
Women
Imogen Stewart (Gymea, NSW) 

00:12:14

Alexandra Field (South Coogee, NSW) 

00:12:14

Sarah Playford (Wahroonga, NSW) 

00:12:56
Full results available at www.sydneyrunningfestival.com.au