By David Monti, @d9monti
(c) 2017 Race Results Weekly, all rights reserved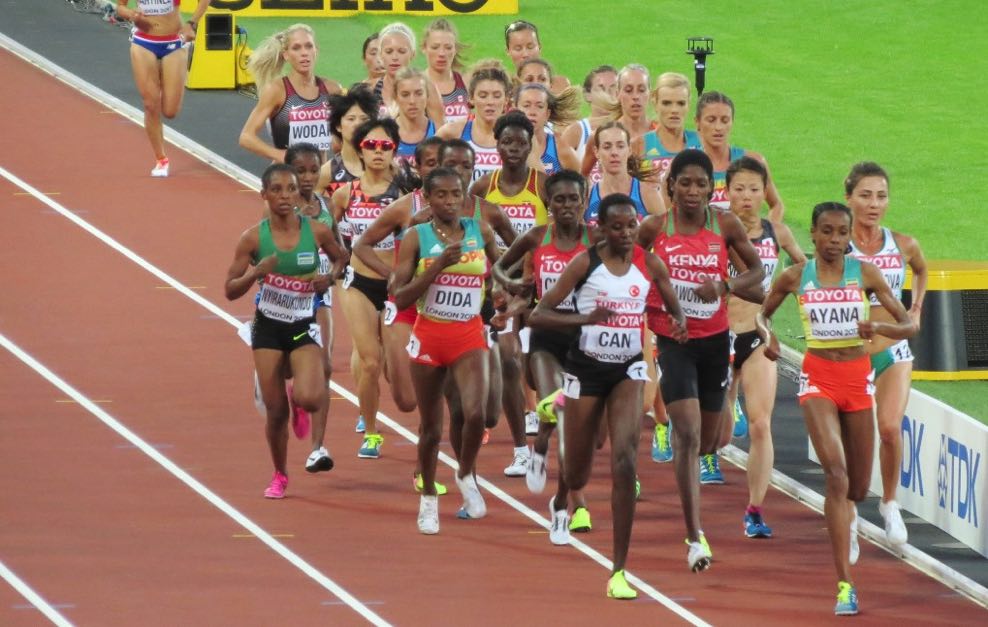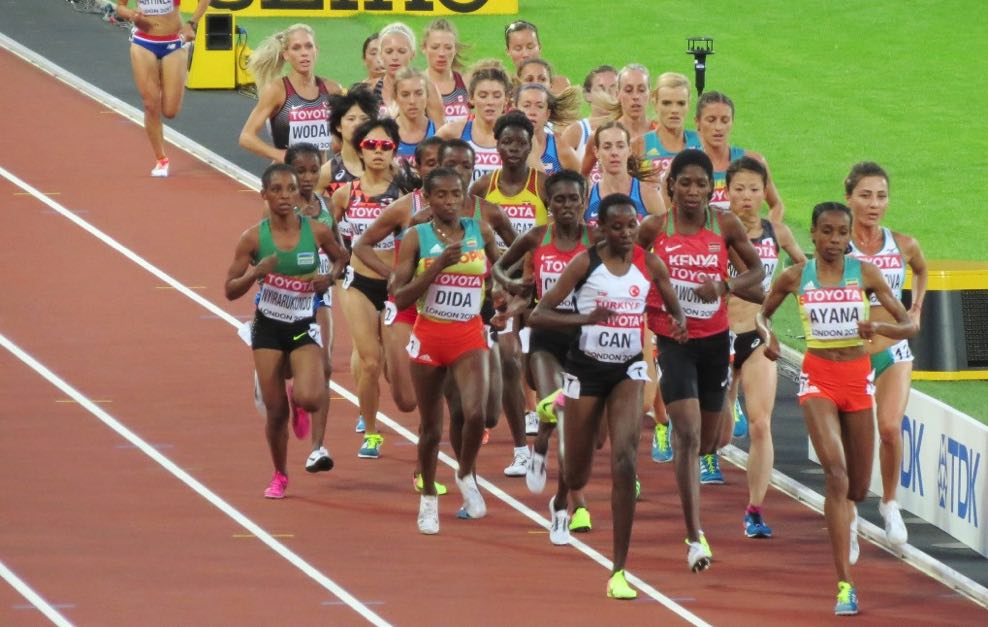 LONDON (05-Aug) — With an astonishing performance which raised eyebrows across social media, Ethiopia's Almaz Ayana crushed the field in the women's 10,000m here at London Stadium at the 16th IAAF World Championships in Athletics.  Ayana, the 2016 Rio Olympic 10,000m champion who hadn't run a race since last September, nearly lapped the field, winning by 46.37 seconds, doubling the largest previous winning margin at these championships.  She ran the second half of the race in 14:24.96, faster than her own World Championships 5000m record of 14:26.83 set in Beijing in 2015.
"I am very happy to win this title, much more than when I won the Olympic gold because I have been sick this year and didn't expect it," Ayana told IAAF interviewers.  "In fact, this was my first race of 2017."
Behind Ayana, her Ethiopian teammate, nine-time world champion Tirunesh Dibaba, outsprinted Kenya's Agnes Tirop to get the silver, 31:02.69 to 31:03.50.  It was Dibaba's fourth world championships medal in the 10,000 discipline (she also has two in the 5000m).  Alice Aprot of Kenya (31:11.86), Susan Krumins of the Netherlands (31:20.24) and Emily Infeld of the United States (31:20.45) rounded out the top-six.
The race started out painfully slow with an 81-second first lap and a 3:30 first kilometer.  There were a series of nominal leaders, but nobody wanted to take the pace.  It wasn't until 3600 meters that Ayana blasted to the lead, first with a 69-second lap followed by two 68's.  That carried her through the first half in 15:51.38 with a 50-meter lead.
From there, Ayana zoomed around the track alone, showing no signs of fatigue.  From 3000m to 8000m she ran an improbable 14:30.82, prompting a skeptical tweet from 1991 world 10,000m champion Liz McColgan of Scotland.
"So from 3k to 8k Ayana 5k split 14:30.  Until Ethiopia follow proper doping procedures I for one do not accept these athletes performances."
There were other tweets expressing disbelief, indicative of the skepticism among athletes, coaches, fans and the media in the wake of the doping scandals which have gripped athletics for the last several years.  Lee Troop, a three-time Olympian for Australia and now a respected coach in Colorado, offered perhaps the harshest comment.  He tweeted: "I'm sorry @iaaforg & @sebcoe but you have failed our sport just like your predecessors! That 10,000m for women was a joke & it's your fault!"
In the women's 1500m semi-finals, world record holder Genzebe Dibaba of Ethiopia survived a scare, advancing on time after finishing sixth in heat one in 4:05.33 (she faded in the final sprint).  That heat was won by reigning Olympic champion Faith Kipyegon in 4:03.54, followed by Britain's Laura Muir (4:03.64) and South Africa's Caster Semenya (4:03.80).  Potential medalist Gudaf Tsegay of Ethiopia fell 340 meters into the race and finished last.
"The cheering for Muir also gives me some motivation to do what I have to do and it is her home crowd," Kipyegon told IAAF interviewers.  "So, I know everybody is going to cheer for her and we are going to show the best."
In the second heat, Germany's Konstanze Klosterhalfen made an impetuous move with two laps to go, gapping the field by perhaps 20 meters.  The medal contenders behind her –Sifan Hassan of the Netherlands, Meraf Bahta of Sweden, and Jenny Simpson of the USA– didn't panic knowing that the German's pace was unsustainable.  Klosterhalfen still had a 15-meter lead at the bell, but she was overtaken by most of the field in the final 150 meters.  Hassan (4:03.77), Bahta (4:04.04) and Simpson (4:05.40) finished 1-2-3, while Klosterhalfen faded to ninth.
"At least I tried," Klosterhalfen, 20, told IAAF interviewers.  "Yes, I am a little disappointed because I will not be in the final. But I see this semi-final as a step forward for me."
In men's 800m qualifying, the main casualties were Amel Tuka of Bosnia and Herzegovina (fifth in heat 6 in 1:46.54) and Michael Saruni of Kenya (DNS, heat 6).  Saruni, who competed this season in the NCAA system for the University of Texas – El Paso, was originally left of the Kenyan team despite finishing third at the Kenyan Trials.  But when reigning world champion David Rudisha pulled out of these championships with an injury, Saruni was back on the team but, tragically, he never made it to London in time to compete.
Nonetheless, the three Kenyans who did compete here –Kipyegon Bett, Ferguson Rotich and Emmanuel Korir– each won their heats and advanced.  Other medal favorites to make it to the semi-finals included Poland's Adam Kszczot (third, heat 5), Canada's Brandon McBride (second, heat 2), France's Pierre-Ambroise Bosse (second, heat 5), and Ethiopia's Mo Aman (second, heat 6).
Additionally, all three USA athletes –Drew Windle, Isaiah Harris, and Donavan Brazier– also advanced.  Windle, who runs for the Brooks Beasts, was about 15 meters behind the leaders with 250 meters to go, but managed to close well and finished third in heat 1 in 1:46.08.
"I felt awful going into it," Windle told reporters.  "These preliminary heats usually come down to fitness, and I know my fitness is there, so I really relied on that to get into those top three spots.  The important part is that I survived to tomorrow."