Len Johnson Reporting from the World Champs, London – Runner's Tribe
Usain Bolt finished his last individual championship race with a touch of class, warmly embracing the winner, Justin Gatlin, and clapping him heartily on the back.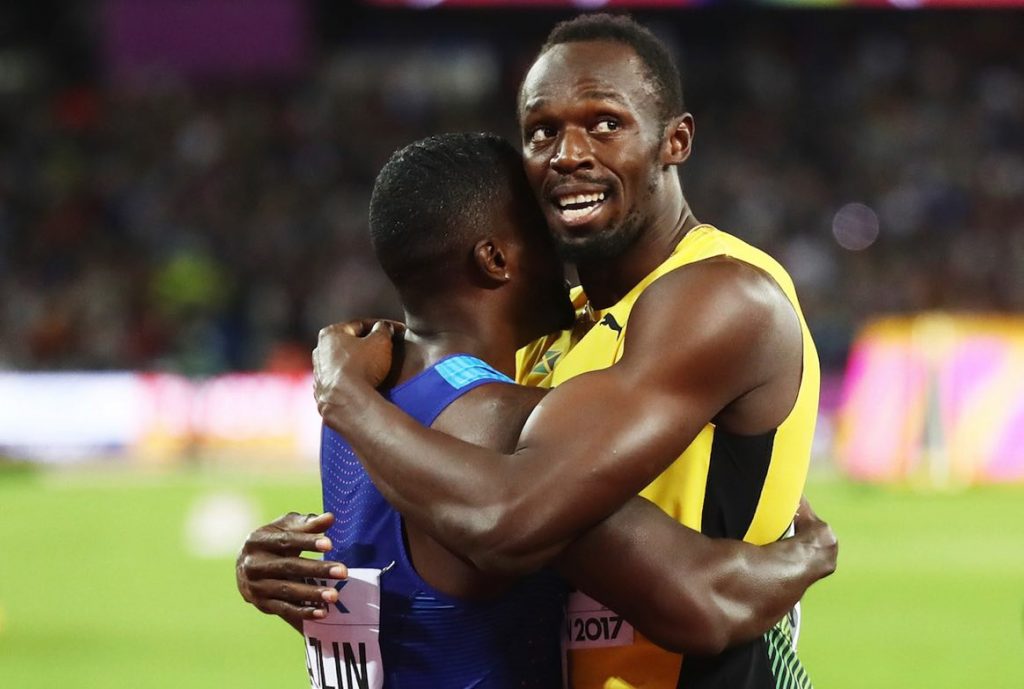 It's a pity spectators in the London Olympic stadium didn't show the same amount of class. A substantial component of the crowd booed Gatlin, just as they had booed on his entrance for the start, as they had booed him in the semi-final earlier in the night and in the first round heats the previous day.
Bolt could not overcome the very ordinary first 40 metres which was a feature of all three of his races. He was two metres down after 40 in the heat, the same in the semi, and the same again in the final. He was flying home like Bolt of old, but his 9.95 final left him 0.01 short of Christian Coleman at the line and 0.03 short of Gatlin.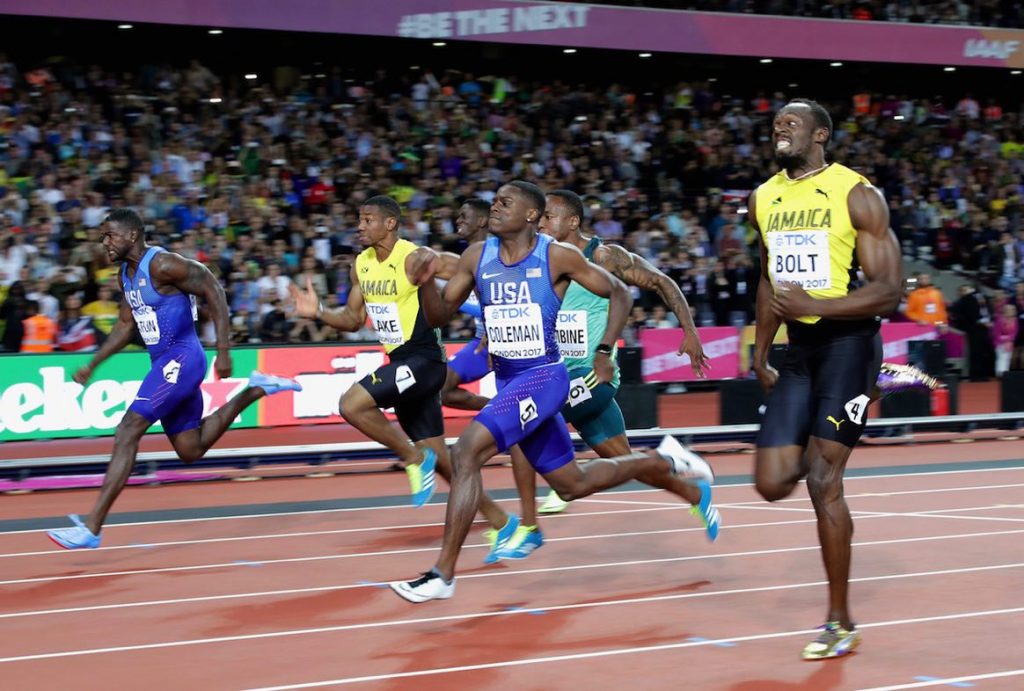 In Rio last year the football-style barracking of some spectators – most notably for Thiago Braz  da Silva and against Renaud Lavillenie in the pole vault final – drew an official reminder that such behavior was unacceptable. That was enough to bring it to a halt.
Something similar needs to be said on Gatlin's behalf now, or repeated if it has been said already. Every athlete competing in London is entitled to do so under international rules. When it comes to doping infringements, those rules allow athletes to return to competition once they have completed their suspension. You are quite entitled to disagree and to campaign for harsher sanctions. You can't be stopped from booing, I suppose. Just don't imagine it does you any credit.
Gatlin's win came 13 years after he won the Olympic gold medal in Athens, by some way the longest span between first and most recent senior global titles.
Ironically, Bolt's start has been spoken of as a potential achilles heel throughout his career. But it rarely has been. Here, though, his past caught up with him and he could not catch up with his swiftest rivals. He was charging like Bolt of old over the last 30 metres, but the first 40 left him with just too much to do. Coincidentally, he lost to Coleman in the semi-final by the same one hundredth margin as in the final.
Third place gets him to the medal ceremony and in no way diminishes the golden achievements from 2008 on. Bolt remains the greatest and his graciousness in acknowledging the winner merely underlines his class.
Day two's other highlight was Almaz Ayana's amazing win in the 10,000 metres. Ayana had not raced this year, but this proved not to be the handicap many expected.
After the slowest of starts – Uzbekistan's Sitora Khamidova led through 3000 in 9:59 – Ayana simply put the foot down in the style we have become familiar with. She moved into second place around the 3000 mark and exploded into the lead soon after. A 2:49 fifth kilometre gave her a comfortable lead which continued to grow lap by lap.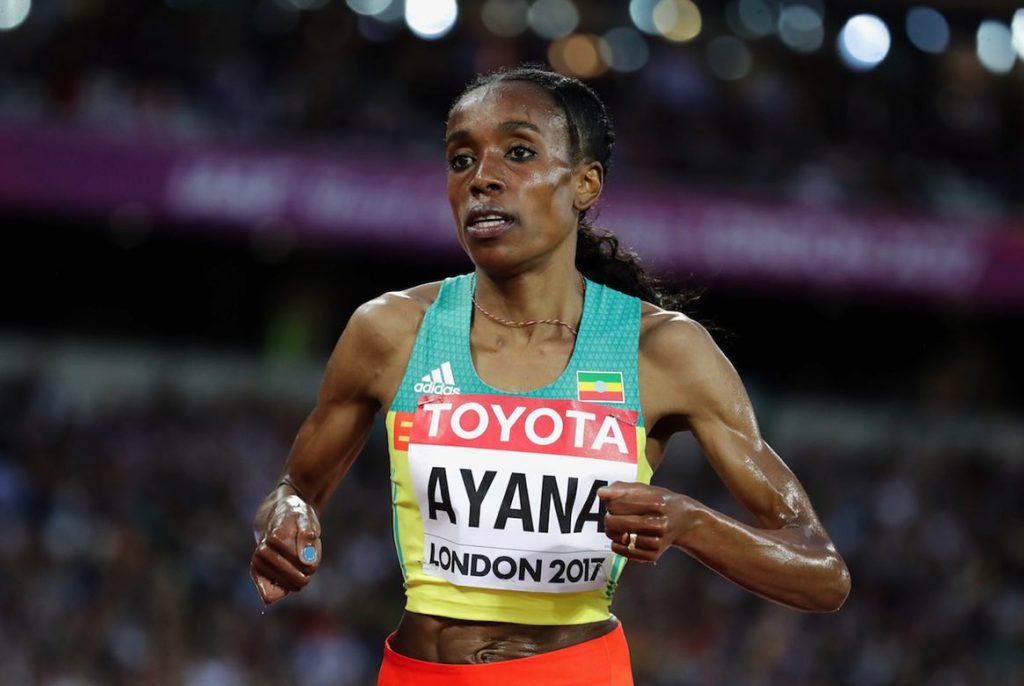 At the end, Ayana was 46 seconds clear of Tirunesh Dibaba – 30:16.32 to 31:02.69, with Agnes Tirop winning the Kenyan battle to take the bronze in 31:03.50. Alice Aprot was fourth again, as she was in Rio last year, in 31:11.56. Then, she set the race up with an aggressive first half. This time, she never really gave a yelp. Few did, though fifth and sixth placed Susan Krumins (Kuijken) and Emily Infeld were rewarded with PBs and Khamidova with a national record 31:57.42.
Ayana put a 14:24.95 second 5000 metres on top of a moderate 15:51.38 first half to come closer to 30 minutes than appeared possible earlier in the race. To put that into perspective, her second 5000 would rank her second on the 2017 list and would also put her ninth on the all-time list. It was reminiscent of Kenenisa Bekele's sub-13 minute second half in his first world championships 10,000 victory in Paris in 2003.
Can't speak more highly than that.
End
Watch Bolt's race – https://www.runnerstribe.com/videos/video-mens-100m-finals-iaaf-world-championships-london-2017-usain-bolt-loses/