Half marathon time barriers the targets in Berlin
Two significant half marathon time barriers are targeted in Sunday's Berlin Half Marathon. While the men's favourites from Kenya intend to go sub 60 minutes on the very flat loop course right through the heart of the German capital the top women runners plan for a pace that leads to finishing times under 70 minutes. Exactly 34,004 runners entered the 37th edition of the Berlin Half Marathon, which is Germany's biggest and fastest race at the distance.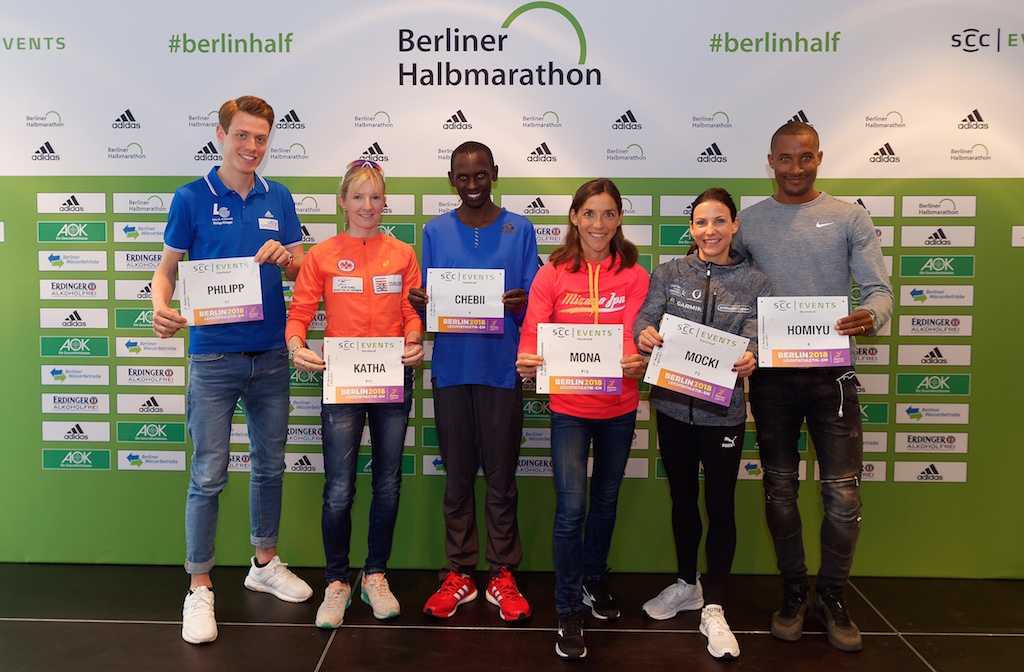 There is little indication that Kenya's dominance in the Berlin Half Marathon could come to an end on Sunday. In the past 15 years only twice did the winner not come from Kenya. Three athletes are on the start lists who feature personal bests of sub one hour. All three are from Kenya and they are the favourites: Gilbert Masai, David Kogei and Daniel Chebii.
David Kogei almost won the Berlin Half Marathon already two years ago. In what was the closest finish in the history of the race he was just edged out by Ethiopia's Birhanu Legese. However there was some consolation for Kogei, since he clocked his personal best of 59:46 in that race. Kogei's main rivals will be Gilbert Masai and Daniel Chebii. Masai holds a slightly faster personal best at the distance. He clocked 59:31 when he finished fourth in last year's Copenhagen Half Marathon.
Daniel Chebii has already performed well in the Berlin Half Marathon on two occasions: In 2011 he was third with 60:56 and three years later he took fifth place in 60:40. "I know that this is a fast and very nice course. So it is my goal to run a personal best on Sunday," said Chebii, who as a PB of 59:49. The runner with the fourth fastest personal record on the start list also comes from Kenya: Reuben Limaa ran 60:53 four years ago in Verbania, Italy.
Last year's runner-up Simon Tesfay of Eritrea, who clocked a personal record of 61:00 in Berlin, and Ethiopia's Ejerssa Temesgen Daba, who has a PB of 61:08, will most likely be the strongest challengers of the Kenyans.
The standard of Germany's elite road runners has improved significantly in recent years. One of the athletes who came through is Philipp Pflieger. He intends to improve his personal best of 63:51 and could well achieve a top eight finish. "Training went very well and I feel fine. However my main spring race will be the Hamburg Marathon," said Philipp Pflieger.
Homiyu Tesfaye was Germany's best bet for middle and long distance fame until 2015. However the former Ethiopian had a poor Olympic year and it did not look bright after he left his coach Wolfgang Heinig in 2016. But the 23 year-old is optimistic. "I trained in Ethiopia for some weeks and I think I am ready for a time between 61 and 62 minutes," said Homiyu Tesfaye, who confirmed that he will return to the 1,500 m in summer. Tesfaye, who holds a personal best of 27:54 at 10 k from 2015, will run his second half marathon on Sunday. Five years ago he competed at the German Championships finishing sixth in 67:17.
The winners of the past two editions of the Berlin Half Marathon will clash in the women's race. Originally from Kenya the defending champion Elizeba Cherono competes for the Netherlands since January 2016. While her personal best stands at 70:10 she won last year's race in 70:43. A year earlier she missed out on victory by just four seconds, beaten Cynthia Kosgei. The Kenyan clocked her current PB of 70:52 in Berlin in 2015. Now the pair will meet again on Sunday. In probably good weather conditions a sub 70 minutes' time is their target.
However another runner from Kenya must probably be regarded as the favourite: Edith Chelimo has shown fine form in her half marathon races last year, winning three out of four. She improved to 69:45 in Njabini, Kenya, when taking this event in November.
The fastest runner on the women's start list is a German: Sabrina Mockenhaupt won the Berlin Half Marathon back in 2009 with 68:45. This personal best still stands. However due to various injuries in the past few years it is highly unlikely that the 36 year-old can challenge the Kenyans. "The past two to three years were really terrible. But now I enjoy running again and feel relaxed," said Sabrina Mockenhaupt.
One of Mockenhaupt's rivals will be fellow-German Katharina Heinig, who achieved a breakthrough performance in the marathon in 2016. Coached by her mother, the former world-class marathoner Katrin Dörre-Heinig, Katharina smashed her personal marathon best by more than five minutes in the BMW BERLIN-MARATHON. She clocked 2:28:34 and achieved the national qualifying standard for the World Championships in London this year. In the half marathon she ran a personal record of 72:55 in 2016. "I hope for another great race in Berlin on Sunday," said Katharina Heinig, who will not run another marathon this spring and instead focuses on London. To secure selection she needs to run 73:15 on Sunday. However the 27 year-old plans to run quite a bit faster. She targets a sub 72 minutes' time.
Selected Elite Runners and Personal Bests
MEN
Gilbert Masai KEN 59:31
David Kogei KEN 59:46
Daniel Chebii KEN 59:49
Simon Tesfay ERI 61:00
Temesgen Daba ETH 61:08
Patrick Stitzinger NED 62:42
Philipp Pflieger GER 63:51
Julien Lyon SUI 63:56
Marcel Bräutigam GER 65:06
Homiyu Tesfaye GER 67:17
WOMEN
Sabrina Mockenhaupt GER 1:08:45
Edith Chelimo KEN 1:09:45
Elizeba Cherono NED 1:10:10
Kejeta Melat ETH 1:10:27
Cynthia Kosgei KEN 1:10:52
Martina Strähl SUI 1:11:50
Katharina Heinig GER 1:12:55
Mona Stockhecke GER 1:14:20
More information is available online at: www.berliner-halbmarathon.de