(c) Runner's Tribe
Km's run during testing process: 150
Brooks Adrenaline is up to its 21st iteration, a successful shoe, no doubt.  Brooks really lead the way in durability; the Adrenaline GTS 21 is another tough, absolute workhorse of a shoe.
The Adrenaline GTS 21 is a support shoe, designed for runner's who want a heavy dose of stability in their shoes.  It's a reliable daily trainer designed to provide maximum stability to correct overpronation for runners of all levels and abilities.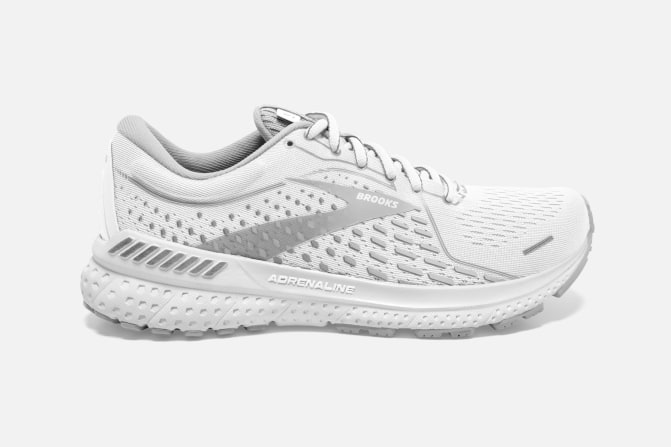 Specs
Surface: Road or light trails.
Purpose:  Everyday trainer. Good for long runs and easy runs.
Pronation: Stability shoe, designed for those who like maximum stability control.
Stack Height: 32mm heel. 20mm forefoot (this is including the removable footbed/insert).
Heel-to-toe-drop: 12mm
Weight:

Women: 242 grams (size US 8).
Men: 316 grams (size US 11).

Midsole:  Brooks call it 'DNA Loft Cushioning'.   DNA Loft midsoles are made from a combination of EVA (traditional running shoe cushioning), rubber and air. We expand on this later in the article.
Upper: Knit.
Midsole Flexibility: Moderate to stiff.
Durability: Excellent.
Outsole: Thick, close to full length rubber, very durable.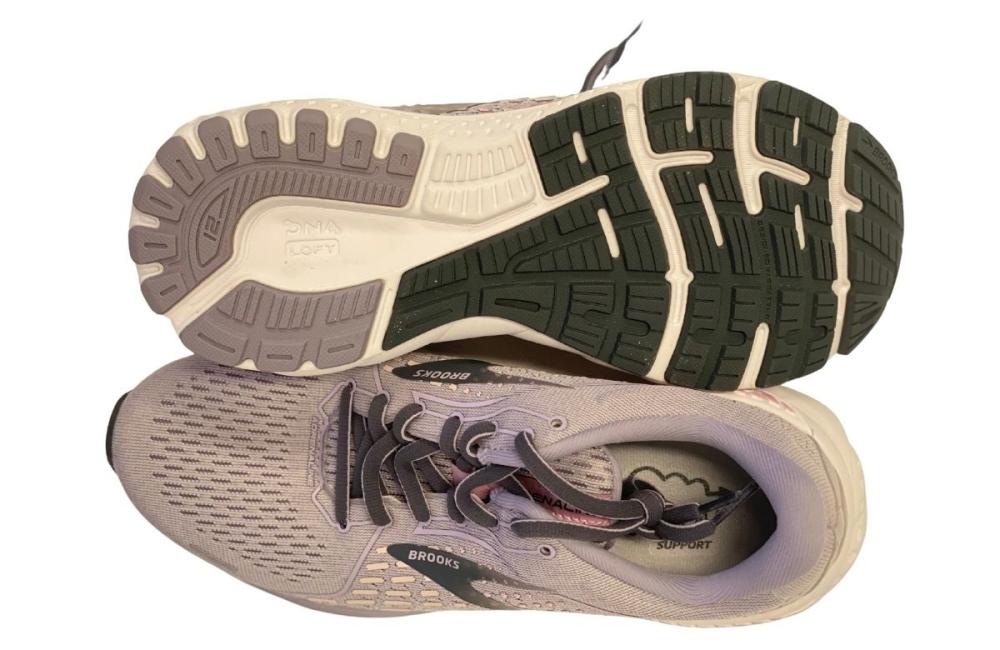 Heel cushioning: Medium
Heel Counter: Stiff, hard to bend.
Forefoot cushioning: Medium.
Fits: Runs true to size.
Price:
Against some rivals
| | | | |
| --- | --- | --- | --- |
| Shoe (all size US 9 Men) |  Weight (grams) | Drop(MM) |  Stack Heights (heel/forefoot cushioning) |
| Asics Kayano |  323grams | 10mm | 30mm/20mm |
| Asics GT 2000 | 292grams | 10mm | 29mm/19mm |
| Mizuno Wave Inspire | 298grams | 12mm | 32mm/20mm |
| New Balance 860 | 311grams | 10mm | 31mm/21mm |
| Saucony Omni | 320grams | 10mm | 29mm/19mm |
| Adidas Solar Glide ST | 309grams | 10mm | 27mm/17mm |
| Brooks Adrenaline | 283grams | 12mm | 32mm/20mm |
As seen above Brooks is winning the war on weight.
Cool things about this shoe
Durable and Lighter Midsole: As stated earlier the 'DNA Loft' midsole is unique and very different to traditional shoes.  It comprises of a combination of EVA, rubber and air.  It's the rubber component that increases the durability of this shoe greatly. EVA becomes 'flat' very quickly when compared to rubber. And in terms of weight, Brooks have improved a lot in recent years. At 283 grams (size men's US9), it's very light for such a durable workhorse of a shoe (refer to above comparison table – the Adrenalines hold their own).
Plush Midsole: Furthering on the durability achieved by Brooks, they have done so whilst maintaining a softish, plush feeling foam. Way softer than shoes from a few years back, with improved durability as well. For those who like a plush ride, the Adrenaline 21 offers this to some degree, without feeling so soft that the shoe's support and structure is lost.
Outsole: The Adrenalines durability also extends to the outsole rubber, which is a thick layer of full length high abrasion rubber. A shoe built to last well past 1000km.

Consistent: Long term fans of the Adrenaline know exactly what to expect from a pair of Adrenalines. A trusty, safe, built-up, supportive ride; and that's what they get, every single time.
Incredible Stability: If you are a believer in overpronation, and the need for corrective shoes, the Adrenaline is the best there is. Guiderails which help to create an 'envelope' around your feet to manage overpronation; it feels as though your feet are locked down.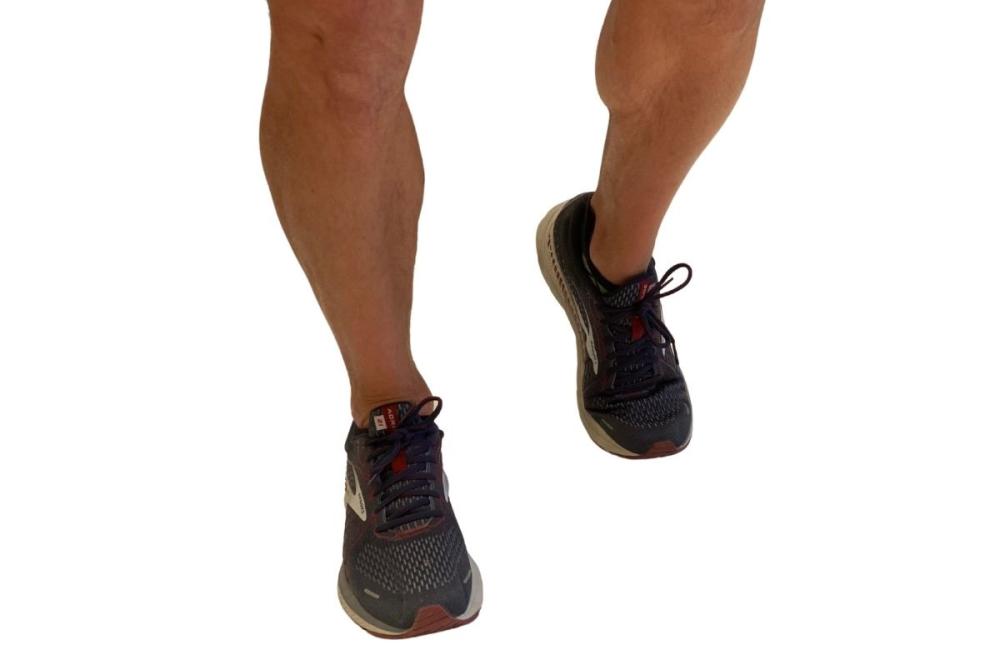 Subjective Ponderings About This Shoe
Street Appeal: This is a running shoe, not a lifestyle pair of kicks. It's indeed hard to make a highly built-up shoe cool. To be fair though, Brook's black on black pair look great.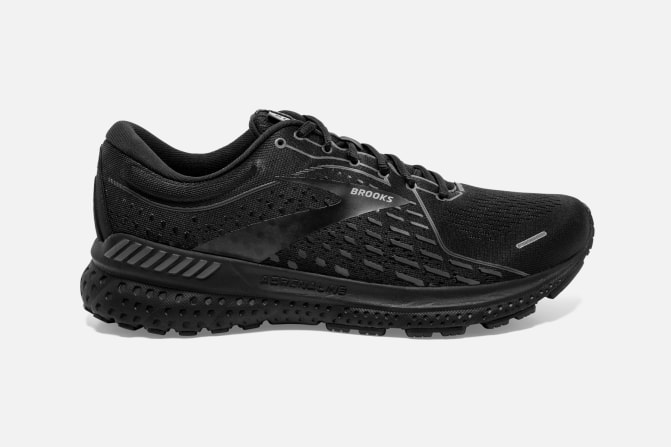 12mm Drop: It's a gigantic drop. In a time when lots of brands (Hoka, Saucony, New Balance, even Nike) are edging their drops down slightly to 5-10mm; Brooks and Mizuno are holding firm.
To buy or not to buy?
Adrenalines appeal to runners who need maximal stability shoes, a gigantic section of the market. With a huge drop of 12mm, they also appeal to runners who prefer a high drop shoe. If you fall into this class of runner, then the Adrenaline has to be one of the best options on the market.
Written by Sam Burke for Runner's Tribe. Tested by Chelsea Geddes.
Disclaimer: Runner's Tribe were given a pair of Adrenalines for free.