The Chicago Marathon has always been lauded for its flat, speedy course, making it a magnet for runners with record-breaking aspirations. However, a lingering caveat accompanies the event since it settled on the Columbus Day weekend as its permanent home – the unpredictability of race-day weather. Chicago's potential for fast times is only fully realized when the elements cooperate.
As the 45th Bank of America Chicago Marathon welcomes top-tier athletes from around the world to the Windy City, Mother Nature appears to have offered the ideal conditions as a gift. With overcast skies and temperatures forecasted to hover around 47 degrees at the 7:30 a.m. CT start, the course seems tailor-made for record-breaking performances. It's evident that none of the elite runners are willing to let this golden opportunity slip through their grasp.
Defining Success
The definition of success may differ depending on whom you ask, but the caliber of competition is undeniable. The field includes six men who have completed marathons in under 2:05 and eight women who have shattered the 2:19 mark, promising a fierce battle that could pave the way for spectacular finishes.
View this post on Instagram
During the pre-race press conference held on Friday, most runners remained tight-lipped, as expected. Nevertheless, there was a palpable interest in the current men's and women's course records. Dennis Kimetto set the men's record at 2:03:45 in 2013, and Brigid Kosgei's 2:14:04 from four years ago was a world record at the time.
Kelvin Kiptum's Bold Aspirations
Kelvin Kiptum, a 24-year-old Kenyan, made it abundantly clear that Kimetto's record is well within his sights. He has broken the 2:02 barrier twice in the past 10 months, coming tantalizingly close to Eliud Kipchoge's world record with a 2:01:25 finish in London last April. Despite rainy conditions affecting his training in Kenya, Kiptum expressed confidence in his ability to break the course record, emphasizing the strong competition in the field as a motivating factor.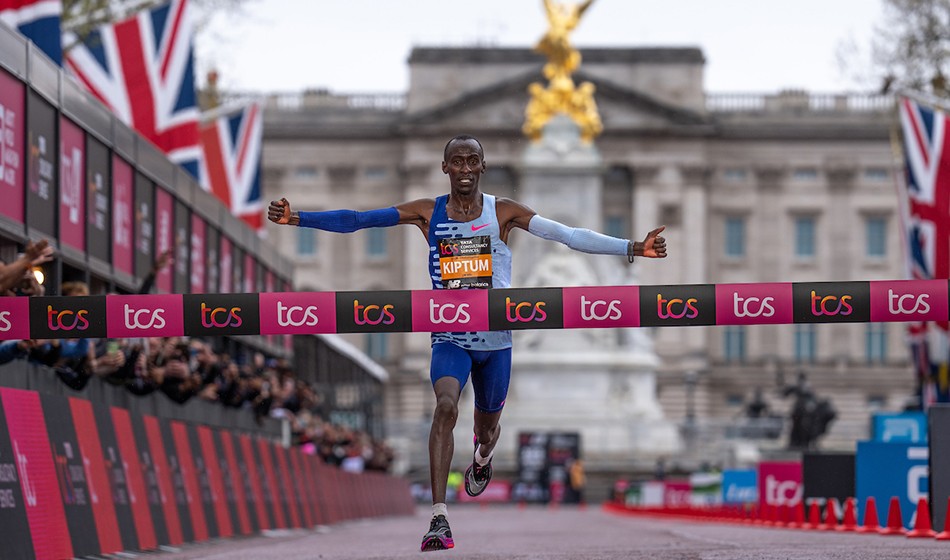 Ruth Chepngetich's Pursuit of Excellence
Kosgei's world record was recently shattered by Tigst Assefa in Berlin with a stunning time of 2:11:53. Still, it was Kosgei's mark that stood last October when Ruth Chepngetich mounted a fierce challenge. After an explosive first half in 65:44, she remained on record pace until the 40K mark, ultimately finishing in 2:14:18.
While Chepngetich's primary goal is to secure her third consecutive victory, she remains open to the possibility of setting a personal best. She even hinted at a similar aggressive pace for the first half of the race, aiming to finish stronger than her 2022 performance.
Conner Mantz's Olympic Quest
The men's field is poised for a scorching pace, which might be a bit too hot for Conner Mantz. However, Mantz has his eyes on a specific time goal. With the Olympic Marathon Trials scheduled in Orlando in just four months, he's aiming to break 2:08:10 and meet the Olympic standard. While there are alternate routes to securing a spot in the Paris Olympics next summer, Mantz feels more secure with the standard in his pocket come Trials.
Mantz made his marathon debut in Chicago last year, finishing seventh in 2:08:16. He followed that up with an 11th-place finish in Boston, where he ran with the leaders before fading late to finish in 2:10:25. This year, Mantz arrives in Chicago in peak form, having logged over 5,000 miles in training since his last appearance. A strong second-place finish at the US 20K Championships over Labor Day weekend, behind training partner Clayton Young, has further boosted his confidence.
Mantz's added experience on the marathon stage will also help him stay patient during the race, resisting the urge to get carried away by the competition. He firmly believes in running his own race, pacing himself wisely, and making sure to stick to his race plan. "I've done multiple marathons, I've had another full year of training, and that gives me confidence that I can show up and compete," he affirmed. "I've just got to mentally be like, 'I have to run my own race, I can't go out too hard.'"