As we approach the 2023 Bank of America Chicago Marathon, the running world is abuzz with excitement. Tigst Assefa's recent incredible achievement, completing the Berlin Marathon in just 2:11:53 a mere two weeks ago, has left everyone wondering: was it a unique feat or a sign of even greater accomplishments in the world of marathon running?
Comparing this remarkable accomplishment to historical milestones, one can't help but recall Paula Radcliffe's iconic world record-breaking run in 2003. Radcliffe astonishingly shattered her own record by nearly two minutes, a feat that remained unrivaled for over 16 years. The landscape of women's marathon running has seen substantial transformations since then, with Tigst Assefa herself setting a new standard in September 2022. Her 2:11:53 in Berlin was the fastest marathon time by a woman since Brigid Kosgei's 2:14:04 world record in 2019, ranking as the third-fastest time ever recorded. Remarkably, just three months later, Assefa's record was relegated to the third spot for 2022, with Ruth Chepngetich achieving a 2:14:18 in Chicago, and Amane Beriso clocking a 2:14:58 in Valencia.
While expecting another world record within such a short span might seem ambitious, it would come as no surprise if Ruth Chepngetich, aiming for an unprecedented third consecutive Chicago Marathon victory, crosses the finish line with a time in the 2:12s or 2:13s, thus putting Assefa's 2:11:53 into a more relatable perspective. The weather forecast for Sunday is favorable, with overcast skies, temperatures in the 40s-50s, and a gentle 5-9 mph breeze. Chicago is renowned for its ability to facilitate swift marathon times, and Chepngetich undoubtedly stands as one of the top contenders.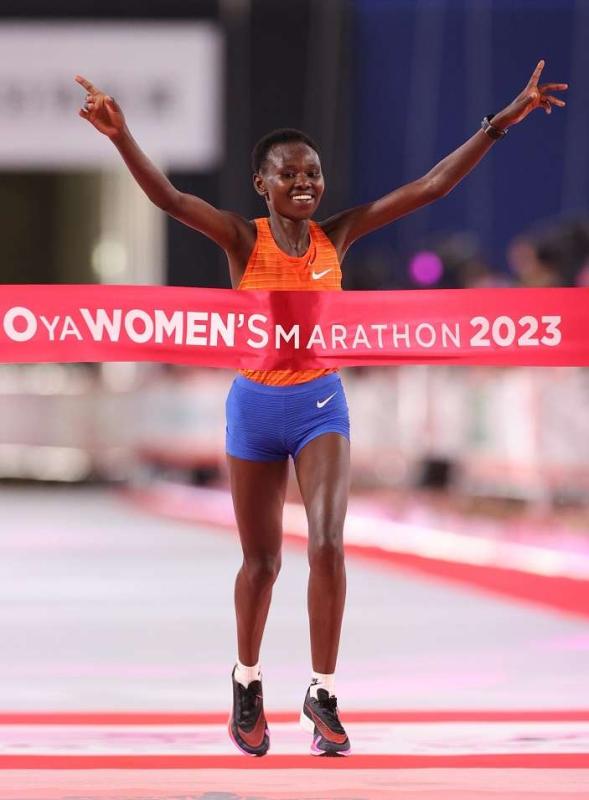 Yet, this marathon isn't just about breaking records. The women's elite field comprises accomplished athletes like Joycline Jepkosgei, the 2019 NYC and 2021 London Marathon champion, and Sifan Hassan, who enters the Chicago course just 47 days after clinching a bronze medal in the 1500 meters at the World Championships. The competition among American contenders is equally captivating, with Emily Sisson, the current American record holder at 2:18:29, Emma Bates, the 2019 Chicago Marathon runner-up, and Olympic bronze medalist Molly Seidel, all striving for victory.
In the world of marathon running, Sunday, October 8, 2023, in Chicago, Illinois, is a date eagerly marked on the calendars of running enthusiasts. Ruth Chepngetich is renowned for her strategy of aggressive starts in marathons, and if she can sustain her peak form, she may leave her competitors trailing behind. In past marathons, Chepngetich's bold starts have been her signature, with her closing times displaying her adaptability to different race conditions. Given her potential, if Chepngetich decides to go all out from the start on Sunday, the rest of the field may find it challenging to keep pace.
View this post on Instagram
However, a wildcard in this year's elite field is Sifan Hassan, celebrated for her tenacity and determination. In her marathon debut in London, Hassan faced in-race injuries and still emerged victorious. Her track record of excelling in the 1500, 5,000, and 10,000 meters at the World Championships, combined with her decision to participate in Chicago only six weeks after her bronze medal win, highlights her fearless approach to racing. Hassan's 2:18:33 performance in London, despite in-race challenges, suggests that she could achieve times in the low-2:17 range under optimal conditions.
The highly anticipated showdown between Chepngetich and Hassan promises to be a highlight of the 2023 Bank of America Chicago Marathon. As running enthusiasts eagerly await this spectacular event, it is evident that the women's elite field is poised to deliver a marathon spectacle like no other. Stay tuned for an unforgettable race day on Sunday, October 8th, beginning at 8:30 a.m. ET in the vibrant city of Chicago, Illinois.