HONOLULU (09-Dec) — Winning 17 NCAA titles earned Edward Cheserek the nickname "King Cheserek" during his record-breaking career at the University of Oregon where he became the most decorated runner in NCAA history.  He lived up to that moniker at the second annual Kalakaua Merrie Mile in Waikiki here this morning, not only winning the men's race but also the gender challenge after a surprisingly tough fight to the finish against Kenyan teenager Merriam Cherop.  Cheserek, a Kenyan who has lived in the Unites States since he was a teenager, clocked 3:58.1, just nipping Cherop in the last five meters.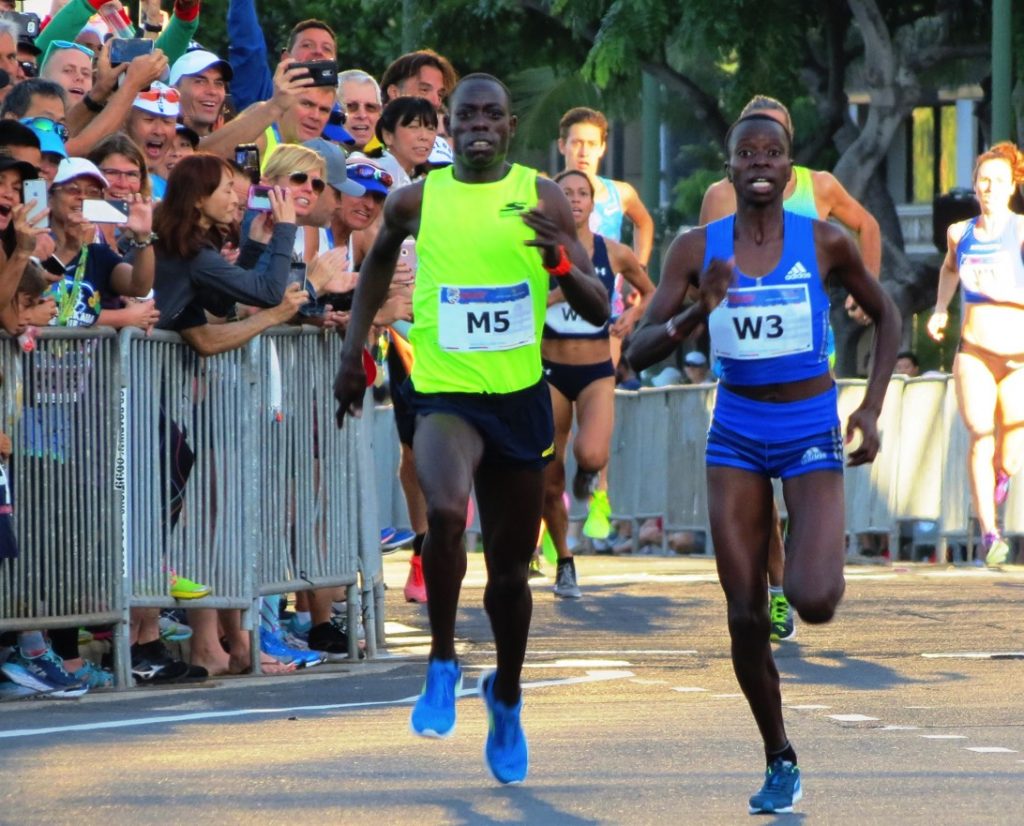 "It was beautiful out here today," a beaming Cheserek told Race Results Weekly standing under a giant banyan tree on Waikiki Beach.  "It's a great opportunity to come here today and enjoy the ride and the run with the big boys."
Under the handicap system set up by Honolulu Marathon Association CEO Dr. Jim Barahal, the elite women are given a head start over the elite men, then the overall order of finish –regardless of gender– determines the distribution of prize money.  Barahal decided to tighten the head start slightly to 26 seconds this year, from 27 last year, which really made it challenging for the women.
But Cherop, the 2016 African junior cross country champion, was game for a fast pace.  She shot ahead of the other women immediately from the gun, including last year's top woman Nicole Sifuentes of Canada, and before the turnaround point just past half-way, she already had the women's race well in hand.
"I was well-prepared for this game today," Cherop said.  "I'm in good shape now."
Cheserek was careful not to go out too hard against rivals like two-time Olympic medalist Nick Willis and 2014 NYRR Wanamaker Mile champion Will Leer.  Running by feel –the organizers don't provide any split times– Cheserek built up a gap on the men, then on the return portion of the out-and-back course on Kalakaua Avenue he could see Cherop in front of him.
"My strategy was to just come in and enjoy the race with the big boys," Cheserek said modestly.  "I wasn't worried about the women; I was just going to go with the leaders.  The first 100 meters, no one was trying to take the meet out, so I'm going to stay in front and see who follows me."
As Cheserek drew closer to Cherop in the last 200 meters, he realized that he wasn't catching her as quickly as he anticipated. That's because the 18 year-old Cherop was about to run a 4:24.7 mile, easily the fastest ever by a woman on Hawaiian soil.  She did not look back and was driving hard for the finish line.
"I was like, I think I'm going to catch that girl," Cheserek recalled.  He continued: "And I got her."
But only just.  Cherop was still leading with five meters to go, and Cheserek just edged her at the line to claim the $3500 winner's check.  Cherop's adjusted time was 3:58.7, just 6/10ths of a second behind Cheserek, good for $1500.  Leer was third in 4:02.4 ($1000), and Willis ran 4:03.6 for fourth and was just out of the money.
"It was a lot of fun," said Willis who trained for a week in Kauai with Leer before coming to Oahu earlier this week.  "It's hard to do a race where you don't know any splits, but it's a novelty in a good way."
About 1800 runners, many wearing costumes, entered today's event which was staged in a series of six heats.  The Kalakaua Merrie Mile is the warm-up act for tomorrow's 45th Honolulu Marathon and the inaugural Start to Park 10-K.
"It's really cool," said Dr. Barahal.  "We see a lot of families, with kids in strollers, and even babies.  That's what it's all about.  Really what we saw from the Fifth Avenue Mile (in New York City) is that people want to run a mile on an iconic street.  It's fun to see all the people here."