By David Monti & Taylor Dutch, @d9monti, @taylordutch
(c) Race Results Weekly, all rights reserved
HONOLULU (10-Dec) — Both the men's and women's course records came tumbling down at the 45th Honolulu Marathon here this morning when Lawrence Cherono and Brigid Kosgei broke the finish line tape in Kapiolani Park in 2:08:26 and 2:22:14, respectively.  Improbably, the Kenyan duo demolished the previous race records by a combined six minutes and 17 seconds, and each athlete earned $50,000 in prize money and incentive bonuses.
"I think we've been seeing, especially from last year, that people can run very fast in Honolulu," remarked Honolulu Marathon Association CEO, Dr. Jim Barahal.  He continued: "I think there is a vast talent pool, we are tapping into that next level pool and people are emerging and running times that were thought impossible at Honolulu."
KOSGEI CRUSHES WOMEN'S RECORD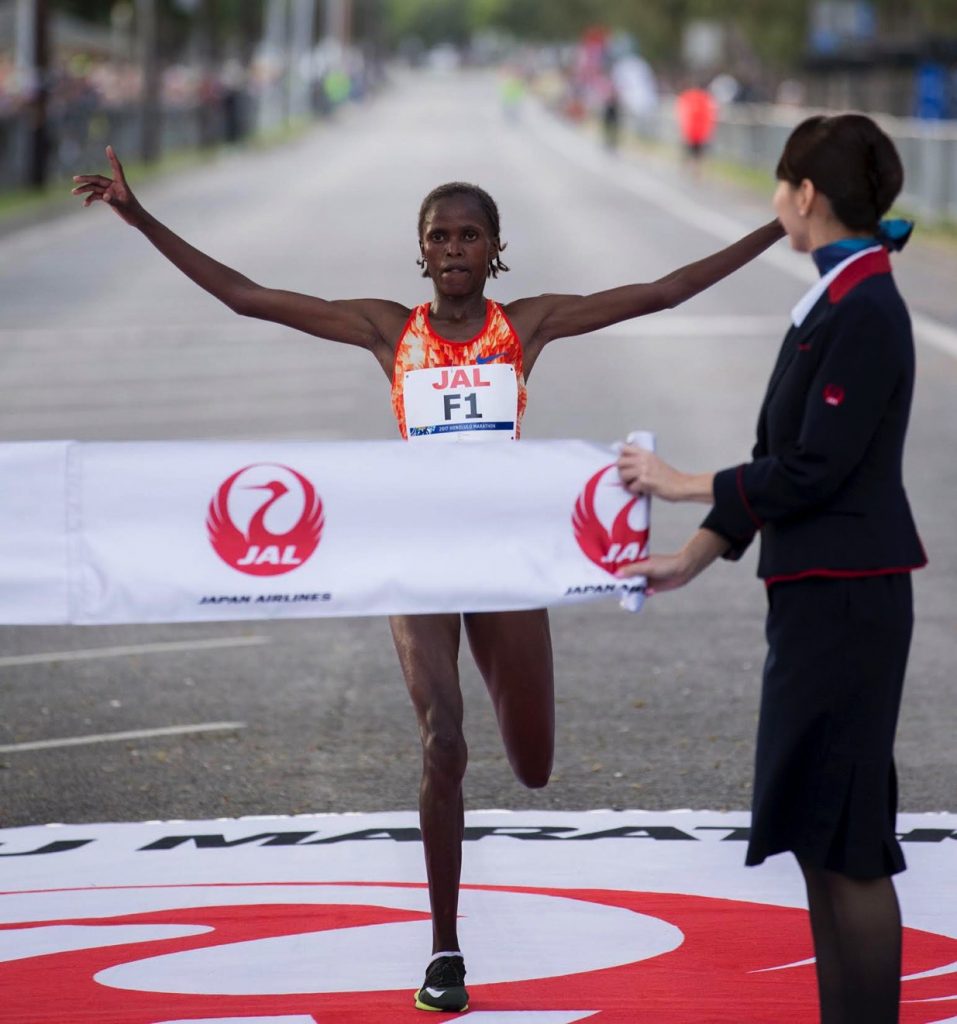 Kosgei's time was nothing short of remarkable.  The defending champion, who ran 2:31:11 here last year and who has a personal best of 2:20:22, ran aggressively from the start, splitting 10-K in 32:45 with company from compatriots Nancy Kiprop, a Honolulu debutante, and Joyce Chepkirui, the race's 2015 champion.  The rest of the field was already more than two and one-half minutes behind.
"At 5-K my body started to move well and then I just improve," Kosgei explained.  She added: "I was not expecting it, but I was happy when I see my body is moving."
Indeed it was.  By the half-way mark (1:11:50), only Kiprop was bold enough to stay with her.  Chepkirui, who had drifted back by 11 seconds, would soon begin to struggle, and ultimately faded to finish a distant third in 2:33:17.
As rain began to lash the athletes in the Hawaii Kai neighborhood, Kiprop did her best to stay with Kosgei, nearly matching strides with her through 25-K (1:25:13).  But soon she too had to let go, and had to resign herself to second place in 2:29:15, a time which would have won here in all but six of the previous editions of the race.
Kosgei was clearly hurting, but she forged ahead to the finish knowing that breaking Lyubov Denisova's 2006 course record of 2:27:19 meant a $10,000 course record bonus, plus another $15,000 in time bonuses for going sub-2:28.  Upon finishing she immediately crumpled to the pavement, and a medical worker removed her shoes to give her burning feet some air.  She chugged two bottles of water before facing the media and posing for her winner's photos.
"Last year was very hot, but today I feel that it is good," said Kosgei after catching her breath.  Saying she had big goals, she continued: "Maybe next year, I want to improve to run 2:18 or 2:17. I want to break the course record (in New York, London, or Boston)."
The fist American woman (and Hawaiian resident) was Polina Carlson of Kailua.  The Russian-born Carlson, who is married to an American and only earned USA citizenship three weeks ago, said she was using today's race as a tune-up for the Chevron Houston Marathon in January.  She was pleased with her 2:53:15 performance, and felt a special sense of pride finishing her first marathon as an American.
"I love this marathon because I love the community," Carlson told Race Results Weekly.  "I do it every year."  She continued: "I'm very, extremely grateful and proud to run as an American.  It meant so much to me."
CHERONO DEFEATS CHEBET AGAIN
The men's race played out similarly to last year's.  With early pacemaking help from Philip Tarbei, the top men went through 10-K in 30:33, about 2:09 pace.  Cherono, Wilson Chebet, Vincent Yator, Titus Ekiru, Festus Talam, and world record holder Dennis Kimetto were all in contention at that point.  Conditions were still dry.
But by halfway, some separation among the leaders had already occurred, and rain began to soak the field.  Cherono and Talam, a pacemaker here last year, hit the halfway in 1:05:02 with the rest of the field slightly behind.  Kimetto, who had dropped out of the Bank of America Chicago Marathon in October, had already fallen well back; his halfway split was 1:10:42.  He soon dropped out.
The serious running was about to begin.  At about the 20-mile mark (32 km), Chebet went in front and surged.  Cherono did not wait long to react, quickly caught Chebet, then took the lead.
"I was running my pace according to my body, I was feeling like not pushing, but at the end of the day, I made up the race," Cherono told the media later.
By 22 miles (35 km), Cherono had more than half a minute lead, and knew the victory was his.  He sailed through the final kilometers to break the tape in 2:08:26, one minute and 12 seconds faster than his 2016 course record.  Chebet finished second again in 2:09:54, only the third sub-2:10 ever recorded here.  Yator was a distant third in 2:10:37.  In addition to his $25,000 winner's check, Cherono collected a $10,000 course record bonus plus another $15,000 for breaking 2:09.
"I am happy again because I came here a second time breaking a course record so it was a great achievement to me," Cherono said triumphantly.  "I am happy with it."
The top American was Adrian Sherrod of Eugene, Ore., in 2:46:54, while the top Hawaii resident was Evan De Hart, a construction manager who lives in Mililani, who clocked 2:49:32.
"My overall goal was 2:45 but, honestly, I kind of had the stereotypical monkey on my back at mile 20, and I started really slowing down.  I just wanted to get through it at that point."
For 2013 IAAF World Championships 800-meter silver medalist Nick Symmonds, today's race presented a special challenge.  Making his marathon debut, the 33 year-old athlete ran the full distance off of just 25 miles per week of training, and surprised many observers by nearly breaking three hours.  His official time was 3:00:35.
"I completed it; that was tough," said Symmonds after walking stiff-legged to the media area.  "I felt so good through the first half and even through mile-20 I felt great. And then I slowed down a bit at mile 20 which I assumed I would. I was still right on pace to break three until mile 24, and I was moving just fine, but the hill really knocked it out of me."
Still, Symmonds was optimistic and said he might try another marathon.
"Maybe I'll run a spring marathon and maybe do more than 25 miles a week to try and prepare for it," he said.
Today's race had a total of 25,154 starters, including 4,414 in the inaugural Start to Park 10-K which was run contemporaneously with the marathon.  Embracing the "Aloha Spirit" the Honolulu Marathon maintains an open finish line, and runners and walkers will still be coming into Kapiolani Park after dark.