A member of the board from the United States representing the Athletics Federation of Nigeria (AFN), Victor Okorie, has strongly advised Divine Oduduru, a prominent sprinter, to initiate an appeal against the six-year ban handed down by World Athletics. Victor Okorie, who serves as AFN's Director of Performance, conveyed his perspective to The Guardian, emphasizing the paucity of substantial evidence to substantiate any doping allegations against Oduduru, thus making a compelling case for his exoneration.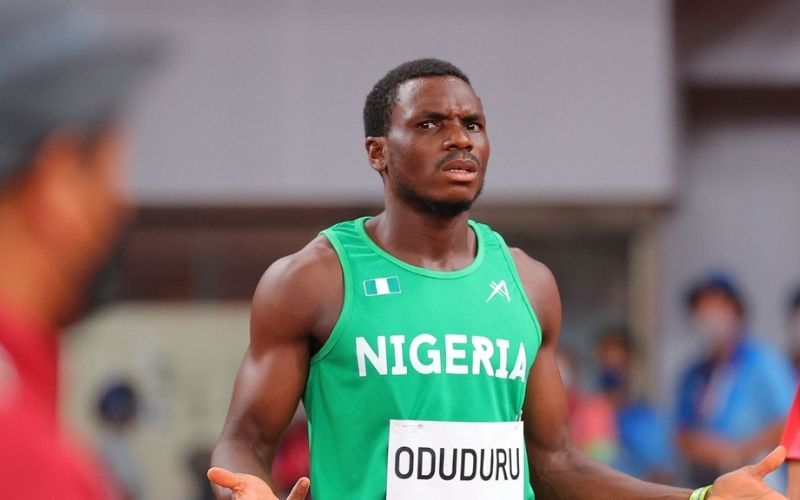 In addition to this, Okorie has recommended that Oduduru contest the $3,000 fine that has been imposed on him. In recent developments, World Athletics has granted Oduduru a 30-day window to challenge the six-year suspension by seeking redress through the Court of Arbitration for Sport (CAS).
Oduduru, widely recognized as the Nigerian 200m record holder, found himself on the receiving end of a severe six-year suspension, which was the result of a tribunal ruling. This penalty was issued due to Oduduru's involvement in two Anti-Doping Rule Violations (ADRVs), including the Possession of Prohibited Substances and the Attempted Use of a Prohibited Substance or Method. In addition to the suspension, he has been ordered to pay $3,000 to World Athletics to cover expenses related to the case.
View this post on Instagram
A statement published on the Athletics Integrity Unit's website accused Oduduru of participating in a scheme with a fellow teammate, who was procuring prohibited substances on his behalf from an illicit source in the U.S. The aim was to distribute these substances among athletes to unfairly enhance their performance, thereby influencing the outcome of athletic competitions, including major events.
During his hearing, Oduduru staunchly maintained his innocence and argued that the evidence used to impose the ban was largely based on indirect grounds. He contended that he should not be held responsible for the messages exchanged between Blessing Okagbare and Eric Lira, nor for the account of the individual who claimed to have discovered drugs, syringes, and other banned substances in his apartment in Florida, USA.
Though his pleas were not successful before the tribunal, Oduduru retains the opportunity to challenge the ban imposed by the Athletics Integrity Unit by seeking justice through CAS. Presently, it remains uncertain whether the 2019 NCAA double sprint champion will opt to utilize this opportunity to demonstrate his innocence or accept guilt, similar to Okagbare, and serve the prescribed penalty.