In an electrifying showcase of sporting prowess, Ethiopia's Meseret Belete and Kenya's Joshua Belet clinched victory at the TCS Amsterdam Marathon this past Sunday. The esteemed World Athletics Platinum Label road race witnessed exceptional performances, with Belete clocking in at 2:18:21 and Belet finishing in a remarkable 2:04:18. These two extraordinary athletes now hold the distinction of achieving the third-fastest winning times ever witnessed in the historic Dutch capital.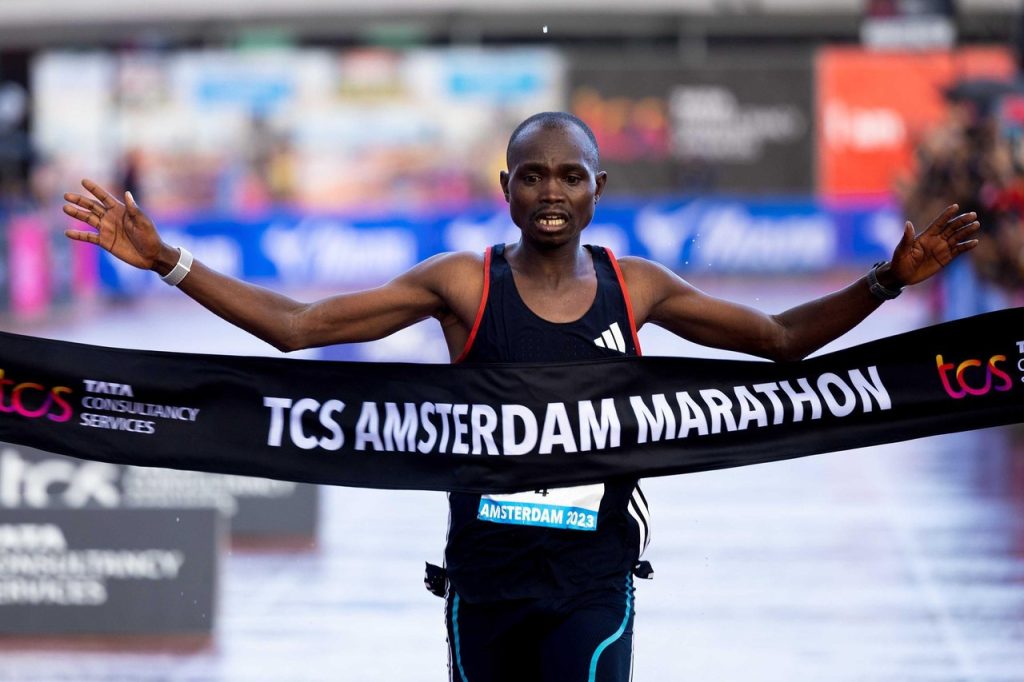 Belete, through sheer determination, obliterated her previous best by more than two minutes, securing her second triumph this year. This victory comes on the heels of her earlier win in Doha back in January when she completed the race in 2:20:46, surpassing her former lifetime best.
In a stunning comeback, Belet rebounded from his withdrawal at the World Championships, setting a new personal best by outpacing the 2:04:33 he recorded in Hamburg last April, where he secured a second-place finish.
Throughout the race, Belete exhibited unwavering consistency in her pace. For the majority of the event, she ran alongside compatriots Meseret Abebayehu and Ashete Bekere, as well as Kenya's Dorcas Tuitoek. The formidable lead pack breezed through the 5km mark in 16:27 and reached the 10km point in 32:45. Nine runners remained competitive as they passed the halfway point in 1:09:05, suggesting a projected finishing time in the vicinity of 2:18. Although Almaz Ayana's course record of 2:17:20 appeared slightly out of reach, the contenders maintained their resolve.
At the 30km mark, achieved in 1:38:08, only four women remained in the lead pack: Belete, Abebayehu, Tuitoek, and Bekere. They continued to run together for an additional ten minutes before Belete initiated her breakaway. She didn't need to accelerate; she simply maintained her pace while her remaining rivals gradually fell behind. Belete entered the stadium with a comfortable lead, crossing the finish line in 2:18:21, securing victory by an impressive 89-second margin. Abebayehu claimed the second spot in 2:19:50, smashing her personal best by more than four minutes, while Tuitoek secured third place in 2:20:02.
View this post on Instagram
In the men's race, a substantial lead pack tore through the initial 5km in 14:54, ramping up to reach 10km in 29:28 and 15km in 44:03. As they passed the 20km mark in 58:48 and the halfway point in 1:02:01, approximately 10 seconds faster than the 2021 course record set by Tamirat Tola, the lead pack still housed around 12 contenders.
In the second half, the lead pack gradually diminished. After passing the 30km mark in 1:28:28, Belet made a decisive move and forged a gap he would not relinquish. In the final kilometers, there were several shifts in position among the athletes in the chasing pack, but Belet held on to his lead, ultimately prevailing with a time of 2:04:18. Cybrian Kotut, also from Kenya, clinched second place in 2:04:34, narrowly edging out Bethwel Chumba, who secured third place. Ethiopia's Birhanu Legese finished a close fourth in 2:04:44, rounding out an all-Kenyan podium and underscoring the remarkable talent of East African long-distance running.
The TCS Amsterdam Marathon bore witness to outstanding achievements, solidifying the reputations of Meseret Belete and Joshua Belet as formidable competitors in the world of long-distance running. Their remarkable victories will be remembered as a testament to the enduring spirit of endurance sports.