Donavan Brazier, the reigning world champion over 800m, lowered the U.S. indoor 800m record again at the Millrose Games a few days ago, and now he has his sights set on the GOAT – David Rudisha, and the Tokyo Olympics.
Brazier clocked 1:44.22 indoors to set a new American record and signal to all his challenges for the Tokyo Olympics, that he is the man to beat. He previously lowered a 26-year-old American record at last year's Millrose Games, when he ran 1:44.41.
"When I saw the clock going 1:42, 1:43, I was like, oh, I have a chance," Brazier said Saturday. "To get it by point-two seconds, there's really not much room for error there."
What makes the race even more impressive is Brazier and his coach, Pete Julian, used the race as a tactical affair.
"(Coach Pete Julian) just wanted me to kind of get in a crappy position," Brazier said. "Because last year I was kind of getting lucky with my positioning and stuff like that. He's like, 'You're not always going to get that lucky. You've got to work on your tactics, work how to get around people when you get boxed in, things like that.'"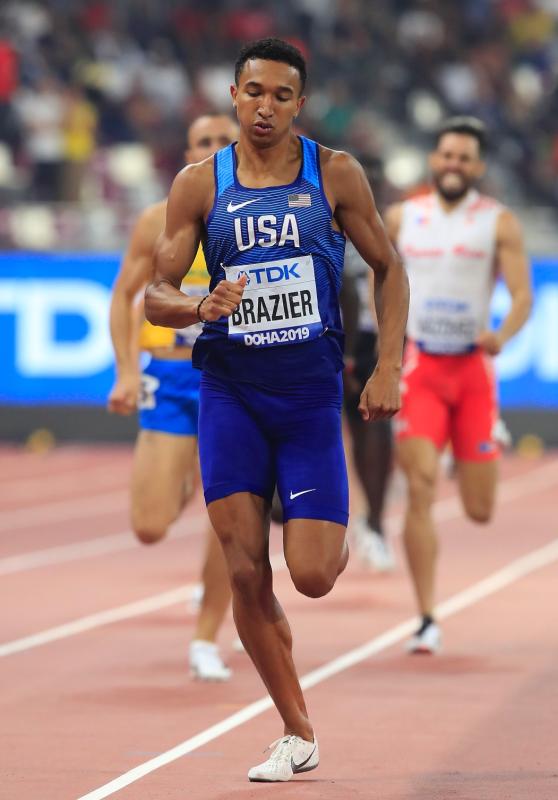 With a question mark over the fitness of Rudisha, Brazier at this stage is the favourite for 800m Olympic gold in Tokyo. However, he will have to overcome some  demons after being run out in his heat at the 2016 Olympic trials, he was ranked third in the world leading into that meet.
"If I can work as hard as I was the year before, I'll just naturally get faster," said Brazier, who last year ran the fastest indoor 600m in history, in addition to breaking the U.S. indoor and outdoor 800m records.
No American male has won Olympic gold since Dave Wottle in 1972 at the Munich Games, famously wearing a hat.
"I think the target's on my back just because I won 2019 (world champs), but it's definitely not as big of a target as [Rudisha] had on his back post-2012," Brazier said. "I'm not thinking that I'm like this David Rudisha takeover because I'm not really damn near close to his times, but I think, for now, I've got that small target on my back. I guess I'm just trying to make it as big as possible."
Dave Wottles 1972 win
Brazier wasn't the only American record-breaker Saturday. Ajee Wilson lowered her national 800m record from 1:58.60 to 1:58.29. Elle Purrier took down Mary Slaney's 37-year-old U.S. indoor mile record, clocking 4:16.85, the world's second-fastest time in history.